Class 5A Week 9 Rankings, Notes & Picks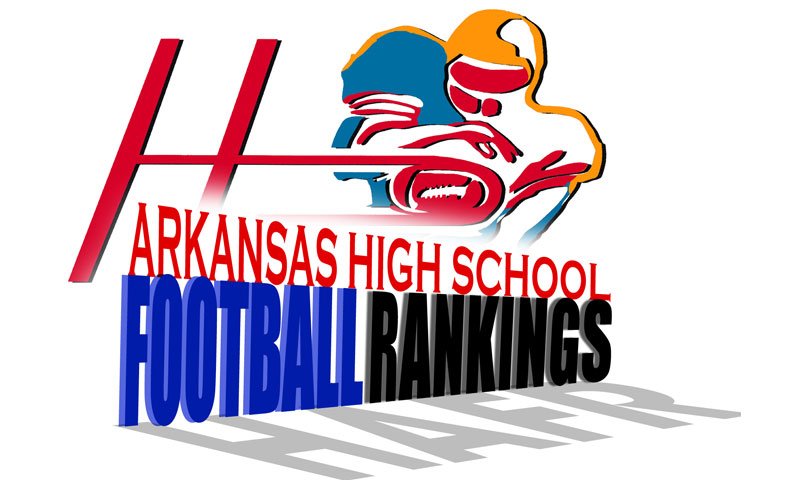 Hootens.com Rankings
Class 5A, Week 9, 2019
Copyright Hooten Publishing, Inc. 

1. LR Christian (8-0)
2. Harrison (8-0)
3. Pulaski Academy (6-2)
4. Valley View (8-0)
5. Wynne (6-2)
6. Maumelle (7-1)
7. HS Lakeside (6-2)
8. Greenbrier (5-3)
9. Vilonia (5-3)
10. Hot Springs (5-3)
11. Morrilton (4-4)
12. White Hall (5-3)
13. Texarkana (4-3)
14. Watson Chapel (5-3)
15. Magnolia (5-3)
16. LR McClellan (4-4)
17. LR Parkview (3-5)
18. Camden Fairview (4-4)
19. Farmington (6-2)
20. Forrest City (6-2)
21. Batesville (3-5)
22. Nettleton (5-3)
23. Blytheville (2-6)
24. Alma (2-7)
25. Clarksville (4-4)
26. Greene County Tech (1-7)
27. Beebe (1-7)
28. Hope (1-7)
29. Paragould (0-8)
30. Huntsville (1-7)
31. De Queen (0-8)
32. LR Fair (0-8)

HOOTENS.COM GAME OF THE WEEK
No. 1 LR Christian at No. 6 Maumelle
Defending state champion Little Rock Christian can lock up its first conference title since 2015 with a victory, while Maumelle could earn a share of its first conference title since 2014 if it wins out. LR Christian beat White Hall 28-16 last week despite three turnovers and a missed field goal. LR Christian senior Chris Hightower caught a post route, broke three tackles and went 75 yards for a TD in the second quarter "and that broke the ice," Coach Eric Cohu says. Watch the highlights HERE.
Senior linebacker Jackson Woodard (6-4, 205) makes big hits and paces a defense that held White Hall to 211 yards last week. Woodard grew three inches since March "and is our energizer," Cohu says. "He's as good of a defensive player as there is in the state." Junior linebacker Corey Platt and lineman Pearson Dennis have played well this year.
Maumelle's only loss this season was Week 6 at Pulaski Academy 41-29, just one week after LR Christian beat PA 63-61. The Hornets struggled last year in games played in rainy conditions, but last week showed mental toughness in a 46-15 win in the rain at Beebe. Junior QB Jonathan Reyes passed for 239 yards and three TDs at Beebe, while senior Zyon Slade scored a pair of third quarter TDs (40-yard run and 23-yard catch) and senior Demetress Williams caught a 67-yard TD pass in the fourth quarter. Reyes, who took over as the starter a month ago, has completed 95 of 177 passes this year (54 percent) for 2,120 yards and 31 TDs. The versatile Slade nine carries for 112 yards and one TD, and 37 catches for 800 yards and 12 TDs. Williams paces the Hornets with 42 catches for 1,031 yards and 16 TDs. With defenses keying on Slade and Williams, senior Louis Hartje has emerged as an viable option (18 receptions for 429 yards and five TDs). 

LAST WEEK
Hootens.com correctly predicted 13 of 16 games (81 percent) last week. Hootens.com has picked 135 of 166 games (81 percent) this season.

WEEK 9 PREDICTIONS (favored team in ALL CAPS)
5A CENTRAL
LR CHRISTIAN (10) at Maumelle: Hootens.com Class 5A Game of the Week.
BEEBE (8) at LR Fair: Beebe gives up 52 ppg, while LR Fair scores a Class 5A low 6.75 points weekly. Beebe trailed Maumelle 24-0 at halftime last week. Junior Seth Howard paced the Badgers with three catches for 44 yards.
PULASKI ACADEMY (22) at Watson Chapel: PA is 119-5 when recovering an onside kick. Sophomore Joe Himon ran for three TDs in last week's 68-34 win at LR Parkview, which turned when the Bruins recovered an onside kick to start the third quarter. Watson Chapel junior Sidney Smith ran for three TDs in last week's 35-6 win over LR Fair.
LR Parkview at WHITE HALL (4): White Hall likely gets the No. 4 playoff seed with a victory, and a LR Parkview win likely forces a three-way tie for the fourth playoff spot. The Bulldog D recovered three fumbles in last week's 12-point loss at LR Christian (highlights HERE). LR Parkview trailed Pulaski Academy 31-27 at halftime last week, but gave up 30 points in the opening six minutes of the third quarter. LR Parkview junior tight end Erin Outley caught a pair of TDs in the first half. 

5A EAST
Greene County Tech at BATESVILLE (14): Batesville has won 17 of the past 18 over GCT, including 39-7 last season. Junior QB Eli Livingston threw one TD and ran for two more in last week's 25-point win at Blytheville. GCT didn't score in last week's 39-point loss to Valley View and the Eagles have been held to 13 points or less in three straight games.
WYNNE (10) at Forrest City: The winner finishes second in the league and has a nice playoff draw. Wynne has won 12 of the past 15 over rival Forrest City, including four straight (35-34 in overtime last year). Wynne gave up 185 yards in last week's 35-0 win over Paragould, and the Yellowjacket D has allowed just one TD the past two weeks. Forrest City's Kadarius Akins sprinted 85 yards for the winning TD in the fourth quarter of last week's 42-40 win over Nettleton, while his QB brother Kendall Akins ran for three TDs. 
VALLEY VIEW (13) at Nettleton: The series is tied 4-4-1 after Valley View's 14-12 win last season. Valley View sews up its second straight conference title with a win. Playmaking senior Connor Watson averages 8 yards per carry and has 26 catches for 610 yards and seven TDs. Watson has 30 tackles, three sacks, forced a pair of fumbles and has one interception for a D that gives up a Class 5A low 8.1 ppg. Nettleton senior Josee Perkins hauled in two passes for 111 yards, both went for TDs, in last week's two-point loss at Forrest City. 
BLYTHEVILLE (9) at Paragould: Paragould usually plays hard against Blytheville (lost by 20 points last year). Ram junior Brayden Hines has rushed for 977 yards and eight TDs this year, while junior Nick Ashby has 812 yards and seven TDs. Blytheville senior Jermel Woods has rushed for more than 1,200 yards and 11 TDs. Blytheville has beaten Paragould 11 of the past 15 years.

5A SOUTH
HOT SPRINGS (2) at Camden Fairview: Camden Fairview has won 11 of the past 13 over Hot Springs, including 57-0 a year ago. Camden Fairview's four losses this year are by a total of 11 points. Junior Erik Hall has 151 carries this year for 1,082 yards and six TDs, while versatile P.J. Rucks has six TDs (five rushing, one receiving). Hot Springs can win the league title and get the top playoff seed with two more wins after last week's 9-6 defensive standoff with Texarkana. Junior Carlos Brewer ran 20 times for 80 yards against Texarkana, while sophomore QB Isaac Shelor completed 10 of 22 passes for 75 yards.
LR McClellan at HS LAKESIDE (3): LR McClellan has beaten HS Lakeside three straight times (twice in the playoffs and last year by 37 points). But LR McClellan likely must win out and get some help to the make the playoffs in its final year before closing down to form Class 7A Southwest High School next fall. HS Lakeside is loaded with junior playmakers, including junior QB Will Ross (1,368 yards and 18 TDs) and receiver Logan White (29 catches, 454 yards and four TDs). 
De Queen at MAGNOLIA (38): De Queen has won four of the past seven over Magnolia. Magnolia will qualify for the playoffs if it wins out. The Panther D forced two fumble and had 12 TFL's in last week's one-point win at LR McClellan. De Queen averages 9.5 ppg, and has scored a TD or less five times this year, including four straight games. 
Hope at TEXARKANA (36): Texarkana will make the playoffs and finish no lower than the No. 3 seed (its final two opponents are a combined 1-15 this year). Razorback junior Torie Blair ran for a TD in last week's three-point setback at Hot Springs. Hope has given up 418 points this year (52.25 ppg), the most in Class 5A. 

5A WEST
GREENBRIER (6) at Alma: Alma still has a shot at the playoffs if it wins out. The Airedales failed to score in last week's mercy-rule loss at Harrison, falling behind 28-0 in the second quarter. Alma senior QB Landon Blair has 13 TDs this year (seven passing, six rushing). Greenbrier needs at least one more win (possibly two) to get in the playoffs for the 11th straight year. Hard-hitting senior LB Ryan Barnard paces Greenbrier's D with 70 tackles, three interceptions and four forced fumbles.
VILONIA (20) at Clarksville: Vilonia playing for the No. 2 playoff seed after last week's 14-point win over Morrilton. Senior Draven Smith ran 30 times for 247 yards and two TDs against Morrilton, and has 1,630 yards and 21 TDs this fall. Sophomore Seth Kirk ran for 124 yards and three TDs against Morrilton. Gritty Clarksville trailed Greenbrier 10-7 at halftime a week ago before losing 31-14. The Panthers piled up 284 yards but had two costly turnovers.
Farmington at MORRILTON (8): The winner stays in playoff contention. Morrilton has never lost to Farmington, beating the Cardinals by 22 points last season. Morrilton trailed Vilonia 27-0 in the third quarter last week before losing 47-33. Senior QB Jacolby Criswell has passed for 1,819 yards and 18 TDs this year. Farmington senior Drew Sturgeon caught six passes for 178 yards and three TDs and in last week's 50-7 win over Huntsville. He also kicked a 33-yard field goal in the third quarter to start the 35-point sportsmanship rule.  
HARRISON (42) at Huntsville: On the day after Halloween, the Goblins wrap up their third straight conference title against struggling Huntsville, which has been outscored 339-81 this year. Eagle junior Slayter Watkins has rushed for almost 400 yards and five TDs this fall, and he returned an interception 99 yards for a TD last week at Farmington. Harrison senior Brooks Both (87 tackles) paces a unit that allows 10 ppg. Senior Gabe Huskey ran 17 times for 187 yards and four TDs in last week's 35-0 win over Alma.