Class 6A Week 9 Rankings, Notes & Picks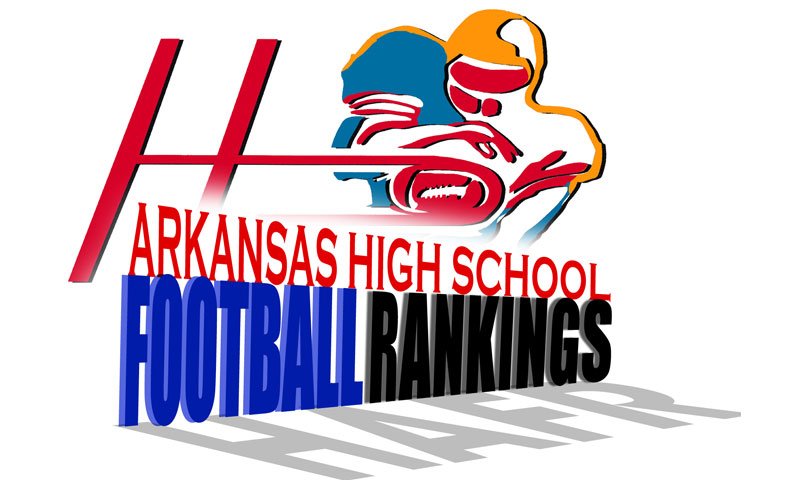 Hootens.com Rankings
Class 6A, Week 9, 2019
Copyright Hooten Publishing, Inc.

1. Benton (5-3)
2. Greenwood (7-1)
3. Jonesboro (6-2)
4. Searcy (7-1)
5. Lake Hamilton (8-0)
6. West Memphis (4-4)
7. Sheridan (5-3)
8. Marion (4-4)
9. Sylvan Hills (4-4)
10. El Dorado (2-6)
11. Siloam Springs (2-6)
12. Russellville (2-6)
13. Pine Bluff (2-6)
14. Jacksonville (2-6)
15. Mountain Home (0-8)
16. LR Hall (2-6)

HOOTENS.COM GAME OF THE WEEK
No. 1 Benton at No. 5 Lake Hamilton 
Winner clinches at least a share of the 6A West championship. Lake Hamilton has won 10 of the past 13 meetings. "We view this as a big-time rivalry game," Benton coach Brad Harris says. "We're excited about the opportunity to win a conference title."
Lake Hamilton outlasted Sheridan last week in a 17-10 victory by rushing for 354 yards (7.5 yards per rush) and two TDs. Sophomore running back Owen Miller sparked Lake Hamilton with 219 yards rushing, including a 66-yard sprint. Miller scored the game-winning 2-yard TD in the third quarter. Lake Hamilton junior quarterback Layne Warrick broke his foot at Sheridan and will miss the rest of the season. Senior Zach Bradley, who played QB in junior high, succeeds Warrick. League coaches picked Lake Hamilton No. 6 in the 6A West in this year's Hooten's Arkansas Football magazine, and the Wolves have not won a league title since 2011. Lake Hamilton's eight wins in 2019 are its most since 2013. The Wolves have rushed for 2,902 yards (7.8 yards per carry) and 44 touchdowns this year. 
Benton beat Greenwood last week (45-38) for the first time in school history. The Panthers led 38-24 in the fourth quarter and senior running back D'Anthony Harper (128 rushing yards and four TDs) scored the game-winning TD with 2:09 remaining. Benton rolled up 464 yards against Greenwood, averaging almost 7 yards per play. Benton won the time of possession battle 28:17-19:43. Benton gets healthier every week and likely misses just three-year starting offensive lineman Austin Jones this week. Eight starters have missed games during Benton's five-game winning streak.

LAST WEEK
Hootens.com last week correctly picked five out of eight games (63 percent) of games involving Class 6A teams. For the season, Hootens.com has correctly picked 69 out of 85 games (81 percent) of games involving Class 6A teams.

WEEK 9 PREDICTIONS (favored teams in CAPS followed by point spread)
6A EAST
WEST MEMPHIS (14) at Pine Bluff: Pine Bluff pulls into a tie with West Memphis in the league standings with a win, while West Memphis stays alive for a first-round home playoff with with a victory. Opponents outscore Pine Bluff 128-48 during its current three-game losing streak. West Memphis rolled Jacksonville last week 38-6 behind junior running back Elijah Eulls' 88 rushing yards and three rushing scores from senior 'back Cedric Loving. 
Sylvan Hills at JONESBORO (7): Sylvan Hills is tied with West Memphis and Marion in the league standings. The Bears own the head-to-head tiebreaker over West Memphis, but not Marion. Sylvan Hills currently has the most tie-breaker points of the three (34). Sylvan Hills ripped Mountain home 49-14 last Friday behind Taevion Cunningham's three TDs, including a 99-yard scoring sprint. Jonesboro is in position for the No. 1 playoff seed following last week's 44-34 win at previously unbeaten Searcy. Junior running back Albert George ran for four TDs and Brodie Williams returned a pair of kickoffs for scores.
MARION (17) at Jacksonville: Jacksonville committed a pair of costly special-teams miscues in last week's 38-6 loss at West Memphis. The Titans need to win out to make the playoffs. Marion is tied with West Memphis and Sylvan Hills with 3-2 records in league play. The Patriots own the tiebreaker against Sylvan Hills, but not against West Memphis. Marion senior receiver Slade Webb returned to the lineup in last week's 49-28 victory over Pine Bluff with nine receptions for 232 yards and five TDs. Junior QB Daedrick Cail completed 21 of 37 passes for 384 yards and seven scores. 
SEARCY (24) at Mountain Home: Mountain Home has been eliminated from playoff contention, but the Bombers expect to return QB Lawson Stockton, fullbacks Gage Hershberger and Tatem Beshears and all-conference center Aidan Richey in 2020. Mountain Home was tied 14-14 last week at Sylvan Hills in the second quarter, but allowed 35 unanswered points in a 49-14 defeat. Searcy must win out to assure itself of a share of its first league title since 1991 following a 44-34 loss last week to Jonesboro. The Lions got within 37-34 in the fourth quarter following an interception return for a TD, but Jonesboro ran the ensuing kickoff back for the final score. 

6A WEST
BENTON (7) at Lake Hamilton: See Hootens.com Game of the Week. 
Sheridan at GREENWOOD (10): Massive game for playoff positioning. Sheridan is in the playoffs for the first time since 2015, but the Yellowjackets can finish anywhere from the No. 2 playoff seed if it wins out, or the No. 5 playoff seed should it lose out. Sheridan battled Lake Hamilton last week in a 17-10 defeat. The teams recorded the same amount of first downs (15) and the Wolves scored the game-winning TD in the third quarter. Benton beat Greenwood 45-38 last week, ending Greenwood's 19-game winning streak and 35-game winning streak in conference games dating to a 38-21 loss at Bryant in 2014.
EL DORADO (6) at Russellville: Russellville makes the playoffs if it wins out. The Cyclones rolled LR Hall 38-8 last week, leading 38-0 in the third quarter. Latrell Thomas scored twice for Russellville, while Brayden Whitford fired an 18-yard TD to Brady Burnett to enable the mercy rule. El Dorado's last two outings have likely been its best all season, capped by last week's 30-6 victory over Siloam Springs. El Dorado senior receiver Steven Tollette has emerged as a dangerous playmaker. 
LR Hall at SILOAM SPRINGS (28): LR Hall will miss the playoffs for the sixth consecutive year. The Warriors have lost six straight games since a 2-0 start. Siloam Springs, Russellville and El Dorado sport identical 1-4 league records this season. Siloam plays Russellville next week. Siloam Springs committed two turnovers and allowed two sacks in last week's 30-6 loss at El Dorado. It was the fewest points the Panthers have scored this season.