Class 7A Week 9 Rankings, Notes & Picks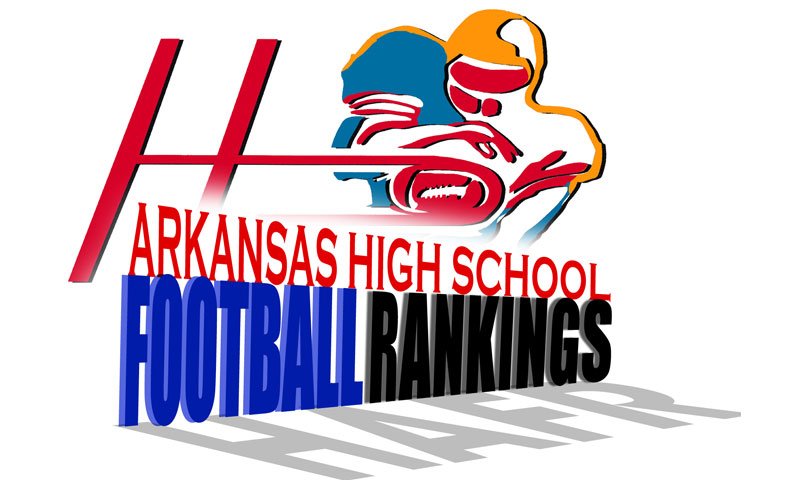 Hootens.com Rankings
Class 7A, Week 9, 2019
Copyright Hooten Publishing, Inc.

1. Bryant (8-0)
2. Bentonville (8-0)
3. Bentonville West (6-2)
4. Conway (6-2)
5. LR Catholic (6-2)
6. Har-Ber (5-3)
7. North LR (5-3)
8. Cabot (5-3)
9. LR Central (4-4)
10. Fayetteville (4-4)
11. FS Northside (2-6)
12. Van Buren (4-4)
13. Rogers (1-7)
14. Springdale (3-5)
15. FS Southside (1-7)
16. Heritage (0-8)

HOOTENS.COM GAME OF THE WEEK
No. 7 North LR at No. 1 Bryant
North LR owns a 5-1 record against Bryant the past three seasons, losing to the Hornets 27-7 in last year's state title game. North LR, ranked No. 1 when Hooten's Arkansas Football magazine hit newsstands in June, dropped to No. 2 before the season began when all-state RB Brandon Thomas and D-1 defensive lineman Rashad Muhammad sustained severe injuries to their right hands in July 4 firework's accidents. Both are back and Thomas turned in his best performance of the season last Friday. Thomas had just 40 rushes for 378 yards this season before carrying 31 times for 201 yards and 5 TDs last Friday helping North LR overcome an 18-point, second-half deficit to beat FS Northside. North LR junior QB Kareame Cotton, suspended for three games earlier this season, has completed 25 of 58 passes for 205 yards with no TDs and five interceptions.
Bryant, ranked No. 1 since July 4, has mercy-ruled every opponent this season, outscoring teams 305-30 in the first half. Its starters played more than three quarters for the first time in last Friday's 54-10 win at Cabot. Bryant coach Buck James says the Hornets "didn't play well or clean (10 penalties for 170 yards) early last week. Bryant allows just 8.1 points. The Hornets held Cabot to just 2 of 11 third down conversions and 160 yards last Friday while piling up 482 total yards and converting on 8 of 11 third downs. Bryant junior QB Austin Ledbetter completes 65 percent for 257 yards weekly, totaling 2,056 yards and 25 TDs with three interceptions this season.
Look for Bryant's defense to load up and stop RB Thomas while Ledbetter has another big night, especially against a vulnerable North LR secondary with shorter defenders. Multiple opposing coaches say Ledbetter makes Bryant better than a year ago. Hornet senior RB Ahmad Adams (92 yards rushing per game) has committed to Arkansas State.
"This is a huge game," says James (38-8 at Bryant). "Our kids aren't dumb. North Little Rock is still winning. There is still nobody lining up to play them. They're still going to have to go out of state to schedule games. They're the king dog in our league. And we don't get the same North Little Rock everybody else gets."

LAST WEEK
hootens.com correctly predicted all eight winners in Class 7A games. For the season, hootens.com has correctly predicted 62 of 75 winners (83 percent) in Class 7A.

7A CENTRAL
North LR at BRYANT (35): Game of the Week.
CABOT (7) at FS Northside: Northside looks to end a 5-game skid with its first conference win. Cabot hung with defending state champ Bryant last week better than any team this season. Cabot junior QB Tyler Gee is one watch, directing the Panthers to 28.25 points weekly.
CONWAY (1) at LR Catholic: LR Catholic could earn No. 2 playoff seed and first-round bye with a win. LR Catholic led just 3-0 at halftime in last week's 24-20 win at FS Southside. Conway, at No. 1 Bryant next week, likely secures home-field advantage in the first round of the playoffs with another win.
FS SOUTHSIDE (1) at LR Central: Southside lost 24-20 but scared Catholic scoring three TDs in just over 2 minutes in the fourth quarter last week. LR Central owns three wins over Class 7A teams with a combined record of 3-21. LR Central beat winless Heritage 62-0 Week 2. The following Friday, Southside won at Heritage 35-6 for its only victory this season.

7A WEST
Springdale at BENTONVILLE (22): Springdale threw four interceptions and was penalized 100 yards in last week's 45-20 loss to Fayetteville. Bentonville beat Rogers last week for the 13th consecutive season. Undefeated Bentonville visits Bentonville West for the league title and top playoff seed on the opposite side of the bracket from Bryant.
Rogers at HAR-BER (18): Har-Ber lost four fumbles last week, but senior QB Blaise Wittschen passed to Jujuan Boyd for two TD passes in the final 4:05, including a 24-yard, game-winner with 46 seconds left to top Van Buren 34-31. Wittschen has completed 60 percent of his passes this season for 2,113 yards and 26 TDs with six interceptions. The Wildcats score 42 points weekly, start 10 seniors on offense and likely earn a No. 3 seed with a win over Fayetteville next Friday. Har-Ber standout skill player Jay Burns could return this week, Coach Chris Wood says. Rogers makes the playoffs with a win next week over Heritage.
FAYETTEVILLE (35) at Heritage: Fayetteville led at Springdale 31-0 midway through the 3rd quarter last week when senior receiver Connor Flannigan accounted for 180 yards offense. It was the Bulldogs 11th straight win over Springdale. Fayetteville scores 33 points per game. Winless Heritage has been outscored 400-70 this season.
BENTONVILLE WEST (13) at Van Buren: West outscores teams 35-23 weekly but its defense misses injured standout linebacker Jonas Hinson (6-2, 220). Van Buren tallied 418 yards in last week's heartbreaking 34-31 loss to Har-Ber. Van Buren senior QB Gary Phillips accounted for 273 yards offense.