Class 3A Week 10 Rankings, Notes & Picks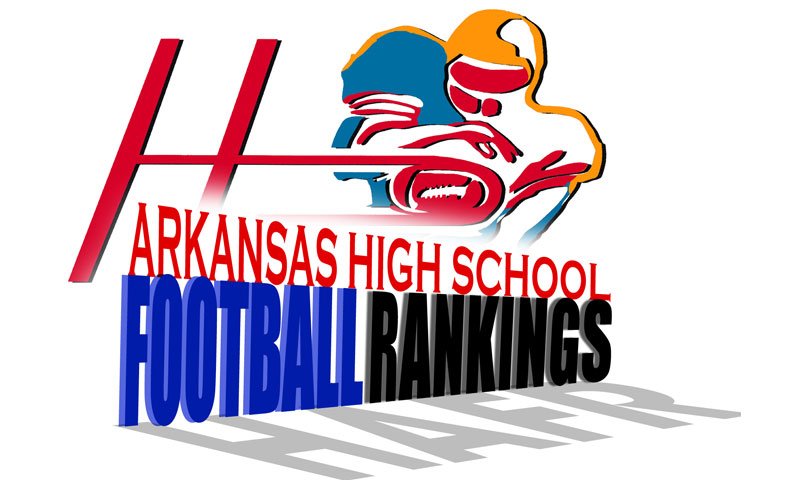 Hootens.com Rankings
Class 3A, Week 10, 2018
Copyright Hooten Publishing, Inc.
1. Booneville (9-0)
2. Smackover (8-1)
3. Clinton (9-0)
4. Newport (8-1)
5. Prescott (8-1)
6. Glen Rose (8-1)
7. Osceola (8-1)
8. Mayflower (8-1)
9. Rison (9-0)
10. Harding Academy (7-2)
11. Lamar (8-1)
12. Danville (6-3)
13. C. Harmony Grove (7-2)
14. Walnut Ridge (7-2)
15. McGehee (6-3)
16. Atkins (6-3)
17. Melbourne (6-3)
18. Mansfield (6-3)
19. Piggott (5-4)
20. Hoxie (5-4)
21. Centerpoint (6-3)
22. Barton (4-4)
23. Greenland (5-4)
24. Charleston (5-4)
25. Baptist Prep (4-4-1)
26. Harrisburg (3-6)
27. Cedarville (4-5)
28. Yellville-Summit (4-5)
29. Jessieville (4-5)
30. Dollarway (3-6)
31. Palestine-Wheatley (4-4)
32. Fouke (3-6)
33. Lake Village (5-4)
34. Mountain View (2-6)
35. Perryville (2-7)
36. Manila (3-6)
37. Horatio (3-6)
38. West Fork (1-8)
39. Bismarck (1-8)
40. Genoa Central (1-8)
41. Marshall (1-8)
42. Drew Central (0-8)
43. Corning (0-9)
44. Paris (0-9)
45. Two Rivers (0-9)
46. Cedar Ridge (1-4)
47. Rose Bud (0-3)

HOOTENS.COM GAME OF THE WEEK
No. 7 Osceola at No. 4 Newport
8-1 teams settle the outright 3-3A title, No. 1 playoff seed and home-field advantage until the quarterfinals.
Osceola has won six straight games following a Week 3 loss to Class 4A Rivercrest, which Osceola shared last year's 3-3A title with. The Seminoles are in position to win the league title despite breaking in a new quarterback (sophomore Kam Turner), running back (junior J.D. Winda) and its top two receivers (juniors Trevon Moore and Greg Hooks, cousin to Coach Robert Hooks). Senior Jariq Scales (72 tackles, seven for loss, one interception) anchors the Osceola defense, which surrenders just 15 points per game.  Newport shared the 2016 3-3A title and galloped to that season's semifinals before eventual state champion Prescott eliminated them. The Greyhounds are senior-laden, with key contributors at QB (three-year starter Cash Forrester, who completes 61 percent of his passes for 1,712 yards and 17 TDs this year), receiver (Julius Clark, who has caught 28 passes for 455 yards and four scores and Zaywin Smith, who's caught 20 passes for 209 yards and three TDs). Senior linebacker Julius Pruitt (62 tackles) paces Newport's defense, which allows 18.2 points per week.

MISSING IN ACTION
6-3A member Episcopal plays 8-man club football this fall, while 2-3A schools Cedar Ridge and Rose Bud finish 2018 playing junior varsity schedules.

LAST WEEK
Hootens.com correctly predicted 18 of 22 winners (82 percent) of games involving Class 3A schools. Hootens.com has correctly picked 218 of 252 winners (87 percent) of games involving Class 3A schools for the season.

WEEK 10 PREDICTIONS (favored team in CAPS followed by point spread)
1-3A
BOONEVILLE (17) at Cedarville: Cedarville is part of a four-way tie for the third through six spots in the league. The Pirates earned the tiebreaker over Mansfield in last week's 26-20 overtime conquest. Charleston and Greenland own the tiebreaker over Cedarville. Booneville clinched the No. 1 playoff seed, and at least a share of its 34th league title in school history with a 28-7 win at Lamar. The Bearcats have won 18 consecutive regular season games. 
Charleston at LAMAR (17): Charleston is in a four-way tie for the three through six spots in the league. The Tigers own the tiebreaker over Cedarville but not Mansfield or Greenland. Charleston amassed 364 yards (second-most this year) in last week's 41-6 win over West Fork. Lamar is the No. 2 playoff seed, its best finish since 2015. Lamar, which hosts Atkins next week in the playoffs, managed just 129 yards in last week's 21-point loss to Booneville. 
West Fork at GREENLAND (14): West Fork has been eliminated from playoff contention. The Tigers surrendered six sacks in last week's 41-6 loss at Charleston. Greenland is in a four-way tie for the third through six spots in the league. Greenland owns the tiebreaker over Charleston and Cedarville but not Mansfield.
Paris at MANSFIELD (24): Paris has been eliminated from playoff contention and finishes its first winless season since 2003. Mansfield, which has lost three straight games, owns tiebreakers over Charleston and Greenland, but not Cedarville. Mansfield qualifies for its first playoffs since 2011. 

2-3A
CLINTON (33) at Mountain View: Mountain View is in the playoffs and could finish as high as the No. 4 playoff seed with a win and a Yellville-Summit loss. Clinton clinched at least a share of its third straight league title (10th of the modern playoff era since 1970) and wins it outright with a win here. Clinton hosts the No. 5 team from the 1-3A next week in the opening round of the playoffs. The Yellow Jackets allowed just six points in October. 
Hampton at HARDING ACADEMY (3): Harding Academy, which was idle last week, will be the No. 2 playoff seed from the 2-3A and opens the postseason at home against the No. 4 seed from the 1-3A. Harding did not allow a pass completion and intercepted three passes two weeks ago in a 41-8 victory at Marshall. Class 2A Hampton will be the No. 2 playoff seed from the 8-2A after last week's 21-7 win over Fordyce. Hampton, led by defensive linemen Kade Pennington (6-3, 290) and Desmond Brown (6-1, 235) and linebackers D.D. Stephens and Tre Murphy, held Fordyce to 215 total yards (17 passing yards).
YELLVILLE-SUMMIT (1) at Marshall: Winner advances to playoffs. Yellville earns the No. 4 playoff seed with a win as it owns the tiebreaker over Mountain View. Marshall can only finish as the No. 5 seed.
E. Poinsett County at MELBOURNE (10): This game was scheduled when Rose Bud dropped varsity football prior to Week 4. Melbourne will be the No. 3 playoff seed and travel to the No. 3 seed from the 1-3A next week. The Bearkatz (29.1 points per game) go behind senior two-way lineman Michael Masson and receiver/cornerback Andrew Pitts and junior QB Gabe Lawrence and receiver/linebacker Alex Bray. 

3-3A
Osceola at NEWPORT (4): See Hootens.com Game of the Week. 
Corning at PIGGOTT (17) (Thursday): Corning will miss the playoffs for the fourth straight year. League powers Walnut Ridge, Newport and Osceola outscored Corning 168-6 the past three weeks. Piggott can finish third, fourth or fifth in the league, depending on this week. Piggott has dominated this Clay County series, winning six straight meetings by a combined 143 points. 
Hoxie at WALNUT RIDGE (10): The Lawrence County showdown has playoff ramifications. Hoxie forces a three-way tie for the Nos. 3-5 playoff seeds with a win. Walnut Ridge clinches the No. 3 playoff seed, and a first-round home playoff game, with a win. The Bobcats rushed for 483 yards (8.6 yards per carry) and seven TDs in last week's 47-14 win at Manila. Senior Cade Burris zipped for 214 yards and four TDs. 
HARRISBURG (7) at Manila: Winner finishes sixth in league standings, but neither team makes the playoffs. Manila passed for 206 yards in last week's 47-14 loss at Walnut Ridge, but committed three turnovers and racked up nine penalties for 79 yards. Harrisburg expects to return promising junior playmaker Ross Heeb and sophomores Jacob Wallace and Drew Wright in 2019. 

4-3A
Two Rivers at ATKINS (33) (Thursday): Two Rivers misses the playoffs and will enter 2019 on a 36-game losing streak. The Gators scored 30 points in last week's loss to Baptist Prep, their most since 2015. Atkins clinches the No. 4 playoff seed with a win and opens the playoffs at Lamar. Atkins competed well last week at Glen Rose in a 25-19 loss but the Red Devils surrendered three sacks and committed three turnovers. 
DANVILLE (27) at Perryville (Thursday): Perryville can not make the playoffs. Perryville's junior high finished 2018 8-1, second in the district. Danville is locked into the No. 3 playoff seed and it hosts the No. 4 playoff seed from the 2-3A (Mountain View or Yellville-Summit). Danville's three losses this year are to Lamar, Mayflower and Glen Rose (combined record: 24-3).
GLEN ROSE (24) at Baptist Prep: Baptist Prep clinched its first playoff trip since 2015 in last week's 62-30 win at Two Rivers. The 62 points were the most since flogging Fouke 62-22 in the 2011 playoffs. The Eagles' four wins are their most since 2011 (finished 11-2). Baptist Prep could finish as high as the No. 4 playoff seed should it win and Atkins loses. Glen Rose senior running back Jay'Shawn Cox and junior QB J.T. Towers eclipsed 100 yards rushing in last week's six-point win over Atkins. 
MAYFLOWER (27) at Jessieville: Jessieville misses the playoffs for the second straight season. The Lions should return their leading passer (freshman QB Carson Hair), leading rusher (junior Austin Carr), and leading pass-catcher (junior Joseph Benton). Second-leading tackler Dexton Hilton (60 tackles) is a junior. Mayflower rolled up a season-high 60 points in last week's 46-point win over Perryville. Senior playmakers Deon and Keon Simmons each scored four first-half TDs in that game. Mayflower is the No. 2 playoff seed and will host the No. 5 seed from the 6-3A. If the Eagles should win that game, they'd likely travel to Rison in the second round. 

5-3A
Genoa Central at BISMARCK (1): Winner avoids winless league record and last-place conference finish. Genoa Central averages 5.6 points per game. Bismarck junior QB Collier Robinson fired a 55-yard TD pass to senior playmaker Dylan Clayton in last week's 66-6 loss at Smackover.
C. Harmony Grove at SMACKOVER (20) (Thursday): Harmony Grove forces a three-way tie for the league title with a win but the margin of victory would decide which playoff seed the Hornets earn. Prescott downed Harmony Grove last week by 40 points with multiple Harmony Grove starters unavailable on a school trip. The 40-0 decision was Harmony Grove's first scoreless offensive game since 2013. Smackover earns the outright league title with any win. Smackover would earn a first-round playoff bye and host the winner of the Danville-Mountain View/Yellville-Summit game. Smackover smothered Bismarck 66-6 last Friday, allowing minus-64 rushing yards and forcing six turnovers.
Centerpoint at PRESCOTT (24) (Thursday): Centerpoint clinched the No. 4 playoff seed in last week's 42-7 win over Horatio. The Knights open the playoffs next week at the loser of the Osceola-Newport tilt. Centerpoint has scored 78 points the past two weeks. Prescott clinched the No. 2 playoff seed in last week's 40-0 romp at Camden Harmony Grove, racking up 410 yards. The Curley Wolves host the No. 5 seed from the 2-3A.
FOUKE (3) at Horatio: Winner earns the No. 5 playoff seed and first-round playoff game at winner of Osceola-Newport. Horatio's Flexbone could prove difficult for Fouke to prepare for in one week. Fouke played its most complete game in last week's 34-7 conquest against Genoa Central. 

6-3A
BARTON (7) at Lake Village: Winner earns the No. 3 playoff seed and first-round game at the No. 3 seed from the 3-3A. Lake Village clinches its second playoff berth in three years with a win. Senior three-year starting QB Aarion Kilgore fuels the Lake Village attack. Barton junior Tyrese Williams darted for 103 yards in last week's 44-12 loss to Rison. The Bears are still without leading rusher, junior Kavein Davis (923 rushing yards this year).
PALESTINE-WHEATLEY (10) at Drew Central: Palestine-Wheatley qualifies for the playoffs with a win and a Dollarway loss. The Patriots rung up their season-high point total in last week's 42-16 win over Dollarway. Drew Central has been eliminated from playoff contention. The Pirates expect to return leading passer (sophomore QB Cole Harris) and defensive captain Eli Trantham in 2019. 
RISON (22) at Dollarway: Dollarway makes the playoffs with a win. Rison earned at least a share of its 25th conference title  in the modern playoff era (since 1970) with last week's 44-12 decision at Barton. The Wildcats, the top scoring defense in Class 3A (5.6 PPG), allowed only 179 yards and six first downs. Rison's offensive line of Harrison Reed and Eli Harrington (tackles), Michael Foote and Josh Bowen (guards), center Darren Holland and end Fred Marsh, has improved weekly. Rison leads the all-time series 4-3, but the schools haven't met since 1968. 
Fordyce at MCGEHEE (6): Fordyce struggled offensively last week at blitzing Hampton in a 21-17 loss, completing just four of 12 passes for a season-low 17 yards.