Class 6A Week 10 Rankings, Notes & Picks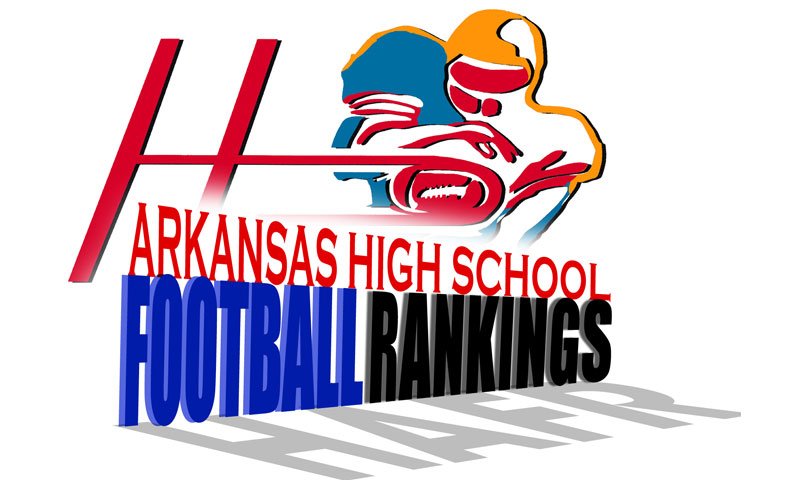 Hootens.com Rankings
Class 6A, Week 10, 2018
Copyright Hooten Publishing, Inc.
1. Greenwood (8-1)
2. Benton (7-2)
3. West Memphis (9-0)
4. Jonesboro (6-3)
5. Searcy (7-2)
6. Marion (7-2)
7. Russellville (6-3)
8. El Dorado (4-5)
9. Pine Bluff (2-6-1)
10. Siloam Springs (5-4)
11. Lake Hamilton (5-4)
12. Sylvan Hills (3-6)
13. Sheridan (2-7)
14. Jacksonville (3-6)
15. LR Hall (1-8)
16. Mountain Home (0-9)

HOOTENS.COM GAME OF THE WEEK
No. 6 Marion at No. 4 Jonesboro
A Marion win opens the door for a three-way tie for second place in the league. If the Patriots should win by 13 points then they would likely earn the No. 2 playoff seed, a first-round bye and a home quarterfinal game. A win would tie the 2005 team's school record for regular-season wins in the modern playoff era (since 1970). Marion's 56-0 win last week over Jacksonville was its first shutout since 2009. Jonesboro earns a share of the league title with a win and a West Memphis loss, but it can only finish as the No. 2 playoff seed. The Golden Gang rushed for a season-high 271 yards (6.6 yards per carry) in last week's 31-15 win at Sylvan Hills. Jonesboro's top passer (Cross Jumper), rusher (Albert George) and third-leading receiver (Connor Clark) are all sophomores. Senior defensive lineman Kevin Pointer (56 tackles this year, 10 for loss, team-high six sacks) is a Louisiana-Monroe commit. Senior left tackle Darius Thomas is an Ole Miss commit. 

LAST WEEK
Hootens.com correctly predicted seven of eight winners (88 percent) of games involving Class 6A schools. Hootens.com has correctly picked 76 of 91 winners (84 percent) of games involving Class 6A schools for the season.

WEEK 10 PREDICTIONS (favored teams in CAPS followed by point spread)
6A EAST
Marion at JONESBORO (1) (Thurs.): See Hootens.com Game of the Week. 
Jacksonville at PINE BLUFF (17) (Thurs.): Jacksonville can make the playoffs with a win. The Titans lost by 56 points last week at Marion, surrendering 371 yards on 35 plays (10.6 yards per play). Pine Bluff pushed league champion West Memphis, losing by one point, when its final drive ended in Blue Devil territory. 
WEST MEMPHIS (27) at Mountain Home (Thurs.): Mountain Home can not make the playoffs and finishes winless for the third time since 2013. This is the last game for senior fullback Junior Williams, who has rushed for almost 3,000 yards in his career. West Memphis punted Pine Bluff 24-23 last week to clinch the No.1 seed and no worse than a share of the league title (first since 2011). A win secures the fifth 10-0 regular season in school history. West Memphis has struggled on the road in league play, including thrillers at Marion (22-20) and Jacksonville (3-0 in overtime) but the Blue Devils simply have too many options for the Bombers. Mountain Home beat West Memphis 14-7 in 2016, the last time the teams met at Bomber Stadium.
SEARCY (21) at Sylvan Hills (Thurs.): Sylvan Hills can finish as high as the No. 5 playoff seed with a win and a Pine Bluff loss. The Bears forced three turnovers in last week's 16-point loss to Jonesboro. Searcy can still finish tied for second in the conference with a win and a Jonesboro loss. The Lions rolled up a season-high 61 points and 562 yards in a 61-20 conquest over Mountain Home. Senior QB Peyton Wright threw for 297 yards and three TDs and junior running back Johnson Guthire zipped for 177 yards and three scores. 

6A WEST
BENTON (30) at Sheridan: Sheridan misses the playoffs, but its two wins are the school's most since 2015. Juniors Steph Thomas (458 passing yards this year with three TD passes), Alden Lucas (588 rushing yards and five scores) and sophomore Trace Watkins expect to return in 2019. Benton downed Lake Hamilton last week 34-24 without leading rusher Zak Wallace, and starting QB Colen Morrow. Senior cornerback Devin Griffin returned an interception 22 yards for a TD. Sophomore QB Garrett Brown has started the past four games, completing 64 percent of his passes for 1,379 yards and 14 TDs (all team-highs). Wallace may not return until the quarterfinal round of the playoffs, giving him three weeks between game action. Benton earned the No. 2 playoff seed, a first-round playoff bye and a home game in the quarterfinals. 
EL DORADO (35) at LR Hall: LR Hall misses the playoffs for the fifth straight year. Russellville ripped El Dorado 21-19 last week in a game the Wildcats played without starting QB Alex Hicks, receiver Shun Levingston and defensive linemen Quentin Frazier and Jacoby Hankton. El Dorado could still earn the No. 3 playoff seed with a win and a Siloam Springs win over Russellville. 
Lake Hamilton at GREENWOOD (30): Lake Hamilton will be the No. 6 playoff seed. The Wolves battled No. 2 Benton last week, trailing just 27-24 in the fourth quarter of a 34-24 loss. Hamilton outgained Benton 339-298. Greenwood clinched no worse than a share of the 6A West title and the No. 1 playoff seed with last week's 42-14 conquest at Sheridan. Seven Greenwood receivers caught multiple passes, paced by junior Lazaro Angel's six receptions for 75 yards. Greenwood lost two fumbles at Sheridan. 
RUSSELLVILLE (2) at Siloam Springs: A Siloam Springs win causes chaos for the Nos. 3-5 playoff seeds. Russellville is 4-2 in league play with 41 tiebreaker points, while Siloam Springs is 3-3 with 30 tiebreaker points. El Dorado is 3-3 against the 6A West with 29 tiebreaker points. Russellville owns the tiebreaker over El Dorado, but El Dorado owns the tiebreaker over Siloam Springs. Siloam's five wins are its most since 2014 and it last won more than five in 2011. Russellville led El Dorado 14-0 last week at halftime and won by two points.