Class 7A Week 10 Rankings, Notes & Picks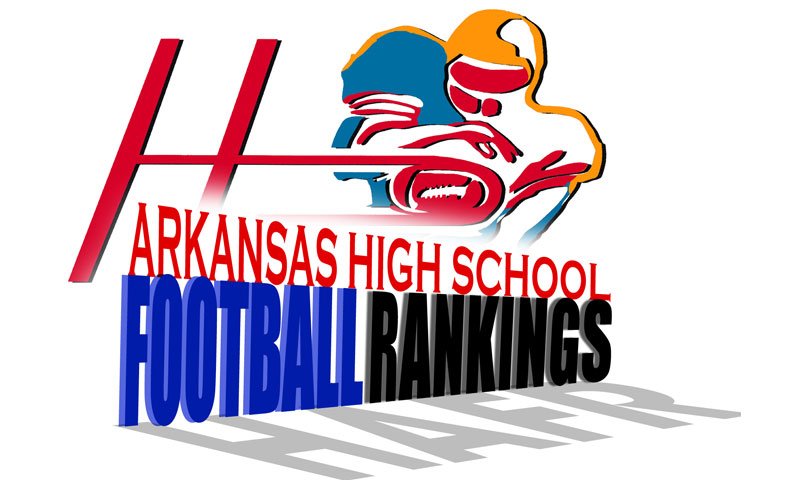 Hootens.com Rankings
Class 7A, Week 10, 2018
Copyright Hooten Publishing, Inc.
1. North LR (9-0)
2. Fayetteville (7-2)
3. Bryant (7-2)
4. Conway (8-1)
5. Bentonville (6-3)
6. Bentonville West (6-3)
7. FS Southside (5-4)
8. Springdale (6-3)
9. Springdale Har-Ber (5-4)
10. LR Catholic (4-5)
11. Cabot (3-6)
12. FS Northside (5-4)
13. Van Buren (3-6)
14. LR Central (1-7)
15. Rogers (1-7)
16. Rogers Heritage (0-9)

HOOTENS.COM GAME OF THE WEEK
No. 6 Bentonville West at No. 5 Bentonville
Both are undefeated in league play and this matchup again decides the 7A West title, No. 1 playoff seed and home-field advantage through the playoffs. A year ago, the game was tied 28-28 in the fourth quarter before West was stopped inside Bentonville's 15-yard line and lost 37-28. Bentonville went on to play in the state title game while West lost to Conway 48-40 after a first-round playoff bye.
West senior all-state QB Will Jarrett returned full-time from injury last week, completing 14-of-22 passes for 375 yards in the first half, including a 78-yard TD to junior Tucker Swoboda (6-3, 180) and a 92-yard TD to Ole Miss commit Jadon Jackson (6-2, 185). Bentonville linebacker Kendall Young (6-5, 220), a Vanderbilt commit, also owns offers from Arkansas and Missouri.  Stout linemen spearhead a Bentonville defense playing well, allowing just 9.6 points in conference games.  Bentonville scores 33.8 points weekly and should have success running the ball, but overall West probably has more explosive players and weapons.  West league coaches are split on who wins this matchup, but the victor gets a sweet playoff draw likely advancing to the semifinals for a home game against either Fayetteville or the loser of this week's Conway at Bryant matchup. Meanwhile, the loser of this game likely travels to No. 1 North LR in the semis.

LAST WEEK
Hootens.com correctly predicted the winner in seven of eight Class 7A games. For the season, hootens.com is 65-21 (76 percent) predicting 7A games.

WEEK 10 PREDICTIONS (favored team in ALL CAPS followed by points spread)
7A CENTRAL
LR CATHOLIC (3) at LR Central (Thurs.): LR Catholic has lost five straight, needs a win this week and a FS Southside loss to make the playoffs. LR Central misses the postseason in Coach Kent Laster's first year at the school.
Cabot at NORTH LR (15): Defending state champ North LR rallied from 21 points down to beat Bryant 34-28 last week. North LR secured the No. 1 seed and homefield through the postseason. Cabot can make the playoffs with an upset win at North LR or a FS Northside victory over FS Southside.
FS SOUTHSIDE (1) at FS Northside: Playoff positioning on the line in the Battle of Rogers Avenue. FS Southside earns a No. 4 seed and plays at home in the first round with a win but drops to No. 5 and must travel next week if it loses. FS Northside can also earn a No. 4 seed with a win but a loss likely drops the Grizzlies to a No. 6 seed. FS Northside has lost three in a row, including 35-23 last week at Cabot. Southside, winners the past two weeks, dresses 28 seniors, including eight offensive starters. Southside needs to avoid third-and-long this week and tackle well, especially Northside's electric QB Derrick "Duece" Wise. Northside's pass rush is stellar and all-state offensive tackle Stevie Young (6-5, 310) has been used up front on defense in key situations and big games.
Conway at BRYANT (4): Conway catches Bryant at a good time. Bryant put a lot into last week's emotional 34-28 loss at No. 1 North LR. Bryant's defense likely forces Conway to pass and that could be a problem. However, Conway's special teams could spark an upset. The game's winner lands on the opposite side of the playoff bracket from North LR and likely plays host to Fayetteville in the playoff quarterfinals.

7A WEST
BENTONVILLE WEST (1) at Bentonville: Game of the Week
FAYETTEVILLE (14) at Har-Ber: While the West conference will be won in Bentonville this week, injury-free Fayetteville may be the league's best bet at a deep playoff run. No. 2 ranked Fayetteville expects to have all its starters healthy this week for the first time since August and has played its best ball of the season the past three weeks, especially on defense, Coach Billy Dawson says. Winner of Fayetteville at Har-Ber gets a No. 3 playoff seed. A Har-Ber loss combined with a Springdale win at Van Buren this week puts Har-Ber on the road in the first round of the playoffs.
SPRINGDALE (1) at Van Buren: Playoff-bound Van Buren rushed 26 times for 28 yards and threw three interceptions in last week's mercy-rule loss at Bentonville West. Springdale, without injured starting QB Grant Allen for the remainder of the season, earns a No. 4 playoff seed with a victory combined with a Har-Ber loss to Fayetteville. Springdale must tackle well to win, especially Van Buren's underrated dual-threat QB Christian Morrow (6-0, 195; 100 meters in 11.4 seconds).
ROGERS (14) at Rogers Heritage: The only teams not making the playoffs from the West. Rogers beat Class 5A LR Parkview 28-27 for its lone win this fall. Rogers Heritage has lost 37 of its past 39 games and was outscored 192-14 last month.