HOGS: new week, same questions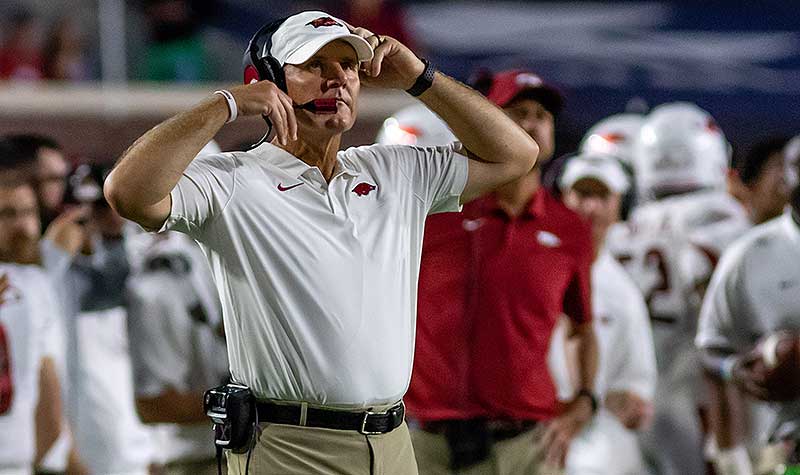 FAYETTEVILLE - The same weekly question identifying the starting Arkansas quarterback got the same answer after Tuesday's practice, this time from sophomore receiver Mike Woods.
"Everybody is looking good," Woods said. "We don't know who is starting, yet, but whoever is back there we've got faith in."
Graduate transfers Ben Hicks, returned from a shoulder injury idling him last week, and Nick Starkel, replaced after a 41-0 first half in Saturday's 48-7 loss at Alabama, have started for the Razorbacks (2-6, 0-5 in the SEC) going into Saturday's homecoming game against Mississippi State (3-5, 1-4).
The SEC Network will televise the SEC West game at 3 p.m. from  Reynolds Razorback Stadium 
Redshirt freshman QB John Stephen Jones, playing his first game of 2019 last week with one first-half series and the entire second half against Alabama, got some first-unit time and true freshman KJ Jefferson some second-team time Tuesday during practice inside the Walker Pavilion Indoor Practice facility.
Unused so far, Jefferson could play in all four of Arkansas' remaining games, and under a NCAA rule invoked last year still be a redshirt retaining his freshman eligibility in 2020.
Jones, six of seven passing with some effective running, directed  Arkansas' lone touchdown drive against Alabama.
"He came in and performed," Arkansas sophomore right tackle Dalton Wagner said after Tuesday's practice when asked about Jones. "He went after it in Alabama, and I was pleased to have him back there. He did a great job going in there against No. 1 Alabama at their place as a (redshirt) freshman."
A WINNABLE GAME
The Razorbacks the past two weeks lost 51-10 to Auburn and 48-7 to Auburn. Mississippi State's 3-5, 1-4 records indicate a team in Arkansas' league beyond just being in the same SEC West.
Still, the Bulldogs appear no slouches.
"Mississippi State, they are a great team," Wagner said. "I think their record doesn't reflect how hard they play and how well coached they are. It's still going to be a difficult win this Saturday, but it's a winnable game and we're going to go after it this Saturday."
REVENGE TALK
Last year's Razorbacks didn't appear in Mississippi State's league. The 8-5 Bulldogs buried the 2-10 Razorbacks 52-6 in Starkville, Miss.
All who played for the Razorbacks in coach Chad Morris' first Arkansas season ruefully recall stumbling in Starkville and vow to fare better.
"It is kind of a revenge deal," Arkansas senior defensive tackle T.J. Smith said. "They ran it up on us, throwing the ball at the end of the game when they were up. So we are going out there excited to play against these guys."
Woods addressed the then and now vs. Mississippi State.
"For sure, we've got a little chip on our shoulder going into this week," Woods said. "They didn't have respect for us, so we've got no respect for them."
UPHILL BATTLE
The Razorbacks do know it takes more than vows against Mississippi State running back Kylin Hill and his 793 yards rushing.
"Obviously a very good running back," Arkansas backup linebacker Hayden Henry said Tuesday. "He leads the SEC in rushing. A very dynamic player and a lot of older guys up front. A real big offensive line and they do a pretty good job getting movement."
THIN UPFRONT
The Bulldogs defensively start a typically big, fast front, Arkansas coaches and players say.
Against them, Arkansas starts a makeshift line on the left.
Senior starting left tackle Colton Jackson of Conway this week was compelled to retire from football after a lingering foot injury, two concussions and finally a painful back injury.
Senior starting left guard Austin Capps of Star City appears apt to miss his second consecutive game with a concussion joined in concussion protocol by sophomore Kirby Adcock of Nashville. Adcock started for Capps against Alabama but likely won't play this week, Morris said.
Sophomore Shane Clenin starts at left guard but is the backup center and a backup tackle.
"At this point Shane knows what goes on at every position and he can play anywhere," Arkansas starting junior center Ty Clary of Fayetteville said. "It was honestly like having a second center in there today to help with calls. He's making calls before I make some of them, so it's really nice."