4A Week 10 Rankings, Notes & Picks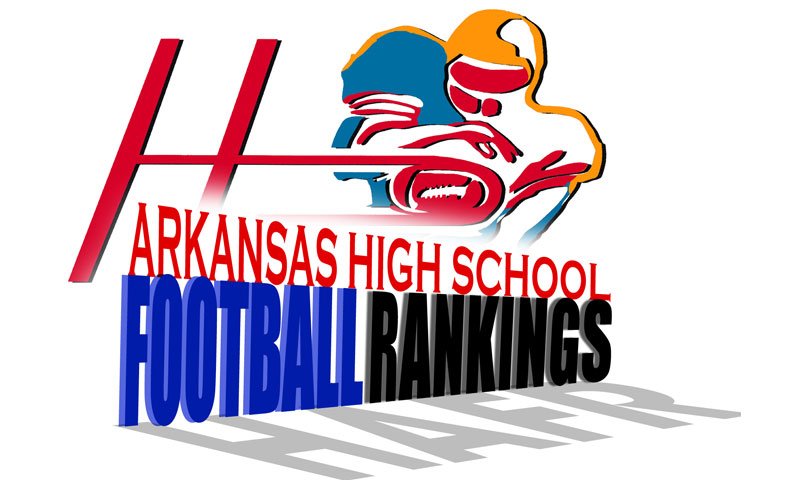 Hootens.com Rankings
Class 4A, Week 10, 2017
Copyright Hooten Publishing, Inc.

1. Warren (8-1)
2. Pea Ridge (9-0)
3. Joe T. Robinson (9-0)
4. Arkadelphia (8-1)
5. Prairie Grove (8-1)
6. Booneville (8-1)
7. Nashville (6-3)
8. Ozark (7-2)
9. Gosnell (6-3)
10. Southside Batesville (8-1)
11. Dardanelle (6-3)
12. Stuttgart (6-3)
13. Ashdown (6-3)
14. Trumann (8-1)
15. Heber Springs (6-3)
16. Gravette (5-4)
17. Shiloh Christian (6-3)
18. Pottsville (5-4)
19. Riverview (6-3)
20. Dumas (6-3)
21. Star City (4-5)
22. Hamburg (5-4)
23. Helena (6-3)
24. Bauxite (4-5)
25. Monticello (4-5)
26. Malvern (3-6)
27. Pocahontas (5-4)
28. Fountain Lake (4-5)
29. Jonesboro Westside (6-3)
30. Mena (3-6)
31. Waldron (5-4)
32. Gentry (5-4)
33. Dover (5-4)
34. Highland (3-6)
35. Lonoke (3-6)
36. Crossett (2-7)
37. Brookland (4-5)
38. Lincoln (3-6)
39. Harrisburg (3-6)
40. DeWitt (2-7)
41. CAC (1-8)
42. Huntsville (1-8)
43. Dollarway (0-8)
44. Berryville (1-8)
45. Subiaco Academy (2-7)
46. West Fork (0-9)
47. Cave City (0-9)
48. Baptist Prep (0-9)

HOOTENS.COM GAME OF THE WEEK
No. 22 Hamburg at No. 20 Dumas
The winner finishes as the No. 2 playoff seed. Dumas coach and Hamburg native Max Pennington (class of 1996) has lost the past two to his alma mater by a combined 75-27. Dumas rushes for 311 yards weekly behind senior three-year starters Tobias "T-Bone" Bailey (right guard), Luke Carpenter (left tackle) and Dylan Bonds (right tackle). Bobcat senior Jarquis Fisher has 173 carries for 1,300 yards and 14 TDs this fall, while freshman Kylin James has 103 carries for 915 yards and 10 TDs.  Hamburg coach Cecil Ray Cossey (Hamburg class of 1998) has won at least eight games each of the past four seasons. The Lions trailed No. 1 ranked Warren 28-14 in the third quarter a week ago before losing by 29 points. Hamburg hasn't scored more than four TDs in any conference game this season. "They are hard to prepare for because they run the spread, but don't have a bread-and-butter guy," Pennington says. "They throw it around to four of five guys."

LAST WEEK
Hootens.com correctly predicted 22 of 24 games (92 percent), nailing the point spread of Brookland by two points over Harrisburg. Hootens.com has correctly predicted 239 of 267 games (90 percent) for the season.

WEEK 10 PREDICTIONS (favored team in CAPS followed by point spread)
1-4A
GRAVETTE (10) at Gentry: Both are in the playoffs behind solid efforts from their top playmakers. Gravette senior Austin O'Brien has rushed for 1,729 yards and 19 TDs this season, and caught nine passes for 198 yards and three TDs. Gentry standout QB Jon Faulkenberry has completed 111 of 186 passes (60 percent) for 1,593 yards and 14 TDs and rushed 135 times for 1,107 yards and 19 TDs. Gravette likely finishes as the No. 3 seed with a win after last week's five-point upset over Shiloh Christian, the first in the series since 2002. Gentry can finish as the No. 4 or No. 5 seed.
Berryville at HUNTSVILLE (17): Neither team makes the playoffs. Huntsville trailed unbeaten Pea Ridge last week by 21 points at halftime, but gave up two quick TDs in the opening five minutes of the second half. Junior QB Sean McCone threw two TDs and ran for another at Pea Ridge.
Lincoln at PRAIRIE GROVE (26): Prairie Grove finishes as the No. 2 seed and Lincoln misses the playoffs for the second straight season. Prairie Grove allows 13 points per game. Lincoln QB Caleb Lloyd threw a TD pass, a two-point conversion and ran for score in last week's 20-point loss to Gentry.
PEA RIDGE (12) at Shiloh Christian: Pea Ridge has at least a share of the league title and No. 1 playoff seed. Blackhawk senior QB Jakota Sainsbury hit 12 of 14 passes for 242 yards and two TDs in last week's 28-point win over Huntsville. Shiloh Christian likely finishes as the No. 4 seed (could've been playing for the league title and top seed before last week's loss at Gravette). The Saint offense didn't score until the final two minutes.

2-4A
Lonoke at RIVERVIEW (4) (Thurs.): Lonoke must win by at least seven points and get a Helena loss to make the playoffs, while Riverview gets in with a victory. Riverview has never been to the playoffs in Class 4A (went five times in 3A), and Lonoke went to the playoffs four straight times before last season.
CAC at STUTTGART (21) (Thurs.): Stuttgart probably finishes the No. 2 playoff seed. The Ricebirds have won five straight since losing at Southside Batesville. CAC won't make the playoffs after winning its first game of 2017 last week, besting Baptist Prep by 33 points. Sophomore Rhett James ran for a TD and caught a 50-yard TD pass.
SOUTHSIDE BATESVILLE (35) at Baptist Prep: Southside Batesville wraps up a share of the its first-ever conference title and top playoff seed with a win. Junior Caden Huskey ran for a pair of TDs in last week's mercy-rule win over Helena.
HEBER SPRINGS (6) at Helena: Heber Springs shares its second straight league title with a win, while Helena must win to lock up a playoff spot. Helena senior Terrance Calhoun has rushed for more than 1,000 yards this season.

3-4A
Cave City at BROOKLAND (13) (Thurs.): Niether can make the playoffs, but Brookland can finish on a two-game winning streak and the Bearcats lost three games by a TD or less. Winless Cave City averages 10 points and 191 yards per game.
Harrisburg at GOSNELL (10) (Thurs.): Gosnell is the league champ for the fourth time in five years. Pirate QB Brandon Partee threw the winning 19-yard TD on the final play of last week's two-point win over Jonesboro Westside. Senior receiver Trajan Donnerson had 144 yards and two TDs, including the game-winner from 19 yards out.
Highland at TRUMANN (15): Both are locked into playoff positions, Trumann is the No. 2 seed, and Highland is  No. 5. Trumann senior Cade Gartman ran 15 times for 160 yards and three TDs in last week's 34-point win over winless Cave City. Highland senior QB Kahner Seat averages 5 yards per carry.
Jonesboro Westside at POCAHONTAS (1): The winner gets the No. 3 playoff seed, the loser finishes fourth. Jonesboro Westside led Gosnell at halftime last week and Gosnell scored the winning TD on the final play. Warrior sophomore Logan McPherson sprinted 56 yards for a TD in the final two minutes. Pocahontas averages 37 ppg.

4-4A
Waldron at DARDANELLE (17): Both are in the playoffs and can finish as high as the No. 3 seed, depending what happens with Pottsville at West Fork. Dardanelle's second half scoring woes cost them in consecutive losses to Booneville and Ozark. The Sand Lizards failed to score in the second half Week 8, a 21-20 loss to Booneville, and they scored just two field goals after intermission in last week's eight-point loss to Ozark.
OZARK (23) at Dover: Sophomore Bryant Burns hauled in the clinching 19-yard TD pass late in the fourth quarter of last week's 28-20 win over Dardanelle. The Hillbillies finish as the No. 2 seed and host either Hamburg, Star City or Monticello in the playoffs. Dover won't make the playoffs after last week's shutout loss at Waldron.
BOONEVILLE (38) at Subiaco Academy: Booneville is league champion and gets a first round bye. The Bearcats led West Fork 36-0 at halftime last week and played backups the final half. Booneville's D held West Fork to minus-1 yard. Booneville junior QB Brandon Ulmer threw two TD passes and ran for another. Subiaco Academy scored a season-high 21 points in last week's 20-point loss at Pottsville.
POTTSVILLE (24) at West Fork: Pottsville is in the playoffs, probably as the No. 4 seed. Junior Kade England has rushed for almost 1,000 yards this season. West Fork has lost 15 straight games since beating Subiaco Academy Week 4, 2016.

7-4A
ASHDOWN (7) at Fountain Lake: Fountain Lake must win to make the playoffs, while Ashdown finishes as the No. 4 seed with a win. Ashdown trailed unbeaten Joe T. Robinson 7-0 at halftime last week before losing by 28 points. Panther senior running back Detravion Green has 124 carries this year for 949 yards and 13 TDs. Fountain Lake junior Andrew Roberson has 160 carries for 833 yards and seven TDs.
Malvern at ARKADELPHIA (20): Malvern qualifies for the playoffs with a win, or losses by Bauxite and Fountain Lake. Arkadelphia has won two of the past three in the series, including two straight. Badger junior running back Zion Hatley had 20 carries for 135 yarsd and three TDs in last week's 35-0 win at Bauxite. The Badgers led 7-0 at halftime. Malvern QB Demias Jimerson returned the opening kickoff 95 yards for a TD and threw two TD passes last week against Nashville.
Mena at JOE T. ROBINSON (32): Joe T. Robinson is the league champion (first since 2005), No. 1 seed, has a first round bye and homefield advantage throughout the playoffs. Senior Ceazar Warren ran for a pair of TDs in last week's 28-0 win at Ashdown. Mena has lost six straight games after starting 3-0.
Bauxite at NASHVILLE (20): Bauxite has lost three straight games and must win to make the playoffs. Nashville finishes as the No. 3 seed and hosts a first round playoff game. Scrapper senior receiver Domonick Kight caught seven passes for 295 yards and five TDs at Malvern. The Scrappers average 500 yards per game. Senior QB Tyler Hanson completes 60 percent of his passes this year for 2,579 yards and 23 TDs, while senior Trent Harris has 135 carries for 862 yards and 16 TDs.

8-4A
Hamburg at DUMAS (2) (Thurs.): Hootens.com Class 4A Game of the Week.
STAR CITY (21) at Crossett (Thurs.): Star City is in the playoffs after a one-year absence, while Crossett misses the postseason for the first time since 2013. Crossett junior Robert Scates caught a pair of TD passes in last week's 18-point win over Dollarway. Star City has outscored DeWitt and Dollarway the past two weeks by a combined 92-20.
DeWitt at MONTICELLO (7) (Thurs.): Monticello returns to the playoffs for the second straight season, while DeWitt misses for the 17th consecutive year. Monticello averages 18 points and 250 yards per game.
Dollarway at WARREN (28) (Thurs.): Warren is conference champion for the fifth straight season and 14th time since 2000. Lumberjack junior Treylon Burks has scored this season on kickoff returns, punt returns, interception returns, rushing, receiving and passing. Winless Dollarway gets outscored by 24 points weekly.