5A Week 10 Rankings, Notes & Picks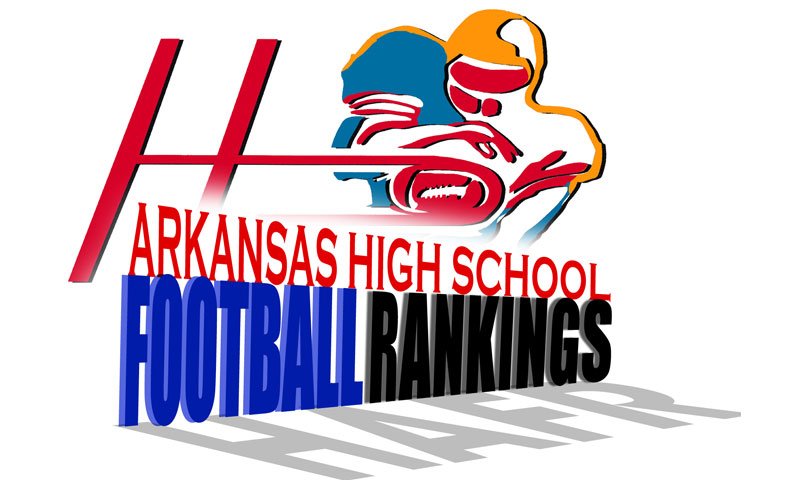 Hootens.com Rankings
Class 5A, Week 10, 2017
Copyright Hooten Publishing, Inc.

1. Pulaski Academy (9-0)
2. LR Christian (8-1)
3. Nettleton (9-0)
4. Alma (6-3)
5. Batesville (6-3)
6. LR McClellan (6-3)
7. Wynne (7-2)
8. Greenbrier (6-3)
9. Harrison (6-3)
10. Morrilton (6-3)
11. Watson Chapel (7-2)
12. Valley View (6-3)
13. Sylvan Hills (5-4)
14. HS Lakeside (5-4)
15. White Hall (6-3)
16. LR Parkview (4-5)
17. Camden Fairview (4-5)
18. De Queen (5-4)
19. Farmington (4-5)
20. Beebe (4-5)
21. Maumelle (4-5)
22. Forrest City (3-6)
23. Magnolia (2-7)
24. Hot Springs (1-8)
25. Vilonia (1-8)
26. Mills (2-7)
27. Paragould (1-8)
28. Blytheville (2-7)
29. Greene Co. Tech (2-7)
30. Clarksville (1-8)
31. Hope (0-9)
32. LR Fair (0-9)

GAME OF THE WEEK
No. 3 Nettleton at No. 7 Wynne
Nettleton has clinched a share of its first league title since 1997 and the first-ever in Class 5A. The Raiders earn it outright with a win, and drop no further than the No. 2 seed with a loss. Wynne goes for a share of its third straight conference championship, and the Yellowjackets finish as either the No. 1 or No. 3 seed. Undefeated Nettleton puts up 400 yards and 41 points per game. Raider senior quarterback Deondre Henry has completed 81 of 143 passes (57 percent) this year for 1,359 yards and 21 TDs with only two interceptions. He creates a dual threat option, averaging 5 yards per carry. Senior Detavion Turner ran for three TDs in last week's 18-point win over Valley View. Turner has 155 carries for 1,262 yards and 18 TDs this fall. Senior inside linebackers Terrian Neal (112 tackles, two sacks) and cornerback T.Y. Cox (84 tackles) pace a unit that gives up 13 points weekly. Wynne hasn't lost to Nettleton since 2007. The Yellowjackets have won 24 of their past 27 conference games (only losses to Batesville). Wynne whipped rival Forrest City 55-20 a week ago, with senior Ta'Von Hicks running in four TDs. Hicks has 1,304 yards this season. Senior QB Luke Chapman has passed for 252 yards and one TD in the run-first scheme, and he's dangerous faking to Hicks and keeping the ball around the end. He averages 6.4 yards per carry this season, while senior slotback Corey Smith averages 7.4 yards per carry. Senior Logan Jessup has dominated since getting inserted at right guard a month ago. Jessup also starts at defensive end (48 tackles, 14 tackles for loss), while senior linebacker Marterious Daniels has 80 tackles. Smith, an outside linebacker, had four sacks against Forrest City. "Wynne is the biggest, most physical team we've played," Nettleton coach Steven Hampton says.

LAST WEEK
Hootens.com correctly predicted 13 of 16 games (81 percent). Hootens.com has correctly predicted 154 of 186 games (83 percent) for the season.

WEEK 10 PREDICTIONS (favored team in CAPS followed by point spread)
5A CENTRAL
LR Parkview at LR MCCLELLAN (4) (Thurs.): This game is at War Memorial Stadium, where LR Parkview has played four times this season. LR McClellan must recover after consecutive emotional losses to No. 2 LR Christian and No. 1 Pulaski Academy. LR Parkview makes the playoffs with a win and maybe some help from Beebe. The Patriots lost at Sylvan Hills last week by 26 points. The Patriots trailed by six points in the second quarter. Freshman defensive lineman Cameron Cowan returned an interception for a TD and senior Zach Smith returned a kickoff 91 yards for a score.
PULASKI ACADEMY (35) at Mills (Thurs.): Pulaski Academy is conference champion for the eighth straight time after last week's 32-point win over LR McClellan. Senior QB Layne Hatcher owns the state record with 14,411 career passing yards. Hatcher passed for 361 yards and four TDs against LR McClellan.
Beebe at SYLVAN HILLS (1) (Thurs.): Beebe has won three of the past five over the Bears, but Sylvan Hills won by 28 points last season, its first win in the series since 2009. Sylvan Hills senior Deon Youngblood ran for 137 yards and four TDs in last week's 47-21 win over LR Parkview, while the D forced five turnovers. Beebe can't make the playoffs. Senior Conner Bieker ran for 2 TDs in last week's 40-point win over LR Fair, while Khalil Anthony ran for 138 yards and a TD.
LR CHRISTIAN (40) at LR Fair: LR Christian is No. 2 seed regardless of the outcome. Senior QB Jackson Bowersock completed 20 of 32 passes for 258 yards and five TDs and ran for another TD in last week's 41-point win over Mills. Senior Ladarius Burnes ran 14 times for 162 yards and a TD and caught a pair of TD passes. LR Fair senior Kikalen Hawkins ran for a TD a week ago at Beebe.

5A EAST
NETTLETON (1) at Wynne: Hootens.com Class 5A Game of the Week.
Forrest City at BLYTHEVILLE (1): Neither team makes the playoffs. Short-handed Blytheville (two starters missed game after getting ejected Week 8) threw two fourth-quarter interceptions in last week's 15-point loss to Paragould. Forrest City had a punt blocked and turned the ball over three times in last week's 35-point loss to Wynne.
PARAGOULD (6) at Greene Co. Tech: Paragould has won three straight in the Battle of Greene County (by 26 points last year, one point in 2015 and 10 points in 2014). Greene Co. Tech gave up two kickoff returns for TDs last week at Batesville. Paragould QB Trent Teager ran for a pair of TDs in last week's 15-point win at Blytheville.
BATESVILLE (8) at Valley View: Both teams are in the playoffs. Batesville finishes anywhere between the No. 2 seed and No. 4 seed, while Valley View can finish No. 3 or No. 4. Batesville senior Cedric Hall returned two kickoffs for TDs and ran for another TD a week ago against Greene County Tech. Valley View must refocus after losing last week at Nettleton. Blazer senior Ryder Snell sprinted 40 yards for Valley View's only TD, and the Blazers threw a pair of costly interceptions, including one that Nettleton returned for a TD late in the fourth quarter.

5A SOUTH
WHITE HALL (3) at De Queen: De Queen is in the playoffs with a win (can still make it with a loss and some help). The Leopards haven't been to the playoffs since 2011. White Hall must win to qualify for the playoffs. Bulldog senior QB Ollie Reddick has passed for more than 1,200 yards and ran for more than 1,000 yards this season.
MAGNOLIA (8) at Hope: Neither team makes the playoffs. Hope has lost 20 straight games. Magnolia gives up 36 ppg, while Hope surrenders 50 points weekly.
HS LAKESIDE (10) at Hot Springs: HS Lakeside finishes as the No. 2 seed after last week's 14-point loss to Watson Chapel. The Rams were held to a season-low 216 yards and failed to score in the second half. HS Lakeside senior Dupree Swanson has 226 carries this year for 1,614 yards and 26 TDs. Hot Springs won't make the playoffs, and the Trojans haven't been since winning the 2014 league title.
Camden Fairview at WATSON CHAPEL (11): Watson Chapel has locked up the No. 1 seed and conference championship. Watson Chapel's seven-point win last year at Camden Fairview snapped a two-game losing streak in the series. The Wildcats held HS Lakeside to a season-low 218 yards a week ago. Watson Chapel senior Omar Allen has ran for 987 yards and 17 TDs this fall.

5A WEST
GREENBRIER (14) at Vilonia: Greenbrier makes the playoffs and finishes anywhere between the No. 2 and No. 4 seed (depending what else happens). The Panthers trailed Alma in the fourth quarter last week by 25 points. Vilonia's impressive 20-point last week at Clarksville was its first of the season (forfeited a Week 1 win at Greene County Tech).
Maumelle at ALMA (25): Maumelle mauled Greenbrier Week 4, but the Hornets have lost three straight games and won't make the playoffs after last week's 40-point setback against Harrison. Alma is the league champion and top playoff seed with a win. Senior QB Garrison Jensen passed for 125 yards and a two TDs in last week's dominating 19-point win over Greenbrier. Jensen also ran eight times for 56 yards and returned a kickoff 49 yards for another TD. Jensen has passed for 1,866 yards and 21 TDs this year. Senior receiver Brayden Johnson has 54 catches for 781 yards and 11 TDs.
Farmington at HARRISON (7): The winner gets in the playoffs, the loser likely gets left out. Harrison has made the playoffs just twice since 2006, while Farmington hasn't been 2013. Senior Gabe Huskey ran 33 times for 154 yards and three TDs in last week's 40-point win at Maumelle. Farmington senior Caleb Williams has more than 1,000 yards this year.
Clarksville at MORRILTON (21): Morrilton is in the playoffs after losing its opening two league games, and the Devil Dogs finish anywhere between the No. 1 and No. 4 seed. Sophomore QB Jacolby Criswell threw for 196 yards and a TD and ran for 103 yards and two TDs in last week' s28-point win over Farmington. Clarksville hasn't won a conference game since Week 7, 2013.