7A Week 10 Rankings, Notes & Picks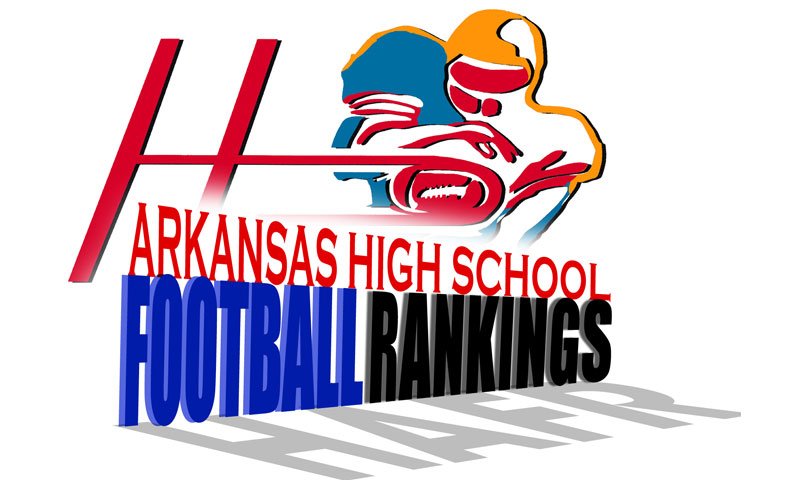 Hootens.com Rankings
Class 7A, Week 10, 2017
Copyright Hooten Publishing, Inc.

1. North Little Rock (9-0)

2. Bryant (8-1)
3. Bentonville (7-2)
4. Bentonville West (9-0)
5. Conway (7-2)
6. Fayetteville (5-4)
7. Springdale Har-Ber (6-3)
8. Cabot (5-4)
9. Springdale (5-4)
10. Little Rock Catholic (3-6)
11. Rogers (5-4)
12. Fort Smith Northside (2-7)
13. Fort Smith Southside (3-6)
14. Little Rock Central (2-7)
15. Rogers Heritage (1-8)
16. Van Buren (0-9)


GAME OF THE WEEK

No. 4 Bentonville West at No. 3 Bentonville.
Winner earns West title, No. 1 seed and gets to play at home on Friday night(s) in the playoffs. Loser is No. 2 seed, gets to play at home in the playoffs but must play on Thursday night(s) as long as both teams are advancing in the postseason because there is only one stadium in Bentonville.
This week Bentonville is the designated visiting team on its homefield this week. The Tigers move out of their daily dressing room Friday to make room for West. Bentonville will dress in visiting team facilities and stand on the visitors sidelines where portable bleachers will help accommodate an anticipated crowd of 10,000.
Bentonville rides a 7-game win streak after losing two of its first three games. "We're more confident and experienced," says Tiger coach Jody Grant (27-7 at the school). "We started the season with 18 new (starters)."
Bentonville senior noseguard Angel Guerrero (5-9, 250; 300-pound bench press) helps at left guard and all-state receiver Kam'Ron Mays-Hunt roams the secondary in key situations and big games.
West junior QB Will Jarrett and receiver Jadon Jackson help the undefeated Wolverines score 44 points weekly. Jarrett completes more than 65 percent of his passes with intelligence, poise and good ball placement.
"(Jarrett) makes them go," Grant says. "He is smart reading defenses, looking safeties off with his eyes. He's just a very smart quarterback with a big, athletic, D-1 receiver (Jackson) with speed to throw to."


LAST WEEK
Hootens.com correctly predicted all eight winners in games involving Class 7A teams. For the season, hootens.com is 69-19 (78 percent) in Class 7A.

WEEK 10 PREDICTIONS (favored team in CAPS followed by point spread)
7A CENTRAL

NORTH LR (3) at Cabot (Thurs): Cabot's defense is built to stop I-formation offenses like North LR. The return of Cabot noseguard Dayonte Roberts (6-2, 280) helped the Panthers win at FS Northside 40-14 last Friday and push Bryant 17-10 Week 8. North LR secured a No. 1 seed with last week's 25-14 win at Bryant but could by challenged by preseason-favorite Har-Ber in the playoff quarterfinals.
LR Central at LR CATHOLIC (3) (Thurs.): Winner can make the playoffs but might need tie-breaker points to get in. Central passes well and Catholic struggles to stop the pass. Catholic runs the ball well and Central struggles to stop the run. Catholic could be without standout running back Samy Johnson (elbow injury).
FS Northside at FS SOUTHSIDE (3): Northside, better on defense than offense, must win to make the playoffs. Southside, better on offense than defense, gets a No. 5 seed and trip to preseason-favorite Har-Ber in the first round with a win this Friday.
BRYANT (1) at Conway: Confident Conway looks to outscore hobbling Bryant and earn the league's No. 2 playoff seed and a first-round bye. Conway senior running back Michael George (5,8 185) has rushed for 1,578 yards (175.3 yards per game, 8.1 yards per carry) and 19 TDs this fall. Bryant plays without starting QB Ren Hefley for a third straight week and drops to a No. 3 seed with a loss, playing host to Rogers or Springdale in the first round.


7A WEST
BENTONVILLE (1) vs. Bentonville West: Game of the Week.

FAYETTEVILLE (21) at Van Buren: Here comes Fayetteville. The Purple Dogs are a No. 3 playoff seed and with a win this Friday enter postseason riding a five-game win streak. Fayetteville has won four of the past six state titles.
SPRINGDALE HAR-BER (35) at Rogers Heritage: Har-Ber looks to score its fifth shutout of the season. If Har-Ber puts turmoil of its midseason 3-game losing streak behind, the Wildcats could contend for a state title.
Rogers at SPRINGDALE (1): Both teams are on the road in the first round next Friday. Winner is No. 5 seed. Loser No. 6 seed.