Class 3A Week 10 Rankings, Notes & Picks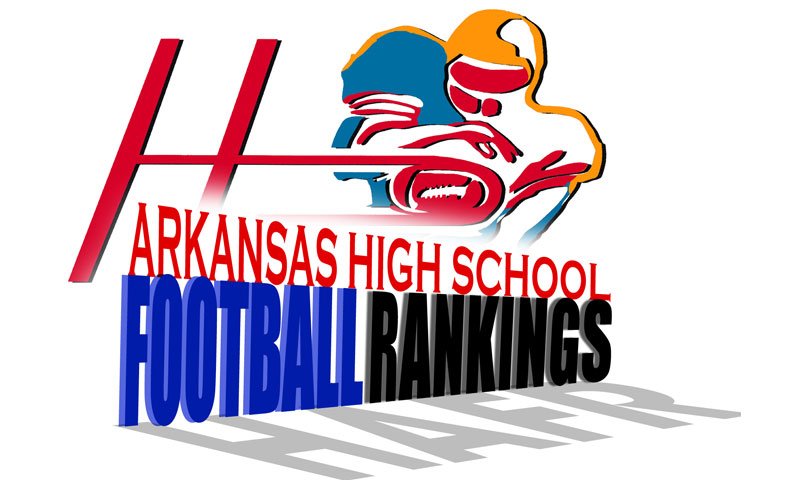 Hootens.com Rankings
Class 3A, Week 10, 2016
Copyright Hooten Publishing, Inc.
1. Charleston (9-0)
2. Prescott (9-0)
3. Glen Rose (8-1)
4. Fordyce (8-1)
5. Centerpoint (6-3)
6. Bald Knob (8-0)
7. Junction City (6-3)
8. Mountain View (8-1)
9. Elkins (7-2)
10. Rivercrest (6-3)
11. Newport (8-1)
12. Clinton (7-2)
13. Walnut Ridge (6-3)
14. Jessieville (6-3)
15. Piggott (7-2)
16. H. Grove Haskell (5-4)
17. Harding Academy (5-3)
18. Lake Village (4-5)
19. Atkins (6-2)
20. McGehee (5-4)
21. Greenland (5-4)
22. Smackover (5-3)
23. Fouke (5-3)
24. Cedar Ridge (6-3)
25. Paris (5-4)
26. Manila (5-4)
27. Lamar (5-4)
28. Mayflower (5-3)
29. Barton (4-5)
30. Horatio (3-6)
31. Genoa Central (4-5)
32. Perryville (4-5)
33. Melbourne (4-5)
34. Gurdon (3-6)
35. Mansfield (2-7)
36. Hoxie (2-7)
37. Osceola (2-7)
38. Cedarville (1-8)
39. Marianna (2-6)
40. Green Forest (2-7)
41. Marshall (1-8)
42. Episcopal Collegiate (1-8)
43. Yellville-Summit (0-8)
44. Corning (0-9)
45. Bismarck (0-9)
46. Two Rivers (0-9)
47. Drew Central (0-9)
48. Rose Bud (0-9)

HOOTENS.COM GAME OF THE WEEK
No.12 Clinton at No. 8 Mountain View
A matchup of senior-laden swarms of Yellowjackets. No. 8 Mountain View's Yellowjackets have secured at least a share of their first conference championship since 1987. They last won an outright league title in 1982. Mountain View owns the league's top defense (allows 10 ppg), led by senior end Danyeel Whitaker (86 tackles) and linebackers Camron Misenheimer (67 tackles), Levi Vallery (44 tackles) and Ryan Sullivan (42 tackles). No. 12 Clinton's Yellow Jackets, which lost their homecoming game Week 7 to Elkins 28-14, have been sharp since, torching Marshall and Yellville-Summit by a combined 80-12. Clinton senior QB Kort Weaver has completed 61 percent of his passes for 800 yards and six TDs with six interceptions. Senior Jake Ferrell has rushed for 549 yards (11 ypc) and 10 TDs, while senior Wyatt McCoy has a team-high 79 carries for 421 yards and 11 TDs. Mountain View beat visiting Elkins 30-23 Week 5. A Clinton win this week at Mountain View would force a three-way tie for first and likely leave Elkins as the top seed. A Mountain View victory would secure it the top seed and likely drop Clinton to the third seed.

LAST WEEK
Hootens.com correctly picked 18 of 23 games (78 percent) last week involving 3A teams. For the season, hootens.com has correctly predicted 192 of 247 winners (78 percent).

WEEK 10 PREDICTIONS (favored team in CAPS followed by point spread)
1-3A
Clinton at MOUNTAIN VIEW (3): See hootens.com Game of the Week.
ELKINS (35) at Green Forest: Elkins senior QB Jake Strode ran for 125 yards last week, while senior RB Colten Vaught rushed for four TDs in a 56-15 blowout of Greenland. The Elkins defense held Greenland to 36 total yards. A Clinton win this week at Mountain View likely gives Elkins the league's top playoff seed and a winnable first-round game at home.
Greenland at MELBOURNE (1): Two similar teams with solid skill players but not much size up front. In the past two weeks, Melbourne lost to Elkins 31-0, and Greenland lost to Elkins 56-15. The winner grabs the fourth playoff seed, while the loser travels to the 4-3A runner-up, likely Atkins.
Yellville-Summit at MARSHALL (6): The loser finishes winless in league games.

2-3A
MAYFLOWER (21) at Marianna (Thurs.): Even it a loses this week and slips into a tie for fourth with Barton, Mayflower beat Barton 46-42 Week 4 and will gain the No. 4 playoff seed.
Cedar Ridge at BALD KNOB (18): In its 12th season of varsity football, Cedar Ridge travels to Bald Knob with a chance to win a share of its first conference crown. Bald Knob likely wins, but run-heavy Cedar Ridge could provide a preview of Bald Knob's likely first-round opponent, Perryville, which runs the football 80 percent of the time and averages 5 yards per attempt.
Episcopal Collegiate at HARDING ACADEMY (42): Defending state champion Harding Academy grabs the second playoff seed, its 34th postseason appearance in 48 years of the modern-era playoffs. Harding Academy has missed the playoffs once (2003) in the past 21 years.
BARTON (13) receives forfeit from Rose Bud. Barton ends up as league's fifth playoff seed.

3-3A
Manila at NEWPORT (24): A Newport victory and Osceola upset of Rivercrest would secure the league title and top playoff seed for Newport. Otherwise, the Greyhounds should share the league title with Rivercrest, earn the second playoff seed with a good opportunity to reach the quarterfinals.
WALNUT RIDGE (32) at Hoxie (Thurs.): Walnut Ridge senior RB Luke Harper (6-2, 215) has rushed for 1,246 yards (7 ypc) and 22 TDs this fall behind a line anchored by senior two-way lineman Matthew Shaw (6-4, 270). Shaw and junior Tristan Hoffman man the ends of a 4-4 defense (allows 12 ppg) with intense junior Colin Phillips (42 tackles) and Harper (97 tackles) at linebacker.
Corning at PIGGOTT (28): Just 25 physical miles between these old rivals, but Piggott has widened the gap on the field, whipping Corning 42-12 last year. Corning is winless this season and has scored a total of 77 points. Barring upsets this week in the league, Piggott  should end up as the third seed with a good first-round draw and potential second-round trip to No. 1 Prescott.
RIVERCREST (2) at Osceola: Defending state runner-up Rivercrest makes the 12-mile drive to rival Osceola with a six-game win streak in the series, winning by one point in 2013 and 2015. With a victory this week, Rivercrest claims a share of the league crown and the top playoff seed after beating Newport two weeks ago. The Colts' playoff draw could send No. 3 Glen Rose back to the "cotton patch" (Rivercrest). Rivercrest beat visiting Glen Rose 20-7 last year in the third round en route to the state title game.

4-3A
ATKINS (2) at Perryville (Thurs.): Atkins lost to No. 1 Charleston 55-20 two weeks ago. Perryville lost to Charleston 38-8 last week. Charleston completed 19 of 31 passes for 323 yards and ran for another 154 yards against Atkins. Charleston completed 21 of 24 passes for 290 yards and ran for another 189 yards against Perryville.
PARIS (5) at Lamar: Paris all-state RB Nate Davidson scorched Lamar last year for 245 yards and five TDs on 35 carries for a chunk of his 1,452-yard season. This fall, Davidson has rushed for 962 yards and 17 TDs. Talented Paris physically and mentally stronger the past two weeks. The winner likely ends up with the No. 3 seed and a probable second-round trip to No. 4 Fordyce.
CHARLESTON (35) at Mansfield: Charleston completes its sweep of the 4-3A with a straight path to the quarterfinals. Seventeen different Tigers have recorded double-digit tackles for a Charleston, led by seniors Garrett Loughridge and Colton Ketter with 49 stops apiece.
Two Rivers at CEDARVILLE (16) (Thurs): The loser finishes the season winless in league play. Two Rivers has scored 45 points this season, fewest among active Class 3A teams.

5-3A
Bismarck at CENTERPOINT (35) (Thurs): With its 42-21 win over Jessieville last week, Centerpoint appears to be a lock for the third playoff seed with a tough first-round draw, likely Clinton, coming to Centerpoint. Winless Bismarck has lost 15 straight since beating Class 2A Cutter Morning Star Week 3 last year.
Jessieville at PRESCOTT (29) (Thurs.): Junior DB Peyton Chandler (78 tackles) and senior DE Chris Cowling (71 tackles) pace a Prescott defense that allows 11.4 ppg with 11 players posting more than 20 tackles this fall.
GLEN ROSE (15) at Gurdon: Glen Rose still grimacing over missed opportunities Week 7 a 20-17 loss at No. 2 Prescott. As the league's second playoff seed, Glen Rose eyes a potential return trip to Rivercrest (where it lost 20-7 last year) in the quarterfinals. Gurdon (3-6), led by junior QB Thomas Muldrow, pushed Harmony Grove Haskell for four quarters last week in a 24-20 road loss.
H. GROVE HASKELL (2) at Horatio (Thurs.): Gurdon forced Haskell to run the football last week, and the Cardinals ground out a 24-20 win. Senior Nate Watkins caught a TD pass and intercepted two passes in the fourth quarter to preserve the victory. Winner of this game gets the fifth seed and a probable first-round trip to Mountain View or Elkins. The loser starts off-season next week.

6-3A
JUNCTION CITY (33) at Dew Central (Thurs.): Junction City, which won three straight 2A state titles 2012-14, enters the Class 3A postseason as the second seed with a probable second-round trip to Rivercrest. A week ago, Junction City lost to Fordyce 26 -13 but junior Hishmma Taylor carried 15 times for 191 yards. Junior LB Terrell Gibson led the Dragons with 18 tackles, including two TFL.
McGehee at FORDYCE (13): Fordyce just captured its first league crown since sharing the 8-4A title with McGehee in 2000. The Redbugs appear to be on a collision course with No. 2 Prescott in the quarterfinals.
FOUKE (4) at Lake Village (Thurs.): Fouke junior RB Charley Baker (737 yards) owns breakaway speed, but all-state junior RB Jarrett Easley (129 carries, 605  yards) gets the bulk of the carries. Lake Village has won two straight after notching its first win two weeks ago (defeated McGehee 39-38) over a team not named Drew Central since beating Marvell in the 2011 season opener. Sophomore lefty QB Aarion Kilgore has completed 118 passes this year for 1,680 yards and 13 TDs with four interceptions, including 54 completions to senior WR Xavier Brunner for 760 yards and nine TDs. Kilgore leads the Beavers with 900 rushing yards and 12 TDs.
Genoa Central at SMACKOVER (2) (Thurs.): Smackover has dropped three straight games but has secured a playoff berth. A Buckaroo victory this week and projected loss by McGehee at Fordyce, would give Smackover the third playoff seed and a second-round trip to top-ranked Charleston, if it gets past the first round.