Class 3A Week 10 Rankings, Notes & Picks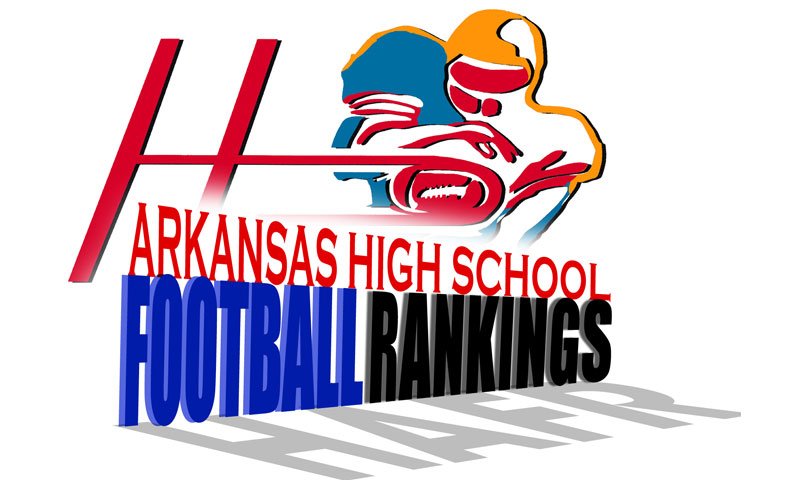 Hootens.com Rankings
Class 3A, Week 10, 2021
Copyright Hooten Publishing, Inc.

1. Prescott (9-0)
2. McGehee (9-0)
3. Booneville (9-1)
4. Harding Academy (7-2)
5. Hoxie (9-0)
6. Charleston (9-0)
7. Glen Rose (7-1)
8. Osceola (6-2)
9. Paris (8-1)
10. C. Harmony Grove (6-3)
11. Centerpoint (6-3)
12. Melbourne (4-3)
13. Newport (4-4)
14. Jessieville (5-3)
15. Hackett (7-2)
16. Rison (6-3)
17. Perryville (7-2)
18. Riverview (5-5)
19. Mountain View (5-4)
20. Cedarville (7-2)
21. Bismarck (6-3)
22. Salem (6-3)
23. Atkins (5-4)
24. Manila (7-2)
25. Lake Village (3-5)
26. Lavaca (5-4)
27. Walnut Ridge (4-5)
28. Dollarway (4-4)
29. Lincoln (3-6)
30. West Fork (2-7)
31. Harrisburg (4-5)
32. Danville (3-6)
33. Smackover (4-5)
34. Baptist Prep (4-5)
35. Genoa Central (3-6)
36. Greenland (2-6)
37. Fouke (2-7)
38. Mansfield (2-6)
39. Horatio (3-6)
40. Barton (1-7)
41. Piggott (1-8)
42. Corning (2-7)
43. Mayflower (1-7)
44. Drew Central (0-9)
45. Palestine-Wheatley (0-8)
46. Two Rivers (0-9)

GAME OF THE WEEK
No. 7 Glen Rose at No. 1 Prescott
Glen Rose's young but dangerous offense features sophomore QB Rein Bland, a dual threat, and sophomore RB Heath Balance, who is among the rushing leaders in 5-3A. Senior QB-RB Connor Taylor runs the Wildcat formation. Senior DE Brayden Youngman leads an athletic defense. Prescott has scored 50 or more points in eight of its nine games, and 49 in the other. The explosive offense features junior QB Carston Poole, who passed for more than 300 yards last week in 50-19 win over Jessieville. Senior RB Jaylen Hopson (1,400 rushing yards) may be the most electric player in the state. Senior WR Jacylon Zachery and senior TE Caleb Harris are also major contributors. Prescott has won 27 consecutive regular season games. The winner will be the undisputed champion of 5-3A, and the loser will earn the second playoff seed. Watch extended highlights of Prescott's 56-6 win over Newport earlier this year. Watch extended highlights of Prescott's 50-41 win over Centerpoint earlier this year.
LAST WEEK
Hootens.com correctly picked 21 of 23 games (91 percent) involving Class 3A teams. It is 216 of 264 for the season (82 percent).

1-3A
Lavaca at CHARLESTON (21): Lavaca seeks a fourth or fifth seed after losing last week's heartbreaker to Lincoln, 37-36. Junior QB Maddox Noel put Lavaca on top in the final minutes, but it didn't stand. Sixth-ranked Charleston held off determined West Fork 24-19. Charleston junior QB Brandon Scott was on target against West Fork. Scott has completed 99 of 132 passes this season for 1,293 yards and nine TDs. He'srushed for 449 yards and nine TDs.
CEDARVILLE (7) at Lincoln: Cedarville is one win away from tying the school record (8) for most wins in a regular season after beating Mansfield 14-8 last week. Cedarville can host a playoff game for first time since 1999 with win over Lincoln. Senior FB/TE Hayden Partain has carried for 947 yards and eight TDs. Senior RB Darryl Kattich leads Cedarville with 1,354 rushing yards and 13 TDs. Lincoln is playoff bound after 37-36 win last week over Lavaca. Lincoln could be a three seed with a win against its Highway 59 rival. Sophomore QB Drew Moore completed 21 of 33 passes for 221 yards, while freshman RB Kale Jones ran for 176 yards and two TDs. Watch extended highlights of Cedarville's 42-14 win over Mansfield earlier this year. Greenland at WEST FORK (13): Greenland was eliminated from postseason last week by Hackett, 66-42. Greenland HC Lee Larkan praised junior LB Seth Center. West Fork gave 1-3A champion Charleston a scare but lost 24-19. West Fork can tie for fifth place with the winner of Lincoln-Lavaca game, if it beats Greenland. Junior QB Eli Howerton and senior WR Ethan Howerton are key performers for West Fork.
Mansfield at HACKETT (10): Mansfield's young team hopes to take momentum into off-season workouts after losing last week to Cedarville 14-8. Junior QB Fisher Willsey, sophomore safety Tyler Turnipseed have been Mansfield's leaders in 2021. Willsey has completed 35 of 64 passes for 350 yards and two TDs. He's rushed for 611 yards and 12 TDs. Turnipseed has logged 65 tackles, 2.5 TFL, a forced  fumble, eight pass breakups and an interception. Hackett outscored Greenland 66-42 last week. Hackett senior QB Ethan Slavens has passed for 1,763 yards and 21 TDs, but sophomore QB Cole Ketchum stepped in last week to pass for  465 yards and seven TDs. Senior WR Peyton Hester has caught  47 passes this fall for 973 yards and 15 TDs.  Watch extended highlights of Mansfield's 42-14 loss to Cedarville earlier this year.

2-3A
Salem at HARDING ACADEMY (17): Salem clinches playoff berth with a win after last week's non-conference win over Class 2A Cross County 42-6. If Salem fails to upset Harding, it needs Melbourne to beat Mountain View. Tulane commit senior TE/DE Tyler Siddons has 393 receiving yards and five TDs. He has 61 tackles, 12 TFL and nine sacks. Sophomore RB/LB Elijah Romine was out early this season, but on fire since with 728 yards and six TDs. He has 34 tackles, four TFL and three sacks. Harding won 2-3A crown last week by defeating Newport 34-3. Senior TB Andrew Miller has rushed for 922 yards and 15 TDs on 122 carries. Miller has 22 receptions for 275 yards and five TDs. Senior LB Eli Wallis heads Harding defense with 60 tackles, 10 TFL. He's intercepted two passes, returning one for a TD. Watch extended highlights of Harding Academy's 42-27 loss to Briarcrest Christian (Tennessee) earlier this year. Watch extended highlights of Harding Academy's 40-16 win over Melbourne earlier this year. Mountain View at MELBOURNE (7): Mountain View hurt its playoff chances last week by losing to Riverview 7-6. Mountain View must beat Melbourne, which leads series 5-2. If Harding beats Salem, Mountain View sneaks into postseason as fifth seed. Melbourne (5-3, 2-2) was open last week. Junior QB Trey Wren is one of the more productive players in 2-3A. Wren has completed 82 of 131 passes for 1,244 yards and 12 TDs. Wren has rushed for 706 yards and 11 TDs.Watch extended highlights of Melbourne's 40-16 loss to Harding Academy earlier this year.
NEWPORT and RIVERVIEW are open.

3-3A
Manila at OSCEOLA (14): Manila plays Osceola for second place in 3-3A. It could even win a share of the championship if Walnut Ridge were to shock Hoxie. Manila beat Walnut Ridge last week 39-6. Manila senior RB Dustin Clark has accounted for 1,259 all-purpose yards and 10 TDs. Senior LB Peyton McQueen leads with 96 tackles, 12 TFL and two sacks.
Walnut Ridge at HOXIE (14): Both teams are playoff bound, with Walnut Ridge looking at fourth or fifth seed. Junior QBs/RBs Kai Watson and Walker Ward have led Walnut Ridge this fall. Watson has completed 35 of 82 passes for 510 yards and three TDs. He's rushed for 641 yards and 11 TDs. Ward has rushed for 690 yards and four TDs, with 18 receptions for 247 yards and two TDs. Hoxie senior QB Cade Forrester ran for 84 yards and two TDs last week in a 21-14 win over Osceola, while passing for 167 yards and a TD. Senior RB/FS Seth Brooks rushed for 41 yards, caught two passes for 52 yards, and intercepted two passes. Watch extended highlights of Hoxie's 46-28 win over Cave City earlier this year.
HARRISBURG (50) at Palestine-Wheatley: Harrisburg defeated Corning 47-14 last week and will claim the fourth seed in 3-3A with a win this week. Senior QB Samuel Moore is Harrisburg's offensive player of the year, and senior LB Jace Heeb is defensive player of the year. Palestine-Wheatley lost to Piggott last week, 52-0. P-W forfeited games to Hoxie, Osceola, and Corning.
PIGGOTT (14) at Corning (Thurs.): Both teams will miss the postseason, but Piggott trying to end season with back-to-back wins after crushing Palestine-Wheatley 52-0 last week. This rivalry between Piggott and Corning is called "The Rice Bowl." Piggott has won the past nine Rice Bowls. Corning's last win in the series was in 2011.

4-3A
BOONEVILLE (21) at Perryville: Senior QB Randon Ray averages 10 yards per carry for Booneville with 1,075 yards and 21 TDs. Sophomore Rylen Ray has rushed for 715 yards and nine TDs in Booneville's Flexbone. Perryville junior QB Tyler Givens, out the past two games with injury, has completed 87 of 134 passes for 1,145 yards and 16 TDs. Givens has rushed for 532 yards and nine TDs. Junior LB Easton Walker leads Perryville defense with 79 tackles, 11 TFL, three sacks, two forced fumbles and two recoveries. Watch extended highlights of Booneville's 49-14 win over Mayflower earlier this year.
Danville at PARIS (15): Danville senior QB Lawson Wilkins earned headlines statewide last week in 57-41 win over Mayflower. Wilkins passed for 191 yards and four TDs, while running for 300 yards and four more TDs. He has rushed for 1,160 yards and 13 TDs this season and passed for 1,280 and 15 TDs. Danville will be fifth seed in 4-3A unless Mayflower upsets Atkins. Senior WR/S Ayden Hilton leads Danville with 43 tackles, five sacks, two interceptions, two forced fumbles and a blocked punt. Statistically, Paris' 41-22 loss to Booneville was even. Senior TB Duke Walker rushed for 100 yards, while senior QB Chase Watts completed 15 of 28 passes for 288 yards and two TDs.
Mayflower at ATKINS (19): Mayflower struggled early this season with covid but has started to produce offensively, including last week's 57-41 loss to Danville. Mayflower coach Austin Emerson says junior QB Noah Gailey, junior WR Jaden Robinson, and senior utility player Gabe Morris have been solid performers in 2021. Atkins clinched a playoff berth with last week's 50-20 win over Two Rivers. Senior QB Zach Berkemeyer has passed for nearly 2,000 yards and 20 TDs this fall, while senior WR Devin Roberts has 55 receptions for 900 yards and 12 TDs. Watch extended highlights of Mayflower's 49-14 loss to Booneville earlier this year.
BAPTIST PREP (40) at Two Rivers: BP's last winning season was in 2011 when it went 11-2 as a member of Class 3A before bumping up to Class 4A from 2012 to 2017. Late slump this fall cost it a playoff berth, including last week's 22-13 loss to Perryville. BP senior QB Tyler Hesley has completed 90 of 157 passes for 1,153 yards and 13 TDs. Sophomore SS Ryan Brent has contributed 74.5 tackles, 5.5 sacks, three fumble recoveries, and one interception. Two Rivers trying to avoid an 0-10 record in 2021 and its 27th consecutive setback by upsetting Baptist Prep. Two Rivers' last win came in the 2019 season opener over Marshall 12-8. Watch extended highlights of Baptist Prep's 31-24 OT win over McCrory earlier this year.

5-3A
Glen Rose at PRESCOTT (6): See Game of the Week
Bismarck at CENTERPOINT (13): Bismarck is playoff bound after routing Fouke last week 47-15. Bismarck will be a four or five seed depending on this week's game at Centerpoint. Junior QB Ian Smith has passed for 1,640 yards and 20 TDs. He also has rushed for five TDs. Senior LB Barrett Schultz has posted 83 tackles. Centerpoint's talented senior class plays its final game in Amity after winning at Genoa Central last week 42-7. Watch extended highlights of Centerpoint's 50-41 loss to Prescott earlier this year.
JESSIEVILLE (28) at Horatio (Thurs.): Jessieville claims the third seed in 5-3A with a win over Horatio. Should Horatio pull the upset, it would be good news for Bismarck or Centerpoint regarding seeding. Jessieville senior QB Carson Hair and TB Matthew Huff have propelled Jessieville into the playoffs. Horatio fell behind 13-0 in the first quarter as Glen Rose scored in every quarter en route to its 42-0 victory. Senior FB Tony Ramirez led Horatio with 95 yards on 20 carries.
GENOA CENTRAL (1) at Fouke: This is the battle for Miller County. GC lost to Centerpoint last Friday 42-7, and Fouke was manhandled by Bismarck 47-15. These teams did not play in 2020.

6-3A
MCGEHEE (35) at Smackover: Senior TB Jody Easter rushed for 123 yards and two TDs on four carries last week in McGehee's 49-6 romp past Dollarway. Easter also caught a 61-yard TD pass. McGehee senior QB Sam Polite completed two of three passes for 137 yards and two TDs. Smackover beat winless Drew Central 18-12. Watch extended highlights of McGehee's 47-22 win over Dewitt earlier this year. Watch extended highlights of McGehee's 36-12 win over Camden Harmony Grove earlier this year. Drew Central at RISON (30): Drew Central appears headed for a winless 2021 after last week's 18-12 loss to Smackover.  Rison freshman RB Chandler Reeves rushed for 52 yards and two TDs in a 41-30 loss to C. Harmony Grove. Rison has lost to CHG three years in a row, but still leads the series 26-9. Watch extended highlights of Rison's 20-16 loss to Fordyce earlier this year. Watch extended highlights of Rison's 42-3 win over Hamburg earlier this year. Watch extended highlights of Rison's 41-30 loss to Camden Harmony Grove earlier this year. C. HARMONY GROVE (21) at Barton: Sophomore QB Caleb Johnson rallied C. Harmony Grove from a 22-14 halftime deficit last week to beat Rison 41-30. Johnson rushed for 49 yards and completed 12 of 19 passes for 256 yards and five TDs. Freshman WR Trent Haygood caught three TD passes from Johnson in the second half. Barton's postseason hopes died  last week when it lost to Lake Village 42-20.Watch extended highlights of Camden Harmony Grove's 22-20 loss to Fordyce earlier this year.Watch extended highlights of Camden Harmony Grove's 36-12 loss to McGehee earlier this year. LAKE VILLAGE (6) at Dollarway: Lake Village buried Barton last week to clinch a playoff berth 42-20. That's presuming McGehee beats Smackover. Dollarway got whacked by McGehee last week 49-6. Dollarway will be a four seed with a win over Lake Village, and a five seed if it loses. Dollarway coach Martese Henry calls senior QB Briveon Sample the DHS offensive MVP and senior LB Kenyon Carr the top defensive player in 2021.