HOGS get Liberty, not an automatic victory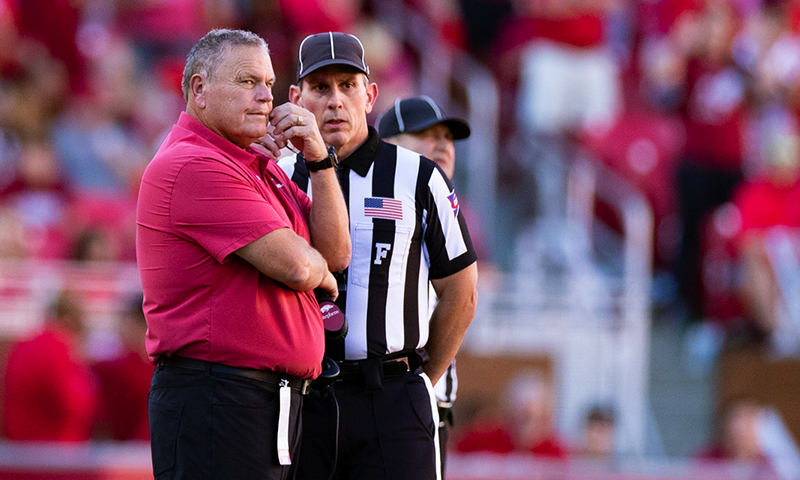 FAYETTEVILLE — Arkansas Coach Sam Pittman says he is thankful the Razorbacks are returning to Reynolds Razorback Stadium for the first time in five weeks, but that doesn't mean the Hogs won't be facing a strong challenge against 23rd-ranked Liberty on Saturday at 3 p.m.
Liberty is coached by Hugh Freeze, the former Arkansas State and Ole Miss coach.

"Freeze has done an outstanding job there," Pittman says.

The Flames (7-1) are riding a 5-game winning streak with their only loss coming to 19th-ranked Wake Forest 37-36 on Sept. 17.

Liberty has been off since defeating the BYU Cougars 41-14 two weeks ago, one week after Arkansas won at BYU 52-35. Liberty was at home against BYU.

Their only loss was to Wake Forest when they went for two and unfortunately didn't make it or they would be 8-0," Pittman said. "They obviously beat BYU the week after we did and beat them badly. So, we know we have our work cut out for us."

Arkansas (5-3, 2-3) has won two in a row, but Pittman says he expects Saturday's game to be nothing short of a dogfight.

"They are coming off their best game all year and there will be no doubt in my mind that he [Freeze] will have them ready to go coming off their bye week," Pittman said of the Flames. "I expect a really close, tight game and I hope that we can make enough plays to win."
RB JOHNSON OUT FOR SEASON
Pittman announced on Monday that sophomore running back Dominique Johnson (6-1, 247; Crowley, Texas) will miss the remainder of the season after suffering a torn ACL in practice last Tuesday. The injury is to the same knee that was injured in the Razorbacks' victory in the Outback Bowl last season.
"We found out on Thursday after getting an MRI on his knee," Pittman said. "It's disheartening for him because he had worked so hard trying to get back."

Johnson, who rushed for more than 500 yards last season, struggled to find playing time in a backfield loaded with talent, most notably Raheim "Rocket" Sanders (1,041 yards, 7 TDs). AJ Green (207 yards, 2 TDs) and true freshman Rashod Dubinion (119 yards, 3 TDs) were also ahead of Johnson, who made his season debut against Texas A&M.

Johnson, who rushed 8 times for 43 yards, will receive a medical redshirt, which Pittman said he is looking at as a silver lining.

"By the time he gets healthy, he would be ready for fall camp which, you know, certainly found that it didn't help him this year missing fall camp," Pittman said. "We're going with all the positives in certainly a negative situation."
Johnson joins defensive backs Jalen Catalon (shoulder) and LaDarrius Bishop (knee) as Razorback players who will miss the rest of the season due to injury.

LIBERTY SHUFFLES QB DECK

The Razorbacks defense will have their hands full on Saturday against a Liberty team that averages 422.2 yards of total offense a game and scores 31 points per game. 
Running backs Dae Dae Hunter (825 yards, 8 TDs) and Shedro Louis (333 yards, 7 TDs) help the Flames rush for an average of 195.9 yards.

"They can run the ball well," Pittman said. "They have two really good backs."

The Razorbacks are preparing for multiple quarterbacks, just as they did leading up to the season-opener against Cincinnati.

Jonathan Bennett (939 passing, 8 TDs, 7 interceptions) has been the team's primary quarterback, but Bennett has not always been the starter.

Kaidon Salter (776 yards, 6 TDs, 5 INTs) took over for several games before Bennett returned to the starting lineup when Salter was sidelined due to a groin injury.

 The Hogs will also have to look out for the possibility of Charlie Brewer appearing at quarterback. Brewer (18 passing yards) was named the starter at the start of the season, but was sidelined with a hand injury sustained in the season opener against Southern Miss. Brewer returned from injury and saw limited playing time against BYU.

Pittman said he is unsure which player will come out as the starter, but Arkansas is preparing for Bennett and Salter, and maybe Brewer.

"Coach [Freeze] has a decision on what he wants to do at quarterback," said Pittman. "We'll be prepared for both of them. I'm not going to tell you that it is easy preparation, but they're going to run their offense and both quarterbacks are really talented."

HOGS EARNING SEC HONORS

Sanders was honored as the SEC Offensive Player of the Week while punter Reid Bauer was named SEC Special Teams Player of the Week.
"It means a lot to us," Pittman said of the awards. "We went through a drought where nobody ever got anything, so it helps us in recruiting but more importantly helps the kid with their confidence. I'm happy that they were both able to get those awards."

Sanders (6-2, 227; Rockledge, Fla.) rushed 16 times for 171 yards, including a 76-yard third-quarter run that flipped the field and led to a Dubinion TD.

Sanders becomes the first SEC player to rush for more than 1,000 yards on the season (1,041).

Bauer (5-11, 206; Magnolia, TX) averaged 43 yards on 3 punts, including a 78-yard kick, the longest by an Arkansas punter since Sam Irwin Hill had a 79 yard punt in 2013.