Class 2A Week 10 Rankings, Notes & Picks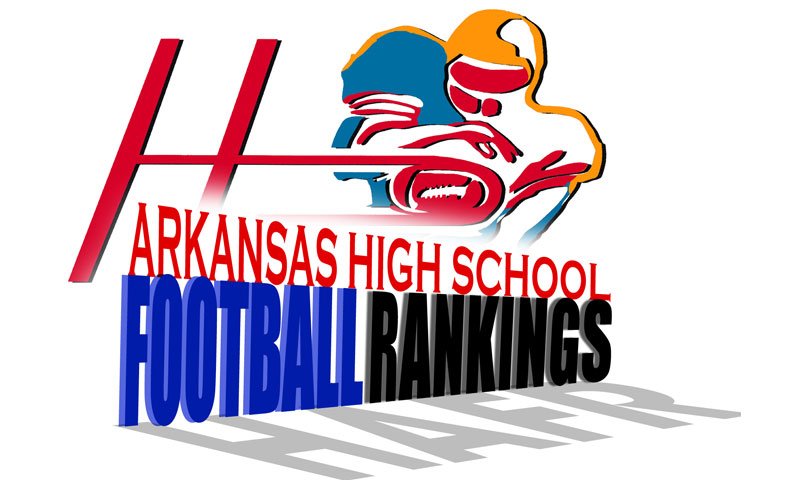 hootens.com Rankings
Class 2A, Week 10, 2020
Copyright Hooten Publishing, Inc.
1. Fordyce (9-0)
2. Gurdon (7-1)
3. Junction City (5-2)
4. Poyen (7-1)
5. Des Arc (9-0)
6. Dierks (7-1)
7. Clarendon (6-1)
8. Bigelow (9-0)
9. Foreman (3-5)
10. Hampton (4-5)
11. E. Poinsett County (6-3)
12. McCrory (4-3)
13. Cross County (4-2)
14. Magazine (7-2)
15. Hector (4-4)
16. Mount Ida (4-6)
17. Quitman (5-4)
18. Magnet Cove (4-4)
19. Carlisle (3-6)
20. Hazen (3-4)
21. Murfreesboro (5-5)
22. Marked Tree (2-4)
23. Bearden (4-5)
24. Earle (2-5)
25. Mountainburg (2-5)
26. Mineral Springs (3-6)
27. Parkers Chapel (2-7)
28. Yellville-Summit (3-6)
29. J.C. Westside (2-5)
30. Strong (1-6)
31. Cedar Ridge (1-5)
32. Cutter M Star (0-9)
33. England (1-7)
34. Marvell (1-6)
35. Lafayette County (1-6)
36. Conway Christian (0-8)

GAME OF THE WEEK
No. 5 Des Arc at No. 7 Clarendon
This game decides the 6-2A title and league's top playoff seed. Des Arc trying to win consecutive conference crowns for the first time since 1975-1976 when it played for back-to-back Class A state titles (lost to Prescott in 1975; beat Prescott in 1976). Clarendon last won a league title in 1998 and an outright league championship in 1984. This fall, Des Arc senior QB Luke Morton triggers an offense that averages 379 rushing yards and 47 points per game with Morton scoring the majority of the touchdowns. Morton, senior Eyan Holloway and sophomore Trevion Reed routinely top 100 yards a game behind a line one opposing coach called the best in 2A football. Junior guard Cooper Childers and senior center Jarret Hambrick spearhead that offensive line. While the offense eats up yards and the clock, Des Arc's defense allows just 11 points per game with sophomore linebacker Jack Kearby and Morton atop the tackle chart.  Clarendon counters with its top tacklers: senior end Edgar Herrera, junior safety Quincey McAdoo and junior tackle Caden Reynolds. McAdoo, junior QB Kaleb Williams and senior WR Timothy Hampton are explosive playmakers and a threat to score in all three phases of the game. Williams returned an interception 100 yards for a TD at Carlisle. On a typical night, McAdoo burned McCrory with six rushes for 157 yards, one reception for 71 yards and a 75-yard kickoff return for a TD. Clarendon won shootouts over McCrory (54-46) and Carlisle (52-34). Des Arc defeated McCrory 44-24 and Carlisle 44-14.

LAST WEEK
Hootens.com correctly picked 15 of 16 games (94 percent) involving Class 2A teams. It is 149 of 178 (84 percent) for the season.
3-2A
MCCRORY (22) at Earle: (CANCELLED) McCrory has locked up the No. 2 playoff seed after beating Cross County last week in a game that was not as close at the 58-35 final score. McCrory rushed for 307 yards and passed for 222 yards. Earle, 0-3 in league games, has not played the past two Friday nights.
CROSS COUNTY (10) at Cedar Ridge (Thurs.): Cross County can secure the league's third playoff seed with a win. The Thunderbirds gave up more than 500 yards last week in a 58-35 loss to McCrory. Cedar Ridge was idle because its game with Earle (quarantines) was canceled.
E. POINSETT COUNTY (12) at Riverview (Thurs.): EPC has won its first league title since 2014 and secured the league's top playoff seed. A week ago, senior Deuce Moore recorded two interceptions (one returned 83 yards for TD), a forced fumble and a fumble return (40 yards for a TD). Class 3A Riverview is on the brink of its first winless season since starting varsity football in 2008.
MARKED TREE is open.
4-2A
BIGELOW (35) at Conway Christian: Bigelow completes its sweep of the 4-2A and its first undefeated regular season in school history. Junior QB Keithlin Brown closes in on 2,000 balanced yards this fall with 866 rushing yards, 978 passing yards and 23 TDs while working behind senior linemen Zack Lawson, Brian Davidson, Kane Harrell and Sebastian Martinez and junior Joe Phillips. Conway Christian senior QB Tyler Cossey and RB Robert Taylor combined for 183 rushing yards and four TDs last week behind senior lineman Shallum Gill in a 61-24 loss to Magazine. Senior WR Jace Kramer caught three balls for 51 yards. 
Quitman at HECTOR (2): Quitman has locked up the third playoff seed with four league wins, including last week's 41-38 victory over Moutainburg. Junior QB Will Litton completed 16 of 20 passes for 221 yards and two TDs and rushed for another 220 yards and four TDs. Senior WR Erin Mathes has caught passes for 860 yards this fall, while senior LB Jett Silor has stacked 127 tackles. Hector allowed two big plays in the first half and committed two critical penalties in the second half of a 32-12 loss to No. 8 Bigelow.
Yellville-Summit at MOUNTAINBURG (8): The winner makes the playoffs, and the loser misses the postseason. Mountainburg junior Noah Johnson closes in on 700 rushing yards, while senior LB Jack Norgaar leads the Dragons in tackles. Y-S buried outmanned Johnson County Westside 52-6 last week when senior QB Britten Roberts passed for three TDs and ran for another. Senior Ben Cantrell rushed for three TDs.
J.C. Westside at MAGAZINE (42): Magazine, the league's second playoff seed, literally ran its record to 7-2 last week in a 61-24 win over Conway Christian. Senior FB Kobe Faughn topped 1,000 yards for the season with 189 yards and three TDs, while junior slotback Ashton Droemer ran for 228 yards and three TDs. J.C. Westside missed three key starters (quarantined) and senior RB James Linton (injured in second quarter) during a 52-6 loss to Yellville-Summit.
5-2A
GURDON (37) at Cutter M. Star (Thurs.): No. 2 Gurdon's first-team defense held Mount Ida to 61 rushing yards and three first downs last week in a 35-7 win. CMS is on the brink of its third winless season in the past six years. A year ago, CMS had to forfeit all six of its wins and ended up 0-11.
Magnet Cove at POYEN (10): Magnet Cove has won four straight in the series and by a wide margin, outscoring Poyen 125-34. Fourth-ranked Poyen was off last week after being the first 2A team this season to score a meaningful TD on Gurdon's first-team defense (trailed 14-7 late first quarter) in a 42-7 loss. Junior RB Colton Lowe ran for a team-high 61 yards at Gurdon. Magnet Cove cruised past Cutter Morning Star 60-20 last week with senior RB Landon Stone running 20 times for 176 yards and two TDs and Matt Jones blocking a punt. MC's defense allowed 17 yards in the second half.
MOUNT IDA is open.
6-2A
DES ARC (18) at Clarendon (Thurs.): See Game of the Week.
HAZEN (28) at Marvell (Thurs.): Hazen pushed neighbor rival Carlisle last week but came up one foot short on a two-point conversion attempt late and lost 40-38. Hazen sophomore LB Luke King completed 20 of 30 passes for 183 yards, and he ran for another 80 yards and three TDs. Sophomore WR Jayden Adkins caught seven passes for 114 yards. Sophomore LB Colten Tosh collected 20 tackles.
England at CARLISLE (28): Carlisle got past Hazen 40-38 last week to lock up the league's third playoff seed. Carlisle sophomore FB Jason Sullivan carried 18 times for 219 yards and three TDs. Sullivan has rushed for 1,239 yards and 17 TDs this fall while collecting 49 tackles. England sinks to its lowest win total since going 0-10 in 2009 as a Class 3A team. 
7-2A
DIERKS (38) at Lafayette County (Thurs.): Dierks secured its first league title since 2013 last week by surviving its trip to Mineral Springs 24-18. Dierks converted all three two-point conversions, while Mineral failed in its three conversion attempts. Dierks senior LB and tackle leader Austin Hanson racked up 10 stops. Junior RB Konnor Shelton rushed for a team-high 139 yards and a TD.
FOREMAN (12) at Mineral Springs (Thurs.): The winner grabs the league's second playoff seed. Foreman was open last week after whipping Murfreesboro (28-0) Week 7 and Lafayette County (46-0) Week 8. Foreman forced five turnovers and recorded five sacks against Lafayette County. Mineral Springs matched Dierks TD for TD last week but failed on all three conversion attempts in a 24-18 loss. MS outgained Dierks by 18 yards and converted on all four of its fourth-down attempts.
MURFREESBORO is open.
8-2A
FORDYCE (42) at Bearden: No. 1 Fordyce has already secured its first league title since 2016. It hammered Hampton 62-0 last week by holding the Bulldogs to minus-26 yard and zero first downs, while Bearden managed just 39 yards and five first downs in a 44-6 loss to Junction City. Fordyce junior LB Trey Merritt recorded eight tackles, two sacks, one FR, one FF and a pass deflection.
Parkers Chapel at HAMPTON (16) (Thurs.): Hampton tries to secure the third playoff seed after enduring a 62-0 whipping last week to top-ranked Fordyce. Hampton senior FS Brock Harris logged eight tackles in the loss. Parkers Chapel junior WR/DB Lancer Clark caught a TD pass and intercepted two passes, while senior LB Edison Thompson returned an interception 70 yards for a TD in a 42-8 win over Strong.
JUNCTION CITY (39) at Strong (Thurs.): This will be the 63rd meeting, and per JC historian Wayne Pumphrey, Strong is JC's oldest and most active rival. JC leads the overall series 47-13-1, winning the past six straight. A week ago, JC bullied Bearden 44-6, holding the Bears to minus-1 yard rushing and 40 passing yards. Senior LB Tanner Barnette led the Dragons in tackles, while senior DE Wisdom Brown pressured the QB. Sophomore LB Austin Mendoza recorded two sacks, while senior S DeVontay Gilbert and sophomore CB Corey Dubose intercepted a pass apiece. Senior CB Zach Brown logged five tackles, three pass breakups and returned a punt for a TD.