Class 3A Week 10 Rankings, Notes & Picks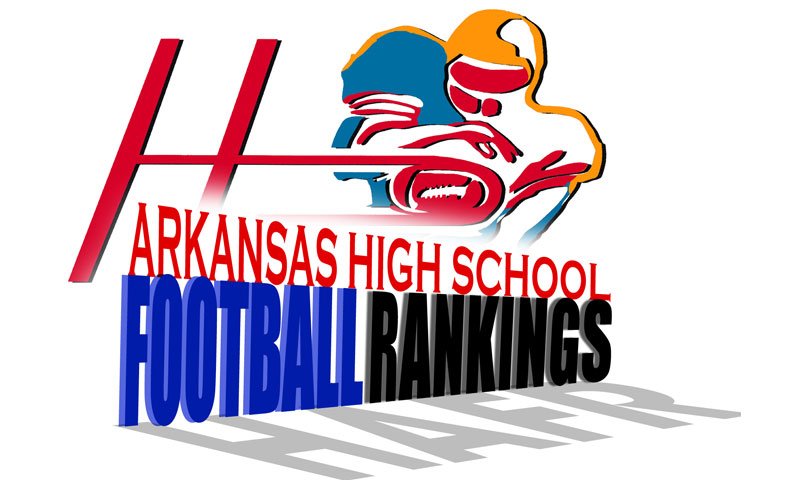 Hootens.com Rankings
Class 3A, Week 10, 2020
Copyright Hooten Publishing, Inc.
1. Harding Academy (6-1)
2. Prescott (7-0)
3. Hoxie (9-0)
4. McGehee (7-0)
5. Booneville (7-2)
6. Rison (4-1)
7. Newport (8-1)
8. Glen Rose (8-1)
9. Charleston (7-2)
10. Paris (8-1)
11. Melbourne (6-2)
12. Centerpoint (5-3)
13. Greenland (7-2)
14. Osceola (3-4)
15. Cedarville (7-2)
16. C. Harmony Grove (4-4)
17. Harrisburg (4-2)
18. Piggott (5-3)
19. Salem (5-3)
20. Atkins (6-3)
21. Perryville (6-3)
22. Dollarway (3-5)
23. Lincoln (5-4)
24. Jessieville (5-4)
25. West Fork (5-4)
26. Corning (5-3)
27. Mountain View (5-4)
28. Mayflower (2-6)
29. Genoa Central (3-4)
30. Hackett (3-4)
31. Palestine-Wheatley (3-5)
32. Walnut Ridge (2-6)
33. Lake Village (2-4)
34. Bismarck (3-6)
35. Drew Central (1-4)
36. Baptist Prep (3-5)
37. Danville (1-6)
38. Fouke (1-5)
39. Smackover (1-6)
40. Lavaca (1-6)
41. Riverview (0-8)
42. Barton (0-9)
43. Mansfield (1-8)
44. Manila (1-7)
45. Two Rivers (0-7)
46. Horatio (0-8)

HOOTENS.COM GAME OF THE WEEK
No. 2 Prescott at No. 8 Glen Rose
These teams have not met since Glen Rose defeated defending state champion Prescott 37-27 Week 7, 2017.
Glen Rose enters on an eight-game winning streak following a season-opening 33-27 loss to Class 4A Malvern. The Beaver defense allows just 5.5 points per game in league play, including shutouts in three of their last five games. Glen Rose rolled Horatio 42-0 last Friday night, surrendering minus-26 yards (minus-45 rushing). Junior tailback Dalton Taylor paced the Glen Rose rushing attack with 102 yards rushing and two TDs. Senior all-state lineman Andrew Weatherford blows open holes at guard and he plays almost half the snaps at defensive tackle. Senior quarterback Wesley Launius passed for almost 2,000 yards this season with nearly 300 yards rushing and 29 total TDs. Senior tailback Ethan Taylor has run for almost 900 yards and 13 scores.
Unbeaten Prescott has not been tested since a season-opening 43-36 Week 1 win at Class 2A power Gurdon. The Curley Wolves average 53.5 points per game this season and they outscore their 5-3A rivals 56-8 weekly. Senior all-state QB Jacobi Nolen completes 64 percent of his passes this season for almost 1,300 yards and 21 TDs with just two interceptions. Junior Jaylon Hopson leads Prescott in rushing with 575 yards (15.5 yards per carry) and 10 TDs. Senior Alex George complements Hopson in the backfield (331 rushing yards and nine scores). Senior Jeff Williams (11 receptions for 399 yards and six TDs) and juniors Caleb Harris (18 receptions for 281 yards and five scores) and Jacaylon Zachery (17 receptions for 379 yards and six TDs) comprise the receiving corps. Senior Justin Wilson anchors the offensive line as the school's first four-year starter of the modern era. Senior Jack Arnette and Wilson make plays in the defensive line while Jason Patrick tops the tackle chart with more than 70 stops. Watch extended highlights of Prescott's wins over Centerpoint (HERE) and Gurdon (HERE).

LAST WEEK
Hootens.com correctly predicted 17 of 20 games (85 percent) of games involving Class 3A schools. For the season, hootens.com correctly predicted 200 of 241 games (83 percent) of games involving Class 3A schools.

WEEK 10 PREDICTIONS (favored team in CAPS followed by point spread)
1-3A
Lincoln at CEDARVILLE (17): Big game for playoff positioning as Cedarville owns four conference wins and Lincoln would earn its fourth league win with a victory. Lincoln boasts talented skill players at QB (Levi Wright), tailback (Matthew Sheridan) and receiver (Daytin Davis). Wright has passed for 1,168 yards and 15 TDs this season and plays linebacker. Sheridan has run for 700 yards and four scores. Davis has logged more than 600 yards with nine TDs. Cedarville looks to match its best regular-season record in school history with a win (8-2 in 1999). The Pirates racked up a season-high 60 points in last week's 40-point victory against Mansfield. Five Cedarville rushers ran for 45 yards or more against Mansfield, led by junior all-state running back Darryl Kattich (227 yards and three TDs) and Kelin Mitchell's 53 yards and a TD. Kattich needs 191 rushing yards to top 2,000 yards for the season.
West Fork at GREENLAND (14): West Fork continues one of the state's most impressive turnarounds after finishing 2019 winless. Senior Wyatt Kutz leads West Fork in rushing with more than 1,200 yards and 12 TDs. Greenland locks the No. 2 playoff seed with a victory against West Fork, which would be the Pirates' best league finish since a runner-up finish in the 1-3A in 2016. Senior QB Gabe Wilson (115 rushing yards and three TDs) and tailback Jett Dennis (188 rushing yards with a score) impressed in last week's 41-14 win at Hackett.
HACKETT (21) at Mansfield: Mansfield surrendered more than 500 yards in last week's 60-20 loss at Cedarville. A Mansfield loss would clinch the Tigers' worst record since finished 1-9 in 2005. Hackett owns the head-to-head tiebreaker against Lavaca in league play. Losses by Hackett and Lavaca likely causes a three-way tie for the No. 6 spot in the league standings. Hackett surrendered 506 yards in last weeks' 41-14 loss to Greenland. 
CHARLESTON (35) at Lavaca: Lavaca's only win this fall was against Mansfield. Opponents outscore Lavaca 36-15 on average this season. Charleston will be the league's top playoff seed because it beat Greenland 48-18 Week 4. Charleston rolled up 407 yards in last week's 42-21 win over West Fork, led by sophomore QB Brandon Scott's 235 passing yards and three TDs. Senior Breckon Ketter sparked the running game with 68 yards and a score while freshman Bryton Ketter snagged four passes for 115 yards and a TD. Breckon Ketter topped the tackle chart with 12 tackles. 

2-3A
HARDING ACADEMY (27) at Salem (THURSDAY): Salem likely travels to the No. 2 seed from the 4-3A in the first round of the playoffs. Salem senior QB Gavin Guiltner completes timely passes to all-league receiver Darius Brown, who doubles as a play-making safety. Harding took control of the 2-3A beating Newport 31-7 last Friday. The Wildcats scored the final 31 points against Newport, behind senior QB Caden Sipe's 248 passing yards and three TDs. Sophomore Kyle Ferrie added a school-record 48-yard field goal. Junior tailback Andrew Miller ran for two scores against Newport (31- and 42-yard runs). Watch extended highlights of Harding Academy's win over Newport HERE.
MELBOURNE (21) at Mountain View: Melbourne coach Kevin McCarn is a Mountain View graduate. Mountain View rallied last week from a second-half deficit for a 20-19 victory at Riverview. Junior QB Elijah Carlton eclipsed 100 yards rushing with two TDs at Riverview while C.J. Rose added a score. Carlton intercepted Riverview's potential game-winning two-point conversion in the fourth quarter. Melbourne forced four turnovers and got three TDs from Ryan Worsham in a 21-8 win at Camden Harmony Grove. 
E. POINSETT COUNTY (12) at Riverview (THURSDAY): Winless Riverview is eligible to participate in the play-in round of the playoffs beginning next week. Riverview led Mountain View 13-12 last week in the third quarter and scored a TD late in the fourth quarter, but failed on a potential game-winning two-point conversion. Riverview QB Israel Gameros accounted for two TDs against Mountain View.
NEWPORT is open. Watch extended highlights of the Greyhounds game last week at Harding Academy HERE.

3-3A
PIGGOTT (6) at Harrisburg (MONDAY): This game was originally scheduled for Week 8 but was postponed due to covid-19 protocols. Teams have split the past two meetings with Harrisburg winning 22-8 last year at Piggott. Piggott junior Logan White delivered big plays last week at defensive tackle and on the offensive line. Harrisburg rolled up 322 balanced (180 rushing and 142 passing) yards in last week's 33-14 victory at Corning. The Hornet defense allowed just 229 rushing yards on 51 attempts. Harrisburg senior tailback Jacob Wallace ran for 103 yards and two TDs and he caught two passes for 59 yards and a score.
Corning at PIGGOTT (6) (THURSDAY): Piggott has won the Rice Bowl eight straight times, including 30-8 in 2019. Corning managed 261 yards but committed two costly turnovers in last week's 33-14 loss to Harrisburg. The Bobcats rush for more than 250 yards per week and five players average more than 5 yards per carry (minimum 40 attempts), led by QB Nikota Amiker and fullback Gary Comstock. Piggott logged its second shutout of the season last week (34-0 at Palestine-Wheatley) and the Mohawks allow only 23.7 points per game this season and just 20 PPG in league action. Senior guard Kyson Conley anchors the Piggott offensive line. Piggott senior QB Tanner Dixon and senior receiver Logan Ralph each accounted for two TDs in last week's 34-0 win at Palestine-Wheatley. Senior Michael Parker also ran 49 yards for a score.
HARRISBURG (17) at Palestine-Wheatley: Palestine-Wheatley owns tiebreakers over Walnut Ridge and Manila. Senior QB Bryce Hobson has passed for more than 1,200 yards this season and classmate and tailback Aviean Smith finishes shifty runs out of the backfield. Harrisburg juniors Samuel Moore and River Carter delivered timely plays in last week's 33-14 win at Corning. The Hornets are healthier than they've been since a season-opening win over Trumann (one player lost for the season).
HOXIE (30) at Walnut Ridge: These Lawrence County teams have split the four meetings since Walnut Ridge bumped to Class 3A for the 2016 season. Walnut Ridge snapped a six-game losing streak with last week's 33-24 victory against Manila. The Bobcats trailed 16-14 at halftime and 24-14 in the third quarter. Walnut Ridge did not allow a point on Manila's final four drives. Hoxie dazzled in last week's 55-21 win at Osceola, rolling up 563 yards and forcing five turnovers. Three Hoxie runners bolted for 110 yards or more, paced by senior QB Daylon Powell (224 yards rushing and four TDs). Senior tailback ShunDerrick Powell ran for 147 yards and a TD and he returned an interception 35 yards for a TD. Hoxie junior Cade Forrester added 110 yards rushing and a score.
OSCEOLA (27) at Manila: Manila led Walnut Ridge 24-14 last week in the third quarter, but surrendered the final 19 points in a nine-point defeat. Hoxie snapped Osceola's 17-game conference winning streak last week in a 55-21 victory. The Seminoles managed 267 balanced (142 rushing and 125 passing) yards against Hoxie, but threw three interceptions. Osceola led Hoxie 6-0 after the first quarter but surrendered 35 unanswered points in the second and third quarters.

4-3A
ATKINS (28) at Mayflower: Mayflower owns tiebreakers over Baptist Prep and Danville and the Eagles' game with Two River two weeks ago was canceled. Mayflower dresses just seven seniors in 2020. Atkins led Two Rivers 36-0 after one quarter last week, when it won 48-14. Atkins rolled up 335 yards (186 rushing and 149 rushing), led by junior QB Zach Berkemeyer's 149 yards passing with three TDs. Five Atkins receivers caught passes, paced by senior Kreed Stubbs' two receptions for 70 yards and a TD and senior Donovan Nooner's four catches for 50 yards and a TD.
Two Rivers at BAPTIST PREP (29): Baptist Prep trounced Two Rivers the past two seasons by a combined 109-46. Two Rivers scored a season-high 14 points in last week's 34-point loss at Atkins. The Gators lost three fumbles and trailed 42-8 at halftime. Baptist Prep owns the playoff tiebreaker over Danville only. Baptist Prep pushed Perryville (missing six starters in quarantine) last week before losing 42-33. The Eagles trailed just 28-21 in the third quarter. Senior QB Aiden Throneberry completed 16 of 25 passes for 205 yards and a TD at Perryville.
Perryville at BOONEVILLE (21): Perryville ran for 379 yards and five TDs in last week's 42-33 victory over Baptist Prep. Junior Crete Tippen (184 rushing yards and four scores) and sophomore QB Tyler Givens (153 rushing yards and a TD) sparked the rushing attack. Booneville limited Paris to 225 yards and six first downs in last week's 28-20 win at Paris. The Bearcats rushed for 376 yards and allowed just one offensive TD.
PARIS (33) at Danville: Should Danville finish with one win this season it would be the Little Johns' worst mark since finishing 2-8 in 2013. Danville dresses just seven seniors this year, including all-league center Jarrett Wilkins. Paris must recover after last week's 28-20 loss to Booneville. Paris junior Duke Walker returned a pair of fumbles for TDs against Booneville. Paris' final drive ended inside the Booneville 25-yard line. 

5-3A
PRESCOTT (10) at Glen Rose: See Hootens.com Game of the Week.
CENTERPOINT (31) at Bismarck: Bismarck earned a crucial 21-14 win last week against Fouke, outgaining the Panthers 293-144. Bismarck sophomore QB Ian Smith accounted for two TDs and Barrett Schultz ran for a score. Smith completed 14 of 27 passes for 232 yards at Fouke. Centerpoint likely earns the No. 3 playoff seed with a win. Centerpoint's game last week against Genoa Central was canceled due to covid-19 protocols. Centerpoint standouts Josh Lawson, Dathan Vaught and Garrett Alexander have emerged as three of the top juniors in the state.
Fouke at GENOA CENTRAL (24): These Texarkana teams are separated by just nine miles. Fouke has won nine of the 10 meetings in this series, but Genoa beat Fouke last season 34-32. Fouke trailed Bismarck 21-7 last week at halftime of a 21-14 defeat. The Panthers passed for just 42 yards against Fouke. Senior Trent Crabtree ran for a TD against Bismarck. Genoa Central returns to the field for the first time in three weeks (52-0 loss to Prescott). 
Horatio at JESSIEVILLE (30) (THURSDAY): Horatio looks to avoid a second straight winless season and third since 2014. Horatio totaled minus-26 yards in last week's 42-0 loss at Glen Rose. Jessieville surrendered more than 400 yards in last week's 63-12 loss at Prescott. 

6-3A
Barton at C. HARMONY GROVE (17): Barton looks to avoid its first winless season since 1967. Barton's junior high finished 7-2 this season. Harmony Grove owns conference tiebreakers against Dollarway and Smackover but lost to McGehee. Harmony Grove managed just one TD in last week's 21-8 loss to Melbourne. 
RISON (21) at Drew Central: Drew Central owns a conference tiebreaker over Barton this season and has not played in two weeks due to covid-19 protocols. Rison's past three games have been canceled due to covid-19 protocols and the Wildcats own tiebreakers over Barton, Dollarway and Smackover. The Rison defense allows just 9.4 yards per game behind senior tackle Eli Herrington and linebackers Cole Keese, Monte Barnett and Dalton Riggins. 
DOLLARWAY (24) at Lake Village: Lake Village owns tiebreakers against Smackover and Barton. Lake Village racked 425 yards a week ago in a 56-14 win at Barton, led by senior tailback Kenvorris Campbell's 185 rushing yards and four scores. Lake Village's top passer (junior Miguel Green) and top two receivers (Delonte Armour and Emmarian McAdoo) likely return in 2021. Dollarway owns tiebreakers over Barton, Drew Central and Smackover. Dollarway managed just 127 yards in last week's 30-6 loss to McGehee. 
Smackover at MCGEHEE (30): Smackover's one win is its fewest since a one-win 2006 season. The Buckaroos have dressed 19 or fewer players most of this season. McGehee leads Class 3A in scoring defense, allowing just 5.2 PPG. Senior Marcus Rose and juniors Jody Easter and Sam Polite deliver big plays as the running backs.