Class 4A Week 10 Rankings, Notes & Picks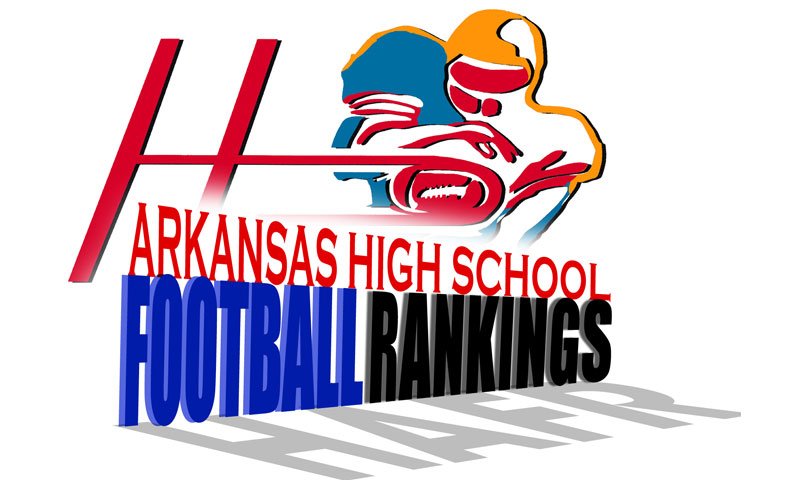 Hootens.com Rankings
Class 4A, Week 10, 2020
Copyright Hooten Publishing, Inc. 
1. Shiloh Christian (8-1)
2. Joe T. Robinson (6-3)
3. Stuttgart (8-0)
4. Nashville (6-2)
5. Rivercrest (8-0)
6. Arkadelphia (6-0)
7. Prairie Grove (8-1)
8. Elkins (7-1)
9. Mena (5-3)
10. Ozark (6-3)
11. CAC (8-1)
12. Pocahontas (7-2)
13. Warren (4-4)
14. Dardanelle (4-3)
15. Monticello (5-4)
16. Hamburg (4-4)
17. Crossett (3-1)
18. Dumas (6-3)
19. Malvern (4-5)
20. Ashdown (6-3)
21. Lonoke (6-3)
22. Lamar (5-3)
23. Blytheville (4-3)
24. Gosnell (3-3)
25. Fountain Lake (4-3)
26. Trumann (4-5)
27. Bald Knob (5-4)
28. Waldron (4-4)
29. Pottsville (3-5)
30. Star City (4-3)
31. Gentry (4-5)
32. Huntsville (4-4)
33. Bauxite (3-6)
34. Heber Springs (2-7)
35. Jonesboro Westside (3-5)
36. Highland (2-5)
37. Clinton (2-7)
38. Mills (3-6)
39. Southside Batesville (3-5)
40. Gravette (2-6)
41. DeWitt (2-5)
42. Cave City (2-6)
43. H. Grove Haskell (0-9)
44. Helena (0-8)
45. Berryville (0-7)
46. Green Forest (0-9)
47. Dover (0-6)

HOOTENS.COM GAME OF THE WEEK
No. 3 Stuttgart at No. 11 CAC
The winner gets the No. 1 playoff seed and (at least a share of) the conference title. CAC shared the league title last year and won it outright in 2015. The Mustang's won their opening eight games of 2020 before losing last week at Bald Knob 35-14. Senior quarterback Palmer Gilbrech completed 28 of 40 passes for 256 yards and ran five times for 42 yards at Bald Knob, while junior Tyler Williams ran 22 times for 70 yards and two TDs and caught seven passes for 67 yards. Gilbrech has passed for 1,923 yards and 10 TDs this year (only one interception), while Williams has 209 carries for 1,184 yards and 21 TDs. Senior Ethan DeMarco racked up 13 tackles against Bald Knob, while Ty Bahnks collected nine tackles and one sack. Senior Cole Shoemaker registered five solo stops, and has eight sacks this season.
Stuttgart looks to complete a worst to first turnaround. The Ricebirds went winless on the field in 2019 (received a forfeit win), but haven't been challenged this fall while winning eight games by an average of 34 points. They hold opponents to 5.8 points weekly, best in Class 4A and second-best in the state. The first-team defense surrendered 14 points to Lonoke a week ago, the first points they've allowed since Week 1. Sophomore Cedric Hawkins ran 24 times for 210 yards and two TDs in the 39-point win over Lonoke, while junior Arlie Lee caught five passes for 85 yards and a TD. Lee also threw a TD pass. Talented sophomore playmaker Jaidan Strange ran five times for 80 yards and three TDs, and caught four passes for 124 yards and a TD.

LAST WEEK
Hootens.com correctly predicted 18 of 22 games (82 percent) last week. For the season, hootens.com has correctly predicted 207 of 252 games (82 percent).

WEEK 10 PREDICTIONS (favored team in ALL CAPS)
1-4A
Green Forest at BERRYVILLE (3): The 2020 Carroll County Feud is a battle of winless teams. Berryville has been outscored this year by an average of 45-13, while Green Forest gets outscored 50-10 weekly. Berryville has won 13 of the past 19 in the series.  
PRAIRIE GROVE (1) at Elkins: The winner gets the No. 2 seed, while the loser finishes as the No. 3 seed. Elkins, banged up at several positions, fended off Gentry by 39-21 a week ago. Senior QB Kain Johnson ran for 115 yards and three TDs and passed for 120 yards and another TD. Johnson has played in the fourth quarter of only three games this fall. Prairie Grove pounded Berryville last week 48-0, running for six TDs and blocking a punt for another. 
GENTRY (3) at Gravette: The winner gets at least the No. 5 seed (Gentry could finish as high as No. 4). Gentry quarterback/safety Zach Jarnagan sparked the Pioneers a week ago. Ends Jonah Summers and Garrison Jackson along with cornerbacks Tommy Xiong and Dawson Rayburn make plays on defense. Gravette trailed Shiloh Christian 22-8 at halftime last week. Senior QB Cy Hilger has passed for 981 yards and five TDs this fall, and senior linebacker Trenton Durham paces the D with 60 tackles.
SHILOH CHRISTIAN (26) at Huntsville: Shiloh Christian wraps up its third straight conference title, while Huntsville qualifies for the playoffs for the first time since 2016. The Saints led Gravette 22-8 at halftime last week, and were up 46-8 in the fourth quarter. Sophomore QB Eli Wisdom completed 10 of 15 passes for 167 yards and three TDs and ran 11 times for 103 yards and two TDs against Gravette. He also registered two tackles, broke up two passes and intercepted one pass while playing cornerback. Senior Cam Wiedemann ran for 70 yards and a TD and caught three passes for 46 yards and a TD against Gravette. Huntsville senior Gus Comer ran 54 yards for a TD and returned a blocked punt for another score in the first half of last week's 36-point win at Green Forest.

2-4A
STUTTGART (16) at CAC: Hootens.com Class 4A Game of the Week. 
BALD KNOB (7) at Southside Batesville: Bald Knob shocked previously unbeaten CAC by 21 points a week ago. Senior Bradyn Cline ran for three TDs, while junior QB Leason Pierce ran for a TD and threw a TD pass. Southside has lost four straight games, including 14-6 to Mills a week ago.
Clinton at LONOKE (8): Lonoke finishes as the No. 3 seed with a victory, but the Jackrabbits have lost two straight games after starting the season 6-1. Lonoke scored two early TDs last week against Stuttgart, the first points Stuttgart's first-team D has surrendered since Week 2. Clinton has won consecutive games over Bald Knob and Heber Springs by a combined 11 points. Nick Epley ran 13 times for 153 yards and caught four passes for 63 yards against Heber Springs, while Aldrich Infenta kicked two field goals, including a 40-yarder, in the six point triumph. The Yellow Jackets start six sophomores. 
Mills at HEBER SPRINGS (3): Heber Springs beat Southside Batesville two weeks ago and surrendered the decisive TD in the final minutes of last week's six-point loss at Clinton. Mills' Keilon Davis ran for a pair of TDs in last week's 14-6 win over Southside.

3-4A
RIVERCREST (8) at Blytheville: Rivercrest goes for an undefeated season and top playoff seed. Rivercrest senior QB Kam Turner has passed for 2,072 yards and 25 TDs, and rushed for 1,040 yards and 15 TDs this fall. Senior Keyshawn Scott has a team-best 53 catches for 1,078 yards and 14 TDs. Blytheville's Kylen Wells caught a 12-yard TD pass in the first half, then rocketed 55 yards for the winning TD in the final minute of last week's one-point win over Pocahontas.
Cave City at TRUMANN (12): Trumann has won five of the past eight over Cave City, including last year by 29 points. Milton Lewis ran 16 times for 84 yards last week at Rivercrest, while Eli Evett registered 10 tackles. The Wildcats can finish as high as the No. 4 seed with a win and some help. Cave City generated 105 yards in last week's 34-point loss to Gosnell.
Jonesboro Westside at GOSNELL (3): Canceled. Gosnell can share its first league title since 2017 with a win and Rivercrest loss. Gosnell senior QB Cooper Pieri ran for two TDs and threw a TD pass against Cave City. Mason Moore blocked a punt to set up another TD, while Reid Shelton intercepted a pass. Jonesboro Westside senior QB River Engle has passed for 475 yards and three TDs, and rushed for 479 yards and seven TDs this fall. Senior Tyler Ray paces the D with 70 tackles.
POCAHONTAS (21) at Highland: Pocahontas yielded the winning TD in the final seconds last week against Blytheville, but finishes no worse than the No. 3 seed (probably the No. 2 seed) with a win. Highland surrendered 298 yards rushing in last week's 20-point setback to Jonesboro Westside.

4-4A
Lamar at MENA (7): Mena going for its first conference title since 1996. Senior QB Max Montgomery has passed for 1,915 yards and 16 TDs this fall. Senior Cauy House has eight carries this year, with seven of them resulting in TDs. House paces the D with 101 tackles, three sacks and two fumble recoveries. Lamar impressed this year bumping up from Class 3A, and should earn the No. 3 seed with a win or the No. 4 seed with a loss. Senior Brady James has rushed for 1,149 yards and 20 TDs this fall and has 18 tackles on D. Junior Mat Higby has 26 receptions for 314 yards and three TDs, while Justin Dillard has four TD receptions.
Waldron at OZARK (10): Ozark's D played its best game of the year last week against Lamar, limiting the Warriors to 149 yards and 10 points. Ozark senior QB Harper Faulkenberry has passed for 721 yards and three TDs this season, and rushed for 1,006 yards and 16 TDs. Senior Keystan Durning paces the D with 91 tackles, including 13 stops a week ago against Lamar. Waldron hung with Dardanelle (trailed 21-17 in fourth quarter) last week before losing 28-17.
Pottsville is open.
Dardanelle at Dover (Thurs.): Canceled

7-4A
JOE T. ROBINSON (33) at H.G. Haskell (Thurs.): Joe T. Robinson likely finishes as the No. 2 seed with a win. Senator senior Hunter Smith ran for a pair of TDs, including the game-winner in overtime, last week against Ashdown. Haskell trailed Fountain Lake 21-7 at halftime last week, before losing by 26 points.
ARKADELPHIA (21) at Malvern: The winner of the Ouachita River Rumble winner gets the championship belt. Arkadelphia has beaten Malvern five straight seasons, including the past three years by a combined 180-21. Undefeated Arkadelphia canceled its opening three league games, but has won the past three weeks (over H.G. Haskell, Ashdown and Bauxite) by a combined 163-45. Senior QB Buster Thomas passed for 251 yards and five TDs in the first half of last week's 62-6 win over Bauxite. Thomas has eight TDs the past two games. Malvern should be full strength for the first time in a month. The Leopards trailed Nashville last week at halftime by 28 points. Sophomore QB Cedric Simmons has 17 TDs this fall.
Fountain Lake at ASHDOWN (7): Ashdown beat Nashville Week 7 and lost in overtime last week at No. 2 Joe T. Robinson. Ashdown starts seven sophomores, including tight end/defensive end Shamar Easter, who caught a TD pass and had a sack against Joe T. Robinson. Junior QB Alex Keilbach passed for 158 yards and a pair of TDs at Joe T. Robinson. Senior noseguard Vincent Jones has 51 tackles the past three games (vs. Nashville, Arkadelphia and Joe T. Robinson). Sophomore running backs Jonathan McElroy and Jayden Fricks were injured against Nashville, but both return this week. Fountain Lake junior Caleb Lacy ran for 160 yards and three TDs in last week's 33-7 win over Haskell.
NASHVILLE (23) at Bauxite: Nashville finishes as the No. 1 seed with a win. The Scrappers led Malvern by 28 points in the second quarter last week. Senior QB Ty Gordon completed 11 of 14 passes for 184 yards and four TDs, and ran for 78 yards and two TDs. Bauxite has lost the past two weeks to Joe T. Robinson and Arkadelphia by a combined 114-9.

8-4A
CROSSETT (4) at Star City (Thurs.): This game usually determines playoff seedings. Crossett returned to the field last week (only the second game since Week 1), mercy-ruling Helena 48-0. Junior QB Tyrique Jones ran 40 yards for a TD and threw a pair of first-half TD passes. The Eagle defense also scored twice. Star City has beaten Helena and DeWitt the past two weeks by a combined 70-8. The Bulldogs ran for 290 yards against DeWitt, and the defense held DeWitt to 114 yards and forced four turnovers.
MONTICELLO (14) at DeWitt (Thurs.): DeWitt surrendered 375 yards last week to Star City. Dragon senior Deontaye Starks ran eight times for 55 yards against Star City. Monticello likely finishes as the No. 2 seed after losing last week to Dumas by 22 points. Monticello QB Stran Smith passed for 137 yards and a TD and ran for 41 yards against Dumas, while Keon Smith ran for 61 yards and a TD.
Dumas at HAMBURG (2) (Thurs.): Hamburg has won 10 of the past 19 over Dumas. Hamburg led Warren 7-0 in the first half last week and trailed 20-14 in the fourth quarter without several starters who should return from quarantine this week. Dalton Gill blocked well at tight end against Warren, and filled in at middle linebacker. If Dumas wins, the Bobcats will be the only team in the conference with five wins (and get the No. 1 playoff seed). Dumas senior Kylin James has rushed for 1,571 yards and 14 TDs this year.
Helena at WARREN (30) (Thurs.): Helena has lost 13 straight games. Warren senior Tre'Lon Marshall ran 15 times for 68 yards and a TD in last week's 12-point win over Hamburg, while Cedric Calbert ran for 65 yards and two TDs. Senior Weston Hembree played well at defensive end.