Class 5A Week 10 Rankings, Notes & Picks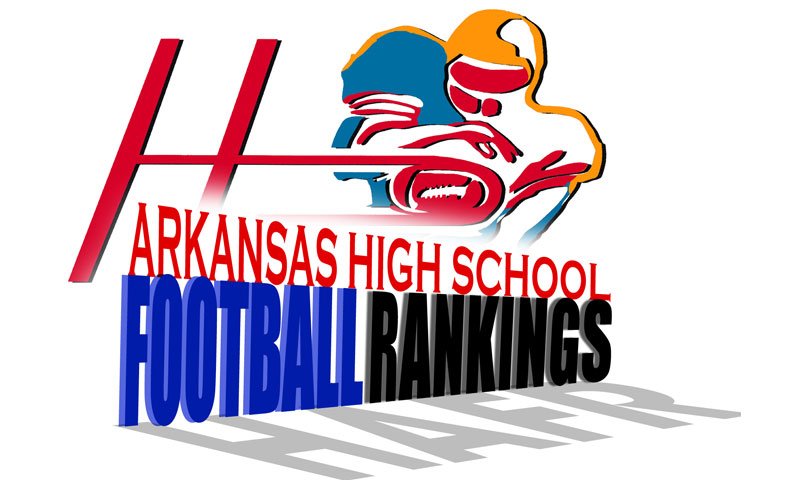 Hootens.com Rankings
Class 5A, Week 10, 2020
Copyright Hooten Publishing, Inc.
1. Pulaski Academy (9-0)
2. Wynne (9-0)
3. Texarkana (5-0)
4. LR Christian (5-2)
5. Maumelle (4-2)
6. Harrison (8-1)
7. Morrilton (5-3)
8. White Hall (5-4)
9. Magnolia (5-2)
10. Watson Chapel (5-3)
11. HS Lakeside (5-3)
12. Camden Fairview (5-4)
13. Batesville (6-3)
14. Vilonia (5-3)
15. Greenbrier (5-4)
16. Valley View (5-3)
17. Greene County Tech (5-4)
18. Farmington (4-4)
19. Hot Springs (3-3)
20. Nettleton (3-4)
21. Brookland (3-6)
22. Clarksville (2-6)
23. Beebe (2-5)
24. Pea Ridge (1-5)
25. LR Hall (2-7)
26. Hope (1-7)
27. Alma (1-7)
28. Jacksonville (2-6)
29. Paragould (1-8)
30. Forrest City (1-6)
31. De Queen (0-8)

HOOTENS.COM GAME OF THE WEEK
No. 10 Watson Chapel at No. 4 LR Christian
This game has serious playoff implications. LR Christian can finish anywhere between the No. 2 and No. 4 seed, while Watson Chapel can finish as high as No. 3. Watson has never beaten LR Christian (2-0 all-time). 
Watson Chapel lost to Maumelle last week 41-32. Senior Damarione Woodson has 12 receptions the past two weeks for 357 and four TDs. Sophomore QB Jabrae Shaw has 1,928 yards and 28 TDs this fall (14 passing, 14 rushing). Senior linebacker Eric Brown racked up 19 tackles against Maumelle, including seven solo stops. Junior end Lamar Jefferson (6-5, 270) has played well the past month, coach Jared Dutton says.
LR Christian had two opponents cancel (Beebe in Week 6 and Jacksonville Week 9) this fall and hasn't played since losing to Pulaski Academy 60-28 Week 8. The Warriors trailed 32-0 in the second quarter, but trimmed it to 38-21 late in the second quarter. Junior Jayvean Dyer-Jones paced the Warriors with 144 yards rushing and a TD, while senior Corey Platt, Jr., caught five passes 78 yards and three TDs.

LAST WEEK
Hootens.com correctly predicted all 12 games last week. For the season, Hootens.com has predicted 137 of 159 games (86 percent). 

WEEK 10 PREDICTIONS (favored team in ALL CAPS)
5A CENTRAL
Watson Chapel at LR CHRISTIAN (7) (Thurs.): Hootens.com Class 5A Game of the Week.
Beebe at WHITE HALL (21) (Thurs.): White Hall likely finishes as the No. 3 seed. Senior Kam Robinson returned the opening kickoff 82 yards for a TD last week against LR Hall. He also returned two punts for TDs, ran for a TD and intercepted a pass in the end zone to thwart LR Hall's best scoring chance. Beebe trailed Pulaski Academy 24-14 in the second quarter last week after forcing three turnovers, but lost 58-21. 
MAUMELLE (18) at LR Hall: Maumelle likely finishes with a 3-1 conference record (had three league games canceled). Senior QB Jonathan Reyes threw two TD passes in last week's nine-point win over Watson Chapel, and senior Deshaire Ford-Burton returned the opening kickoff for a TD.
Jacksonville at Pulaski Academy: Canceled

5A EAST
Valley View at BATESVILLE (3): Batesville has beaten Valley View four of the past six seasons, but Valley View won 23-14 a year ago. Batesville senior QB Eli Livingston ran for two TDs and threw a 73-yard TD pass in last week's 21-point win at Greene County Tech. Valley View's game last week with Nettleton was canceled. Valley View playmaker Aedan Huntsman has 54 catches this year for 689 yards and three TDs, and 33 carries for 265 yards and four TDs.
BROOKLAND (15) at Forrest City: Brookland goes for its fourth victory, which ties 2013 and 2019 as the second-best in school history. Sophomore Joseph Wright ran for three TDs in last week's 31-7 win over Paragould. Forrest City trailed Wynne 28-0 in the first quarter last week. The Mustangs have been outscored by an average of 39-7 this fall.
GREENE CO. TECH (13) at Paragould: The winner gets the Bell trophy, which was introduced in 1999. GCT has won 14 of the past 26 in the series, including last fall 20-7. GCT senior David Williams has rushed for 1,095 yards and 12 TDs this year, while senior Shad Vaughan has 24 catches for 355 yards and four TDs. Paragould trailed Brookland 21-0 in the second quarter a week ago. 
Wynne at Nettleton: Canceled.

5A SOUTH
De Queen at TEXARKANA (33): Undefeated Texarkana plays its sixth game of the year. Senior Torie Blair ran 28 times for 208 yards and two TDs in last week's 20-point win at Hope, while Tavree Green caught five passes for 72 yards. Defensive tackle Josh Gamble racked up six solo stops, while cornerback Tylee Green had five tackles and an interception. Winless DeQueen surrenders 48 points weekly.
Hope at MAGNOLIA (21): Magnolia has won 10 of the past 19 in this rivalry. Hope has a 3-48 record the past five years. Magnolia sophomore Garrion Curry has 70 carries this year for 824 yards and 13 TDs. Curry ran four times for 100 yards and a TD in last week's 55-7 win over De Queen, while senior James'Darius Smith ran three times for 109 yards and two TDs. The Panthers start nine sophomores. 
Hot Springs at HS LAKESIDE (4): HS Lakeside has beaten its rival 13 times in the past 19 years. Lakeside gets big plays from senior QB Will Ross, receiver Logan White and linebacker Will Perrigo. Hot Springs hasn't played since losing to Magnolia in Week 7. Trojan senior Devin Johnson has rushed for 798 yards and seven TDs this fall. 
Camden Fairview is open.

5A WEST
FARMINGTON (2) at Alma: Alma has just one win this season, its fewest wins since going winless (0-9-1) in 1958. Alma trailed Greenbrier by seven points late in the fourth quarter last week before losing 49-35.  Farmington ran for 210 yards against Pea Ridge, including a 169-yard, two-TD effort from junior Caden Elsik. Elsik has 975 yards and nine TDs this fall.
MORRILTON (13) at Clarksville: Morrilton senior Reggie Toney caught the winning TD pass late in the fourth quarter of last week's 20-14 win at Vilonia, while classmate Jackson Moll ran for a TD and two conversion. Clarksville has lost three straight games since beating Alma by 20 points in Week 6. Sophomore Arthur Alvarez has 150 carries for 1,005 yards and 10 TDs this year. The Panthers trailed Harrison in the third quarter last week 21-6.
Vilonia at GREENBRIER (1): Greenbrier has won 11 of the past 19 Judge's Cup games. Greenbrier puts up 379 yards weekly. Senior Trey Havens ran for 212 yards and three TDs in last week's 14-point win over Alma, while junior QB Cooper Wilcox completed three of seven passes for 87 yards and ran eight times for 92 yards. Vilonia led Morrilton 14-12 in the fourth quarter last week before giving up a late TD. Junior Kannon Bartlett sprinted 20 yards for an Eagle TD. Bartlett ran 11 times for 65 yards, while junior Seth Kirk had 21 carries for 69 yards and a TD.
HARRISON (20) at Pea Ridge: Harrison beat Pea Ridge the past two years in non conference games, including 42-7 a year ago. Goblin senior QB Cole Keylon injured his knee two weeks ago at Morrilton, but returned last week, throwing four TD passes in a 29-point win over Clarksville. Pea Ridge lost to Farmington last week by one point in overtime, its first game since Week 5. The Blackhawks forced four turnovers.