Class 7A Week 10 Rankings, Notes & Picks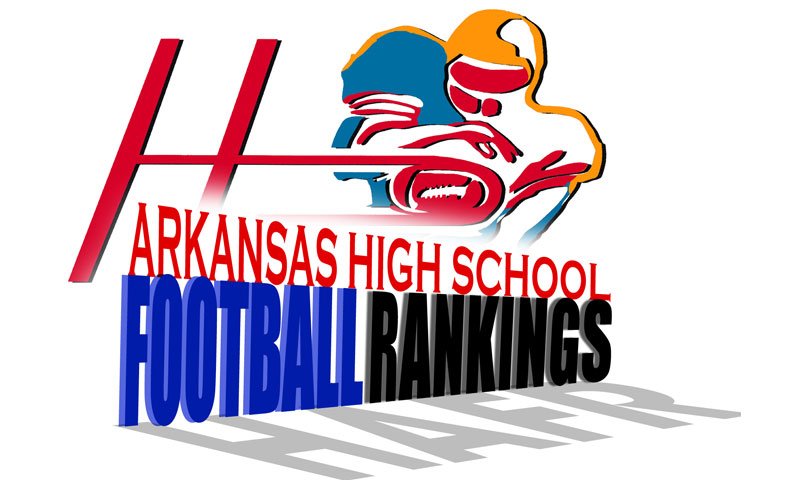 Hooten's Arkansas Football Rankings
Class 7A, Week 10, 2020
Copyright Hooten Publishing, Inc.
1. Bryant (8-0)
2. Bentonville (9-0)
3. North Little Rock (7-1)
4. Conway (6-2)
5. Cabot (6-2)
6. Rogers (5-2)
7. Har-Ber (4-5)
8. Bentonville West (6-3)
9. FS Northside (4-4)
10. LR Catholic (3-6)
11. Fayetteville (3-5)
12. FS Southside (2-7)
13. Springdale (2-7)
14. LR Central (2-3)
15. LR Southwest (0-6)
16. Heritage (1-8)

HOOTENS.COM 7A GAME OF THE WEEK
No. 4 Conway at No. 1 Bryant
Bryant's offense was better than its defense to start the season but neither are too shabby now. Bryant totaled 830 yards last week to wear out North LR 58-21. Cabot, averaging 179 yards rushing vs. other opponents, totaled just 22 yards on 33 rushes two weeks ago vs. Bryant.
Conway can earn a share of the league title with an upset at Bryant or finish as a No. 3 seed. Conway lost at home to North LR 39-37 Week 5 but has won its past four games scoring 49.5 points per Friday.
"(Bryant) might be the most complete team I've seen, including the 2005 Springdale state champions and the 2004 Little Rock Central state champions," Conway coach Keith Fimple says. "Bryant's quarterback reminds me of John Elway the way he moves around, the velocity he has on balls, the touch of his passes and being able to throw it under and around rushers. But the main thing is how wide their linemen are. Just look at how wide their formation is with just five linemen."

LAST WEEK
hootens.com correctly predicted seven of eight winners in games involving Class 7A teams. For the season, hootens.com is 71-12 (86 percent) in Class 7A.

WEEK 10 PREDICTIONS (favored team in CAPS)
7A CENTRAL
Conway at BRYANT (18): Game of the Week.
Cabot at NORTH LR (15): North LR physically challenged but lost to Bryant 58-21 last Friday and will be the No. 2 seed with a win this week. North LR senior tailback is Fred O'Donald "runs mad" and changing to the spread offense has been good for North LR QB Kareme Cotton," says Cabot coach Scott Reed. Cabot finishes as the No. 4 seed with a loss this week and plays at home in the first round next Friday. Cabot amassed 519 yards in last last Friday's 24-7 win over FS Northside. Cabot senior QB Tyler Gee (2,033 yards passing this fall) completes 61 percent of his passes 254 yards weekly with 22 TDs and 10 INTs this season.
LR CATHOLIC (3) at LR Central: LR Central played for the first time in 35 days last Friday, winning at LR Southwest 20-12. The Tigers drove 73 yards to break a 12-12 tie, scoring with 3:45 remaining to win. LR Catholic beat LR Southwest 20-6 two weeks ago. Rocket LB/DE Noah Perry (6-1, 200) plays with incredible leverage as one of the top defenders in Class 7A.
LR Southwest at FS NORTHSIDE (10): FS Northside has lost three in a row and played without standout QB Dreyden Norwood last week due to an ankle injury. LR Southwest finishes the regular season 0-7 in the school's first year.

7A WEST
Bentonville West at BENTONVILLE (25): Bentonville wins its fifth straight 7A-West title. The Tigers are scoring 54 points per conference game and haven't been pushed by an opponent since mid-September. This likely hurts the Tigers in the playoffs. Meanwhile, rival Bentonville West can earn a share of the league title with an upset victory, but the Wolverines lost at Har-Ber and were pushed by Springdale and Rogers.
ROGERS (16) at Heritage: Rogers ready for its crosstown rival after a thrilling 49-42 win over Har-Ber. Heritage has lost its six conference games by an average score of 41-5.
Springdale at FS SOUTHSIDE (1): Springdale used a 74-yard flea-filcher from Landon Phipps to Kaylon Morris for an early score last week but trailed Bentonville 42-7 by halftime. FS Southside has won two games over teams with a combined 2-16 record.
Har-Ber at FAYETTEVILLE (1): Fayetteville has won three of its past four and could play host to a first-round playoff game. Har-Ber looks to even up its overall record and play host to a first-round game losing last Friday at Rogers 49-42. Har-Ber sophomore Hudson Brewer (6-2, 190) has rushed for 1,193 yards this season.