HOGS: Pittman lauds tight ends; notes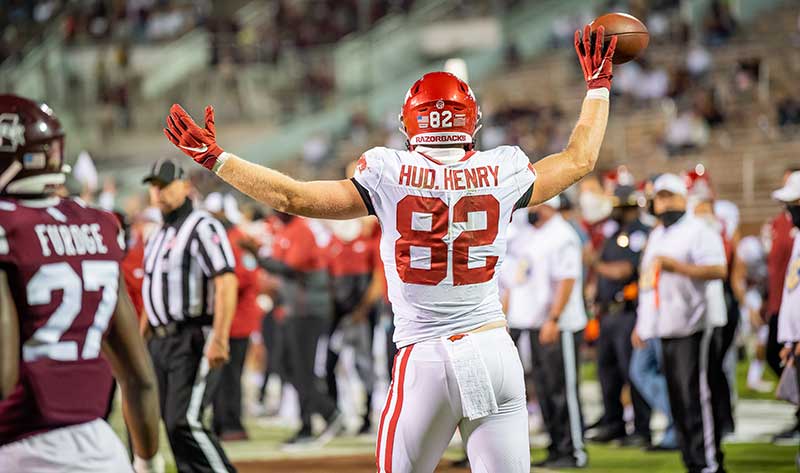 FAYETTEVILLE - Before the season, Arkansas first-year coach Sam Pittman fretted about his tight ends. 
He frets no more.
As his Razorbacks (2-3) prepare for Saturday night's 6:30 battle with visiting Tennessee (2-3), Pittman praises tight ends Hudson Henry and Blake Kern for their play in Saturday's 42-31 loss at Texas A&M.
Both blocked well as Arkansas ran for a season-high 222 rushing yards. Redshirt freshman Henry of Pulaski Academy caught six passes for 33 yards. He caught two during Arkansas' first touchdown drive, one on Arkansas' second TD drive and drew a pass interference call against the Aggies to prolong a drive for a field goal.
Kern, a senior from Lamar, caught a 14-yard Feleipe Franks pass to set up Arkansas' third TD.
PITTMAN'S PRAISE
"I think they're doing a really good job," Pittman said Monday. "On our good tape yesterday, we showed Hudson. He took a couple of really nice shots from the guys at A&M and he gave the ball to the official, got up, went to his alignment, assignment and went on about his business. That's a redshirt freshman  getting tougher. He's getting better."
Pittman said Kern "caught a very important pass down to about the 1- or 2-yard line against A&M. He's doing a better job blocking. Both of them - we can improve and they know it — but they're working awful hard. I've been very happy with those two guys."
Henry and Kern have done so well that Blayne Toll, the freshman from Hazen moved from defensive end to tight end because of perceived lack of tight end depth "isn't  getting quite as much reps as we anticipated," Pittman said.  "But he's done a nice job on special teams."
Asked specifically about Henry, Pittman said, "He's maturing. He understands that he's a weapon. He's really perfect for our offense."
PRACTICE SCHEDULES
Because of the new NCAA rule mandating Election Day off so all athletes wishing to vote have time to do so, Pittman addressed juggling his practice schedule since Tuesday is normally Arkansas' toughest game-week practice.
Pittman said the Razorbacks didn't get back from College Station, Texas, until 2:30 a.m. Sunday, but they practiced Sunday night non-contact and were scheduled for fully padded practices Monday and Wednesday.
Pittman said the Razorbacks would be back to their normal Sunday off day, Monday light practice and Tuesday and Wednesday fully padded practices then tapering Thursday into their Nov. 14 game at Florida.
KICKOFF TIME
The Arkansas vs. Florida game Nov. 14  at the Gators' "Swamp" in Gainesville, Fla., will kick off at  6 p.m. CST and be televised by ESPN.
Coming off injuries that sidelined senior defensive end Dorian Gerald and linebacker Bumper Pool, both started Saturday against Auburn.
"I talk to Dorian (Sunday) night and he was very, very happy that he played," Pittman said. "I'm not going to tell you that I felt like he was 100 percent ready to play. But when are you in Game 5? I'm glad that he was glad he played. I think that it gave him some confidence.", 
What about Pool?
"I thought he flew around to the ball," Pittman said. "We've got to get him a little deeper in coverages at times. We bit a little bit up on some play actions, but he came out of the game well. I was glad to have him back. He's a good football player and a great kid. We need guys like that."
Old friends Jim Chaney and Pittman coached together as offensive coordinator and  offensive line coach at Tennessee, Arkansas and Georgia. They will stand on opposite sides Saturday. Chaney, returned to Tennessee, coordinates the Vols offense and calls plays.