HOGS happy to be home again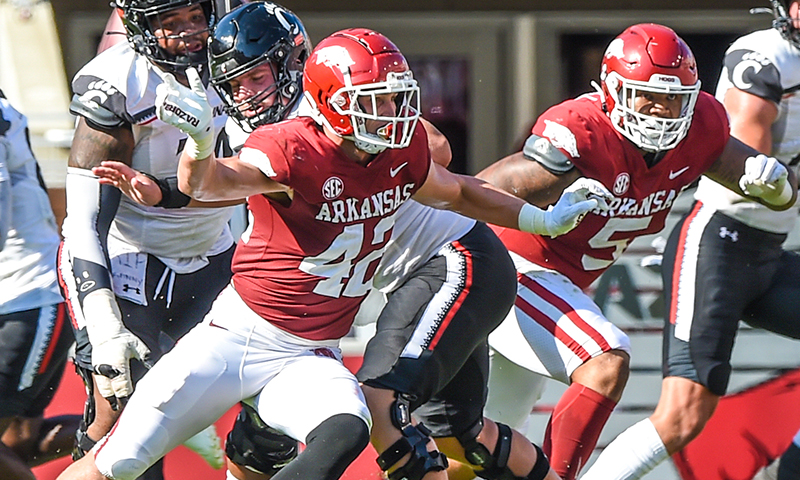 FAYETTEVILLE — Nobody can accuse Arkansas of filling its nonconference schedule with patsies.

The Razorbacks (5-3, 2-3) opened the season with a 31-24 win against Cincinnati, ranked in the Top 25 at the time, then traveled to Provo, Utah and defeated nationally respected BYU 52-35 three weeks ago.

Saturday, Arkansas takes on the 23rd-ranked Liberty Flames (7-1) at Reynolds Razorback Stadium. Liberty's only loss came 37-36 to then-19th ranked Wake Forest.

"It's a good opportunity for us," offensive tackle Luke Jones said. "I mean, this is a top 25 team in the country, so we're not taking them lightly. We're hoping to get another win added to the win column."

Kickoff is set for 3 p.m.

"We've been away for a while, so the crowd will play a big role in the game," said linebacker Drew Sanders, a transfer from Alabama. "A lot of teams say that it is hard to play here against us. It will be fun to have that home-field advantage again."

A victory over the Flames would make Arkansas bowl-eligible for the second consecutive year.

"It would obviously be a big deal," Sanders said. "Not every year a team gets to do that, so it would obviously be a big deal to us and be a big accomplishment to the season.

Sanders said the team's goals go beyond winning 6 games.

"It's to win more," said Sanders (65 tackles, 6.5 sacks, 7.5 TFL). "We're going to take it one game at a time."

HOGS EARNING MID-SEASON HONORS

Junior Drew Sanders (6-5, 233; Denton, Texas) has been named 1 of 20 semifinalists for the Bednarik Award, which is given out to the top defensive player in college football that season and is 1 of the 15 semifinalists for the Dick Butkus Award, given to college football's top linebacker.
Sanders, a transfer from Alabama, has accounted for 65 total tackles, the fifth most in the SEC, as well leading the conference in both sacks (6.5) and forced fumbles (3). Sanders has also been placed on midseason All-America teams by ESPN, CBS Sports, and the Associated Press.

Defensive back Hudson Clark (6-2, 182; Dallas) is a finalist for the Brandon Burlsworth Award, an award given to college football's best player who began their career as a walk-on.

Burlsworth went from walk-on to All-American in the late 1990s before dying in a car crash near his hometown of Harrison 10 days after being selected in the third round of the NFL Draft by the Indianapolis Colts.

Clark (32 tackles, 2 fumble recoveries, 8 pass breakups, 1 interception) looks to become the second Razorback to win the award after Grant Morgan became the first last season.

"I know Brandon Burlsworth was a really hard worker," Clark said. "Just being able to talk to Marty Burlsworth before and having that connection has been a blessing and a real honor for me."

The Burlsworth Award winner will be named on Dec. 5; the Bednarik and Butkus award winners will be named on Dec. 8 and Jan. 21, 2023, respectively.

PREPARING FOR LIBERTY DEFENSE

Arkansas ranks No. 2 in the SEC and No. 6 in the FBS with a rushing average of 245.8 yards per game.
But the Hogs might have their hands full with a Liberty defense that has been holding opposing teams to 123.2 rushing yards per game this season. 

The Flames also rank third nationally in sacks per game (3.8) and fourth in tackles for loss (8.8).

"They are a pretty aggressive defense," Jones said. "They move a lot on the D-line, which has similarities to Mississippi State with how they moved a lot during that game."

Jones said he believes the offense will be ready for the Flames.

"We've been watching film on them, so we are preparing for them," Jones said.

The Razorbacks are coming off a 286-yard rushing performance in their 41-27 win over Auburn. Sophomore Raheim "Rocket" Sanders (1,041 yards, 7 TDs), rushed 16 times for 171 yards, giving him 346 yards in his past 2 games.

MCADOO SETTLING IN ON DEFENSE

Arkansas yields 311.9 passing yards per game to rank 12th of 12 in the SEC and 129th out of 131 FBS teams. 
Injuries have played a role, and Pittman has moved several young players from offense to bolster the secondary.

One of these players is former WR Quincy McAdoo (6-2, 192; Clarendon), who came over in October.

Sanders and Pittman said McAdoo is transitioning well.
"Watching him go through practice, he can do things that can wow you a little bit," Sanders said of McAdoo. "Just the way he's adapted to playing defense so quickly is truly amazing."
Pittman said McAdoo, who has appeared in 3 games without accumulating any stats, has earned the right to get some playing time.

"We moved him out there for a reason, and it has nothing to do with athletic ability," Pittman said. "It's because he's as talented as anybody over there. I believe we need to increase his reps at practice and give him an opportunity to get on the field."