HOGS just outside Top 25; Notes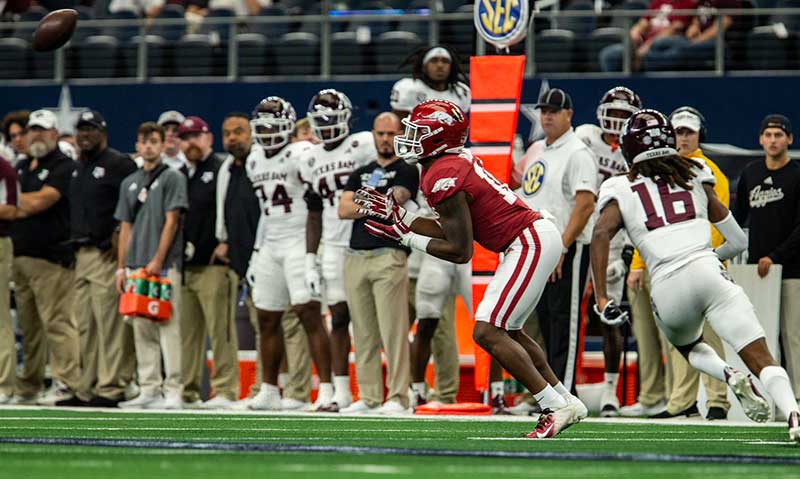 FAYETTEVILLE - Sam Pittman watched Tuesday night as the College Football Playoff Committee announced its first Top 25 poll, hoping his Razorbacks would be included.
They weren't, but their next opponent was.
While Arkansas received votes outside the Top 25, Mississippi State ranked 17th in Tuesday CFP poll whose last poll in December selects the four teams playing for the national title and sets the pecking order for bowl games.
Mississippi State (5-3 overall, 3-2 in the SEC) owns wins over nationally ranked North Carolina State, Texas A&M and Kentucky. Arkansas (5-3, 1-3) boasts a non-conference triumph over then-ranked Texas and an SEC success over Texas A&M. MSU and Arkansas clash at 3 p.m. Saturday on the SEC Network at Reynolds Razorback Stadium.
"Obviously, we haven't won enough games," Pittman said Wednesday. "We haven't won enough power-ranking games to get that done, like Mississippi State (has)."
CAN'T COMPLAIN
"I saw that they (MSU Bulldogs) were 17th," Pittman said. "I think they deserve it. They beat three ranked teams. I believe three of the teams in the rankings last night. So even though we have identical records, they've beaten a few better teams than we have. I thought it was fair of the rankings. I vote each week myself, and it seems like they got it pretty close to right. It will all shake out in the end anyway."
Yes, it will, Mississippi State coach Mike Leach said Wednesday, keeping perspective amid the biggest poll's big vote of State confidence.
"Sure, we're happy and stuff," Leach said. "I didn't know until later at night. People texted me. It's fun for now, but we've got to play well and go up there and compete this weekend."
DOGS RESURGENT
Mississippi State surges into Fayetteville after dominating then AP 12th-ranked Kentucky 31-17 last week in Starkville. The Razorbacks, injury wracked from eight games in eight weeks, enjoyed their annual bye week.
Arkansas last played on Oct. 23 in a 45-3 non-conference romp in Little Rock over Arkansas-Pine Bluff after four tough SEC games. It beat then-No. 7 Texas A&M at the Dallas Cowboys' AT&T Stadium, lost 37-0 at unanimous No. 1 Georgia, lost 52-51 at No. 16 (College Football Playoff poll) Ole Miss, and lost 38-23 to Auburn (13th in the CFP).
Previously injured offensive tackle Dalton Wagner, defensive tackle Markell Utsey and tight end Trey Knox among others healed during the two-week break, Pittman said.
Others, with bumps and bruises, including starting quarterback KJ Jefferson, returned to this week's practices refreshed, Pittman said.
"Monday was as good a day as KJ has had," Pittman said.  "Really in the 9-on-9 part of it, he really stepped up around the rush game and made some great throws. On Sunday in the two-minute drill, he made a nice throw for a touchdown. I think he's playing with a lot of confidence."
FORGING FRESHMAN
Pittman and staff got to scrimmage some of the younger reserves last week, and at least one of them advanced from the work.
Bryce Stephens of Oklahoma City joins fellow true freshman Ketron Jackson, three catches for 44 yards with a TD, in the receivers rotation. Junior Treylon Burks leads the groups with a team-leading 42 catches for 717 yards and seven TDs followed by Helena native Tyson Morris with 14 receptions for 236 yards and two TDs, Warren Thompson with 13 catches for 206 and two TDs and De'Vion Warren with 10 catches for 152 yards.
"I think Bryce is a freshman coming on," Pittman said.  He's starting to understand the offense. He's starting to play a little bit faster. We've got some different little things in for him that he's looked good doing this week. He's definitely the No. 2 slot at this point."
DOUBLING DUTIES
Pittman says 6-1, 240-pound sophomore Dominique Johnson will start Saturday against Mississippi State. Johnson carried six times for 91 yards against UAPB.
"He's earned the right to start for us, and we anticipate him having another good game even though we know how talented and how good Mississippi State has done against the run," Pittman said.
Asked if he hoped for Johnson to log 15 carries Saturday, Pittman replied, "I think that number 15 is probably closer to a minimum than maximum."