Class 2A Week 10 Rankings, Notes & Picks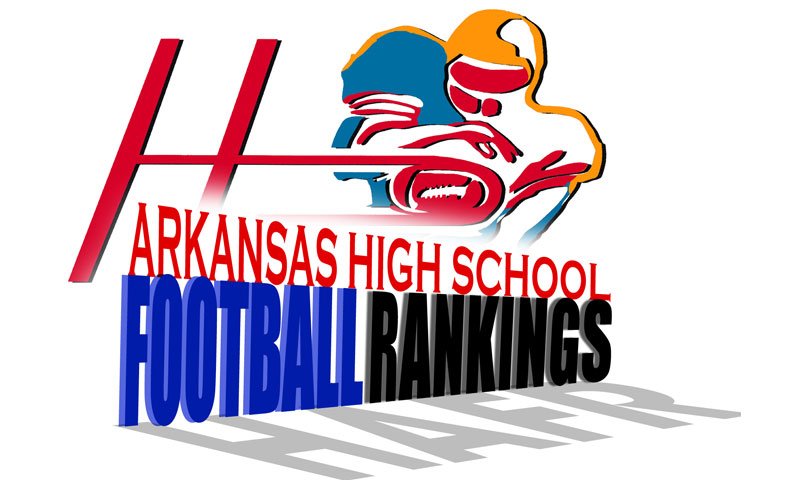 hootens.com Rankings
Class 2A, Week 10, 2019
Copyright Hooten Publishing, Inc.

1. Junction City (7-1)
2. Fordyce (8-1)
3. Foreman (9-0)
4. Des Arc (7-2)
5. Gurdon (7-2)
6. Magnet Cove (8-1)
7. Salem (7-1)
8. Hazen (7-1)
9. McCrory (6-2)
10. E. Poinsett County (6-3)
11. Parkers Chapel (6-3)
12. Earle (5-3)
13. Magazine (7-1)
14. Carlisle (6-3)
15. Hackett (7-2)
16. Dierks (6-3)
17. Mountain Pine (5-4)
18. Poyen (7-2)
19. Cutter M Star (6-3)
20. England (4-5)
21. Mountainburg (4-4)
22. Murfreesboro (5-4)
23. Rector (6-3)
24. Clarendon (3-5)
25. Hampton (3-6)
26. Hector (3-4)
27. Mineral Springs (3-5)
28. Conway Christian (2-7)
29. Quitman (4-5)
30. Mount Ida (1-8)
31. Marked Tree (1-7)
32. Bearden (1-8)
33. Marvell (2-6)
34. Lavaca (1-7)
35. Strong (1-8)
36. Bigelow (0-9)
37. Cross County (1-7)
38. Marianna (0-9)
39. JC Westside (1-8)
40. Lafayette County (1-8)
41. Midland (0-8)
42. Spring Hill (0-9)

GAME OF THE WEEK
No. 3 Foreman at No. 5 Gurdon
Battle for the 7-2A championship and top playoff seed. These two tied for the 2018 league title but Foreman won the Week 10 matchup 26-14. A year later, Foreman's defense is even saltier, allowing 5.9 points per game (fewest in the state for all classifications). Foreman has forced 34 turnovers and committed just seven. Eight Gators have topped 30 tackles, led by senior Chandler Green (56 tackles, 13 tackles for loss) and junior Chris Haywood (50 tackles, 38 TFL). Gurdon will counter with a running attack that averages nearly 8 yards per attempt. Junior TB Jameson Threadgill has rushed for 929 yards and 11 TDs in less than eight games. Junior QB D.J. Anna has completed 35 passes for 784 yards and 14 TDs without an interception. Gurdon's defense evolved through midseason with new starters at several positions. Junior Armando Harper paces the Go-Devils with more than 60 tackles. In recent games, Gurdon held Murfreesboro to 235 yards in a 35-12 win. Foreman held Murfreesboro to 231 yards in a 48-12 win.

LAST WEEK
Hootens.com correctly picked 18 of 19 (95 percent) games involving Class 2A teams. Hootens.com has picked 190 of 226 (84 percent) this season. 

WEEK 10 PREDICTIONS (favored team in CAPS followed by point spread)
3-2A
MCCRORY (9) at Rector (Thurs.): No. 9 McCrory can claim the second playoff seed with a win, but a Rector victory would force a three-way tie for second between EPC, McCrory and Rector. Rector senior RB Max Ford ran over Marked Tree last week for 283 yards and five TDs, pushing his season rushing total to 1,223 yards. McCrory sophomore QB Cason Campbell passes and senior RB Dequan Hall (900 yards rushing) runs behind a healthy line featuring sophomore RT Buck Neal (6-3, 280) and LG Lathan Briley, senior RG Timothy Taylor and C Tupelo Thompson and junior LT Ashton Yeager.
Midland at MARKED TREE (33) (Thurs.): Marked Tree secures the fifth and final playoff seed and a first-round trip to 7-2A champion Foreman or Gurdon. Marked Tree, with just one senior, promoted 13 freshmen last week in a 39-14 loss to Rector. 
Cross County at SALEM (45) (Thurs.): Salem's 8.4 ppg allowed this season ranks second in Class 2A behind Foreman's 5.9 ppg. Salem captured its second straight 3-2A title by beating McCrory 14-8 and EPC 12-6 (overtime) the past two weeks. A week ago, Salem forced five EPC turnovers, while senior RB Peyton Barker rushed 38 times for 209 yards and a TD. Barker has netted 1,387 yards this season.
E. POINSETT COUNTY is open.

4-2A
Hector at MOUNTAINBURG (12): Battle for third place in the 4-2A with the winner on the road at Dierks or Murfreesboro in the first round of the playoffs. Mountainburg gave up 304 rushing yard last week in a 36-16 loss to league champion Magazine. A month ago, Magazine ran for 375 yards in a 48-19 win over Hector.
J.C. Westside at HACKETT (35): Surprising Hackett, the preseason pick of 4-2A coaches to finish last in the league, sits alone in second place. Junior RB Westin Winters topped 100 yards last week for the third week in a row by rushing for 121 yards and a TD in a 36-0 win over Lavaca. Winters, sophomore Peyton Hester and junior Fischer Shipman collected seven, eight and six solo tackles, respectively. J.C. Westside last reached the playoffs in 2016.
Lavaca at HAMPTON (10): 4-2A member Lavaca bumps back to Class 3A next year with better numbers, including 14 sophomores off a 9-0 junior high team. Hampton junior Cymeon McRea (515 yards), senior Bryce Nutt (576 yards) and junior Jamarion Strong (571 yards) have shared the rushing load this fall. Senior Tristen Peebles leads Hampton with 78 tackles.
MAGAZINE is open.

5-2A
MAGNET COVE (7) at Cutter M. Star (Thurs): Magnet Cove locked up its second 5-2A crown in the past three years last week with a hard-fought 26-14 win over Conway Christian. MC junior RB Landon Stone carried 22 times for 339 yards and four TDs. Stone has rushed for 1,824 yards (11.3 YPC) and 20 TDs this season.  Scrappy Cutter Morning Star has posted six wins, its most since winning seven in 2013. CMS junior QB Sam Moore ran for 158 yards and a TD and completed 11 passes for 190 yards and three TDs last week in a 47-21 win over Bigelow. Junior Keshawn Blevins returned interceptions of 23 and 53 yards for TDs.
POYEN (5) at England (Thurs.): Special teams breakdowns (blocked punt for TD and punt return for TD) pummeled Poyen a week ago in 36-19 loss to Mountain Pine. Poyen junior QB Jaxson Carter completed eight of 19 passes for 99 yards and two TDs, while junior RB Brandon Sanchez carried 24 times for 103 yard and a TD. England, which shifts to the 6-2A in 2020,  gave up more than 200 rushing yards last week to Quitman but won 28-6.
MOUNTAIN PINE (18) at Quitman (Thurs.): Mountain Pine locks up the No. 2 playoff seed and a challenging first-round draw against the No. 4 team from the 6-2A, likely Earle or Carlisle. MP defeated Poyen 36-19 last week despite running only 26 plays by blocking a punt for a TD, returning a punt 85 yards for a TD and recovering a fumble for a TD. MP junior Josiah Walpole recorded a rushing TD, nine tackles, a sack, a blocked punt and two fumble recoveries (one for TD). Quitman shifts to the 4-2A in 2020.
CONWAY CHRISTIAN (6) at Bigelow: CC junior Tyler Cossey ran the ball effectively last week behind all-state linemen Beau Stevenson in a 26-14 loss to Magnet Cove. CC committed four turnovers (three INTs, one fumble) in the red zone. Bigelow misses the playoffs for the fifth straight season, while CC misses the postseason for the first time since starting varsity football in 2008. Both of these westward teams shift to the 4-2A in 2020.  

6-2A
Clarendon at DES ARC (27) (Thurs.): Des Arc is 5-0 in league play, outscoring 6-2A opponents 256-42, including a 60-12 beatdown last week of Earle. Des Arc held Earle to 23 rushing yards, while DA senior RB Jackson Morton carried 21 times for 211 yard and three TDs to push his season total to 1,001 yards and 12 TDs. Clarendon allowed 395 rushing yards two weeks ago to visiting Carlisle.
Marvell at HAZEN (35) (Thurs.): Hazen freshman QB Luke King completed 11 of 16 passes last week for 137 yards and four TDs in a 48-0 win at Marianna. Hazen secures the No. 2 playoff seed, while improved Marvell (2-6) misses the postseason for the 11th year in a row.
Marianna at MEMPHIS (TENN.) ARLINGTON NIGHTHAWKS (6): The Memphis private school located in the suburb of Arlington is 2-6 with a 40-man roster. Winless Marianna has scored an average of 7 ppg. and allowed 52 ppg.
CARLISLE (6) at Earle: Battle for third place in the 6-2A with a home playoff game in the first round on the line. Earle lost the past two weeks by a combined 100-12 to 6-2A champion Des Arc and runner-up Hazen. Carlisle was idle a week ago, last seen rushing for 395 yards Week 8 in a convincing 40-14 win over Clarendon.

7-2A
FOREMAN (1) at Gurdon: See Game of the Week.
MOUNT IDA (3) at Lafayette County (Thurs.): This is the league's sixth-place skirmish. Neither team can reach the playoffs with fifth-place Mineral Springs guaranteed a forfeit win over Spring Hill. MI allows 38 ppg; LC allows 43 ppg. MI, which shifts back to the 5-2A in 2020, has scored twice as many points this season as LC.
DIERKS (8) at Murfreesboro: Battle for third place in the 7-2A with the winner hosting a first-round playoff game. Murfreesboro moved the ball and scored early last week in a 48-12 loss to league-leading Foreman until MHS freshman QB Sloan Perrin left the game. Foreman scored TDs on seven of its 10 drives in just 35 offensive plays. Dierks counters with the league's No. 3 scoring defense (18 ppg.). Led by senior Bryce Fox's 10 tackles, Dierks held Foreman to 369 total yards Week 5 in a 28-20 loss.
Spring Hill at MINERAL SPRINGS (13): Mineral Springs receives forfeit from Spring Hill, which forfeited its last four games of the season due to low numbers. MS locks up the fifth playoff seed and a first-round trip to 4-2A champion Magazine. 

8-2A
Parkers Chapel at JUNCTION CITY (32): Top-ranked JC last seen two weeks ago turning back No. 2 Fordyce 14-12 by forcing a fumble and intercepting a pass that led to a score. JC senior QB Brady Hutcheson completed six of 14 passes for 115 yards and a TD. Parkers Chapel senior QB Caleb Jacobs has completed 61 percent of his passes this fall for 1,920 yards and 19 TDs with three INTs. He has rushed for another 710 yards and 14 TDs.
Lavaca at HAMPTON (10): 4-2A member Lavaca bumps back to Class 3A next year with better numbers, including 14 sophomores off a 9-0 junior high team. Hampton junior Cymeon McRea (515 yards), senior Bryce Nutt (576 yards) and junior Jamarion Strong (571 yards) have shared the rushing load this fall. Senior Tristen Peebles leads Hampton with 78 tackles.
BEARDEN (1) at Strong: The winner reaches the playoffs as a the fifth and final seed. Loser misses the postseason. Bastrop (La.) Beekman Charter defeated Strong 28-0 two weeks ago and Bearden 42-26 last week.
McGehee at FORDYCE (14): With a win, No. 2 Fordyce sweeps the Class 3A powers, having posted early-season wins over Rison and Camden Harmony Grove. Junior-laden Fordyce has secured the league's No. 2 playoff seed and may not be seriously tested in November. Fordyce won consecutive Class 4A titles in 1990-1991 but has not reached the state finals since.