Class 5A Week 10 Rankings, Notes & Picks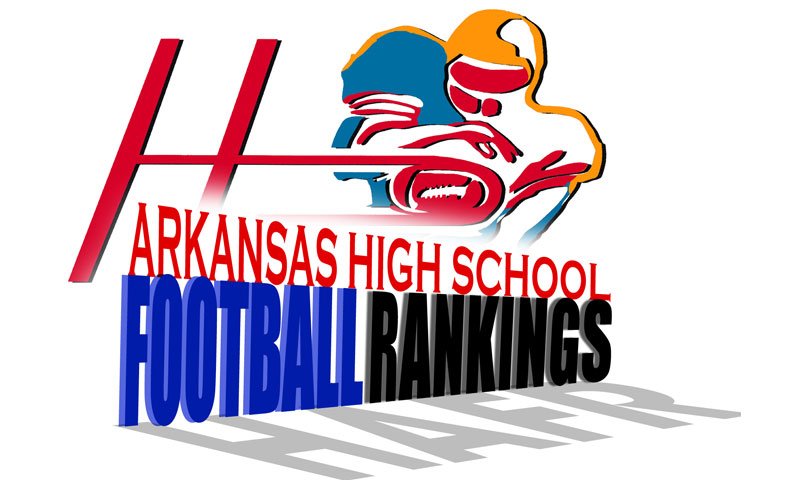 Hootens.com Rankings
Class 5A, Week 10, 2019
Copyright Hooten Publishing, Inc. 

1. LR Christian (9-0)
2. Harrison (9-0)
3. Pulaski Academy (7-2)
4. Valley View (9-0)
5. HS Lakeside (7-2)
6. Maumelle (7-2)
7. Vilonia (6-3)
8. White Hall (6-3)
9. Forrest City (7-2)
10. Magnolia (6-3)
11. Morrilton (5-4)
12. Wynne (6-3)
13. Texarkana (5-3)
14. Camden Fairview (5-4)
15. Hot Springs (5-4)
16. Alma (3-7)
17. Watson Chapel (5-4)
18. Greenbrier (5-4)
19. LR McClellan (4-5)
20. LR Parkview (3-6)
21. Batesville (4-5)
22. Farmington (6-3)
23. Nettleton (5-4)
24. Blytheville (3-6)
25. Clarksville (4-5)
26. Greene County Tech (1-8)
27. Beebe (2-7)
28. Hope (1-8)
29. Paragould (0-9)
30. Huntsville (1-8)
31. De Queen (0-9)
32. LR Fair (0-9)

HOOTENS.COM GAME OF THE WEEK
No. 5 Hot Springs Lakeside at No. 15 Hot Springs
Hot Springs earns a share of the league title with a win (its first since 2014), while Hot Springs Lakeside can win the outright league title (its third in five years). 
HS Lakeside positioned itself with a 21-20 overtime win over Little Rock McClellan last week when junior quarterback Will Ross hit classmate Daniel Gaston on a fade route and sophomore Andrew Degrasse kicked the winning extra point. Ross connects on 62 percent of his passes (112 of 181 this year) for 1,489 yards and 21 touchdowns, while Gaston has just four catches this fall (two for TDs). The improved Ram defense (give up 19.4 ppg) hasn't allowed more than three TDs since a 26-21 loss Week 4 to Camden Fairview. Junior linebacker Will Perrigo has 88 tackles this fall, while senior lineman Riley Benton has 47 stops, including 19 TFL and three sacks. He's also blocked two field goals. 
Hot Springs went 1-9 each of the past two years, but has key wins this fall over LR McClellan (by five points) and Texarkana (by three points). The Trojans trailed Camden Fairview 22-7 in the fourth quarter last week before losing 28-14. Sophomore QB Isaac Shelor has passed for more than 1,600 yards this year, while junior Carlos Brewer has rushed for more than 700 yards and nine TDs. "Hot Springs' defense is fast and physical, and they are better offensively when they spread it out. It'll be tough for us to put the ball in the end zone," Lakeside coach Jared McBride says. 

LAST WEEK
Hootens.com correctly predicted 13 of 16 games (81 percent) last week. Hootens.com has picked 148 of 182 games (81 percent) this season.

WEEK 10 PREDICTIONS (favored team in ALL CAPS)
5A CENTRAL
Beebe at LR CHRISTIAN (35) (Thurs.): LR Christian is the league champ (first since 2015), No. 1 seed and has home field advantage for at least two rounds after last week's 34-7 win at Maumelle. Senior QB Akeem Gilmore ran 24 times for 109 yards and a pair of TDs and passed for 129 yards and a TD at Maumelle. Beebe misses the playoffs for the fourth straight year. The Badgers put up a season-best 328 yards in last week's 41-12 win over LR Fair in the last game ever played at War Eagle Stadium. LR Christian has beaten Beebe the past three years by a combined 127-82.
LR Fair at LR PARKVIEW (32) (Thurs.): LR Fair ends its program after winning just 10 games (including two forfeits) over the past 14 years. LR Parkview misses the playoffs after losing five straight games, including 28-27 last week at White Hall, their third conference loss by a TD or less.
Watson Chapel at MAUMELLE (4) (Thurs.): Maumelle locks up the No. 3 seed with a win, while Watson Chapel can force a three-way tie with a victory. Maumelle tallied just 208 yards in last week's 34-7 loss to LR Christian. The Hornets trailed 10-7 in the third quarter but gave up 24 unanswered points. Watson Chapel senior Colby Wilson ran five times for 82 yards in last week's 43-6 loss to Pulaski Academy.
White Hall at PULASKI ACADEMY (24): The Bruins led playoff-minded Watson Chapel 43-0 in the fourth quarter last week before allowing a late score. Senior QB Braden Bratcher passed for 227 yards and four TDs, while sophomore Joe Himon ran six times for 92 yards and a TD. White Hall likely gets the No. 4 seed after last week's one-point win over LR Parkview. Senior Donte Buckner has 169 carries for 1,350 yards and 18 TDs, and averages 12 yards per reception. Bulldog junior defensive end Tristan Evatt has 44 tackles this year, including 10.5 TFL and 7.5 sacks. 

5A EAST
FORREST CITY (7) at Blytheville: Forrest City is the No. 2 playoff seed (its best finish since going 8-3 and winning the league title in 2009) after last week's 33-16 win over Wynne. The Mustangs jumped to a 21-0 advantage in the second quarter. Blytheville could tie for third place in the league but won't make the playoffs (lose tie-breakers to Batesville and Wynne). Chickasaw senior Jermel Woods has rushed for 1,671 yards and 16 TDs this year and he has more than 3,200 yards the past two years.
Paragould at GREENE COUNTY TECH (3): The winner gets the Bell trophy, which was introduced in 1999. GCT has won 13 of the past 25 in the series. GCT junior running back David Williams, who played last year for Paragould (ran for 1,011 yards), has rushed for 639 yards and four TDs this year. Paragould junior running backs Nick Ashby and Brayden Hines have combined for 1,929 yards and 16 TDs this year.
Batesville at VALLEY VIEW (8): Batesville has won four of the five meetings between these programs. The Pioneers return to the playoffs this fall (missed last year for third time since 1995) after winning consecutive games over Blytheville and GCT by a combined 82-35. Junior QB Eli Livingston threw three TD passes and ran for another against GCT. Valley View goes for the first outright conference title in school history (shared the 5A East last year and the 3-4A in 2010). Blazer junior QB Zac Stracener, thrust into the starting role in May, has passed for 1,273 yards and 11 TDs this year. Senior safety Carter Winters spearheads the D with 114 tackles, one interception, one forced fumble and one blocked punt.
Nettleton at WYNNE (10): Wynne has won 16 of the 18 meetings between these teams. The Yellowjackets finish as either the No. 3 or 4 seed after last week's loss to Forrest City (trailed 21-0 at halftime, and 21-16 in the fourth quarter before losing by 17 points). Nettleton won't make the playoffs after consecutive losses to No. 1 Valley View and No. 2 Forrest City by a combined nine points. Senior Josee Perkins has seven catches for 156 yards and two TDs the past two weeks. 

5A SOUTH 
HS LAKESIDE (2) at Hot Springs: Hootens.com Class 5A Game of the Week.
TEXARKANA (42) at De Queen: Texarkana will make the playoffs (anywhere between No. 2 and No. 4 seed) and its two league losses are by a combined four points. The Razorbacks led Hope 47-0 at halftime last week before winning 53-0. The Razorbacks piled up 385 yards. De Queen has lost 15 straight games. The Leopards get outscored by an average of 45-9.
MAGNOLIA (40) at Hope: These teams have split the past 18 meetings. Hope has a 2-37 record the past three years. The Bobcats gained 175 yards in last week's 53-0 loss to Texarkana. Magnolia likely returns to the playoffs for the first time since 2016 and second since 2010. Panther junior linebacker Shawn bell has 96 tackles this year, 11 TFL and two sacks this fall.
CAMDEN FAIRVIEW (3) at LR McClellan: Camden Fairview's two conference losses are by a combined two points. The Cardinals led Hot Springs 14-7 at halftime last week before winning 28-14, holding the Trojans to 156 yards. Fairview puts up 377 yards weekly. Junior Erik Hall has 159 carries this year for 1,133 yards and seven TDs this fall. The Cardinals allow 18 ppg. Junior noseguard Kyron Kidd has 49 tackles and three sacks. LR McClellan plays its last game before merging with LR Fair to form Southwest High. The Crimson Lions' six losses are by a combined 10 points. 

5A WEST
Huntsville at ALMA (28): Alma has won nine straight over Huntsville and the Airedales likely make the playoffs with a win after starting the season 0-5. Senior QB Landon Blair ran 19 yards for the only TD in last week's 7-0 win over Greenbrier. Huntsville drops down to Class 4A next year after not winning a conference game the past two years.
Farmington at HARRISON (20): Harrison is the No. 1 seed and has home field advantage throughout the playoffs. The Goblins hammered Huntsville 49-7 a week ago, and they've beaten Farmington six of the past seven years. Senior Gabe Huskey ran for a pair of TDs and has 83 in his career and needs 15 more to eclipse Cedric Houston (Clarendon) as the state's top TD producer. Farmington is tied for third in the 5A West but must win to have a shot at the playoffs.
Clarksville at MORRILTON (18): Clarksville has four wins this year, the most since going 5-7 in Class 4A in 2011. Morrilton makes the playoffs with a win, either as the No. 3 or No. 4 seed. Senior QB Jacolby Criswell threw five TD passes and ran for two more in last week's 56-28 win over Farmington, while senior Xaviar Clemons ran 22 times for 173 yards and a TD.
Greenbrier at VILONIA (4): Greenbrier has won the Judge's Cup 11 of the past 18 years. The Panthers must win and get some help to make the playoffs this year. Greenbrier lost at Alma 7-0 last week, when Alma scored the only points in the fourth quarter. Vilonia sophomore QB Austin Myers injured his ankle in last week's 43-21 win at Clarksville and won't play this week. Expect Vilonia to run plenty of Wildcat packages this week with senior Tyler Moran, who sprinted 55 yards for a TD in his only carry last week. Senior Draven Smith had 19 carries for 168 yards and four TDs against Clarksville, and he has 1,806 yards and 25 TDs this fall.