Class 6A Week 10 Rankings, Notes & Picks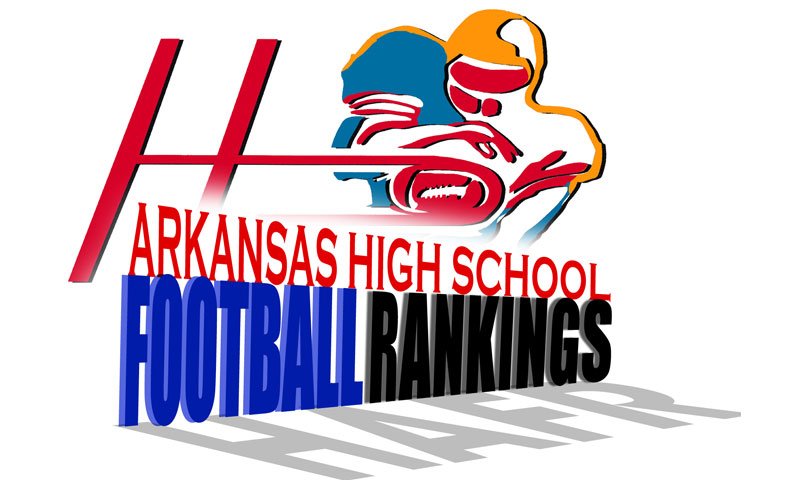 Hootens.com Rankings
Class 6A, Week 10, 2019
Copyright Hooten Publishing, Inc.

1. Benton (6-3)
2. Greenwood (8-1)
3. Jonesboro (7-2)
4. Searcy (8-1)
5. Lake Hamilton (8-1)
6. West Memphis (5-4)
7. Marion (5-4)
8. Sylvan Hills (4-5)
9. Sheridan (5-4)
10. El Dorado (3-6)
11. Siloam Springs (3-6)
12. Russellville (2-7)
13. Pine Bluff (2-7)
14. Jacksonville (2-7)
15. Mountain Home (0-9)
16. LR Hall (2-7)

HOOTENS.COM GAME OF THE WEEK
No. 3 Jonesboro at No. 7 Marion (Thursday)
Jonesboro earns a share of the 6A East title and the No. 1 playoff seed with a victory. Marion could earn a share of the league title with a win and a Searcy loss. Marion is currently tied with West Memphis for the No. 3 playoff seed, but West Memphis owns the head-to-head tiebreaker. The Patriots likely finish as the No. 4 playoff seed and will host the No. 5 seed from the west. Marion has won two straight in this series, including 38-25 in 2018.
Marion won 28-6 last week at Jacksonville. Marion senior playmaker Slade Webb snagged a 48-yard TD pass and returned an interception 62 yards for another score. Webb, who averages more than 23 yards per reception, missed six weeks with a broken collarbone, but his return has reinvigorated the Marion passing game. Junior quarterback Daedrick Cail completes 60 percent of his passes for more than 2,200 yards and 29 touchdowns with 10 interceptions. Senior all-state running back Anthony Price has run for 848 yards and eight scores this season. Senior receiver Cayden Hunt has caught a team-high 34 passes for 461 yards and five TDs. Senior Ruzel Rucks has logged more than 80 tackles for a defense that has limited two of its past three opponents to six points or fewer. 
Jonesboro rolled Sylvan Hills 31-7 a week ago behind junior running back Albert George's 119 rushing yards and two TDs. George has rushed for 1,000 yards and 11 TDs this year, averaging 8.5 yards per carry. Senior receiver Dryden Bartels has snagged 38 passes for 608 yards and seven scores as junior QB Cross Jumper's (1,222 yards passing and 10 TDs) top target. Senior Arkansas commit Jashaud Stewart (team-high 87 tackles, 18 for losses and 11 sacks) leads a defense that has limited seven opponents to two TDs or less.

LAST WEEK
Hootens.com last week correctly picked eight out of eight games (100 percent) of games involving Class 6A teams. For the season, Hootens.com has correctly picked 77 out of 93 games (83 percent) of games involving Class 6A teams.

WEEK 10 PREDICTIONS (favored teams in CAPS followed by point spread)
6A EAST
JONESBORO (3) at Marion: See Hootens.com Game of the Week.
Mountain Home at WEST MEMPHIS (33) (Thursday): Mountain Home has been eliminated from playoff contention. West Memphis could earn a share of the 6A East title with a victory and losses by Jonesboro and Searcy. West Memphis blanked Pine Bluff 12-0 last Friday night, the Blue Devils' first shutout this season. Jamual Crayton returned a punt 38 yards for a TD at Pine Bluff. 
PINE BLUFF (7) at Jacksonville (Thursday): Winner advances to the playoffs and the loser misses the postseason Jacksonville trailed Marion just 14-6 last week in a 28-6 loss. It was the Titans' first game at their new stadium. Pine Bluff rushed for just 34 yards in last week's 12-0 loss to West Memphis.
Sylvan Hills at SEARCY (3) (Thursday): Searcy earns a share of its first league title since 1991 with a victory. The Lions earn an outright league title, and the No. 1 playoff seed, with a win and a Jonesboro loss. Sylvan Hills is in the playoffs, but the Bears' playoff fate depends on their result in this game and the Marion and West Memphis outcomes. Sylvan Hills owns the tiebreaker over West Memphis, but not Marion. Sylvan Hills is the No. 6 seed with a loss and a Pine Bluff victory at Jacksonville.

6A WEST
GREENWOOD (14) at Lake Hamilton: Lake Hamilton earns a share of the 6A West title and the No. 2 playoff seed with a victory and a loss by Benton. Greenwood earns the No. 2 playoff seed, a first-round playoff bye and a home quarterfinal game with a victory. Lake Hamilton trailed Benton just 24-20 in the fourth quarter last week, but lost 31-20. Sophomore running backs Owen Miller and Tevin Woodley ran for scores against Benton. Greenwood bolted to a 35-0 lead in last week's 42-0 win over Sheridan. Greenwood senior QB Jace Presley passed for 270 yards and four TDs against Sheridan and senior Treyton Dawson caught eight passes for 119 yards and two scores.
Sheridan at BENTON (7): Sheridan clinches the No. 4 playoff seed and a home playoff game with a win. Benton is the 6A West champions and will have the No. 1 playoff seed regardless of this outcome. It's Benton's first league title since 2014. Sheridan managed just 367 yards and 11 first downs in last week's 42-0 loss at Greenwood. Benton senior receiver Gavin Wells caught the game-winning TD pass in the third quarter of last week's 31-20 victory at Lake Hamilton. 
LR Hall at EL DORADO (30): LR Hall has been eliminated from the playoffs. El Dorado is in the playoffs, and it clinches the No. 5 playoff seed with a win. El Dorado has outscored its opponents 84-20 in its last two games. The Wildcats recorded their season-high scoring total in last week's 54-14 win at Russellville. El Dorado racked up 396 yards at Russellville. 
SILOAM SPRINGS (1) at Russellville: Winner advances to the playoffs and the loser misses the postseason. Russellville committed six turnovers in last week's 54-14 loss to El Dorado. The Cyclones rushed for just 37 yards (2.2 yards per carry). Siloam Springs racked up 339 yards in last week's 40-0 victory over LR Hall. The Panthers led 21-0 at halftime.