Class 7A Week 10 Rankings, Notes & Picks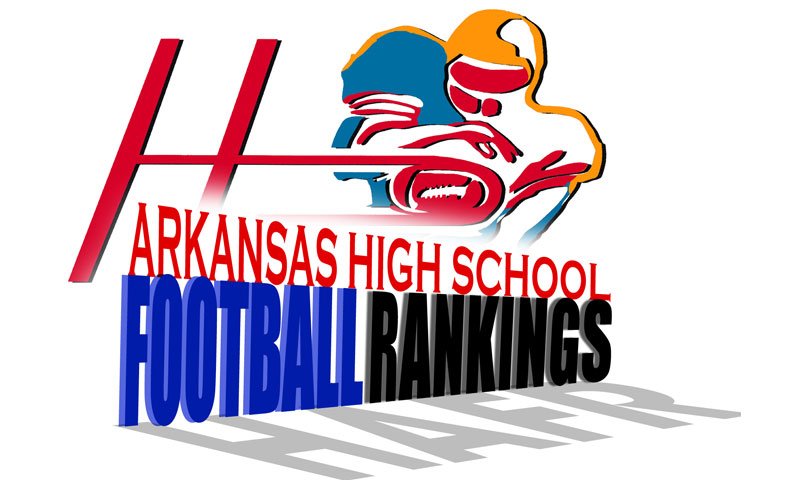 Hootens.com Rankings
Class 7A, Week 10, 2019
Copyright Hooten Publishing, Inc.

1. Bryant (9-0)
2. Bentonville (9-0)
3. Conway (7-2)
4. LR Catholic (6-3)
5. North LR (6-3)
6. Bentonville West (6-3)
7. Har-Ber (6-3)
8. Cabot (6-3)
9. LR Central (5-4)
10. Fayetteville (5-4)
11. Van Buren (5-4)
12. FS Northside (2-7)
13. Rogers (1-8)
14. Springdale (3-6)
15. FS Southside (1-8)
16. Heritage (0-9)

HOOTENS.COM GAME OF THE WEEK
No. 2 Bentonville at No. 6 Bentonville West.
Bentonville looks to finish the regular season undefeated and earn its fourth straight conference title. West can earn a share of the league title and No. 1 playoff seed with a victory.
West totaled 508 yards last week and held Van Buren to 280 yards but still lost 35-30 partly due to three turnovers. West outscores opponents 35-24 on average with a balanced offense (194 passing/174 rushing weekly). Junior QB Dalton McDonald (1,605 yards passing this fall) completes 55 percent of his passes. McDonald accounted for 354 yards last Friday, including 117 yards rushing.
Bentonville outscores opponents 43-15 with senior QB Ben Pankau and senior RB Preston Crawford starring. Tiger junior Logan Turner kicked a 43-yard field goal last week with 10 yards to spare. Look for Bentonville to continue rushing the ball well while making West one dimensional, stuffing its rushing attack. Opposing coaches say Bentonville's defense stays a step ahead of offensive coordinator's adjustments.

LAST WEEK
hootens.com correctly predicted 6 of 8 winners in Class 7A games. For the season, hootens.com has correctly predicted 68 of 83 winners (82 percent) in Class 7A.

WEEK 10 PREDICTIONS (favored team in CAPS followed by point spread)
7A CENTRAL
NORTH LR (7) at Cabot: Return of injured and suspended players made North LR more formidable the past two Fridays. North LR put a lot into last Friday's 14-point loss at Bryant but its big, healthy all-state running back Brandon Thomas (5-10, 210) is a plus as temperatures get cooler. North LR can finish as high as the No. 2 seed with a win or as low as No. 5 seed. Cabot, small on defense but with a good OL and standout junior QB Tyler Gee, likely finishes as a No. 4 or No. 5 seed in the first round of the playoffs.
BRYANT (11) at Conway: Conway can share the league title with Bryant and earn a No. 1 playoff seed with an upset of the undefeated Hornets. Bryant junior QB Austin Ledbetter (2,379 yards, 30 TDs, 4 INTs this fall) likely has another big night. Cabot passed for 370 yards vs. Conway two weeks ago.
LR Central at LR CATHOLIC (3): LR Catholic finishes as the No. 2 seed with a win and if both Conway and North LR lose this week, but the Rockets could finish as a No. 3 seed or even a No. 4 seed even with a 13-point or more win if North LR wins and Conway loses. Win or lose LR Central will be the No. 6 seed in the playoffs next Friday, traveling to the winner of this week's Har-Ber at Fayetteville game.
FS Southside at FS NORTHSIDE (7): Battle of Rogers Avenue means nothing but bragging rights since both are winless in conference play. It's the first time since 1980 neither makes the playoffs. Southside is better on defense but struggles to score. Northside is the exact opposite.

7A WEST
BENTONVILLE (7) at Bentonville West: Game of the Week.
Har-Ber at FAYETTEVILLE (1): Both at home next Friday in the playoffs. Winner will be No. 3 seed and play host to LR Central. Loser is No. 4 seed. Fayetteville was voted by league coaches in the preseason to finish No. 2 while Har-Ber was voted to finish No. 3.
VAN BUREN (4) at Springdale: Van Buren can finish with a winning record for only the second time (7-4 in 2010) since 1999. The Pointers seem to be peaking after pushing Har-Ber (34-31) Week 8 and upsetting Bentonville West 35-30 last Friday. Van Buren junior QB Gary Phillips (1,794 yards passing this season) completes 60 percent of his tosses and has rushed for 702 yards. Linebacker Devin Swearengin leads the Pointers in tackles for a  second consecutive season with 72 stops, 17 TFLs, 7 QB hurries and 5 sacks. Van Buren, dropping to Class 6A next season, likely finishes as No. 5 playoff seed, traveling to North LR, Cabot or LR Catholic next Friday. For much more on Van Buren click HERE. Springdale, losers of 5 straight, needs a victory and for Heritage to beat Rogers to make the playoffs.
Heritage at ROGERS (9): Rogers makes the playoffs with a win over its crosstown rival or a Springdale loss to Van Buren this week. Heritage has been outscored 456-77 this season and lost 52 of its past 54 games.