Class 2A Week 11 Rankings, Notes & Picks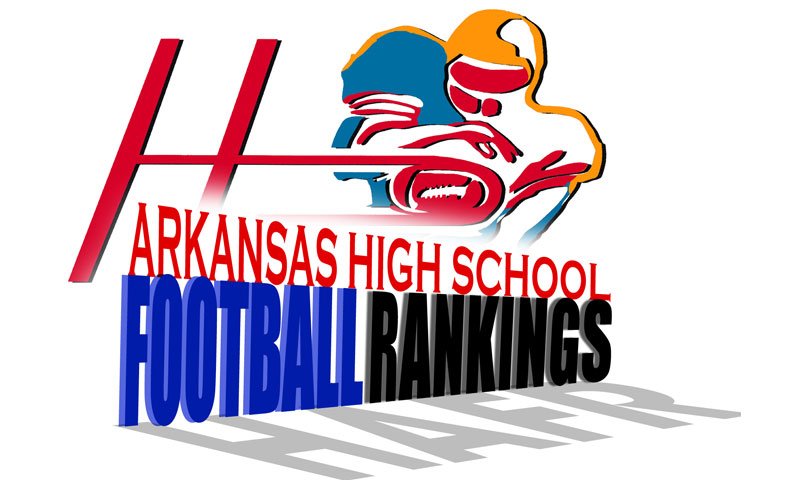 hootens.com Rankings
Class 2A, Week 11, 2018
Copyright Hooten Publishing, Inc.
1. Foreman (9-1)
2. Hazen (9-0)
3. Junction City (7-2)
4. Conway Christian (8-2)
5. Gurdon (8-2)
6. Mount Ida (8-2)
7. Des Arc (7-3)
8. Hampton (6-2)
9. Fordyce (5-5)
10. Salem (8-1)
11. Mineral Springs (8-2)
12. Earle (7-3)
13. Mountain Pine (7-3)
14. Hector (7-3)
15. Mountainburg (7-2)
16. England (4-6)
17. Magnet Cove (5-5)
18. Quitman (6-4)
19. E. Poinsett County (6-4)
20. Poyen (6-4)
21. Magazine (5-4)
22. Hackett (4-4)
23. McCrory (5-4)
24. Rector (5-4)
25. Lavaca (4-5)
26. Bearden (3-6)
27. Bigelow (4-6)
28. Carlisle (4-5-1)
29. Parkers Chapel (2-7)
30. Clarendon (3-6)
31. Dierks (3-7)
32. Murfreesboro (3-7)
33. Marianna (2-7)
34. Brinkley (2-8)
35. Strong (1-9)
36. Midland (2-7)
37. Marked Tree (1-8)
38. J.C. Westside (2-8)
39. W. Yell County (2-7)
40. Cross County (3-7)
41. Lafayette County (1-9)
42. Spring Hill (1-8)
43. Cutter M. Star (1-9)
44. Marvell (0-10)

HOOTENS.COM GAME OF THE WEEK
No. 17 Magnet Cove at No. 7 Des Arc
Teams are known for run-heavy offenses, although Magnet Cove has passed more the second half of this season after not completing a single touchdown pass in 2017. Junior quarterback Tyler Hodges has provided the recent passing threat, completing 25 attempts for 624 yards and nine TDs with three interceptions. Magnet Cove all-state senior RB Eli Dawson has rushed for 1,390 yards (7.4 YPC) and 15 touchdowns. Senior linebackers Tyler McJunkins (77 tackles) and Ty Dawson (72 tackles) lead MC in tackles. Des Arc counters with a ground attack that generates 333 yards per game, led by 1,000-yard rusher Jackson Moreton. Senior linebacker Will Kearby (92 tackles) paces a Des Arc defense that allows just 240 yards and 19.5 points per game. Des Arc held explosive Earle to less than 100 rushing yards. Common opponent: Des Arc defeated England 35-21 in the season opener; Magnet Cove lost to England 12-10 Week 4.   

LAST WEEK
Hootens.com correctly picked 16 of 22 games (73 percent) played last week. Hootens.com has picked 203 of 256 (79 percent) for the season.

WEEK 11 PLAYOFF PREDICTIONS (favored team in CAPS followed by point spread)
TOP HALF OF BRACKET
FOREMAN has a bye.
CARLISLE (2) at Magazine: Teams are similar in running styles. Magazine features the 4-2A's top running back in junior Caleb Hyatt (1,100 yards), while sophomore Kobe Faughn paces the Rattlers with 112 tackles. Senior JaSean Harper and junior Davarious Allen lead Carlisle in rushing. Those two combined for 132 yards on 26 carries last week in a 36-20 loss to No. 12 Earle.
Dierks at SALEM (27): No. 10 Salem senior TB Jordan Turner has rushed for 2,366 yards (12.8 YPC) this fall behind a line anchored by junior center Gabe Miller. 7-2A fifth seed Dierks punched its playoff ticket last week by rushing for 372 yards and forcing three turnovers in a 44-30 win over Murfreesboro.
EARLE (10) at England: While Poyen completed an efficient six of 11 passes for 87 yards and two TDs last week in a 32-19 win over England, it also ran for 214 yards (5 yards per attempt). England has struggled vs. run teams often this season. Earle rallied from a 14-0 deficit last week at Carlisle behind the running of 260-pound TB Jaylon Coopwood. Earle ran all over 6-2A have-nots this fall but did not reach 100 rushing yards in losses to No. 2 Hazen and No. 7 Des Arc.
McCrory at JUNCTION CITY (28): McCrory avoided missing the playoffs for the first time since 2007 last week by upending Rector 20-15. No. 3 Junction City RBs Jakiron Cook and Dhante Gibson are closing in on 900 rushing yards apiece. Junction City has completed 43 percent of its passes for 773 yards and seven TDs with 11 INTs.
Parkers Chapel at MOUNTAINBURG (8): Hector provided PC with a fresh blueprint for beating Mountainburg (26-22) a week ago by limiting big plays and effectively passing (10 of 15 for 148 yards) the football. PC dual-threat junior QB Caleb Jacobs is capable, and he has a big-play receiver in senior Amari Bell (6-5, 160). But PC gave up plenty of big plays last week and 351 rushing yards to Junction City. Mountainburg senior run-pass QB Ethan Gregory has accounted for more than 1,200 yards the fall.
Hackett at MOUNTAIN PINE (15): No. 13 Mountain Pine deploys big-play weapons in junior QB Collin Smith (789 rushing, 1,191 passing yards, 30 TDs), senior RB Eli Browning (1,021 rushing yards) and senior WR Josh Walpole (19.4 yards per catch). Hackett counters with dual-threat senior QB Brady Hester and senior receiver Paces McBride,  but senior tailback Cooper Shipman is doubtful with an injury. Mountain Pine last won a playoff game in 2009.
Magnet Cove at DES ARC (6): See Game of the Week.

BOTTOM OF BRACKET
HECTOR has a bye.
Bearden at MOUNT IDA (20): Bearden faces a stiff test in slowing No. 6 Mount Ida, which has rushed for 3,200 yards this year paced by senior QB Cade Jackson (839 yards) and HB Jonathan Lagrange (899 yards). Bearden held explosive Junction City to 177 rushing yards (5.2 YPC) but allowed 176 passing yards. Common opponent: Gurdon defeated Bearden 10-8 and Mount Ida 14-6.
Lavaca at CONWAY CHRISTIAN (18): Conway Christian was rarely challenged this fall after its non-conference losses to Class 4A Bauxite (49-12) and Class 3A Clinton (55-21). It jumped to its routine 35-0 halftime lead last week over Bigelow and played reserves in the second half. Senior QB Jacob Wood completed five of six passes for 129 yards and three TDs in the first half. Lavaca played a JV game last week, losing to the Lamar JV 35-27. Lavaca senior QB Tyler Armistead (760 rushing yards) paces a running attack that averages 5.6 yards per carry.
FORDYCE (24) at Rector: When McCrory crowded the line of scrimmage last week, Rector struggled to pass and threw two interceptions in a five-point loss. Fordyce owns the most defensive team speed in the 8-2A, paced by seniors Wanya Morris (73 tackles) and Ja'rod Allen (72 tackles). Rector seeks its first playoff win in four appearances all-time. 
Quitman at HAZEN (27): No. 2 Hazen features two running backs nearing 1,000 yards in juniors Ay'Jon Green (901, 17 TDs) and Tarrell Penn (906 yards, 15 TDs). Senior G/LB Kade Perry has posted 94 tackles in seven games. Quitman looking for its first postseason victory in five appearances all-time.
Clarendon at GURDON (35): Gurdon held top-ranked Foreman in check for a half last week but eventually gave up 257 rushing yards to Foreman senior QB Kyren Batey in a 26-10 loss. However, Gurdon limited the rest of the Gators to 43 yards, and that's not good news for 6-2A fifth seed Clarendon.
MINERAL SPRINGS (13) at E. Poinsett County: No. 11 Mineral Springs, which upset top-ranked Foreman 14-13 three weeks ago, travels five hours to Lepanto with senior QB Peyton Haddan, TB/LB Tahji Beal and junior Cameron Lee driving the bus. Class 3A No. 18 Melbourne held EPC to less than 150 total yards a week ago in a 34-0 blowout.
Cross County at HAMPTON (32): Consecutive dominating wins for Hampton, which blitzed Fordyce 21-7 two weeks ago and jumped up in class last week to take down Class 3A No. 10 Harding Academy 37-28. Cross County limped through the last month of the regular season, missing multiple starters on offense.