Class 4A Week 11 Rankings, Notes & Picks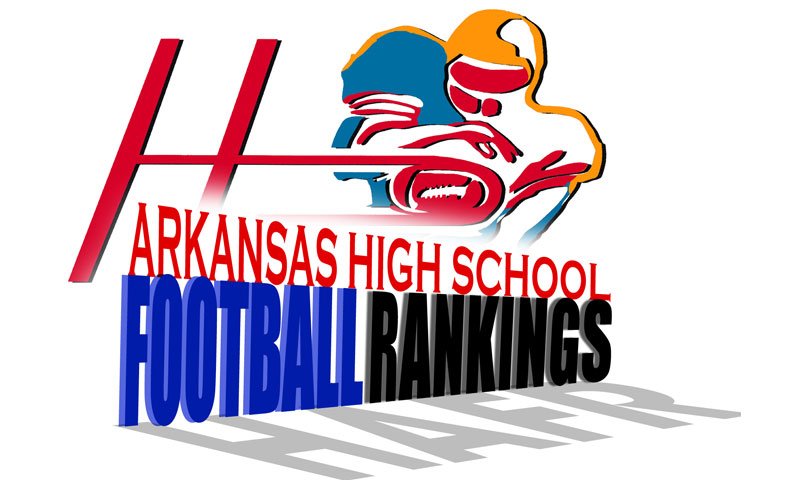 Hootens.com Rankings
Class 4A, Week 11, 2018
Copyright Hooten Publishing, Inc.
1. Shiloh Christian (9-1)
2. Joe T. Robinson (8-2)
3. Warren (8-1)
4. Ozark (8-2)
5. Dumas (9-1)
6. Rivercrest (9-1)
7. Nashville (8-2)
8. Arkadelphia (5-5)
9. Stuttgart (9-1)
10. Bauxite (8-2)
11. Mena (7-3)
12. Trumann (7-3)
13. Hamburg (7-3)
14. Helena (8-2)
15. Heber Springs (6-4)
16. Dardanelle (8-2)
17. Pea Ridge (7-3)
18. Lincoln (8-2)
19. Gosnell (6-4)
20. Pottsville (5-5)
21. Elkins (7-3)
22. Prairie Grove (5-5)
23. Lonoke (5-5)
24. CAC (5-5)
25. Southside Batesville (6-4)
26. Fountain Lake (6-4)
27. Jonesboro Westside (7-3)
28. Star City (4-6)
29. Pocahontas (4-6)
30. Gentry (3-7)
31. Harmony Grove Haskell (5-5)
32. Bald Knob (4-6)
33. Crossett (2-8)
34. De Witt (4-6)
35. Ashdown (3-7)
36. Berryville (4-6)
37. Riverview (2-8)
38. Brookland (2-8)
39. Dover (2-8)
40. Gravette (1-9)
41. Waldron (2-8)
42. Cave City (1-9)
43. Highland (1-9)
44. Subiaco Academy (1-9)
45. Monticello (0-10)
46. Malvern (0-10)
47. Mills (0-10)
48. Green Forest (1-9)

HOOTENS.COM GAME OF THE WEEK
No. 10 Bauxite at No. 12 Trumann 
Bauxite returns to the playoffs for the first time since 2009. The Miners have lost two straight games since beating Joe T. Robinson 41-35 Week 8. They led Arkadelphia 6-3 in the third quarter the next week before losing by a dozen, and their potential winning pass in overtime was intercepted in the end zone last week by Nashville. The Miners rush for 300 yards weekly, led by senior quarterback Seth McDowell (847 yards and 18 touchdowns) and senior Dawson Dabbs (1,284 yards and 12 TDs). Senior tight end/defensive end Zack Lasage averages 14.4 yards per catch and has 41 tackles. Senior fullback/linebacker Eason Sandage averages 4.7 yards per carry and has 75 tackles. "We have a mature bunch of seniors," Bauxite coach Daryl Patton says. "They understand the goal is to get better every day. We didn't win a conference championship T-shirt, but we are still playing for a big ring." Patton coached Fayetteville to four state titles (two as a No. 3 seed and one as a No. 4 seed).  Trumann shared the 3-4A title this year, its first since 2001. The Wildcats have won six straight games, including wins over playoff teams Gosnell (14-0 Week 6) and Jonesboro Westside (49-33 Week 9). The Wildcats gave up two TDs or less in six games, led by senior linebackers M.J. Barnes and Jay Taylor Morgan. Morgan, lining up at wingback on offense, ran for a TD in last week's 41-14 triumph over Cave City, while inside linebacker Jesse Penter returned an interception for a TD. 

LAST WEEK
Hootens.com correctly predicted 18 of 24 games last week (75 percent). Hootens.com has predicted 214 of 252 games this year (85 percent).

WEEK 11 PREDICTIONS (favored team in ALL CAPS)
TOP OF THE BRACKET
OZARK has a bye.
PRAIRIE GROVE (1) at Lonoke: This is a rematch from 2014, when Prairie Grove beat Lonoke 41-24 in the first round. Prairie Grove has 10 playoff wins in the past four years, while Lonoke hasn't won a playoff game since 2013, which is the last time the Jackrabbits hosted a playoff game. Prairie Grove senior Garrett Heltemes ran in four TDs in last week's wild 59-48 loss at Lincoln. Lonoke junior Davonta Adams has rushed for 767 yards and seven TDs this year, while senior QB Braidon Bryant has thrown for 694 yards and four TDs and ran for 589 yards and nine TDs.
Pottsville at JOE T. ROBINSON (28): Joe T. Robinson gets the No. 1 seed and at least two home playoff games after last week's 29-point victory at Harmony Grove Haskell. Senior QB Greyson Tackett completed 11 of 12 passes for 263 yards and three TDs at Haskell, while senior Mekel Kentel ran for 134 yards and a TD and returned a punt for another score. Kentel has rushed for 879 yards and 14 TDs this year, and caught 23 passes for 365 yards and five TDs. Pottsville senior Kurtis Kemp has rushed for more than 1,200 yards and 12 TDs this fall. Joe T. Robinson's vertical passing attack tests the Apache linebackers and secondary.
Lincoln at HAMBURG (6): Lincoln returns to the playoffs for the fifth time in school history and first since 2015. Wolf senior Sterling Morphis caught four TD passes from QB Caleb Lloyd in last week's 59-48 win over Prairie Grove. Lloyd also ran in three TDs. Hamburg must regroup after consecutive losses to Warren and Dumas by a combined 72-22. The Lions trailed Dumas 30-0 in the half a week ago. Hamburg senior QB Jonathan Kelley has passed for 1,608 yards and 16 TDs this year with one interception, while senior first-year player Jalen Wilson has 40 catches for 710 yards and 12 TDs.
Fountain Lake at RIVERCREST (24): Rivercrest has captured four straight conference titles, including the past two when losing in Week 8 (to Newport in 2017 and Jonesboro Westside in 2018). Rivercrest senior Kentavious Robinson has 157 carries this year for 1,567 yards (10 yards per carry) and 16 TDs. Opposing coaches say senior QB Demilon Brown makes Rivercrest click. Brown has passed for 520 yards and four TDs year, and rushed for 947 yards and 18 TDs. Brown dashed for five TDs in last week's 28-point win over Brookland. Fountain Lake returns to the playoffs for the first time since 2015. The Cobras average 300 yards weekly. Senior Andrew Roberson has rushed for 979 yards and six TDs in nine games this year.
Pocahontas at HEBER SPRINGS (16): Heber Springs enters the postseason with confidence after winning five straight games. Senior running back Blaze Nelson ran seven times for 243 yards and four TDs in the first half of last week's 47-6 win over Mills. Nelson has rushed for 1,596 yards and 20 TDs this season, while junior QB Adam Martin has passed for 1,362 yards and 10 TDs. Pocahontas returns to the playoffs for the eighth straight year, and the Redskins have advanced to the second round three of the past four seasons. 
Southside Batesville at DUMAS (7): Dumas' only loss this season was at Warren 38-8 Week 6, and Southside Batesville lost to Warren 42-26 in the opener. Southside shared the 2-4A title last season, but needed overtime last week to best Bald Knob 13-10 and get in the postseason. The Southerners have never lost in the first round of the playoffs. Southside senior Caden Huskey has 14 TD runs this year. Dumas runs for 258 yards weekly. Bobcat senior QB Chris Harris has passed for 1,134 yards and 10 TDs this fall, while rushing for 1,153 yards and 19 TDs. Sophomore Kylin James has 126 carries for 700 yards and nine TDs. 
Helena at PEA RIDGE (3): Pea Ridge struggled to stop Shiloh Christian's diverse attack last week (gave up 437 yards). Senior Carson Rhine has been the primary QB the past four weeks, completing 68 percent of his passes with three TDs, and he averages 5.1 yards per carry. Helena has won three straight games, capped by last week's impressive 60-36 victory at previous No. 1 Warren. Senior QB Armonie Calhoun ran for 200 yards and three TDs at Warren. Calhoun has 1,496 yards and 19 TDs this year.

BOTTOM OF THE BRACKET
STUTTGART has a bye.
Jonesboro Westside at DARDANELLE (10): Dardanelle drops to the No. 3 seed after losing at Mena last week by 14 points. The Sand Lizards' two losses this year are by a combined 22 points. Dardanelle junior QB Jordan Metcalf ran for a pair of two TDs at Mena. Jonesboro Westside rushes for 422 yards weekly, paced by senior David Fowler (163 carries for 1,314 yards and 16 TDs) and junior Logan McPherson (112 carries for 1,079 yards and 18 TDs).
CAC at WARREN (14): This is a rematch from the 2004 quarterfinals, which CAC won 52-33 on the way to its first state title. Warren gives up 16 points weekly after surrendering 60 points last week against Helena. Warren trailed Helena by six points in the fourth quarter last week before giving up three late scores. The Lumberjack D relies on senior tackle Marcus Miller (6-4, 290) and Donavon Ross (5-10, 190). CAC gets the No. 5 seed after losing last week by three points to Stuttgart. The Mustangs scored TDs on special teams and defense.
Gosnell at ARKADELPHIA (8): Gosnell earned the No. 3 seed with four straight wins, capped by last week's mercy-rule triumph. They Pirates surrendered just 22 points in the past month. Gosnell senior CaDarius Young, slowed by an ankle injury most of the season, ran for 119 yards and a TD in last week's 41-6 triumph over Jonesboro Westside. CaDarius Young ran 110 times for 631 yards and eight TDs this year, while junior JyDarian young has 95 carries for 937 yards and nine TDs. Defending Class 4A champion Arkadelphia gets a No. 3 seed after winning five straight games, including a 24-12 over then-undefeated Bauxite Week 8. 
Star City at SHILOH CHRISTIAN (24): Shiloh Christian won the 1-4A this year, its first conference title since 2010. Senior Jaret Russ scored six TDs in lsat week's 36-point win at Pea Ridge, and he's scored 15 TDs this fall (10 rushing, five receiving). The Saints outgained Pea Ridge 437-160 yards. Star City advances to the playoffs to the first time since 20015 after last week's nine-point win over Crossett. Bulldog junior Adam Fonville scored the clinching TD on a fake punt. Star City has surrendered just 18 points the past two games.
Gentry at MENA (17): Gentry gets in the playoffs for second straight year after last week's 26-0 win at Gravette. Junior QB Brandon Atwood has passed for 1,378 yards and 12 TDs this year. Senior playmaker Peyton Wright averages 18 yards per carry and has 55 catches for 531 yards and five TDs. Mena secured the No. 2 seed with last week's 14-point win over Dardanelle. Bearcat sophomore QB Max Montgomery passed for 1,806 yards and 17 TDs this year, while sophomore tight end Mason Brotherton could turn into a Division I recruit. Brotherton has 10 catches in the past two games for 251 yards, including five receptions for 111 yards against Dardanelle. 
Elkins at NASHVILLE (11): Elkins makes a five-hour bus ride to Howard County. The surprising Elks led Ozark 12-6 at halftime last week, but couldn't slow the Hillbillies running attack in the second half. Elkins junior QB Quinn McClain has passed for 2,293 yards and 25 TDs this year, with senior Chad Graham catching 55 passes for 909 yards and 14 TDs. Nashville hasn't missed the playoffs since 1990 and earned the No. 2 seed with last week's overtime win at Bauxite. Senior QB Tristen Jamison split snaps most of the year, but has emerged as a threat on the power-read plays in the past month. Jamison passed for 177 yards and two TDS at Bauxite. Nashville junior Carmillias Morrison has rushed for 876 yards and seven TDs this year, while sophomore Keyshawn Stewart has 906 yards and 11 TDs. Junior linebacker Devonte Witherspoon, a first-year player, paces the D with more than 100 tackles.
BAUXITE (2) at Trumann: Hootens.com Class 4A Game of the Week.