HOGS vs No. 17 MSU preview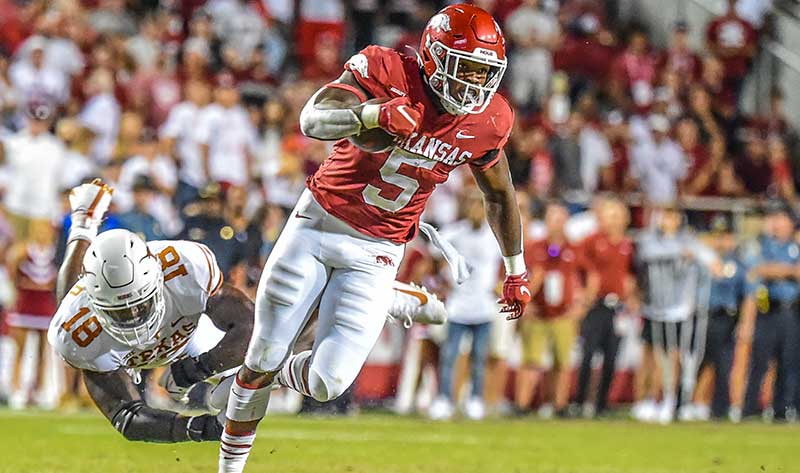 FAYETTEVILLE - Few teams run the ball less but utilize running backs more than the Mississippi State Bulldogs.
Mississippi State (5-3 overall, 3-2 in SEC) visits Reynolds Razorback Stadium for Saturday's 3 p.m. game against Arkansas (5-3, 1-3). The SEC Network plans to televise the game.
In duplicating their 5-3 records, the Dogs and the Hogs have run dissimilarly.
Coach Sam Pittman's Razorbacks have rushed 370 times for 1,992 yards. Coach Mike Leach's Bulldogs have run just 169 times for 430 yards.
Arkansas has a running quarterback. Sophomore KJ Jefferson has rushed 81 times, netting 419 yards  and five touchdowns.
Mississippi State quarterback Will Rogers never met a run he liked.  With a net minus 65 yards on 38 carries and no TDs, it seems Rogers carries only when sacked or about to be sacked.
And the running backs … Arkansas junior Trelon Smith (90 carries for 459 yards), freshman Raheim "Rocket" Sanders (79 for 434 yards in Craven Whitlow photo TOP), and Saturday starter redshirt freshman Dominique Johnson (39 totes for 309 yards) have out-rushed the Bulldogs' top two running backs, Jo'quavious  Marks (71 carries  for 252 yards) and Dillon Johnson (54 totes for 248 yards).
A fourth Razorbacks running back, freshman AJ Green, ranks right behind them with 194 yards on 39 carries.
Yet, in the total offense category, Marks and Dillon Johnson top Arkansas' running backs.
In Leach's Air Raid of short passes that can spring big gains, Marks (58 catches for 344 yards) and Dillon Johnson (42 receptions for 261 yards) have rushed and caught 596 and 509 yards, respectively. Sanders paces Arkansas running backs with 489 tandem yards.
MSU ranks No. 5 nationally in passing offense at 371 yards per game, but its 8.94 yards per completion ranks last among all 130 FBS teams. 
"In the Big 12," Leach said of his days of coordinating Oklahoma's offense and then head coaching Texas Tech, "it used to be us and Oklahoma State as far as yards from the running back position."
A week ago against Kentucky, MSU backs ran more conventionally. Marks and Johnson combined for 31 carries.
"We ran more in part because that's what the defense was giving us, and then I think our running backs continue to improve," Leach said.
The elusiveness of State's 'backs and receivers puts a short passing game premium on tackling for opposing defenses like no other offense.
"I think for them every throw is a run," Pittman said of aiming for an initial four yards as coaches plan for runs with hopes for much more with a block here or making a tackler miss there. "We've got to get a lot of hats to the football."
Like most every hat, safety Joe Foucha said.
"When he (Bulldogs quarterback Will Rogers) checks it down,  we should have at least nine or 10 guys on the ball every time," Foucha said. "Tackling going to be the most important part of this game."
The Hogs better be on the ball. Rogers, with his leading receiver Makai Polk at 63 catches for 603 yards, completed an SEC-record 92 percent (36 of 39) last week when MSU derailed then-No. 12 Kentucky in Starkville. 
"Will Rogers was incredible," Pittman said.
The Bulldogs have beaten three teams in the College Football Playoff poll's Top 25 in North Carolina State of the ACC and SEC foes Texas A&M and Kentucky.
The Razorbacks' solid running attack, fourth in the SEC, runs into a Mississippi State defense solid against the run, ranking fourth in the SEC.
"They're really good against the rush, and we're a pretty good running team," Pittman said. "So something's got to give on Saturday."
Leach said his Bulldogs must not only slow UA running backs but contain Jefferson running and throwing.
"The biggest thing is our defensive front has to affect Arkansas," Leach said. "If it doesn't, then they'll be able to move the ball pretty well. We have to affect the quarterback when they throw it, but also move the line of scrimmage around and get penetration to obstruct the run game."
Pittman said the Hogs, led by junior wideout Treylon Burks, (42 catches, 717 yards and seven TDs) are up against a defense strong in all phases.
On paper, this game seems even, yet certainly diversely matched. Las Vegas oddsmakers generally rated the home-team Hogs, coming off a bye week, as five-point favorites.
However, the College Football Playoff Committee ranks Mississippi State 17th and Arkansas not at all.
"They (MSU) beat three ranked teams," Pittman said. "So even though we have identical records, they've beaten a few better teams that we have. I thought it was fair of the rankings."
For now. Saturday determines if the oddsmakers or the CFP Committee has it right.
"It'll all shake out in the end anyway," Pittman said.