HOGS fall into 21-point hole, can't climb out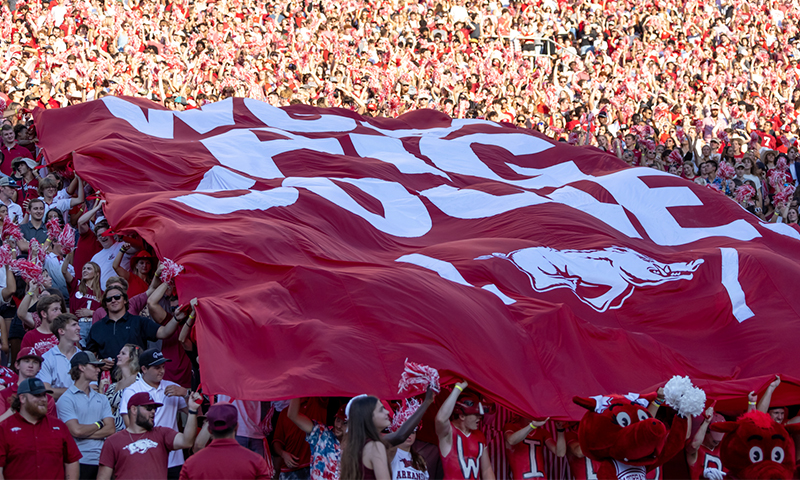 FAYETTEVILLE — The Arkansas football team was looking to secure bowl eligibility on Homecoming Saturday afternoon at Reynolds Razorback Stadium, but the Razorbacks are going to have to wait at least another week.
And it's going to be a long week.

Arkansas (5-4, 2-3) fell into a deep hole against No. 23 Liberty (8-1), a nonconference opponent in its fourth season of FBS competition, and lost 21-19 after a frenetic fourth-quarter rally.

The Razorbacks had a chance to tie after quarterback KJ Jefferson came up inches short of a game-tying 2-point conversion with 1:11 left in the fourth quarter.

This marks the first time the Razorbacks have lost to a nonconference opponent since Sam Pittman took over as head coach in 2020.

"We had a poor showing by us in the first half," Pittman said of the Razorbacks, who trailed 21-0 in the second quarter and 21-3 at halftime. "We need to figure out a way to play two halves."

Arkansas will get that opportunity next Saturday at 11 a.m. against an LSU team that celebrated a 32-31 overtime win over Alabama late into the night in Baton Rouge. LSU will come to Fayetteville as a top-10 team in the battle for the Golden Boot.

The Razorbacks not only lost to a team outside of the Power 5, they lost to a team coached by Hugh Freeze, who was 0-2 in Fayetteville during his time at Ole Miss.

 "I'm at a loss for words," Freeze said. "It's going to be fun celebrating this one. Sam Pittman is a heck of a coach, and I know the hurt that comes from a loss like this one, but it won't take away from our celebration."
Liberty's win was not only Freeze's first in Fayetteville, but it was Liberty's first win over an SEC opponent.

"I've brought a lot of good teams up here to this stadium and I never left here real happy," Freeze said. "I never thought my first win in Fayetteville would be with Liberty, a little FBS school."

Liberty stunned an announced crowd of 70,072 after the teams combined for 7 punts on the first 7 offensive possessions.

Then, Liberty QB Jonathan Bennett (15-25 passing, 224 yards, 3 TDs, 1 interception) threw TD passes to Noah Frith (16 yards), Demario Douglas (20 yards) and Treon Sibley (18 yards), the final score coming with 42 seconds left in the half.

Arkansas made it 21-3 at halftime on a 50-yard field goal by Cam Little as time expired.

Freshman Quincy McAdoo blocked a punt for a safety with 5:33 to play in the third quarter, but Arkansas could not take advantage after the free kick and wouldn't score its first touchdown until midway in the fourth quarter.

The Hogs capitalized on an interception by McAdoo to set up their first touchdown, a 5-yard pass from Jefferson to Trey Knox, finishing a 17-play, 84-yard drive that included three fourth-down conversions.

Raheim Sanders' 2-point conversion run made it 21-13 with 7:42 play.

Jefferson (19-33 passing, 284 yards, 2 TDs) pulled the Hogs within 21-19 on an 8-yard pass to Knox, setting a 2-point conversion attempt that ended with Jefferson ruled inches short of tying the game.

Arkansas outgained Liberty 428-315 for the game, including 250-79 in the second half when the Razorbacks outscored Liberty 16-0.

"Everybody just got on the same page," said Jadon Haselwood (8-86 receiving). "We just had to keep talking to each other and keep encouraging each other. If we don't stick together at the end of the day, it isn't going to work anyways. It was something we had to figure out throughout the game."

Sanders (17-60 rushing) and Jefferson (16-36) never got going on the ground against a Flames defense that had 14 TFLs and 4 sacks and held the Razorbacks to a season-low 144 rushing yards. AJ Green (6-56) was Arkansas' most productive runner.

"They outquicked us," Pittman said. "They were getting penetration early in the game with it, and we couldn't get the ball to the edge. It seemed like they had a pretty good call on what we were trying to run, and we couldn't catch up to their speed."

Arkansas' defense held Liberty scoreless in the second half..

"I think the guys took the halftime messages to heart," linebacker Bumper Pool said. "We came out, did some good things, but it just wasn't enough. We just have to start games better."

Linebacker Drew Sanders led the way for the defense with 9 tackles, 3.5 tackles for loss, and a sack. Pool (8 tackles, 1 sack) and defensive backs Simeon Blair (7 tackles) and Hudson Clark (7 tackles) also contributed to the defense.

McAdoo had 3 tackles and pass deflection to go with an interception and a blocked punt.

"He's only had two to three weeks to learn the defense," Pool said. "He's doing an incredible job, going out as a freshman, and making an incredible play. I'm excited for his future."

McAdoo (6-2, 175; Clarendon) said it was a dream come true.

 "I come from a town where not a lot of people get to play college football, let alone go to college," McAdoo said.