HOGS beat MSU, going bowling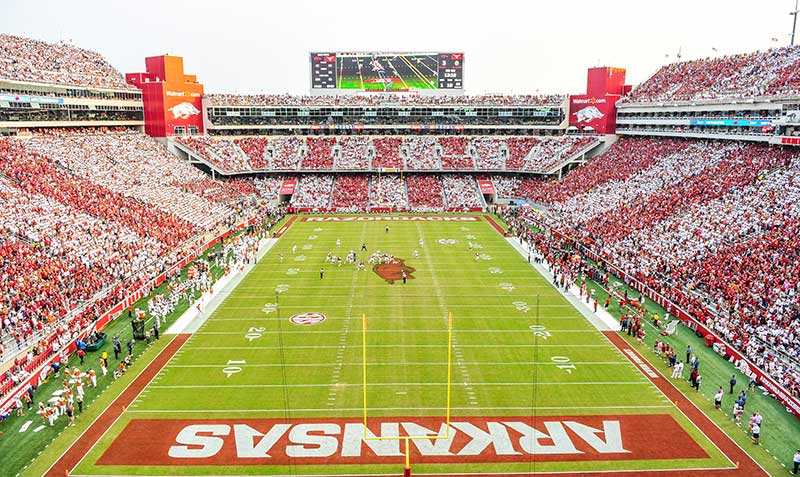 FAYETTEVILLE - Because they had a Little more leg than Mississippi State, the Arkansas Razorbacks kicked down the 17th-ranked Bulldogs 31-28 Saturday before a loud 68,818 at Reynolds Razorback Stadium.
In four field goal tries, not missing until his shortest and final attempt of 42 yards, Arkansas freshman Cam Little tied his  season long 46-yarder and surpassed it with career long 48- and 51-yarders.
Meanwhile, Mississippi State kicker Brandon Ruiz missed from 23 and 46 yards. Ruiz was yanked for redshirt freshman Nolan McCord's game-ending 40-yard miss while trying for a tie on the game's final play after each team's textbook display of two-minute offense. McCord's kick was not close, sailing wide left as the final two seconds clicked off. 
The triumph upped Coach Sam Pittman's Razorbacks to bowl eligibility at 6-3, 2-3 in the SEC, going into Saturday night's SEC West game at LSU. Arkansas last reached six wins in 2016 when it won seven. It won a combined seven  times the past three seasons.
Coach Mike Leach's Bulldogs, ranked 17th by the College Football Playoff Committee and the third Top 25 team Arkansas defeated this season, fell to 5-4, 3-3 in the SEC. 
Little's field goals enabled the Razorbacks to win by three but so many other facets did, too.
UA sophomore quarterback KJ Jefferson completed 19 of 23 passes  for 191 yards and a touchdown. Starting at 2:22 of the fourth quarter, Jefferson directed Arkansas from down 28-23 to up 31-28  with a game-winning 75-yard drive with 21 seconds left.
Junior athlete Treylon Burks accounted for 121 all-purpose yards by rushing for 39 yards on three carries, and six catches for 82 yards and a TD receiving. The Warren native posed such a threat without the ball he was tackled by cornerback Martin Emerson for a fourth-down defensive holding penalty that preserved Arkansas' game-winning drive.
Arkansas freshman running back Dominque Johnson netted 107 yards on 17 carries with two TDs, the second tallied from the 4-yard line with 21 seconds. Johnson then ran for the 2-point conversion against a gassed MSU defense.
Defensively, senior linebacker Grant Morgan intercepted a pass and linebacker Bumper Pool collected 10 tackles. The Hogs shut out Mississippi State in the first half until State QB Will Rogers' 3-yard TD pass to Jaden Walley just seven seconds before intermission, cutting Arkansas' lead to 13-7.
The Bulldogs took first command of the topsy-turvy second half. Rogers, 36 of 48 for 417 yards and four TD passes, completed a 6-yard TD to Ra Ra Thomas at 8:15 of the third quarter before Arkansas ever touched the ball in the second half.
The second half lead switched from Arkansas up 13-7, down 14-13, up 16-14 on Little's field goal and 23-14 on Jefferson's 14-yard TD to Burks, to down 27-23 on two more Rogers' TD passes, then up 31-28. In just 21 seconds, Rogers rallied the Bulldogs from their 25 to the Arkansas 22 by completing three consecutive passes before McCord's failed field goal attempt.
"We didn't just win the Super Bowl, but it feels like it," Pittman, jubilant, told media postgame. "We're bowl eligible and very, very excited to know we're going to play in December or January."
The head Hog said State was worthy of its CFP No. 17 ranking.
"We beat a really good football team," Pittman said. "Mississippi State is a great football team. They (on their last drive) completed three good balls. We're very fortunate to have won."
And "very proud," he said.
"I know we didn't just win the national championship, but it's not going to feel a whole lot better than that locker room did," Pittman said. "Hopefully, we'll have an opportunity to try it."
And should have the opportunity of cracking the CFP's Top 25 rankings Tuesday.
"Absolutely," Pittman said. "There's no question in my mind we deserve to be in the Top 25. Now it's hard to stay there and all those things, but we've beaten (No.) 7 (Texas A&M) 15 (Texas at the time) and 17 (Mississippi State) at the time."
The Hogs and Dogs earned A-plus for their intensity Saturday but failing grades for penalties.
"We killed ourselves with penalties," Pittman said. Those flags included a penalty on safety Myles Slusher that voided an interception by fellow safety Simeon Blair that would have quashed Mississippi State's first-half TD drive.
Also one of Arkansas' four false start penalties in the first half forced Arkansas to settle for one of Little's two first-half field goals rather than going for a TD.
Turned out Little's field goal sufficed to salvage the victory.
"He (Little) was really valuable," Pittman said.
Sure was, said Treylon Burks
"We're thankful for Cam," Burks said. "He's a freshman, and he's kicking like he's been here the longest."
Arkansas did cut its penalties to three in the second half.
Mississippi State was penalized 10 times. None proved bigger than Emerson's holding call on Burks, turning Jefferson's fourth down final drive incomplete pass to a first down at the MSU 15.
"On the holding call, I knew I had him," Burks said. "He was beat. His way to get me was to grab me, so I just went with the grab and fell to the ground and it worked."
Jefferson insured it would.
"I saw the guy tackle Treylon, and I just had to put the ball in the area and make it seem like he couldn't get to the ball, and I knew the flag was coming," Jefferson said.
Jefferson saw plenty on that game-winning drive. It started with a  7-yard pass to Johnson, and Johnson's 11-yard run. Jefferson passed three times to tight end Trey Knox, then a 6-yard pass to Helena native Tyson Morris to the MSU 9-yard line. Morris' catch preceded Jefferson scrambling from a would be loss to a 5-yard gain before Johnson took it for the 4-yard TD.
"He (Jefferson) was so poised in that two-minute drive," Pittman said. "Going 19 for 23 (passing) with no interceptions, he's a heckuva quarterback. He played a heck of a football game."