Class 4A Week 11 Rankings, Notes & Picks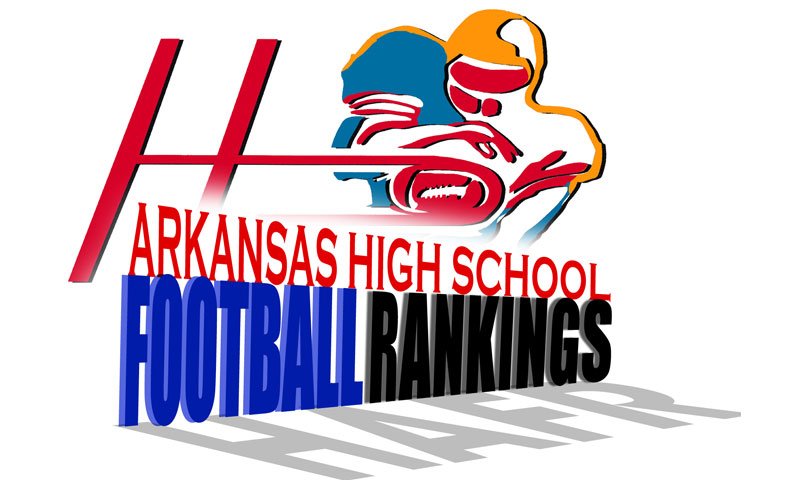 Hootens.com Rankings
Class 4A, Wk 11, 2021
Copyright Hooten Publishing, Inc.

1. Shiloh Christian (9-1)
2. Warren (9-1)
3. Stuttgart (9-1)
4. Joe T. Robinson (9-1)
5. Ozark (7-2)
6. Prairie Grove (8-2)
7. Crossett (7-3)
8. Arkadelphia (7-3)
9. Ashdown (8-2)
10. Rivercrest (8-2)
11. Pocahontas (8-2)
12. Southside (8-2)
13. Lonoke (8-2)
14. Lamar (8-2)
15. Malvern (5-5)
16. Elkins (7-2)
17. DeWitt (6-4)
18. Star City (7-3)
19. Dardanelle (6-4)
20. Trumann (7-3)
21. Clinton (5-5)
22. Mena (5-5)
23. Gentry (7-3)
24. Jonesboro Westside (6-4)
25. Cave City (6-4)
26. Fountain Lake (5-5)
27. Mills (6-4)
28. Monticello (5-5)
29. Nashville (4-6)
30. Pottsville (3-7)
31. H. Grove Haskell (2-8)
32. Huntsville (4-6)
33. Bauxite (2-8)
34. Heber Springs (3-6)
35. Hamburg (2-8)
36. Dumas (2-7)
37. Blytheville (2-8)
38. Highland (2-8)
39. Waldron (2-7)
40. Berryville (2-6)
41. Green Forest (2-7)
42. Gravette (1-9)
43. Bald Knob (1-9)
44. CAC (2-8)
45. Gosnell (1-8)
46. Dover (0-10)
47. Helena (0-10)

HOOTENS.COM GAME OF THE WEEK
No. 9 Ashdown at No. 13 Lonoke
These teams have never played. Lonoke played for the 2009 state title, but since has a 2-8 postseason record. Ashdown advanced to the 2017 quarterfinals, but the Panthers have a 4-5 playoff record the past decade.
Lonoke finished third in the 2-4A by beating Clinton a week ago 28-24. Sophomore QB Bradon Allen completed 15 of 22 passes for 232 yards and a pair of touchdowns, in addition to running for 115 yards and two TDs. Junior Landon Jones hauled in 11 passes for 147 yards and a TD, while senior Spencer Pepper caught a 36-yard TD pass. The Jackrabbits trailed by 10 points with six minutes left before rallying behind an Allen to Jones TD pass, then Allen blasted in for the winning score.
Ashdown whipped Fountain Lake last week 49-18 and "finally woke up and played a complete game," Coach Matt Richardson says. Junior Jayden Fricks set the tone by taking an early screen pass 25 yards for an early TD. Fricks has rushed for almost 1,000 yards this fall. The Panthers like to pass to sophomore tight end and Arkansas commit Shamar Easter. "They like to throw the jump ball to him," Lonoke coach Harry Wright says. Senior middle linebacker Landon Rowe paces Ashdown's defense. "The thing that sets them apart is how hard the defense plays," Wright says. "They fly to the ball and tackle extremely well."

LAST WEEK
Hootens.com correctly predicted 19 of 23 games (83 percent). Hootens.com has predicted 255 of 290 games (88 percent) correctly this season.

WEEK 11 PREDICTIONS (favored team in ALL CAPS)
TOP OF THE BRACKET
RIVERCREST has a bye
MALVERN (2) at DeWitt: DeWitt hosts its first playoff game since 1997 (lost to Rivercrest by 28 points), and the first ever at Dragon Stadium, which opened in 2000. The improved Dragons streak into the playoffs with three straight wins over Dumas, Star City and Monticello by a combined 91-33. Junior QB Eli Ashcraft passed for 118 yards and a pair of TDs at Monticello, while senior Xander Bohnert ran 13 times for 82 yards and a TD. Sophomore linebacker Owen St. John (five tackles, two sacks) and senior LB Owen Luebke (seven tackles) shut down Monticello in the second half. Malvern mustered just 228 yards in last week's 36-point setback at Arkadelphia. Senior Braylon Watson threw a 29-yard TD pass, while sophomore Jalen Dupree ran 17 times for 97 yards and a TD. The Leopards start 10 sophomores, including four linemen. "DeWitt is big and aggressive up front," Malvern coach J.D. Plumlee says. "It will come down to the line of scrimmage." Watch extended highlights of Malvern's 35-12 loss to Lake Hamilton earlier this year. Watch extended highlights of Dewitt's 47-22 loss to McGehee earlier this year.
Cave City at SHILOH CHRISTIAN (35): Cave City shutout Trumann in the second half a week ago to notch a 20-13 decision. Senior Maddox Moreland ran 12 times for 90 yards and a TD, and intercepted a pass at safety. Senior wingback Eli Taylor had nine carries for 90 yards and caught a 35-yard pass. He returned a fumble 90 yards for a TD. Shiloh Christian wrapped up its fourth straight league title last week with a 43-point decision over Huntsville. Junior QB Eli Wisdom completed 12 of 17 passes for five TDs, and ran four times for 53 yards and another TD in the first half. Senior Cooper Hutchinson caught two balls for 90 yards and a TD, while defensive team leader Kaden Henley played some H-back (two TD catches). Watch extended highlights of Cave City's 46-28 loss to Hoxie earlier this year. Watch extended highlights of Shiloh Christian's 58-12 win over Green Forest earlier this year.  ASHDOWN (4) at Lonoke: Hootens.com Class 4A Game of the Week.
Huntsville at OZARK (24): The shortest first-round trip this week in Class 4A. It takes Huntsville a little over an hour to wind down the Pig Trail to Ozark. Huntsville junior QB Amos Mayes passed for 236 yards, including an 85-yard TD strike to senior Kolton Reynolds, in last week's 56-13 loss to top-ranked Shiloh Christian. Ozark, which has won three of the past four 4-4A titles, whipped Waldron last week 42-3. Junior QB Landon Wright passed for 154 yards and a TD, and ran eight times for 44 yards and a TD. Senior Eli Masingale ran seven times for 67 yards and a pair of TDs. Senior Ryker Martin has 30 tackles the past three games, while sophomore Kyle Archer has 39 stops.
Pottsville at CROSSETT (16): Pottsville makes the seven-hour round trip to Ashley County. Pottsville plans to attempt to play keep-a-away with its Dead T attack. "Crossett has really fast playmakers everywhere," Pottsville coach Bryan Rust says. The Apaches didn't play last week, and dominated Dover 50-16 two weeks ago. Senior Landon Mahan ran for more than 100 yards in the first half, while Eli Adkins sprinted 60 yards for a TD. Crossett finished second in the 8-4A despite last week's two-point loss to Star City. Senior QB Tyrique Jones has passed for almost 1,700 yards and 19 TDs this fall, while rushing for nearly 1,000 yards and 12 TDs. Senior receiver Dwayne Ashford has more than 600 yards receiving and 10 TDs. Senior safety Khamal Williams racked up five stops against Star City and has 49 stops this fall, while senior LB Denzel Watkins has 89 tackles. Watch extended highlights of Crossett's 15-13 loss to McGehee earlier this year. Watch extended highlights of Crossett's 40-34 loss to Warren earlier this year.
Star City at SOUTHSIDE (3): A rematch from 2019, when Star City traveled four hours to defeat Southside 47-20. Star City ran almost twice as many plays as Crossett last week (79-45) in a two-point triumph. Senior Javion Turner ran 12 times for 121 yards and a TD, while senior Cole Branson ran 17 times for 104 yards. Senior Trey Proctor racked up 10 tackles and three sacks. Southside's only losses this fall were to Pocahontas and Stuttgart, which are a combined 17-3. The Southerners have won six straight games, including last week over Bald Knob 39-16. Senior QB Landon Haas has rushed for 1,151 yards and 16 TDs and completes 55 percent of his passes this fall for 691 yards and nine TDs. Junior safety Pierce Duncan tops Southside's tackle chart with 68 stops. He also has three forced fumbles. Sophomore DL Isaac Wallies recorded seven tackles and two sacks against Bald Knob. Common opponent: Stuttgart beat Star City by 21 points Week 1, and rallied past Southside 21-18 three weeks later. Watch extended highlights of Star City's 35-14 loss to Stuttgart earlier this year.
Clinton at ARKADELPHIA (15): This is the first meeting between these programs. Clinton slipped to the No. 4 seed and a road game after losing last week to Lonoke by four points (led by 10 points in the fourth quarter). Sophomore Zane Widener ran 15 times for 135 yards and a TD. Senior LB Jacob Hutto registered 11 tackles and one sack, while Widener made 6.5 stops and intercepted a pass. Arkadelphia junior QB Donovan Whitten completed 13 of 19 passes for 285 yards and four TDs in last week's mercy-rule win over Malvern. Whitten also ran five times for 68 yards and a TD, with senior Alex Loy hauling in five balls for 113 yards and three TDs. Senior Jaishon Davis logged 20 carries for 121 yards and two TDs and caught two passes for 44 yards.Watch extended highlights of Arkadelphia's 55-47 loss to Greenbrier earlier this year. Watch extended highlights of Arkadelphia's 48-14 win over Fountain Lake earlier this year. Watch extended highlights of Arkadelphia's 56-32 loss to Joe T. Robinson earlier this year.

BOTTOM OF THE BRACKET
WARREN has a bye. Watch extended highlights of Warren's 47-27 win over Stuttgart earlier this year. Watch extended highlights of Warren's 40-34 win over Crossett earlier this year. Watch extended highlights of Warren's 35-0 loss to White Hall earlier this year. MENA (2) at Trumann: Mena, playing its fifth straight road game, makes the 540-mile round trip to Northeast Arkansas. The Bearcats lost to Lamar last week 21-9 after leading 6-0 in the second half. Senior Jayden Felix ran for 90 yards and a TD and finished with six tackles on D. Senior Caleb Peters caught six passes and Mena's defensive line played well, coach Craig Bentley says. Trumann also lost last week, falling to Cave City 20-13 and getting fenced from a share of the 3-4A title. Junior QB Murphy Williams ran 13 times for 84 yards and completed 11 of 17 passes for 129 yards. Senior Rian King and Eli Evett combined to rush for 161 yards and two TDs. "It's a tough match-up for us because they are huge," Trumann coach Randy Phillips says. 
Monticello at STUTTGART (21): Monticello, which went winless in 2018 and won just twice in 2019, has 12 wins the past two seasons, including a first-round playoff victory last fall. The Billies trailed DeWitt 14-13 in the third quarter a week ago before losing by 15 points. Stuttgart won its second straight 2-4A title this fall after going winless on the field in 2019. Junior Jaiden Strange ran for a TD, caught a TD pass and returned a punt 65 yards for another TD in last week's 63-28 win over CAC. Senior Daniel Poole ran for two TDs and returned a kickoff 80 yards for a TD, while Landon Melynchuck ran for a TD and tallied nine tackles on D. Watch extended highlights of Stuttgart's 47-27 loss to Warren earlier this year. Watch extended highlights of Stuttgart's 42-0 win over Heber Springs earlier this year. Watch extended highlights of Stuttgart's 35-14 win over Star City earlier this year. Watch extended highlights of Stuttgart's 43-14 win over Clinton earlier this year. DARDANELLE (3) at Elkins: Dardanelle won both of its games over Elkins when the Elks were members of the 4-4A from 2018-2019. The Sand Lizards have won five straight games this year since losing by two points to Lamar Week 5. Junior QB Drew Vega ran for 53 yards and completed all six of his passes for 66 yards last week in a 42-6 win over Dover. Vega has rushed for 1,360 yards and 18 TDs this fall, while junior LB Drake Boatright has 117 tackles. Elkins falls to the No. 3 seed after losing last week to Prairie Grove 45-19. The Elks trailed 38-6 at halftime. Sophomore Da'Sawn Chairs logged 28 carries for 127 yards and a pair of TDs at Prairie Grove, while Jusiah Bettancourt caught four passes for 103 yards and averaged 21 yards per kick return.
Mills at JOE T. ROBINSON (28): This is a rematch from the second round last season, which Joe T. Robinson won 63-18. The Senators ran roughshod over the 7-4A this fall, capped by last week's 37-point win over Harmony Grove Haskell. The Senators piled up 508 yards, as senior QB Jack Cleveland threw five TD passes, including four in the first half. Junior guard Dylan Hunt spearheaded the offensive line against Haskell. Mills lost four straight games this season, but junior RB Jabrae Shaw was injured during that stretch. He's healthy now and "makes them good offensively," Joe T. Robinson coach Todd Eskola says. Comet senior fullback Boyce Mitchell ran 12 times for 161 yards and pair of TDs in last week's 28-point win over Heber Springs, while Shaw ran for 98 yards and a TD. Sophomore QB Achilles Ringo passed for 142 yards. Watch extended highlights of Joe T. Robinson's 56-32 win over Arkadelphia earlier this year. Fountain Lake at POCAHONTAS (17): Fountain Lake qualifies for the playoffs despite have 10 starters out with season ending injuries. Most coaches in the 7-4A say the Cobras were talented enough to compete for the conference title before the barrage of injuries. Fountain Lake senior Steven Dearmon has rushed for more than 1,000 yards this fall. The Cobras will dress 21 players for the playoff game. Pocahontas tied for the 3-4A title but settles for the No. 2 seed based on the tiebreaker with Rivercrest. The Redskin defense played well in last week's  40-12 win over Highland. Junior QB Connor Baker and sophomore Regan Womack fuel the potent Redskin attack (36 ppg). Watch extended highlights of Fountain Lake's 48-14 loss to Arkadelphia earlier this year. Jonesboro Westside at PRAIRIE GROVE (11): Prairie Grove pounded Jonesboro Westside 45-14 in the first round in 2015. The Tigers earned the 1-4A's No. 2 seed after last week's 45-19 win over Elkins. Senior Landon Semrad ran for a pair of TDs, including a 50-yard sprint, and intercepted two passes against Elkins. Junior Ryder Orr dominated on the defensive line. Jonesboro Westside won its final two games to qualify for the playoffs, besting Highland by four points in Week 9 and Gosnell last week by 35 points. Junior fullback Darvin Fowler and junior RB Cameron Hedger pace the Warrior ground attack.
Gentry at LAMAR (1): Gentry has won four straight over Lamar, including 40-35 Week 1 and 28-27 last year. The Pioneers snapped a three-game losing streak last week with a 22-point win over Gravette.  Senior Willy Pyburn ran eight times for 89 yards and two TDs against Gravette. Senior left guard Lucas Guinn earned an 87 percent blocking grade with six pancakes, and on the defensive line he returned an interception for a TD. Lamar puts up 33 points weekly in the double slot, while running mostly power and counter plays. The Warriors trailed Mena 6-0 in the second half last week when senior QB Landon Harrison changed momentum with a 62-yard TD bomb to senior Skylar Smith. Senior Tony Balmer iced the 21-9 victory with a short TD plunge late in the fourth quarter. Smith has six TD catches this fall, while Balmer has 10 TD runs.