Class 7A Week 11 Rankings, Notes & Picks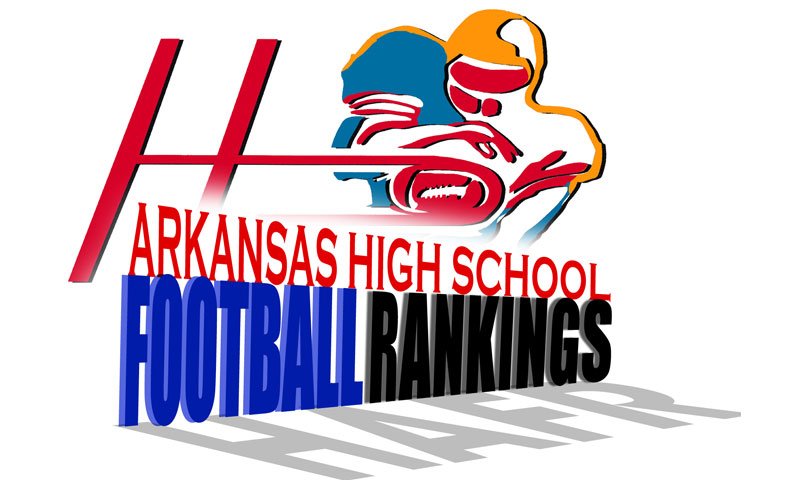 Hooten'Arkansas Football Rankings
Class 7A, Week 11, 2021
Copyright Hooten Publishing, Inc.
 
1. Bryant (9-1)
2. Conway (8-2)
3. Fayetteville (8-2)
4. Bentonville (8-2)
5. North LR (8-2)
6. Cabot (7-3)
7. Rogers (7-2)
8. FS Northside (6-4)
9. Bentonville West (6-4)
10. Springdale Har-Ber (3-7)
11. LR Catholic (3-7)
12. FS Southside (2-8)
13. Springdale (1-9)
14. LR Southwest (2-8)
15. LR Central (0-10)
16. Rogers Heritage (0-10)

HOOTENS.COM GAME OF THE WEEK
No. 7 FS Northside at No. 9 Bentonville West.
No. 4 seed Bentonville West lost to Fayetteville (40-19), at Rogers (33-28) and to Bentonville 56-14 last week) in conference play. West rushed for just 92 yards in last week's loss to Bentonville and Wolverine senior tackle Jonathan Medley (6-1, 255), injured last Friday, had surgery Saturday. West excels with screens and its run-pass-option attack. Wolverine just Braden James excels at outside linebacker and running back, has blocked a punt and returned two kicks more than 90 yards this season.
Senior-laden FS Northside, the 7A Central conference's No. 5 seed, boasts a plus-17 turnover margin and runs to the postseason with a talented trio in its backfield. Seniors backs Ty Massey (156 rushes for 1,065 yards and 13 TDs) and Sundquist Church (160 totes for 1,077 yards and 10 TDs) share carries while senior QB Walker Catsavis (6-4, 175) completes 62 percent of his passes for 1,340 yards, 15 TDs and five INTs. Three-year starting safety Jack Green (4.1 GPA) has 62 tackles this fall with eight pass breakups and four INTs for the Grizzlies.
Comparing scores: Bentonville West and FS Northside both stunned Springdale Har-Ber with late rallies. Northside won a wild one at Har-Ber 63-56 while West beat the Wildcats 46-45.



LAST WEEK­


hootens.com correctly predicted 7 of 8 winners (88 percent) in Class 7A games. For the season, hootens.com is 86-10 (90 percent) in Class 7A.

WEEK 11 PLAYOFF PREDICTIONS (favored teams in CAPS followed by points spread)
TOP HALF OF BRACKETT
FAYETTEVILLE has a bye.


Springdale Har-Ber at CABOT (11):

Har-Ber passes on 54 percent of its plays and completes 19.6 tosses weekly. The Wildcats air attack could be a problem for a Cabot secondary that has appeared vulnerable at times this season. Har-Ber junior QB Luke Buchanan completes 60 percent of his passes for 273 yards weekly. Senior receiver Patrick McKee (4.5 speed) leads Har-Ber with 81 catches for 1,057 yards and seven TDs. Cabot passes on 38 percent of its snaps. Senior QB Grant Freeman completes 53 percent of his passes for 165 yards weekly while versatile senior Braden Jay accounts for 177 yards offense per outing and classmate Mason Bell (725 yards rushing) averages 106 yards offense. 
Watch
extended highlights of Cabot's 47-27 win over Jonesboro earlier this year.
Watch
extended highlights of Cabot's 57-21 loss to Conway earlier this year.



CONWAY

has a bye. 
Watch
extended highlights of Conway's 57-21 win over Cabot earlier this season.

Watch

extended highlights of Conway's 35-7 win over LR Catholic earlier this year.
LR Catholic at ROGERS (21):
Rogers eighth win under new Coach Chad Harbison will be its most in a season since playing for the 2006 state championship. Rogers rolls into the postseason with losses only to No. 3-ranked Fayetteville (48-13) and No. 4 Bentonville (56-49). LR Catholic won Week 8 at LR Southwest 31-14 beat LR Central (33-7 last week) to make the playoffs. The Rockets lost 36-34 in overtime at Fort Worth Nolan Catholic but later received a forfeit of the game. Watch extended 
highlights of LR Catholic's 35-7 loss to Conway earlier this year. 
BOTTOM HALF OF BRACKET
BRYANT
has a bye. 
Watch
extended highlights of Bryant's 24-12 win over North Little Rock earlier this season.
Watch
extended highlights of Bryant vs Pulaski Academy (scrimmage).



FS NORTHSIDE (1) at Bentonville West:

Game of the Week.


BENTONVILLE

has a bye.


FS Southside at NORTH LR (35):

North LR chases its sixth straight state title game appearance. North LR's losses this fall were only to No. 1 Bryant (24-12) and No. 2 Conway (38-10). The Charging Wildcats have arguably the best D-line in Arkansas, led by beastly all-state senior noseguard Braxton Johnson (6-0, 305). FS Southside finishes 2-9 for the second straight season with wins over No. 16 Heritage (50-28) and at No. 13 Springdale (52-51 last Friday). 
Watch
extended highlights of North Little Rock's 24-12 loss to Bryant earlier this season.