HOGS: SEC honors; more notes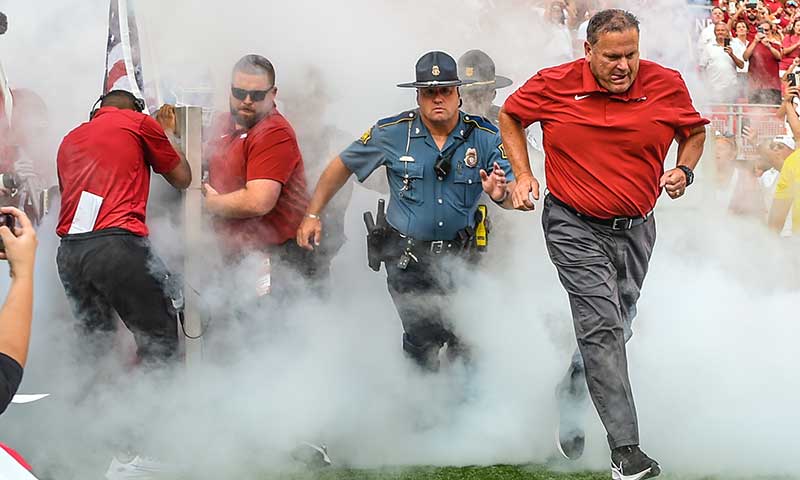 FAYETTEVILLE - Providing the winning difference in Arkansas' 31-28 victory last week over Mississippi State earned place-kicker Cam Little his second SEC Freshman of the Week honor for 2021.
Missing only from 42 yards on his fourth and shortest attempt, true freshman Little of Moore, Okla., kicked a 46-yarder and a season-long 48-yarder during Arkansas' 13-7 first-half. He eclipsed those kicks with a season-long 51-yarder during the third quarter.
Little kicked three of four field goals while Mississippi State kicker Brandon Ruiz missed field goal tries of 23 and 46 yards.
With the Bulldogs trying for a game-tying, 40-yard field goal on the game's last play, Mississippi State coach Mike Leach yanked Ruiz for freshman walk-on Nolan McCord. McCord missed badly wide left.
SPORTSMANSHIP
Afterwards, Leach verbally tossed his kickers under the bus.
"There's an open tryout on our campus for kickers," Leach said. "Anybody who wants to kick or walk on and kick at Mississippi State, we'll hold a tryout any time you can get over there to our building, providing you're cleared by the NCAA."
McCord got more respect from his Arkansas counterpart. Little made a point to seek and commiserate with the Bulldogs kicker on the field.
The SEC Network, televising last week's game, captured Little's sportsmanship, which Arkansas coach Sam Pittman didn't see firsthand but appreciated.
"I thought it was awesome," Pittman said Monday. "I didn't know anything about it until social media afterwards or yesterday or whenever it was. That just shows you what kind of guy Cam Little is. For him to have the concern - and I don't know if they were friends - you know the kickers, punters, they go around together to all these different camps and he may have known him. He may not have. If he didn't, that was even a better and bigger gesture. It says a little about him. I'm glad he's on our team."
As a person and a kicker. "He certainly played well, Pittman said.
Well enough for Pittman to smile about some frowns in the crowd when he sent Little into kick the 51-yard field goal on fourth-and-2 from the Mississippi State 33 instead of trying to make first down on fourth down.
Little's third field goal lifted the Hogs from down 14-13 to up 16-14.
"Yeah, I got booed on the 51-yard field goal that he made," Pittman said Saturday. "I'm at practice and see him kick, and I felt like he could make a 51-yarder. I wanted to take the lead. He really was valuable. He missed the one, but he kicked some long field goals tonight and did a really good job with that."
LSU LOOMS
Arkansas, a bowl eligible 6-3 and 2-3 in the SEC, next plays the LSU Tigers, the 2019 national champions, but this season 4-5, 2-4. The game is set to kick off at 6:30 Saturday night at LSU's Death Valley, officially called Tiger Stadium in Baton Rouge, La.
LSU is parting ways with Coach Ed Orgeron at season's end, but Orgeron didn't play the lame duck role last week.
The underdog Tigers battled No. 2 Alabama in a 20-14 loss and stemmed the Tide's running game to just 6 yards.
LSU has lost four of its past five games, including three by a TD or less.
"I believe LSU played as physically and as hard as they have all year last week," Pittman said." Coach Orgeron has the team still. They're very, very talented. They're LSU. They've always played hard, but I thought they played extremely well and physical Saturday against Bama."
CBS EYE ON HOGS
Arkansas will conclude its SEC season on CBS at 2:30 p.m. Nov. 20 at Alabama.
Before the season's outset, the Razorbacks and Missouri Tigers knew their Nov. 26 day after Thanksgiving Day game at Reynolds Razorbacks Stadium will kick off at 2:30 p.m. on CBS.
Bowl eligible at 6-3, the Razorbacks will play somewhere in December or January.