HOGS eye rebound vs. No. 7 Tigers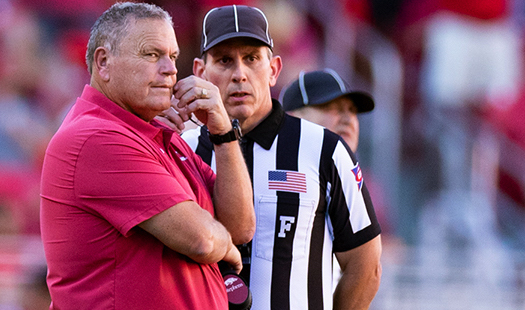 FAYETTEVILLE — The Arkansas Razorbacks have no time to sulk over their embarrassing 21-19 Homecoming loss to Liberty, not with SEC West leader LSU coming to Reynolds Razorback Stadium on Saturday morning.
The seventh-ranked Tigers (7-2, 5-1) are riding a 3-game winning streak and are coming off back-to-back wins over SEC West opponents Ole Miss and Alabama. 

LSU is a half-game up on No. 11 Ole Miss (8-1, 4-1) and 1 game up on No. 10 Alabama (7-2, 4-2), but the Tigers own the tiebreaker if they end up tied with either or both teams.

"They're a really good football team," said Arkansas Coach Sam Pittman (Tommy Land photo). "They have a physical, downhill, running offense, and are very good in the defensive interior. They're LSU, they've got a lot of talent and are playing really well right now."
Arkansas (5-4, 2-3) took possession of the Golden Boot Trophy last season with a 16-13 overtime victory in Baton Rouge, but LSU has won 5 of the past 6 matchups. The Razorbacks look to beat the Tigers in back-to-back games for the first time since the 2014-2015.

GETTING JEFFERSON HEALTHY

Arkansas quarterback KJ Jefferson (6-3, 242; Sardis, Miss.) completed better than 66 percent of his passes for 284 yards and 2 TDs in the loss to Liberty, but he also threw 2 interceptions and didn't appear to play with the zip and aggression he is known to show.
Pittman said after Saturday's game that Jefferson was "banged up" and didn't practice as much leading to the Liberty game as expected but said Monday he expects his quarterback to have a full week of practice.
 "I think he feels better this week than he did last week," Pittman said of Jefferson, who has thrown for 1,981 yards with 17 TDs and 3 INTs this season while rushing for 425 yards and 6 TDs. "I expect him to be able to throw today and if that's the case then I feel like he'll be fine by Saturday."
Pittman said Jefferson's shoulder has been giving him the most issues. Jefferson suffered a stinger injury to his throwing shoulder in the closing minutes of the BYU game (52-35 win) on Oct. 15 but has yet to miss a game for it.
 "It's really in the clavicle area," Pittman said. "It's bruised and it's hard for him to throw the ball without some type of pain. But like I said, I think he's much better than he was last week, so hopefully we'll get a good week of practice out of him and go from there."
HIGH PRAISE FOR DANIELS

LSU averages 34.8 points per game along with nearly 441 yards of total offense after 9 games. 
Arizona State transfer Jayden Daniel has been a big reason for LSU's success under first-year Coach Brian Kelly.

Daniels (6-3, 200; San Bernardino, Calif.) has passed for 1,994 yards for 14 touchdowns with 1 interception. Daniels also leads LSU in rushing yards (619) along with 10 rushing TDs.

 "I think he's [Daniels] understanding the offense more," Pittman said. "They've played good teams, good coordinators, who schemed up things and had him dead to rites but couldn't even touch him. I think he's always been a good runner, but his passing has been really on point. He's playing with a lot of confidence."

 LSU'S offensive line has been hurt by injuries and inconsistency, making Daniels' emergence even more impressive.
The Tigers have started at least one different offensive lineman each week, and the Tigers rank 11th in the SEC in sacks allowed per game (3.6). The Razorbacks' defense, meanwhile, ranks second in the SEC and top-15 in the FBS in sacks per game (3.1).

RAZORBACKS PLAYERS ARRESTED

If Saturday's loss to Liberty was not difficult enough to digest, the Razorbacks endured more bad news when it was reported Sunday that defensive backs Anthony Brown and Myles Slusher were arrested early Sunday morning for disorderly conduct.
According to the Fayetteville Police Department report, freshman Brown (6-0, 181; Milan, Tenn.) pushed a police officer after the officer tried to remove Brown from the street. Slusher went to pull the officer off his teammate, leading to the arrest of both players, who were released around 9 a.m. Sunday morning on $265 bonds.

Pittman said Monday both players have been suspended for a least one week, and are also fulfilling internal discipline.

"They've got a.m. runs and already had one this morning and they'll both participate in practice on the scout team," Pittman said.

Brown and Slusher's arrest mark the fourth and fifth confirmed Razorback player arrests since Sam Pittman's hiring.

"It's unfortunate and it's not acceptable," Pittman said. "A part of our job is to teach these kids and hopefully we'll get that done."

Brown has yet to appear on the the field for the Razorbacks, but Slusher has played a key role as the starting nickel safety despite missing multiple games due to injuries, Slusher has accumulated 20 total tackles, 2 sacks, and a pass deflection. Slusher had 5 tackles along with a sack against Liberty.

Pittman said he is unsure yet on who will replace Slusher at nickel safety against LSU, but he expects players like Malik Chavis (6-2, 192; Rison), Jayden Johnson (6-2, 204; Cedartown, Ga.) or true freshman Quincy McAdoo (6-2, 192; Clarendon) to fulfill that role.