Class 2A Week 11 Rankings, Notes & Picks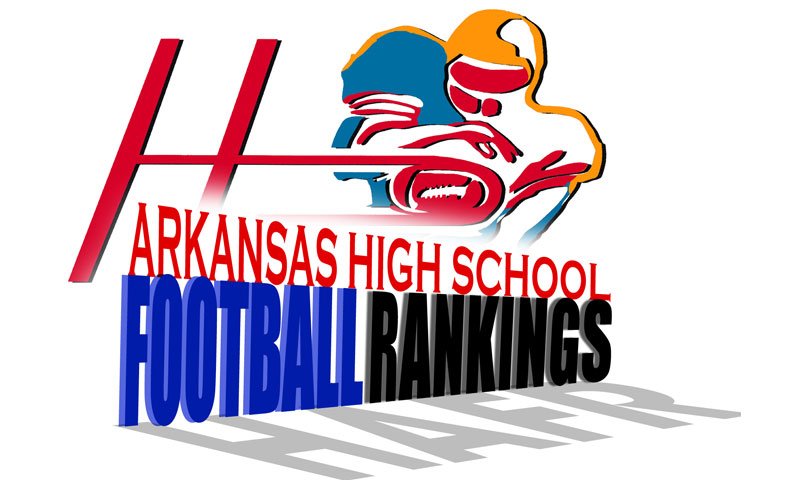 hootens.com Rankings
Class 2A, Week 11, 2020
Copyright Hooten Publishing, Inc.
1. Fordyce (11-0)
2. Gurdon (7-1)
3. Junction City (6-2)
4. Poyen (8-1)
5. Des Arc (10-0)
6. Dierks (8-1)
7. Clarendon (6-2)
8. Bigelow (10-0)
9. Foreman (4-5)
10. Hampton (5-5)
11. E. Poinsett County (7-3)
12. McCrory (4-3)
13. Magazine (8-2)
14. Hector (5-4)
15. Cross County (5-2)
16. Mount Ida (4-6)
17. Quitman (5-5)
18. Magnet Cove (4-5)
19. Carlisle (4-6)
20. Hazen (4-4)
21. Murfreesboro (5-5)
22. Marked Tree (2-4)
23. Bearden (4-6)
24. Mineral Springs (3-7)
25. Earle (2-6)
26. Mountainburg (3-5)
27. Parkers Chapel (2-8)
28. Yellville-Summit (3-7)
29. J.C. Westside (2-6)
30. Strong (1-7)
31. Cedar Ridge (1-6)
32. Cutter M Star (0-10)
33. England (1-8)
34. Marvell (1-7)
35. Lafayette County (1-7)
36. Conway Christian (0-9)

GAME OF THE WEEK
No. 18 Magnet Cove at No. 12 McCrory
This is a rematch of a 2019 second-round playoff game won by Magnet Cove 38-14. Magnet Cove senior tailback Landon Stone (1,580 yards) ran on a bum ankle most of this season but appeared healthy the past two weeks, carrying 20 times for 176 yard and two touchdowns against Cutter Morning Star and 25 times for 143 yards and a TD in a 27-20 loss to fourth-ranked Poyen. Magnet Cove started five sophomores and two freshmen last week on offense. Junior linebacker Brett Williams recorded a season-high 17 tackles. It has been a disappointing season for both teams (Magnet Cove preseason No. 5; McCrory No. 6), and both have struggled  defensively. McCrory lost 44-24 to No. 5 Des Arc, 54-46 to No. 7 Clarendon and 32-26 to No. 11 EPC. McCrory junior left guard Lathan Briley has been the Jaguars' most consistent lineman. He and junior Reid Kennon lead the Jags in tackles from their linebacker spots. Elusive junior QB Cason Campbell has completed 84 of 135 passes (62 percent) for 1,390 yards and 13 TDs with four interceptions.
Watch extended highlights from earlier this season of Magnet Cove vs. Murfreesboro HERE, vs. Gurdon HERE and McCrory vs. Clarendon HERE. 

LAST WEEK
Hootens.com correctly picked 16 of 16 games (100 percent) involving Class 2A teams. It is 165 of 194 (85 percent) for the season.

WEEK 11 PLAYOFF PREDICTIONS (favored team in CAPS)
TOP OF BRACKET
DES ARC has a bye
BEARDEN (7) at Mount Ida: This is a rematch of a Week 3 game won by Mount Ida 17-6. In the past two weeks, Bearden generated 39 yards in a 44-6 loss to No. 3 Junction City and produced less the 50 yards with five turnovers in a 56-6 loss to No. 1 Fordyce. Mount Ida was idle last week after losing 35-7 two weeks ago to top-ranked Gurdon while generating 124 yards and eight first downs. Bearden owns the team speed advantage with a talented backfield featuring senior RB Kendrick Juniel and junior QB Dominic Hammond. Juniel returned a kickoff 71 yards for a TD and logged six tackles vs. Fordyce.  

England at BIGELOW (36): No. 8 Bigelow swept the 4-2A for its first league title since 2010, and it recorded the first undefeated regular season in school history. Behind a veteran line, junior QB Keithlin Brown has passed for 1,098 yards and 11 TDs and rushed for another 1,029 yards and 14 TDs. Junior Hunter Alexander and senior Brayden Jones have rushed for 776 and 713 yards, respectively. Watch extended highlights of Bigelow wins over Johnson County Westside HERE and at Conway Christian HERE. England counters with leading rusher, junior Andre Jones (678 yards), and tackler, senior Izac Bellott (52 tackles, three fumble recoveries, two forced fumbles).
HAMPTON (6) at Cross County: This is a rematch of a Week 2 Saturday afternoon special won by host Cross County 28-26. Cross County jumped to a 21-0 halftime lead and held on with the Beale brothers, senior QB Jamaille and junior slotback A.J., accounting for 421 yards and four TDs. A week ago, Hampton rebounded from a blowout loss to Fordyce to upend Parkers Chapel 34-22. Senior center Jemison McPherson graded 95 percent on offense and on defense recorded eight tackle and a fumble recovery. Senior safety Easton Welch collected 12 tackles and an interception. Senior Cymeon McRae ran for first downs four times on fourth-and-4 or more. 

Mountainburg at DIERKS (12): A year ago, 4-2A member Mountainburg traveled to 7-2A member Murfreesboro and pulled off a mild first-round upset. No. 6 Dierks just completed a 4-0 sweep of the 7-2A for its first conference crown since 2013. Seven Outlaws combined for 261 rushing yards last week, led by junior RB Konnor Shelton's 87 yards and three TDs, in a 46-0 rout of Lafayette County. Mountainburg topped Yellville-Summit 42-40 in OT to claim the final playoff berth in the 4-2A. Watch extended highlights from earlier this season of Dierks at Poyen HERE.
Cedar Ridge at POYEN (28): No. 4 Poyen survived a Week 10 showdown with 5-2A rival Magnet Cove 27-20. Senior QB Jaxson Carter carried 16 times for 151 yards and two TDs. He completed four passes for 76 yards and two TDs, both to junior RB Blake Rhodes. In an all-state type of season, Carter has rushed for 657 yards and nine TDs and passed for another 1,098 yards and 17 TDs with just three INTs. Cedar Ridge started six freshmen last week in a 28-22 loss to Cross County. Seniors Nevin Crotts and Jordan Young caught a TD pass apiece from junior QB Connor Cossey. Senior Cagen Easley and freshmen Jon Duberville have been CR's most consistent linemen this fall. Watch extended highlights from earlier this season of Poyen vs. Drew Central HERE, vs. Dierks HERE and vs. Gurdon HERE.

Magnet Cove at MCCRORY (2): See Game of the Week. 
Marked Tree at JUNCTION CITY (26): Marked Tree was idle last week after losing to EPC 46-24 Week 9. MT sophomore QB Brylan Honeycutt averages 170 yards per game and completes 54 percent of his passes. No. 3 Junction City, struggling to get past Hampton 30-22 Week 8, wrecked Bearden (44-6) and Strong (43-6) the past two weeks. JC held Strong to 114 yards and eight first downs. 

BOTTOM OF BRACKET
GURDON has a bye.
Mineral Springs at CARLISLE (16): Carlisle peaking with an improved offensive line clearing the way for two 1,000-yard rushers: sophomore Jason Sullivan (1,379 yards) and senior Collin Jinks (1,069 yards). Jinks ran through England last week for 176 yards and four TDs on 16 attempts. He also caught a TD pass, intercepted a pass and recovered a fumble. After pushing Dierks in a six-point loss Week 9, Mineral Springs lost last Thursday to Foreman 62-8. Watch extended highlights of Mineral's loss to Foreman HERE.

J.C. Westside at E. POINSETT COUNTY (2): CANCELED. J.C. Westside FORFEITS due to covid quarantines. EPC senior QB Preston Rains likely earns consecutive all-state honors after leading the Warriors to their first conference title since 2014. Rains has passed for 1,276 yards and 12 TDs. He has rushed for a team-high 670 yards and 11 TDs. Senior WR Deuce Moore has caught 56 passes for 998 yards and 11 TDs. Moore returned an interception 54 yards for a TD last week in a 56-28 win over Class 3A Riverview. J.C. Westside senior slotback Dakota Beavers (more than 1,000 all-purpose yards) returns this week from quarantine, but senior RB James Linton (injury) is questionable. Watch extended highlights from earlier this season of J.C. Westside's loss at Bigelow HERE. 
Murfreesboro at QUITMAN (4): Quitman plays host to a playoff game for the first time in its 13 years of varsity football. This matchup features two outstanding QBs: Quitman junior Will Litton and Murfreesboro sophomore Sloan Perrin. Litton has completed 58 percent of his passes for 1,892 yards and 16 TDs. He's rushed for another 928 yards and 14 TDs. Perrin has completed 66 percent of his passes for 1,132 yards and eight TDs in just eight games. Perrin (torn labrum Week 1) missed two games and rarely ran with the football the rest of the season. He did carry 11 times for 40 yards and a TD two weeks ago in a 38-22 win over Lafayette County. Murfreesboro was idle last week. Watch extended highlights from earlier this season of Murfreesboro at Magnet Cove HERE.

Earle at FORDYCE (2) (FORFEIT): CANCELED. Earle FORFEITS due to covid quarantines. Earle had not played the past three Friday nights. Earle's last victory came Week 6 over winless Class 3A Riverview where it passed for 293 of its 322 total yards. No. 1 Fordyce continued its stranglehold on 8-2A opponents last week by limiting Bearden to less than 50 yards while forcing five turnovers. Senior QB/LB Jaheim Brown recorded five sacks and two TFL. Brown has passed for 1,581 yards and 23 TDs with seven INTs. Watch extended highlights of Fordyce wins over Rison HERE and over Monticello HERE.
Parkers Chapel at CLARENDON (10): CANCELED. Parkers Chapel FORFEITS due to covid quarantines. No. 7 Clarendon could not overcome 12 penalties (five for holding) for 93 yards last week in a 16-7 loss to No. 5 Des Arc in the 6-2A title game. Junior QB Kaleb Williams completed 14 of 19 passes for 156 yards and a TD, and he recorded 12 tackles. Junior WR/S Quincey McAdoo got 11 touches and was the primary target 15 other times out of 49 offensive snaps. McAdoo logged 16 tackles, two FF, one FR and three punts downed inside the 10-yard line. Sophomore DT Seneca Snow and senior DT Edgar Herrera collected 14 and nine tackles, respectively. Parker Chapel senior Trace Shoup completed 12 passes for 175 yards in a 34-22 loss to Hampton. Senior FS Blake Caldwell leads PC this season in tackles, TFL, INTs and pass breakups. Watch extended highlights of Clarendon vs. McCrory HERE. 

Hazen at MAGAZINE (6): Hazen has advanced past the first round three years in a row. Magazine has advanced the past two years, drawing eventual state champion Fordyce in the second round of the 2019 playoffs. Hazen sophomore QB Luke King completed 25 of 38 passes last week at Marvell for 358 yards and seven TDs. Freshman Kolten Tosh caught nine passes for 97 yards and a TD. Senior Jalen Burton hauled in five balls for 105 yards and four TDs. Magazine counters with senior FB/LB Kobe Faughn (1,200 rushing yards) and junior slotback Ashton Droemer running behind a line that is the most improved unit on the team. Per Magazine historian Glenn Parrish, Faughn needs 136 rushing yards to break the single-season record set by his coach, Ryan  Chambers, in 2010. Droemer needs just 38 rushing yards to hit 1,000 yards for the season.
Hector at FOREMAN (8): Hector RB Ty Day has rushed for 1,248 yards (7.2 ypc) and 16 TDs in a likely all-state senior season. Senior QB Gunner Garrison has accounted for a balanced 1,216 yards and 21 TDs with just two INTs. Senior linebackers Weston Brown and Harrison Taylor lead the Wildcats in tackles. Foreman counters with a huge offensive line and an offense that has clicked the past three weeks with senior ATH Quincy Robinson at QB. Robinson passed for two TDs last week in a 62-8 mauling of Mineral Springs. Senior TB Javon Allen carried 14 times for 127 yards to eclipse 1,000 yards for the season. Senior LB Nathan Gwin recorded two FRs, one INT and two defensive TDs. Watch extended highlights of Foreman's win at Mineral Springs HERE.