Class 5A Week 11 Rankings, Notes & Picks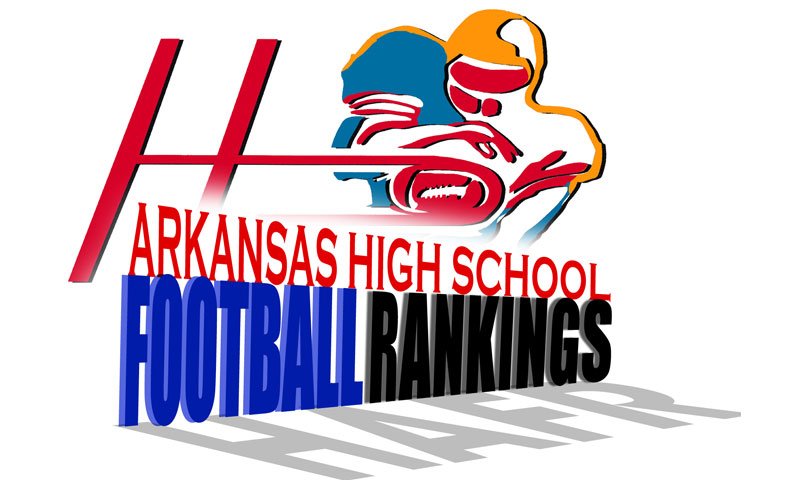 Hootens.com Rankings
Class 5A, Week 11, 2020
Copyright Hooten Publishing, Inc.

1. Pulaski Academy (9-0)
2. Wynne (9-0)
3. Texarkana (5-0)
4. LR Christian (5-3)
5. Maumelle (5-2)
6. Harrison (9-1)
7. White Hall (6-4)
8. Magnolia (6-2)
9. HS Lakeside (6-3)
10. Batesville (7-3)
11. Morrilton (5-4)
12. Watson Chapel (5-4)
13. Camden Fairview (5-4)
14. Greenbrier (6-4)
15. Vilonia (5-4)
16. Valley View (5-4)
17. Greene Co. Tech (6-4)
18. Clarksville (3-6)
19. Brookland (3-6)
20. Nettleton (3-4)
21. Hot Springs (3-4)
22. Farmington (4-5)
23. Alma (2-8)
24. Beebe (2-6)
25. Pea Ridge (1-6)
26. LR Hall (2-8)
27. Hope (1-8)
28. Jacksonville (2-6)
29. Paragould (1-9)
30. Forrest City (1-6)
31. De Queen (0-8)

HOOTENS.COM GAME OF THE WEEK
No. 18 Clarksville at No. 17 Greene Co. Tech
This is the first meeting between these teams. Greene County Tech returns to the playoffs for the first time since 2010, while Clarksville is in for the first time since 2011. Clarksville's season pivoted Week 8 when Pea Ridge canceled and the Panthers were able to schedule Louisiana private school power Calvary Baptist (Shreveport). The Panthers lost 42-21, but "it was the best thing that could've happened to us," Coach Khris Buckner says. 
Clarksville hung with 5A West champion Harrison the following week (trailed 35-20 in the fourth quarter before losing 49-20). The Panthers rallied from a 13-point fourth quarter deficit last week to down Morrilton 20-19. Sophomore Arthur Alvarez paces the Single Wing attack with 166 carries for 1,109 yards (6.7 yards per carry) and 11 TDs. Senior tailback Jaylin Wright has 123 carries for 901 yards (7.3 ypc) and five TDs. Wright went off for 164 yards against Morrilton.
Greene County Tech snapped a two-game losing streak a week ago with a 20-13 double overtime victory over rival Paragould. Senior running back David Williams ran for 169 yards and a TD against Paragould, and has 1,264 yards and 13 TDs this fall. Junior Reece Middleton kicked two field goals in regulation, and QB Christian Barber threw a 190 yard TD pass to Payne Greer for the winning TD in the second overtime. Junior Storm Harris intercepted a pass on the final play to preserve the victory.
Watch extended highlights from earlier the season of GCT's 2-point loss at Vilonia HERE.

LAST WEEK
Hootens.com correctly predicted 11 of 13 games (85 percent) last week. For the season, Hootens.com has predicted 148 of 172 games (86 percent).

WEEK 11 PREDICTIONS (favored team in ALL CAPS)
Top of the Bracket
Pulaski Academy has a bye
Farmington at VALLEY VIEW (7): This is the first meeting between these programs. Farmington lost at Alma last week 8-3. The Cardinals missed a field goal and had a TD negated by penalty. Leading rusher Caden Elsik (975 yards, nine TDs) didn't play against Alma. Valley View lost last week at Batesville 37-16, surrendering 424 yards. Senior running back Jeb Rapert played well the past two games (27 carries, 101 yards and one TD). Junior linebacker Jayden Wells has played well the past month (double-digit tackles against Greene County Tech and Batesville).

Pea Ridge at MAGNOLIA (14): Both teams have been ravaged this fall with cancellations. Pea Ridge lost three games in mid-season due to Covid 19, but has played well since returning. The Blackhawks lost in overtime two weeks ago to Farmington 38-37, and last week to 5A West champion Harrison by 21 points. QB Zak Withrow ran for a TD and threw a 31-yard TD pass against Harrison. "They are the best 1-6 team I've seen," Magnolia coach Mark King says. "They are big and physical up front and have a strong inside running game that will give our undersized defensive line problems." Magnolia missed two games with Covid 19 cancelations. The Panthers have beaten De Queen and Hope the past two weeks by a combined 97-14. Watch extended highlights of Magnolia wins at LR Christian HERE and at Hot Springs HERE.
Brookland at GREENBRIER (8): Brookland's game with Forrest City last week was canceled and has won two of its past three games (beat Valley View 12-7 Week 7 and Paragould 31-7 Week 9). Sophomore Joseph Wright ran for three TDs against Paragould. Greenbrier led Vilonia 17-7 at halftime last week, and held on 17-14. Senior Trey Havens ran for 83 yards and a pair of TDs. He has 1,061 yards and 15 TDs this fall, while sophomore receiver Carter Mcelhany has 22 receptions for 426 yards (21 yards per catch) and four TDs. Versatile Nick Huett paces the Panthers with 67 tackles. Huett also has rushed for 598 yards and 10 TDs.

Wynne has a bye
Nettleton at MAUMELLE (10): Nettleton hasn't played since losing at Greene County Tech 28-21 Week 7, but most players returned from quarantine last Thursday. Sophomore QB Cameron Scarlett ran for 149 yards and two TDs against GCT. He has rushed for 746 yards and 12 TDs and passed for 773 yards and seven TDs this fall, while RB Orion Pugh has rushed for 486 yards and four TDs. Senior end/linebacker Justin Livingston has 50 tackles and two sacks. Maumelle averages 303 yards and 29 points weekly. Senior Dashaire Ford-Burton caught four passes for 70 yards last week against LR Hall. He averages 11 yards per reception and 5 yards per carry this fall. Senior QB Jonathan Reyes threw three TD passes in the first half of last week's 31-point win over LR Hall. 

Hope at MORRILTON (16): Hope has improved the past few weeks, losing to Texarkana by 20 points Week 9, and trailing Magnolia 28-7 at halftime last week before losing 42-7. Senior QB Ammorrion Dempsey has more than 1,200 yards this fall. Morrilton led Clarksville 19-6 in the fourth quarter last week but lost 20-19. All three linebackers and several key pieces on offense were injured. Devil Dog senior RB Jackson Moll ran for a TD in the first half, but was held out in the second half to get ready for a playoff run, coach Cody McNabb says. Sophomore QB Damarius Martin threw a 20-yard TD pass to senior Quincy Clemons.
Alma at TEXARKANA (7): This is the first meeting between these teams. Alma upended Farmington last week 8-3, avoiding its worst regular season in a decade. Senior Trey Fuselier (5-5, 125) intercepted three passes, including one in the end zone with 42 seconds remaining. The Airedales held Farmington to 241 yards on 57 plays. Texarkana plays its sixth game of the season, after last week's game with De Queen was canceled four hours before kickoff. The Razorbacks have played only once (beat Hope 33-13 Week 9) in the past five weeks. Senior Torie Blair ran 28 times for 208 yards and two TDs at Hope. Watch extended highlights from earlier this season of Texarkana's win over HS Lakeside HERE and Camden Fairview HERE.

Bottom of the Bracket
Harrison has a bye
Beebe at CAMDEN FAIRVIEW (10): Beebe has strung together four straight games after having two games canceled in mid-season. The Badgers have been competitive since returning, trailing No. 1 ranked Pulaski Academy 24-14 in the second quarter Week 9 and White Hall 28-14 at halftime last week. They surrendered almost 500 yards, including 357 rushing, in last week's 21-point loss at White Hall. Camden Fairview hasn't played since beat Hope 54-12 Week 8. The Cardinals offense puts up 404 yards weekly. Six players have rushed for more than 200 yards this season, paced by senior Reshard Clardy (76 carries, 576 yards and three TDs). Senior Amari Pace leads the D with 64 tackles and two forced fumbles. Watch extended highlights from earlier this season of Camden Fairview's loss to Watson Chapel HERE and its loss to Texarkana HERE.

Jacksonville at BATESVILLE (21): Batesville's only losses this fall are to Class 6A Searcy and Mountain Home, and No. 2 ranked, undefeated Wynne. Senior QB Eli Livingston passed for 279 yards and two TDs and ran for a TD in last week's 21-point win over Valley View. Jacksonville hasn't played since losing at Beebe 20-14 Week 7. Watch extended highlights from earlier this season of Batesville's loss at Wynne HERE and Jacksonville's win at Hamburg HERE.
Hot Springs at WHITE HALL (12): White Hall junior Zaire Green ran 26 times for 292 yards and four TDs in last week's 42-21 win over Beebe. Junior Rodrico Bowens paced the Bulldogs with 10 tackles, while Braylon Johnson had nine stops. Green has 1,275 yards and 13 TDs this fall, while Bowens has 56 tackles and Johnson has 75 tackles. Senior playmaker Kam Robinson has 42 receptions for 554 yards and seven TDs and he's rushed for four TDs. Robinson has 27 tackles, four interceptions and 28 pass break-ups. Hot Springs has played seven games this fall and the Trojans returned from a two week quarantine a week ago, losing to HS Lakeside 42-7. Junior Isaac Shelor passed for 121 yards and a TD. In the past six quarters, the Trojans have been outscored 77-18.

HS Lakeside has a bye
WATSON CHAPEL (3) at Vilonia: Watson Chapel trailed LR Christian 28-21 at halftime a week ago, before losing 63-28. Senior receiver Damarione Woodson has almost 400 yards and five TDs the past three games. Sophomore QB Jabrae Shaw ran, caught and threw TD passes last week. He has more than 2,000 yards and 31 TDs this fall. Vilonia junior Kannon Bartlett ran 67 yards for a TD last week against Greenbrier, and he's played well the previous week at Morrilton. Six Vilonia games this fall were decided by a TD or less. Watch extended highlights from earlier this season of Vilonia's 2-point win over Greene County Tech HERE and Watson Chapel's win at Camden Fairview HERE.

LR Christian has a bye
Clarksville at GREENE CO. TECH (1): Hootens.com Class 5A Game of the Week.