Class 6A Week 11 Rankings, Notes, Picks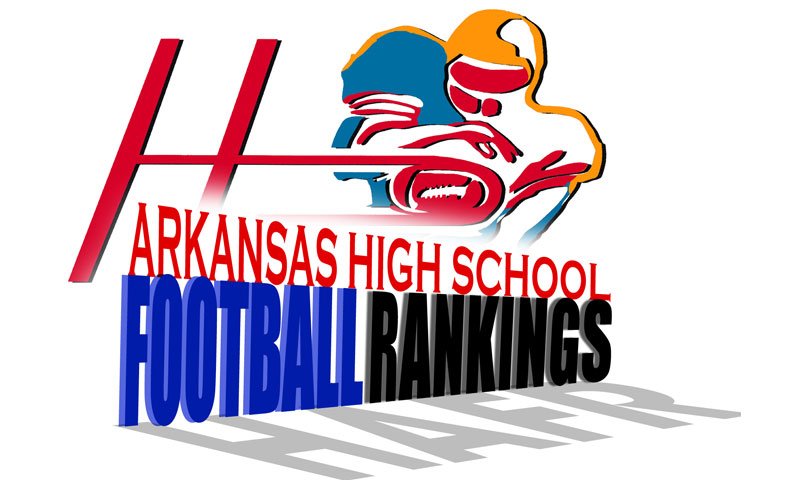 hootens.com Rankings
Class 6A, Week 11, 2020
Copyright Hooten Publishing, Inc.

1. Greenwood (10-0)
2. Lake Hamilton (8-1)
3. Benton (6-4)
4. LR Parkview (7-1)
5. Sylvan Hills (7-3)
6. Jonesboro (6-3)
7. El Dorado (4-4)
8. Mountain Home (5-5)
9. Pine Bluff (4-3)
10. Searcy (4-6)
11. Siloam Springs (4-6)
12. Van Buren (3-7)
13. Marion (2-7)
14. Sheridan (2-8)
15. West Memphis (2-8)
16. Russellville (1-9)

HOOTENS.COM GAME OF THE WEEK
No. 12 Van Buren at No. 6 Jonesboro
Van Buren has competed well the past two weeks with 6A West heavies Greenwood (lost 50-29) and Benton (lost 60-53). The Pointers scored a season-high 53 points last week against Benton. Van Buren was tied 53-53 in the fourth quarter before surrendering the eventual game-winning TD on a fourth down. Senior QB Gary Phillips completed 24 of 42 passes for 474 yards and five TDs, spreading passes to senior Jaiden Henry (six receptions for 212 yards and three scores) and Chi Henry (seven catches for 117 yards and a TD).
Jonesboro intercepted four Marion passes last Thursday, returning three for TDs, in a 42-14 win over Marion. Senior cornerback Brodie Williams intercepted two passes and returned one 72 yards for a score while Braelyn Moore and John Paul Pickens also returned interceptions for TDs. Jonesboro surrendered just 193 yards to Marion. Junior QB Ryker Acebo completed nine of 16 passes for 148 yards and two TDs (8-yard TD pass to Kavon Pointer and a 92-yard TD pass to Connor Clark).

LAST WEEK
hootens.com correctly predicted eight of eight winners (100 percent) in games involving Class 6A teams. Hootens.com correctly predicted 79 of 98 winners (81 percent) in games involving 6A teams this season.

WEEK 11 PREDICTIONS (favored teams in CAPS followed by point spread)
TOP HALF OF BRACKET
West Memphis at GREENWOOD (35): Greenwood whipped West Memphis 45-14 in the 2017 semifinals, the only previous meeting of the schools. West Memphis looks to avoid the first nine-loss season since at least 1956. The Blue Devils surrendered 41 unanswered points in last Thursday's 41-6 loss at El Dorado. West Memphis junior QB Bryson Jenkins fired a 38-yard TD pass to senior Elijah Eulls at El Dorado. Greenwood clinched the 6A West title last week in a 38-28 win at No. 2 Lake Hamilton after trailing 21-10 in the third quarter. The Bulldogs flipped the game by driving for a TD, recovering an onside kick, and forcing two crucial turnovers in the fourth quarter.
MOUNTAIN HOME (1) at Pine Bluff: Pine Bluff beat Mountain Home 48-20 last season. Pine Bluff outgained Sheridan 317-140 in last week's 19-9 road victory. The Zebras, winners of three straight games, got rushing TDs from Braylon Hopkins and Tyrea Campbell against Sheridan. Pine Bluff senior defensive tackle Bradley Clark often dominates for a unit that surrenders just 22 PPG. Mountain Home, arguably Class 6A's top turnaround story, has won five games this season, the Bombers' most since 2011. Mountain Home trailed 31-21 last week early in the fourth quarter, but lost 45-21 at Little Rock Parkview. Sophomore Masen Walker topped the tackle chart with 16 tackles, while seniors Ofa Valdez and Brock Bogy logged 13 stops apiece.

Van Buren at JONESBORO (10): See Hootens.com Game of the Week.
Marion at BENTON (21): CANCELLED Thursday due to quarantining at Benton. Marion beat Benton 42-33 in the first round of the 2011 playoffs, the only previous meeting of these schools. Marion and Jonesboro were tied 7-7 early in the second quarter last week before the Patriots allowed 35 unanswered points in the second quarter of a 42-14 defeat. A pair of Marion interceptions in the end zone were returned by Jonesboro for TDs. Benton looks to patch a defense that has allowed 40 points or more five times this season (surrenders 30.2 PPG). Benton allows almost 49 PPG the last three weeks. Watch extended highlights from earlier this season of Benton's losses to Bryant HERE and LR Catholic HERE and Marion's loss at Joe T. Robinson HERE.

BOTTOM HALF OF BRACKET
Russellville at SYLVAN HILLS (27): Sylvan Hills beat Russellville 31-29 in the first round of the 2018 playoffs. Russellville led Siloam Springs 28-7 last week in the first quarter, but lost 50-47. The Cyclones rolled up 431 yards against Siloam Springs and did not commit a turnover. Russellville senior QB Brayden Whitford has passed for 2,374 yards and 17 TDs this season and his top target is classmate Brady Burnett (69 receptions for 761 yards and five scores). Sylvan Hills clinched its first conference title since 2004 with last week's 41-7 victory over Searcy. Sylvan Hills ran for 321 yards against Searcy with senior slotback Taevion Cunningham bolting for 148 yards and two TDs. Watch extended highlights of Sylvan Hills' win over Searcy HERE.
Searcy at LR PARKVIEW (30): Searcy has lost four straight games where opponents have outscored it by a combined 175-92, including a 41-7 loss a week ago at 6A East champion Sylvan Hills. Searcy managed just 178 yards at Sylvan Hills and trailed 41-0 in the third quarter. Junior Reid Miles ran five times for 77 yards and a TD. Watch extended highlights of Searcy at Sylvan Hills HERE. LR Parkview mauled Mountain Home 45-21 last Friday night after leading 24-7 in the third quarter. Senior QB Landon Rogers ran for 195 yards and passed for 190 yards, while junior tailback James Jointer totaled 173 yards and three scores against Mountain Home. Watch extended highlights from earlier this season of LR Parkview's win at White Hall HERE and Searcy's loss at Cabot HERE.

Sheridan at LAKE HAMILTON (28): Lake Hamilton has won four straight in this series since Sheridan dealt the Wolves a 35-28 loss in 2015. Sheridan junior QB Konnor Canterbury ran 13 yards for a TD and Brodie McElroy booted a 38-yard field goal in last week's 19-9 loss to Pine Bluff. Lake Hamilton fashioned a 21-10 third-quarter lead last week against Greenwood, but committed a pair of costly fourth-quarter fumbles in a 10-point defeat. Lake Hamilton ran for 332 yards against Greenwood and junior Grant Bearden completed four of seven passes for 103 yards and two scores. Junior Tevin Woodley ran for 195 yards and a TD while classmate Owen Miller ran for 108 yards. Watch extended highlights from earlier this season of Sheridan's loss to White Hall HERE and Lake Hamilton's win at HS Lakeside HERE.
Siloam Springs at EL DORADO (17): Siloam Springs snapped a five-game losing streak in last week's 50-47 win at Russellville. Siloam took its first lead with 41 seconds remaining in regulation on Jeff Phizema's 7-yard TD run. Siloam outgained Russellville 527-431. El Dorado has won four of its last five outings, including a 41-6 victory last week over West Memphis. The Wildcats eclipsed 400 yards against West Memphis, led by senior QB Eli Shepherd's 117 yards and junior athlete Sharmon Rester's 103 yards passing. Sophomore Deandra Burns, Jr., an Arkansas commit, caught 10 passes for 140 yards and two TDs.