Class 7A Week 11 Rankings, Notes & Picks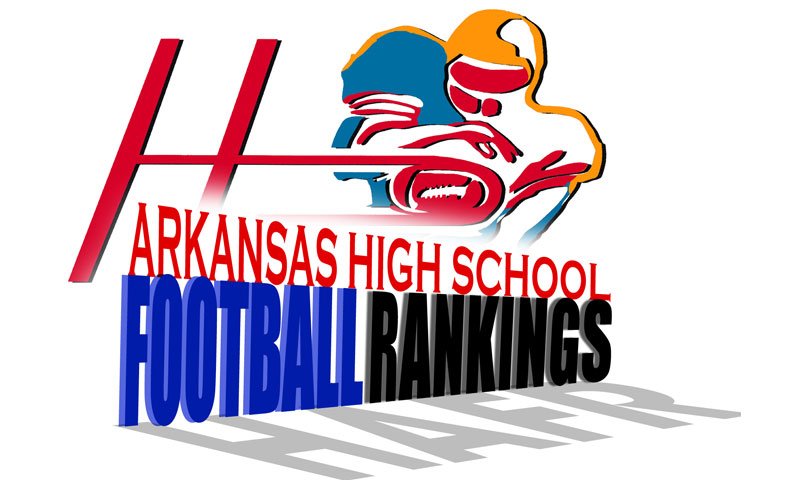 Hooten's Arkansas Football Rankings
Class 7A, Week 11, 2020
Copyright Hooten Publishing, Inc.

1. Bryant (9-0)
2. Bentonville (10-0)
3. North Little Rock (8-1)
4. Conway (6-3)
5. Cabot (6-3)
6. Rogers (6-2)
7. FS Northside (5-4)
8. Bentonville West (6-4)
9. LR Catholic (4-6)
10. Fayetteville (4-5)
11. Har-Ber (4-6)
12. Springdale (3-7)
13. FS Southside (2-8)
14. LR Central (2-4)
15. LR Southwest (0-7)
16. Heritage (1-9)

GAME OF THE WEEK
No. 9 LR Catholic at No. 8 Bentonville West.
CANCELED. West forfeited Thursday morning due to Covid concerns.
LR Catholic won at both 6A East champion Sylvan Hills and at Class 6A No. 3 Benton in September and is the only 7A Central member No. 1 Bryant did not mercy rule. The Rockets also won two of their final three regular-season games, topping LR Southwest (20-6) and LR Central (30-7).
West losses include at Oklahoma power Broken Arrow 50-23, at Class 6A No. 1 Greenwood 35-28 and last Friday at No. 2 Bentonville 44-7. West led Bentonville 7-3 early before surrendering 41 unanswered points starting with a 96-yard kick return. Bentonville, averaging 210 yards passing per game before last week, torched West with 307 yards through the air, including 19-, 12- and 42-yard touchdowns.
West's solid defensive line must apply QB pressure or its its young secondary will struggle against LR Catholic's hard-to-handle receivers. Catholic completed 15 of 22 tosses for 192 yards last week at LR Central.
Watch extended highlights of LR Catholic's win last week over LR Central HERE.

LAST WEEK
hootens.com correctly predicted seven of eight winners in games involving Class 7A teams. For the season, hootens.com is 78-13 (86 percent) in Class 7A.

WEEK 11 PREDICTIONS (favored team in CAPS)
Top Half of Bracket
Heritage at BRYANT (40): Bryant coach Buck James pulled starters in the first quarter of blowout wins in the past. Hornet freshmen could gain valuable varsity playoff experience Friday. Heritage scored its highest points total of the season last week, losing to rival Rogers 49-28. Heritage last beat a team from Arkansas in 2017. Watch extended highlights from earlier this season of Bryant's wins over FS Northside HERE and Benton HERE.
FS Northside at HAR-BER (1): Har-Ber enters postseason after back-to-back, one-score losses while Northside beat winless LR Southwest 45-0 last Friday to end a three-game losing streak. Har-Ber rushes for 209 of its 363 yards weekly with sophomore RB Hudson Brewer (6-2, 190) gaining 131.8 steps. Northside won at Fayetteville 33-30 in early October. Har-Ber lost at Fayetteville 33-27 last Friday. Watch extended highlights from earlier this season of FS Northside's loss at Bryant HERE.
LR Central at FAYETTEVILLE (8): LR Central missed four weeks of the regular season before returning Week 9 to slip by winless LR Southwest 20-12. The Tigers lost last Friday to LR Catholic 30-7. Fayetteville has won three in a row and four of its past five after starting the season 0-4. Look for the Purple Dogs, who pass for 219 of their 356 yards weekly, to test LR Central's shaky secondary. Watch extended highlights from earlier this season of Fayetteville's loss at North LR HERE and LR Central's losses to LR Christian HERE and LR Central HERE.
Springdale at CONWAY (35): Springdale played 10 regular-season games, beating No. 16 Heritage 34-0 Week 4 and No. 13 FS Southside 28-23 last Friday to earn the No. 6 seed in the West. Conway's losses are to Class 7A's Top 3 ranked teams. No. 1 Bryant crushed Conway 70-33 last Friday but didn't apply the 35-point lead mercy rule until the fourth quarter. Watch extended highlights from earlier this season of Conway's loss to Bentonville HERE.
Bottom Half of Bracket
Bentonville has a bye.
Rogers at CABOT (13): Cabot totals 392 yards offense (255 passing) and 29.9 points weekly. Cabot lost to the 7A Central's top three teams over the past four weeks, including last Friday at North LR 48-31. Cabot was without several starters in a 42-14 defeat at Bryant a week after losing a wild one to Conway 52-49. Rogers has played lesser competition, including last week's 49-28 victory over No. 16 Heritage and non-conference wins over two out-of-state teams with a combined 1-17 record. The Mounties marquee win was Week 9 over Har-Ber 49-42. Rogers' Mike Loyd plans to retire in May after coaching 34 years in four states. Watch extended highlights of Cabot's season-opening win over Searcy HERE.
FS Southside at NORTH LR (35): North LR aims for its fifth straight championship game appearance. FS Southside's two wins came against Class 7A No. 16 Heritage (26-7) and Class 6A No. 16 Russellville (21-17). The Mavericks scored their third-highest points total of the season last Friday, losing to Springdale 28-23. Watch extended highlights from earlier this season of North LR's win over Fayetteville HERE.
LR CATHOLIC (1) at Bentonville West: West forfeited Thursday morning due to Covid concerns. See Class 7A Game of the Week.