HOGS: Transfer portal mixer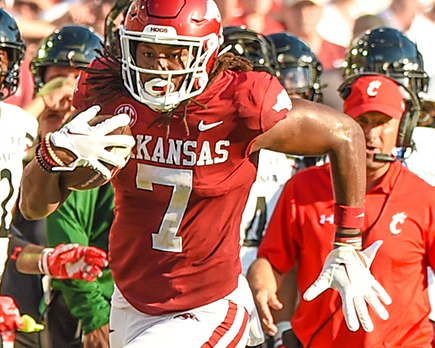 FAYETTEVILLE — Arkansas and LSU are not only battling for possession of the 175-pound Golden Boot Trophy on Saturday at Reynolds Razorback Stadium, but there are personal feelings on the line for the Razorbacks and Tigers.

Former Arkansas defensive backs Greg Brooks Jr. (5-10, 187; Harvey, La.) and Joe Foucha (5-11, 208; New Orleans) entered the transfer portal after the season ended and joined the Tigers in time for spring practice.

The Razorbacks didn't stand by idly, as former Tigers Landon Jackson and  Dwight McGlothern transferred to Arkansas from LSU following the firing of former LSU Coach Ed Orgeron.

Brooks has contributed 39 tackles, 3 TFL, 1 forced fumble, 4 pass breakups and 1 interception in 9 games, while Fouche has 20 tackles, along with 1 forced fumble, 3 pass breakups and 1 interception in 5 games.

Jackson (20 tackles, 2.5 sacks, 1 FF) and McGlothern (30 tackles, 3 interceptions, 1 FF) have helped the pain of losing Brooks and Foucha.

Senior safety Simeon Blair said it was not easy to see Brooks and Foucha leave.

"It hurt me because I had been there with those guys for around 3 to 4 years, which was almost my entire time in college," Blair said. "There were times when I didn't want them to leave because those were my guys and we built bonds."

Blair says he understands their decision.

"Louisiana is where they're from, so it could've been a dream of theirs to go back and play for their home state," Blair said. "I feel like they made the best decision for themselves, and I can't fault them for that because they're still my brothers."

Tight end Trey Knox (Craven Whitlow photo) was in the same recruiting class as Brooks.

"It's going to be weird seeing them in another uniform," Knox says. "But it's going to be fun competing against those guys and trying to make a play on a guy that you know."

Arkansas defensive linemen Isaiah Nichols says he knows these players will be playing with extra motivation.

"I think for all four of those guys, when you switch to a different team, for whatever reason, you want to show that this was the best decision for me,"  Nichols says. "You're going to go play the hardest game you can just to prove to everybody that you made the right decision and maybe even prove it to yourself."

BRINGING THE ENERGY

Arkansas Coach Sam Pittman said he could see the Razorbacks were not sharp leading up to last Saturday's 21-19 loss to Liberty.
"I thought we had pretty good practices up until Thursday," Pittman said. "We made some mistakes during Friday's walk-through that weren't typical. I was concerned about where we were mentally, but I certainly thought that we'd have a good game plan and come out and play hard, but we didn't."

No. 7 LSU (7-2, 5-1) appears to have the attention of the Razorbacks (5-4, 2-3).

 "You can't go out there on Saturday and be excited for the game if you haven't done the proper preparation during the week," Blair said. "Preparation gives you the confidence to play on Saturday. The only way we can fix our energy issues is if we go and prepare way more than we did last week. We can't keep doing the same things and expect a different outcome."

Pittman said that with team leaders KJ Jefferson and Bumper Pool playing hurt, he would like to see them regain their confidence as leaders, and more important, have other players step up.

"We got to be able to bring our own juice," said Knox, who caught 2 TD catches last week and has 19 catches for 233 yards and 5 TDs on the season. "I think we do a lot of waiting at times, waiting on someone to make a big play that gives us energy, when we need to be juice boxes ourselves on the sideline and before the game."

PREPARING FOR LSU RECEIVERS
 LSU quarterback Jadon Daniels has emerged as one of the top quarterbacks in the SEC this season (1,994 pass yds, 14 TDs, 1 INT), but he is not the only Tiger that must be held down.

Five LSU receivers have caught 20 or more passes, led by WR Malik Nabers (42-504 receiving, 1 TD).  Kayshon Boutte (34-339, 1 TD), Jaray Jenkins (20-288, 5 TDs), and Brian Thomas Jr. (20-280 3 TDs) have all helped in an LSU pass game that ranks fifth in the SEC (257.4 ypg).

"They have a lot of speed and are also strong in the legs," Blair said. "We're going to have to make sure that we cover, make sure we stay glued to them, especially when [Jadon] Daniels starts to roll outside."

The Hogs rank 11th of 12 SEC teams in pass defense, yielding 302.1 yards per game, and they will play without safety Myles Slusher, who is suspended for the game following an arrest on Sunday.