HOGS covet the Golden Boot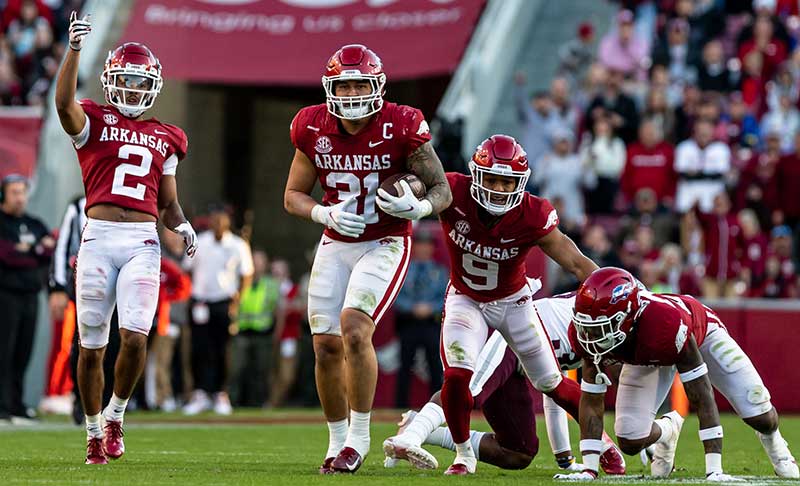 FAYETTEVILLE - What these current Razorbacks know most about the Golden Boot is they've never had it.
The huge Golden Boot Trophy resides either at the University of Arkansas or Louisiana State University, pending on whether the Arkansas' Razorbacks or LSU's Tigers win their annual SEC West football game.
Arkansas last beat LSU in 2014. So, the trophy has stayed since 2015 in Baton Rouge where the Razorbacks, a bowl eligible 6-3 overall and 2-3 in the SEC, and the Tigers, 2019 national champions but this season 4-5, 2-4, play Saturday night.
Kickoff is set for 6:30 p.m. at Tiger Stadium, more often called Death Valley, and the SEC Network plans to televise the game.
Arkansas' offensive line coach from 2013-2015 for Bret Bielema, second-year UA head coach Sam Pittman remembers well the immediate postgame excitement that frigid 2014 night in Fayetteville when they dashed to retrieve The Boot.
"We've had to show the team what the trophy looks like because we've never seen it," Pittman said. "We'd like to have it. I'm sure LSU would like to keep it, but we'd like to have it, too."
ORGERON LOVES BOOT
Departing at season's end, LSU coach Ed Orgeron, still enormously strong like his 1980s days as an Arkansas strength coach on Coach Ken Hatfield's staff, was jokingly asked if he had hoisted the enormous Boot.
"You're funny, man," Orgeron said, laughing. "No, no. But I'll tell you, we love that boot trophy. We'd love for it to stay right here in Louisiana."
BETTER BOWL
The Boot becomes all the bigger to Arkansas, junior tight end Trey Knox says. It's bigger because the Hogs have vowed to make a November run that started with Saturday's 31-28 SEC victory over then College Football Playoff Committee 17th-ranked Mississippi State. They face LSU  Saturday night, then travel Nov. 20 to No. 2 Alabama and Nov. 26 play host to Missouri.
The Hogs start their run at No. 25 in the CFP rankings.
"Very big," Knox said of Saturday's stakes. "Just knowing we can compete with these boys, and we can get the Boot back and bring it back home. It's a big game just to keep this run going and try to get to a better bowl."
HIGH ON BYE
After eight games in eight weeks, the bye week Arkansas had between its 45-3 non-conference victory over Arkansas-Pine Bluff in Little Rock and last week's victory over Mississippi State, helped several Hogs, including defensive end Trey Williams.
Starring early in the season when earning SEC Defensive Player of the Week honors for his two sacks/three quarterback hurries performance in the 20-10 win over Texas A&M. Williams was getting banged up and gradually less effective in October.
Against Mississippi State, he was back in form with four tackles, two of them sacks, and a QB hurry.
"I think he was healthy last week, and he's healthy today," Pittman said Wednesday. "He's our best pass rusher, and he's just got to find a way to get the quarterback, which I'm very confident in him."