HOGS ranked, respect 4-5 LSU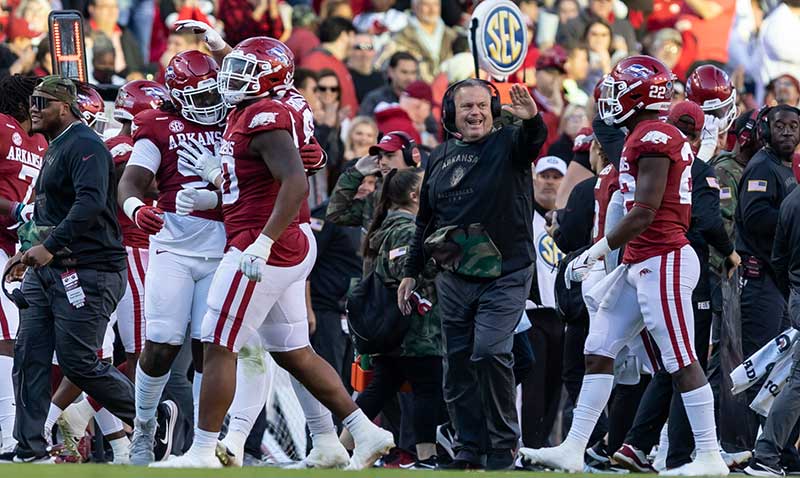 FAYETTEVILLE - Sam Pittman got his wish for his Razorbacks after defeating Mississippi State,  then 17th-ranked by the College Football Playoff Committee.
The Razorbacks (6-3 overall, 2-3 in the SEC), were unranked in last week's first CFP poll but enter Saturday night's game at LSU in the CFP Top 25 at No. 25.
The Razorbacks remain unranked in the AP and Coaches polls though they ranked as high as No. 8 in AP with a 4-0 start before three consecutive SEC losses to current No. 1 Georgia, No. 12 Ole Miss and No. 15 Auburn.
Pittman (in Tommy Land photo TOP) said Saturday the Razorbacks deserve to be included in the next CFP Top 25 after Arkansas' 31-28 victory over "a good Mississippi State team."
Now it's wondered if the Hogs, their last winning season going 7-6 in 2016, will be content just being ranked going into Saturday's 6:30 p.m. SEC Network televised at LSU. The Tigers, the 2019 national champions, are 4-5, 2-4 this season and will part ways with national championship Coach Ed Orgeron at season's end.
"Obviously any time that (a national ranking to a rebuilding program) happens, you start worrying about, 'Well, they're going to look at that and not concentrate on practice' and all this," Pittman said. "I'm a little bit different in that with our program being down for a few years, and with us getting in the Top 25 after Week 9, that's a mark for our program. We know it's hard to stay there. But I know us and my staff, we were excited to be in the Top 25 after nine weeks."
Asked again about handling success, Pittman said it shouldn't be hard at all considering the remaining games are at LSU (winner of five straight over Arkansas), at No. 2 Alabama (winner of 14 straight vs. Arkansas) and  at home against Missouri (6-1 against Arkansas since their meetings commenced in 2014).
"Not hard because you're playing LSU," Pittman said.  "And then you have Alabama after that and Missouri. I mean, it (not resting on laurels) doesn't seem to be too hard."
Also Pittman said the Hogs dealt with success well when ranked No. 8 earlier this season.
"You might say, 'Well, we were eighth in the country at one point, and then we lost at Georgia and Ole Miss and Auburn," Pittman said. "Well, we lost to three really good football teams, now. We've beaten some really good football teams. But the losses everybody who's played Georgia's lost to them. And most everybody that's played Ole Miss, so it's not like we lost to a team that wasn't a good football team. I think we were prepared in each one of those games, and the other team just got us at that point."
Last week in Tuscaloosa, Ala., LSU played Alabama to the wire before losing 20-14. 
"LSU's a really good team," Pittman said. "And so the rankings and where we are, I don't think that has anything to do with the mindset of our football team going to play LSU because we have high, high, high respect for LSU."