Class 2A Week 11 Rankings, Notes & Picks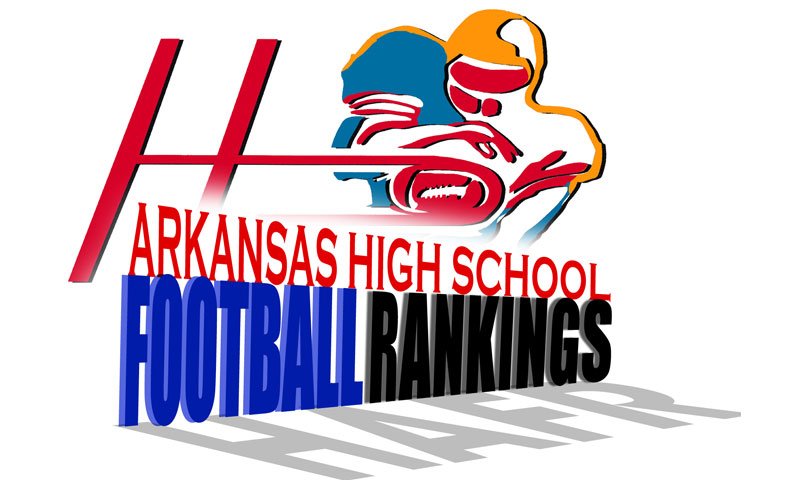 Hootens.com Rankings
Class 2A, Week 11, 2019
Copyright Hooten Publishing, Inc.

1. Junction City (8-1)
2. Fordyce (8-2)
3. Foreman (10-0)
4. Gurdon (8-2)
5. Des Arc (8-2)
6. Magnet Cove (9-1)
7. Salem (9-1)
8. Hazen (8-1)
9. McCrory (7-2)
10. E. Poinsett County (6-3)
11. Parkers Chapel (6-4)
12. Carlisle (7-3)
13. Magazine (7-1)
14. Hackett (8-2)
15. Dierks (6-4)
16. Mountain Pine (6-4)
17. Murfreesboro (6-4)
18. Earle (5-4)
19. Cutter M Star (6-4)
20. England (5-5)
21. Mountainburg (5-4)
22. Rector (6-4)
23. Poyen (7-3)
24. Clarendon (3-7)
25. Hampton (4-6)
26. Hector (3-5)
27. Mineral Springs (4-5)
28. Conway Christian (3-7)
29. Quitman (4-6)
30. Mount Ida (2-8)
31. Marked Tree (2-7)
32. Bearden (2-8)
33. Marvell (2-7)
34. Lavaca (1-8)
35. Strong (1-9)
36. Bigelow (0-10)
37. Cross County (1-8)
38. JC Westside (1-9)
39. Lafayette County (1-9)
40. Marianna (0-10)
41. Midland (0-9)
42. Spring Hill (0-10)

GAME OF THE WEEK
No. 15 Dierks at No. 14 Hackett
One of the more intriguing first-round matchups. Could be a shootout. Dierks (7-2A fourth seed) faced a serious Spread attack last week at Murfreesboro and could not slow down Murfreesboro freshman QB Sloan Perrin. Perrin accounted for 407 yards and seven TDs in the 50-42 win over Dierks. Hackett (4-2A second seed) poses similar challenges with junior QB Avery Hester (481 rushing yards, 10 TDs; 1,396 passing yards, 15 TDs), his pass-catching sophomore brother Peyton Hester, junior slotback Fischer Shipman and junior RB Weston Winters (100-plus rushing yards the past four games). Dierks boasts skill players of its own in senior QB Chandler Lowrey, junior RBs Austin Hanson and Andrew Kirby and sophomore RB Konnor Shelton. Those four combined for 297 of Dierks' 329 rushing yards last week at Murfreesboro. Dierks attempted just three passes without a completion, but the Outlaws converted eight of 13 times on third down. Dierks is 1-4 this year n the road.

LAST WEEK
Hootens.com correctly picked 17 of 20 (85 percent) games involving Class 2A teams. Hootens.com has picked 207 of 246 (84 percent) this season. 
WEEK 11 PLAYOFF PREDICTIONS (favored team in CAPS followed by point spread)
TOP OF BRACKET
JUNCTION CITY has bye.
Hector at E. POINSETT COUNTY (33): 4-2A fourth seed Hector posted one win over a playoff team (20-13 vs. Lavaca) from the 4-2A. Hector junior QB Gunner Garrison has passed for 1,198 yards and 15 TDs and rushed for another 273 yards and two TDs. EPC, the 3-2A third seed, counters with junior QB Preston Rains (1,683 passing yards with 19 TDs, five INTs), senior RB Rayshon Gates (858 rushing yards, 11 TDs) and 12 defenders with double-digit tackle totals.    
Bearden at DES ARC (42): 6-2A champion Des Arc has not been challenged since consecutive losses in September to Class 4A Bauxite and 3-2A runner-up McCrory. Des Arc swept the 6-2A, outscoring league opponents 300-62. Bearden beat Strong 34-6 to grab the the fifth playoff seed from the 8-2A.
Mountainburg at MURFREESBORO (8): Murfreesboro claimed the 7-2A third seed last week by winning a 50-42 shootout over Dierks. Murfreesboro freshman QB Sloan Perrin ran 14 yards for the winning TD with 53 seconds left. Perrin rushed for 229 yards and four TDs and completed 14 of 22 passes for 178 yards and three TDs without an interception. Among 4-2A teams, Hackett might most resemble Murfreesboro, and Hackett beat Mountainburg 46-32 Week 8. Mountainburg handled Hector 44-23 last week to grab the third seed from the 4-2A. Senior Malachi West paces Mountainburg with 1,200 rushing yards and 14 TDs.   
Clarendon at MAGNET COVE (10): Magnet Cove junior RB Landon Stone ran 26 times last week for 206 and two TDs in a 38-20 win at Cutter Morning Star. MC led 31-7 in the third quarter in its best performance in a month. Stone has rushed for 2,031 yards (11 YPC) and 22 TDs this fall. Freshman RB Julius McClellan provided depth and more speed in the secondary, while junior DT Lucas Smeltzer collected seven tackles, including two TFL. Clarendon counters with sophomore QB Kaleb Williams (406 rushing yards, eight TDs) and sophomore ATH Quincey McAdoo (823 yards, 11 TDs), McAdoo, the most dynamic playmaker MC will face so far, has recorded a team-high 92 tackles and three INTs, followed by seniors Lakeylon Stewart (71 tackles) and Kobe Cotton (66) and junior Terance Jefferson (61).
Cutter M Star at MCCRORY (22): McCrory shut out Rector 26-0 last week with senior RB Daquan Hall running for 185 yards and two TDs, while the defense kept Rector out of the red zone most of  the night. CMS gave up 388 rushing yards in a 38-20 loss to Magnet Cove. CMS junior QB Sam Moore completed five of 15 passes for 111 yards and no TDs with an interception.
Rector at GURDON (36): Fourth-ranked Gurdon managed 248 yards last week in a 16-11 loss to No. 3 Foreman in the 7-2A title game. Gurdon junior RB Jameson Threadgill, maybe the fastest 'back in Class 2A, ran 24 times for 143 yards. Rector counters with senior and 1,300-yard rusher Max Ford.
Dierks at HACKETT (3): See Game of the Week

BOTTOM OF BRACKET
SALEM has a bye.
Poyen at PARKERS CHAPEL (19): PC defense offered little resistance last week at Junction City, trailing top-ranked Dragons 56-0 at halftime in a 64-0 loss. JC's Jakiron Cook ran through tacklers for 127 yards and three TDs on eight carries in the first half, when JC senior QB Brady Hutcheson completed all five of his passes for 129 yards and three TDs. Poyen junior QB/S Jaxson Carter left a 50-21 loss to England on the first series with a foot injury, and junior RB/LB Brandon Sanchez did not play at all. 
Marked Tree at FOREMAN (45): Third-ranked Foreman's defense allows 6.4 ppg, best in the state for all classifications. The Gators chomped down on Gurdon 16-11 last week, holding the Go-Devils to under 250 yards while recording 10 TFL. Junior DE Chris Haywood posted 11 tackles, five TFL, a sack and a forced fumble, while classmate Keontae Oglesby recored 13 tackles. The 3-2A fifth seed, Marked Tree, downed winless Midland 36-18.
England at CARLISLE (6): Carlisle (6-2A third seed) ran for 553 of its 569 yards last week in a 64-46 win at Earle, a game it led by 30-plus points most of the second half. England (5-2A third seed) pelted Poyen 50-21 with senior QB Mason Brazeal completing seven of 11 passes for 206 yards and three TDs, while rushing for a team-high 62 yards and a TD. Juniors Darren McClitinon and Qorderius Newton caught a TD pass apiece of more than 60 yards. England shifts next year to the 6-2A. 
Mineral Springs at MAGAZINE (9): Neither team played last week. Mineral Springs received a forfeit from Spring Hill, and Magazine was open. Common opponent is Mount Ida. Magazine defeated Mount Ida 39-14 Week 2; Mineral Springs beat Mount Ida 58-38 Week 4. Mineral Springs owns the most team speed Magazine has seen since traveling to Foreman in the second round of the 2018 playoffs. MS junior QB Terrell Fricks and senior TB La'Darrius Hicks are big-play threats. Magazine counters with a run-first attack, featuring juniors Tatum Scott and Kobe Vaughn and senior Caleb Hyatt (2,978 career rushing yards). This year, Hyatt has averaged 114 yards per game and 8.2 yard per carry. Hyatt and Vaughn lead the Rattlers in tackles.
Lavaca at FORDYCE (49): A Class 3A team finally beat No. 2 Fordyce. A week ago, Class 3A No. 7 McGehee fielded its original offensive line for the second week in a row while forcing three turnovers to run past Fordyce 27-24. Lavaca, the fifth seed from the 4-2A, managed three first downs and 57 yards last week in a 38-0 loss at Hampton. Fordyce hammered Hampton 44-6 two weeks ago. Lavaca bumps back up to Class 3A next year with better numbers, including 14 sophomores off a 9-0 junior high team.
Hampton at HAZEN (17): No. 8 Hazen has won four straight since being blugeoned 38-8 Week 5 at Des Arc, crushing Earle, Marianna, and Marvell by a combined 144-0. A week ago, Hazen ran for 192  yards in a mercy-ruled shortened 74-0 win over Marvell. Hampton counters with a balanced rushing attack, featuring juniors Cymeon McRae and Jamario Strong and senior Bryce Nutt (166 yards last week vs. Lavaca). Hampton's junior high team (4-4 this fall) improved weekly.  
Earle at MOUNTAIN PINE (1): Without starting linebacker and team leader Steve Smith, 6-2A fourth seed Earle has allowed 164 points over the past three weeks in losses to No. 5 Des Arc, No. 8 Hazen and No. 14 Carlisle. Earle crowded the line of scrimmage last week in a 64-46 loss to Carlisle and still allowed 553 rushing yards. Earle senior behemoth Jaylon Coopwood (6-2, 300) played QB, completing five of 15 passes for 97 yards and a TD with two INTs. Mountain Pine counters with senior QB Collin Smith who has rushed for 2,192 yards (9.1 YPC) and 31 TDs this fall. Senior Hayden Barnes and junior Josiah Walpole pace a scrappy defense with 90 and 80 tackles, respectively. Earle shifts back to the 3-2A next year.