Class 3A Week 11 Rankings, Notes & Picks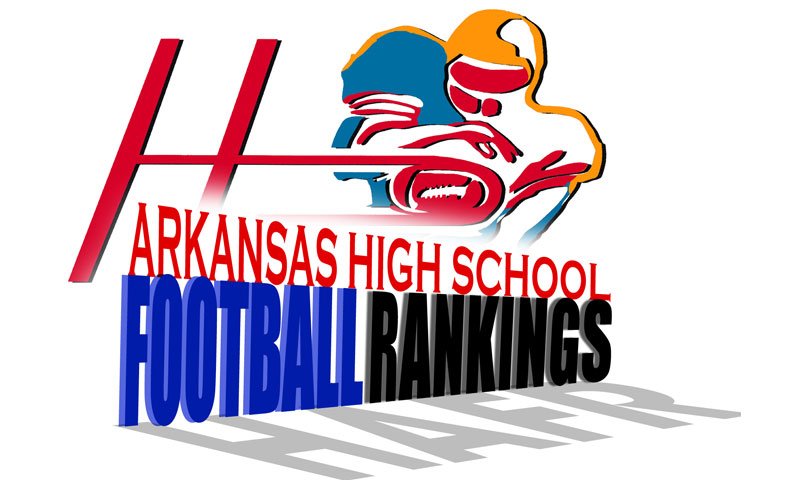 Hootens.com Rankings
Class 3A, Week 11, 2019
Copyright Hooten Publishing, Inc.

1. Rison (9-1)
2. Prescott (8-2)
3. Osceola (9-1)
4. C. Harmony Grove (8-2)
5. Harding Academy (10-0)
6. Booneville (8-2)
7. McGehee (9-1)
8. Glen Rose (8-2)
9. Newport (8-2)
10. Hoxie (8-2)
11. Clinton (9-1)
12. Centerpoint (8-2)
13. Atkins (8-2)
14. Harrisburg (7-3)
15. Jessieville (8-2)
16. Dollarway (5-5)
17. Lamar (8-2)
18. Smackover (5-5)
19. Mansfield (7-3)
20. Melbourne (8-2)
21. Perryville (6-4)
22. Greenland (6-4)
23. Walnut Ridge (6-4)
24. Drew Central (6-4)
25. Charleston (4-6)
26. Lake Village (4-5)
27. Cedarville (6-4)
28. Baptist Prep (3-7)
29. Mountain View (5-5)
30. Danville (4-6)
31. Genoa Central (5-5)
32. Fouke (4-6)
33. Barton (3-7)
34. Bismarck (3-7)
35. Mayflower (2-8)
36. Piggott (2-8)
37. Corning (2-8)
38. Yellville-Summit (2-8)
39. Paris (3-7)
40. Marshall (2-7)
41. Rose Bud (2-8)
42. Two Rivers (1-9)
43. Manila (2-8)
44. West Fork (0-10)
45. Palestine-Wheatley (0-9)
46. Cedar Ridge (1-9)
47. Horatio (0-10)

HOOTENS.COM GAME OF THE WEEK
No. 14 Harrisburg at No. 13 Atkins
Winner hosts the victor of the Perryville-McGehee game. Harrisburg (7-10 playoff record) returns to the playoffs for the first time since 2011. Harrisburg's seven wins this season are its most since 2010, but "we aren't satisfied with just getting in (the playoffs)," third-year coach Aaron Thornton says. "We want to continue to play good football like we have most of the year." Harrisburg's top passer (Samuel Moore, top two rushers (James Pender and Jacob Wallace) and leading tackler (Colby Summers) are all sophomores. The Hornets own ample size on the offensive line against a smaller Atkins front. 
Atkins will try to pass the ball with senior QB Eli Roberson (completes 62 percent of his passes for 2,675 yards and 36 TDs and just eight interceptions). Roberson broke the school's career TD passing record in last week's 42-20 win at Two Rivers. Juniors Trenton Casto (36 receptions for 647 yards and seven TDs) and Kreed Stubbs (team-high 48 receptions for 979 yards and 19 TDs) make plays at receiver. Junior Michael Dunagan has intercepted seven passes this season. Seniors Rylee Bowden (70 tackles in 2019) and Dylan Felton (67 stops) pace the Atkins defense.

LAST WEEK
Hootens.com correctly predicted 21 of 24 (88 percent) games involving Class 3A schools a week ago. For the season, Hootens.com has correctly predicted 248 of 296 (84 percent) of games involving Class 3A schools.

WEEK 11 PREDICTIONS (favored team in CAPS followed by point spread)
TOP OF THE BRACKET
BOONEVILLE has a first-round bye and hosts the winner of the Drew Central-Hoxie contest. 
Drew Central at HOXIE (14): Winner plays at Booneville in the second round. Drew Central is in the playoffs for the first time since bringing back varsity football in 2008. The Pirates were picked seventh by league coaches in this year's Hooten's Arkansas Football magazine, and Drew Central's six wins are the most since 2008 and are more than the previous eight seasons combined. Hoxie rolls into the playoffs behind a seasoned offensive line and explosive junior brothers Daylon (2,000 total yards and 30 TDs) and Shunderrick (1,300 yards and 18 scores) Powell. Senior Seth Morse is the top tackler for a defensive unit that allows just 20 PPG during its five-game winning streak.
Charleston at PRESCOTT (28): Winner hosts the winner of the Dollarway-Jessieville contest. This is a rematch of the 2016 Class 3A title game, won 37-26 by Prescott. Charleston's (60-31 playoff record) 28-21 loss last week at Lamar cost the Tigers four playoff positions. The Tigers likely return their leading rusher (junior Breckon Ketter), and three junior receivers who have combined for more than 60 receptions and 900 yards (Dalton Curtis, Ketter and Kaleb Hamby) in 2020. Prescott (67-24 playoff record) enters the postseason on an eight-game winning streak where it outscores its opponents 53-20 weekly. Prescott senior Derriun Thompson makes plays at running back, receiver and at safety. Watch highlights of Prescott's Week 9 blowout win over C. Harmony Grove HERE.
Dollarway at JESSIEVILLE (10): Winner plays at Charleston-Prescott victor in the second round. Dollarway (57-29 playoff record) trailed Rison just 22-8 a week ago at halftime, but surrendered 32 unanswered points in a 44-8 defeat. League coaches picked the Cardinals fifth in the 6-3A in this year's Hooten's Arkansas Football magazine, but Dollarway finished third with non-conference losses to Class 5A McClellan, Forrest City and Class 4A Warren. League rivals Rison and McGehee beat Dollarway, but those schools finish the regular season a combined 18-2. Jessieville returns to the playoffs for the first time since 2016. The Lions' eight wins are their most since 2011. Jessieville seeks its first playoff win since 2011 (28-14 at Atkins). Jessieville logs 414 balanced (215 passing and 199 rushing) yards per game, led by sophomore all-league QB Carson Hair's 280 yards per week. 
Genoa Central at HARDING ACADEMY (30): Winner hosts the winner of the Yellville Summit-Newport tilt. Genoa established a new school record for wins this season (five) and qualified for the playoffs for the first time in school history (launched varsity football in 2010). Genoa likely returns its leading passer (junior Drew Mason), three 300-yard rushers and its top four receivers in 2020. Sophomore Trent Bearden (team-high 60 tackles) is also an underclassman. Harding Academy (63-29 playoff record) completed a 10-0 regular season and allowed just 12 points over its last five games. Harding is the top scoring offense in Class 3A (50.2 PPG). 
Yellville-Summit at NEWPORT (28): Winner plays at the winner of the Genoa-Harding Academy contest. Yellville (4-14 playoff record) is in the playoffs for the third straight season and the Panthers drop to Class 2A for at least the next two seasons. Yellville qualified for the playoffs with last week's 22-8 win over rival Marshall in the Battle of the Buffalo. This could be the last varsity game for Yellville seniors Eli Cagle and Kyle Dobbs, who connected five times for 152 yards and two TDs against Marshall. Newport (46-38 playoff record) earned a 22-19 lead last week at Osceola, but the Seminoles rallied for a 33-22 victory. Newport junior playmaker Tharon Davis returned an interception for a TD at Osceola. Davis topped 1,100 total yards this year with 21 TDs. 
Harrisburg at ATKINS (1): See Hootens.com Game of the Week.
Perryville at MCGEHEE (17): Winner plays at the winner of the Harrisburg-Atkins game. Perryville (3-10 playoff record) returns to the playoffs after missing the postseason a year ago. Perryville senior QB Reid Standridge recorded 2,703 yards and 32 TDs this year and logged 60 stops at linebacker. Perryville practiced against the Wing T (McGehee's base offense) in team camps this summer. The Owls pulled off a mild upset last week at Class 2A Fordyce in a 27-24 win. McGehee scored the game-winning TD late in the fourth quarter and moved the ball effectively against a stingy Fordyce defense. McGehee senior linebacker Carter Hawkins has made 117 tackles, nine for losses, with five sacks this season for a defense that allows 14.9 points per game.

BOTTOM OF THE BRACKET
OSCEOLA, champions of the 3-3A, has a first-round bye and will host the winner of the Mountain View-Greenland game. 
Mountain View at GREENLAND (10): Winner plays at Osceola in the second round. Mountain View seeks its second playoff win of the modern playoff era (since 1969). The Yellowjackets have qualified for the postseason six consecutive seasons. Mountain View junior J'Aire Jackson has emerged as a reliable deep threat this season, catching passes from senior QB Tim Curran. Mountain View trailed Clinton just 7-6 last week in the second quarter of a 56-18 defeat. Juniors fuel the Greenland attack. Quarterback Gabe Wilson completes 64 percent of his passes for 1,656 yards and 14 TDs with five interceptions. Wilson ran for 386 and 10 scores. Classmate Jett Dennis ran for 1,205 yards and 12 scores, averaging 121 rushing yards per week.
Walnut Ridge at GLEN ROSE (14): Winner hosts Melbourne-Centerpoint victor next week. Walnut Ridge junior playmaker Cole Manning closes in on 2,000 yards this year (1,403 rushing and 444 receiving) with 22 TDs. 4-3A league champion Glen Rose seeks its first playoff win since 2016, when it advanced to the semifinals. The Beavers average more than 400 yards per week (234 rushing and 167 passing). The Glen Rose defense has held seven opponents to two TDs or fewer. Glen Rose junior Ethan Taylor ran for 914 yards and 12 TDs this season, averaging 8 yards per carry.
Melbourne at CENTERPOINT (7): Winner travels to winner of Walnut Ridge-Glen Rose game. Melbourne (3-5 playoff record) ties the school record for wins (nine) with a victory. Pass-happy Melbourne passes for 205 yards per game, led by senior QB Gabe Lawrence. Melbourne senior linebacker Alex Bray has made 296 tackles (26 for losses) in his career. Centerpoint's 34 points in last week's 62-34 loss to Prescott was the third-most points the Curley Wolves had given up this year, and the most since Week 1. Centerpoint seeks the fourth playoff win in school history, and first since winning two postseason games in 2016, the last season that Centerpoint won more than eight games.
Baptist Prep at RISON (33): Winner hosts winner of the Lake Village-Lamar game. Baptist Prep (5-11 playoff record) advanced to its second straight postseason by winning three of its final four games. Baptist Prep likely returns its leading rusher (junior Hayden Brent) and leading receiver (junior Mitchel Leavitt) in 2020. Rison earned the outright 6-3A title (33rd conference title in school history) with last week's 44-8 win over Dollarway. Rison junior running back Jamarien Frye bolted for 219 yards and three TDs against Dollarway, highlighted by a 67-yard third-quarter scoring sprint. Senior QB Jaylon Henry fired a TD pass to Cole Keese and intercepted a crucial pass in the second quarter. Rison owns the top scoring defense in Class 3A, surrendering 7.5 PPG.
Lake Village at LAMAR (7): Winner plays at winner of Baptist Prep-Rison game. Lake Village (6-8 playoff record) seeks its first postseason win since 2006 (31-28 over Barton in double overtime). Lake Village earned a playoff spot with last week's 18-16 win over Barton. Lamar (10-13 playoff record) rallied last week for a 28-21 win over Charleston, clinching the No. 2 playoff seed. Lamar managed just 196 yards against Charleston, with junior running back Brady James running for 129 yards and two TDs. 
Mansfield at C. HARMONY GROVE (17): Winner hosts Smackover-Clinton victor. Mansfield's 15 victories the past two seasons are its most since winning 20 times in 2009-2010. This could be the final game for Mansfield senior standouts Ethan Stovall (5,542 career passing yards with 66 TDs and 19 interceptions), Layton Howard (2,120 career yards with 22 TDs) and Tyler Holmes (1,287 yards and 17 scores). Harmony Grove clinched the No. 2 playoff seed in last week's 46-7 rout against Smackover. Senior Xaylon Falls scored four TDs for Harmony Grove, which racked up 307 yards against Smackover. Watch highlights of Harmony Grove's loss Week 9 at Prescott HERE.
Smackover at CLINTON (7): Winner plays at Mansfield-Harmony Grove victor. Smackover's five wins are its fewest since winning three times in 2010. The Buckaroos are talented at the skill positions, with playmakers Jaqueze Modica and Dexter Crockett, but Crockett could miss this contest with an injury. Smackover (29-27 playoff record) trailed Camden Harmony Grove just 22-7 last week in the third quarter, but surrendered 24 unanswered points in a 46-7 defeat. Clinton (8-16 playoff record) seniors have won 32 games in their varsity careers, a new school record. The Yellow Jackets rush for 275 yards and pass for 153 yards per game. Clinton senior QB Weston Amos did not throw a TD pass in last week's 56-18 win over Mountain View, the first time he's not thrown a scoring passing this season. Clinton's 56 points against Mountain View was a season high.