Class 4A Week 11 Rankings, Notes & Picks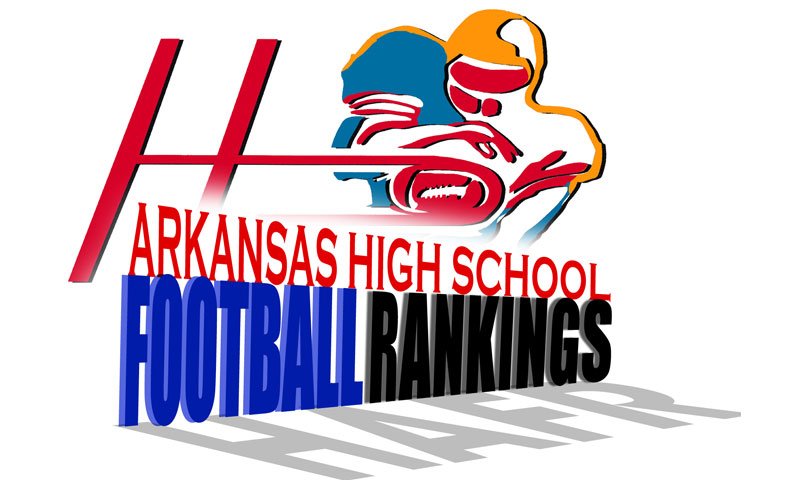 Hootens.com Rankings
Class 4A, Week 11, 2019
Copyright Hooten Publishing, Inc. 

1. Arkadelphia (9-1)
2. Shiloh Christian (10-0)
3. Joe T. Robinson (9-1)
4. Nashville (9-1)
5. Ozark (9-1)
6. Warren (9-1)
7. Crossett (7-3)
8. Dardanelle (9-1)
9. Pea Ridge (6-4)
10. Jonesboro Westside (8-2)
11. Mena (7-3)
12. Bauxite (6-4)
13. Hamburg (6-4)
14. Pottsville (7-3)
15. Star City (6-4)
16. Pocahontas (7-3)
17. Riverview (7-3)
18. Southside Batesville (7-3)
19. Rivercrest (7-3)
20. Gosnell (5-5)
21. DeWitt (6-4)
22. CAC (7-3)
23. Lonoke (6-4)
24. Gentry (7-3)
25. Prairie Grove (4-6)
26. Malvern (4-6)
27. Heber Springs (4-6)
28. Trumann (4-6)
29. Elkins (5-5)
30. Gravette (4-6)
31. H. Grove Haskell (4-6)
32. Brookland (4-6)
33. Lincoln (5-5)
34. Helena (5-5)
35. Bald Knob (3-7)
36. Monticello (2-8)
37. Berryville (3-7)
38. Mills (0-10)
39. Waldron (2-8)
40. Fountain Lake (2-8)
41. Ashdown (2-8)
42. Stuttgart (1-9)
43. Highland (1-9)
44. Dumas (1-9)
45. Subiaco Academy (2-8)
46. Green Forest (2-8)
47. Cave City (0-10)
48. Dover (0-10)

HOOTENS.COM GAME OF THE WEEK
No. 12 Bauxite at No. 8 Dardanelle
This is the first playoff meeting between these teams. Bauxite finished fourth in the 7-4A after dropping its final three games of the regular-season (against teams who went a combined 27-3). Junior quarterback Connor Stacy injured his arm in the second quarter last week at Nashville and didn't play in the second of the 42-7 loss. Stacy, who has passed for 1,040 yards this year and rushed for 586 yards) is listed as day-to-day and could play this week. Junior receiver Braylon Walker (40 catches, 855 yards and seven TDs) didn't play last week and could miss the rest of the season with an illness. Bauxite wins games up front with senior tackles Nate Sky-Eagle (6-1, 305) and Jackson Shelton (6-3, 300) and center Gannon Arnold (6-3, 270). Bauxite fumbled twice last week against Arkadelphia and has lost five fumbles the past three weeks. "We've had too many turnovers," Coach Daryl Patton says. "We've got to clean it up."
Dardanelle wins with defense. The Sand Lizards forced and recovered a fumble in the end zone late in fourth quarter last week to preserve a 14-10 win over Mena. They've given up 28 points in the past four games. Senior linebacker Cameron Hurst paces Dardanelle with 78 tackles this year, while senior Jordan Metcalf has 61 stops. Metcalf doubles at QB, where he's passed for 1,064 yards and six TDs this year and rushed for 650 yards and 10 TDs. Senior Blake Chambers spearheads Dardanelle's rushing attack with 1,344 yards and 19 TDs, while Brandon Bunton has 420 yards and four TDS. Bunton is the leading receiver with 19 catches for 374 yards and a TD, and he's made 58 tackles and broken up nine passes on defense. Coach Phil Vega compliments offensive linemen Christian Lomeli (6-1, 320), Cole Walter (6-3, 245) and Nathan Smith (6-3, 225) over the past month.

LAST WEEK
Hootens.com correctly predicted 22 of 24 games last week (92 percent). Hootens.com has picked 247 of 298 games (83 percent) this season.

WEEK 11 PREDICTIONS (favored team in ALL CAPS)
TOP OF THE BRACKET
Crossett has a first-round bye.
MENA (6) at Gosnell: Mena makes a 10.5 hour round trip to Gosnell. The Bearcats fumbled the ball into the end zone late in the fourth quarter of last week's 14-10 loss at Dardanelle. The Bearcats give up 13 points weekly. Senior QB Zane Stephens has thrown nine TD passes and ran for six more. Gosnell finishes as the No. 3 seed after dropping its final two games, including a 36-30 setback last week at Jonesboro Westside, when the Pirates gave up the winning TD with 11 seconds left. Gosnell led 24-14 late in the fourth quarter. Senior Jydarian Young ran 11 times for 94 yards and had 94 yards receiving. He's rushed for 1,060 yards and 14 TDs this year.
DEWITT (2) at Riverview: DeWitt returns to the playoffs for the first time since 2000 after last week's 40-14 win over Monticello. DeWitt has beaten Riverview in Week 2 the past two years (20-17 in 2018 and 46-35 this year). DeWitt senior QB Seth Courtney completes 54 percent of his passes this year for 2,229 yards and 19 TDs with nine interceptions, and he's rushed for 546 yards and nine TDs. Senior Johnta Wright paces DeWitt with 67 catches for 1,000 yards and nine TDs, and he averages 16 yards per carry. Riverview is in the playoffs for the seventh time since the program started in 2008. The Raiders lost their final two games, including 26-14 to Lonoke last week, but tied for their first-ever league title. Senior Logan Miller ran for 174 yards and one TD against Lonoke, and he has 1,725 yards and 23 TDs this season, while passing for 386 yards and a pair of TDs.
Pottsville at ARKADELPHIA (20): This is the second playoff meeting between these programs (Arkadelphia won 40-21 in the first round in 2014). Pottsville finishes as the No. 3 seed after beating Subiaco Academy 35-13 last week, when sophomore Trey Cobb ran for a pair of TDs. Senior Drew Rust has rushed for almost 1,000 yards and 13 TDs this fall. Arkadelphia tied for the 7-4A title but finishes as the No. 3 seed due to the points tie-breaker system. The two-time defending state champion Badgers have won six straight games since losing to Nashville 28-27 Week 4. Senior QB Cannon Turner missed three games earlier this year with a shoulder injury, but has been a difference-maker the past two weeks (completed 17 of 23 passes for 266 yards and one TD, and has 17 carries for 199 yards and four TDs). Senior Kyren Harrison has rushed for 1,242 yards and 28 TDs this year, and he's played linebacker the past month (20 tackles).
Heber Springs at SHILOH CHRISTIAN (25): This is a rematch from the second round 2016 which Shiloh Christian won 42-7. The Saints went 10-0 in the regular season captured their second straight 1-4A title with last week's 28-26 win over Pea Ridge. The Saints converted three of four fourth downs in the second half and stuffed a Pea Ridge two-point attempt in the final seconds. Heber Springs makes the playoffs for the sixth straight year after winning three of its final four games, including 28-14 last week at Mills. Senior QB Adam Martin completes 61.4 percent of his passes this year for 1,530 yards and 12 TDs and ran 149 times for 746 yards and nine TDs.
Gravette at POCAHONTAS (8): This is a rematch from the first round 2016, which Gravette beat the favored Redskins by 10 points. Pocahontas finishes as conference runner-up and the No. 2 seed after winning its final three games, including last week's 35-22 triumph over Highland. Junior QB and ASU baseball commit Dawson Chester has completed 118 of 197 passes this year (60 percent) for 1,661 yards and 20 TDs, and rushed for 721 yards and 10 TDs. Gravette makes the 10-hour round trip after finishing fifth in the 1-4A. The Lions lost their final two conference games by a combined 98-13. They went 1-9 a year ago, but first-year coach Kelby Bohannon doubled the roster size after taking over in late June. Junior QB Cy Hilger has passed for more than 1,400 yards and 13 TDs this year.
Rivercrest at NASHVILLE (10): These are two of the more successful playoff teams in the state, having combined to win eight state titles the past 35 years, and play in eight other state title games. Rivercrest won at Nashville 36-34 in the 2002 semifinals. Rivercrest rides a stingy D that gives up 15 ppg. Senior linebacker Easton Elder has 85 tackles, including 22 TFL and 4.5 sacks. Nashville outscores its opponents 40-16 weekly. Juniors Ty Gordon and Keyshawn Stewart splits snaps at QB. Gordon threw three TDs and ran for two in last week's mercy-rule win over Bauxite. He has passed for 976 yards and 11 TDs this year, while running for 514 yards and six. Stewart has passed for 398 yards and five TDs and rushed for 717 yards and 12 TDs.
BAUXITE (1) at Dardanelle: Hootens.com Class 4A Game of the Week.

BOTTOM OF THE BRACKET
Jonesboro Westside has a first-round bye.
Prairie Grove at HAMBURG (9): This is a rematch from the first round in 2006, when Prairie Grove won 47-14 at Hamburg. Prairie Grove qualified for the 2019 playoffs by beating Berryville and Lincoln the past two weeks by a combined 80-35. PG junior QB Knox Laird threw a pair of TD passes against Lincoln, but the Tiger D gave up 336 yards. Before the season an opposing coach told Hootens.com if Hamburg made the playoffs "then (Coach) Cecil Ray Cossey should be coach of the year." The lack of respect has Hamburg's upperclassmen playing with a chip. Junior QB Brett Rice has passed for 1,048 yards and 13 TDs this year. Hamburg's D gave up 153 yards in last week's 28-10 win at Dumas.
Trumann at JOE T. ROBINSON (26): Joe T. Robinson won its third straight league title with last week's 35-6 triumph over H.G. Haskell. The balanced Senators put up 417 yards a week (209 passing, 208 rushing). Junior and leading rusher Hunter Smith (1,133 yards and 11 TDs) didn't play last week, allowing sophomore Daryl Searcy, Jr., to get the workload (15 carries, 229 yards and two TDs). Searcy has rushed for 530 yards and six TDs this fall. Senior two-way standout P.J. Hall has a team-best 38 catches for 818 yards and 13 TDs. Defensively, Searcy has 39 tackles, two interceptions and two fumble recoveries. Trumann returns to the playoffs for the fifth straight season after last week's 36-7 win over Cave City.
GENTRY (3) at CAC: Gentry's three losses this year are to teams with a combined record of 25-5. The Pioneers have won three straight games since losing to Shiloh Christian Week 7, and they trailed the Saints 21-18 at halftime. Senior QB Brandon Atwood has passed for 1,819 yards and 19 TDs this year, and rushed for 838 yards and 10 TDs. CAC's two league losses this year were by a combined 12 points.  Senior Gentry Miller ran 27 times for 190 yards and three TDs and caught three passes in last week's 28-6 win over Stuttgart. Miller has rushed for 549 yards and nine TDs this year, and caught 30 passes for 596 yards and seven TDs.
Malvern at OZARK (10): Ozark repeated as 4-4A champs with a stingy D (gave up a TD or less in seven games this year). Senior Bryant Burns returned a third-quarter interception for a crucial TD in last week's 26-8 win over Elkins. Burns, an Army commit, has 36 tackles this year, including seven tackles for loss and three sacks. Junior playmaking QB Harper Faulkenberry has passed for 870 yards and eight TDs this year, and paces the Hillbillies with 182 carries for 1,098 yards and 19 TDs. Malvern make the playoffs after going 0-10 in 2018. Freshman QB Cedric Simmons has rushed for 846 yards and 14 TDs this year, while junior Keith Caradine has 727 yards and five TDs.
Elkins at WARREN (15): Elkins enters the playoffs as the No. 5 seed after losing its final four regular-season games by a combined 145-54. Junior QB Kain Johnson has passed for 1,886 yards and 22 TDs this year, and rushed for 403 yards and 10 TDs. Warren senior RB Vincent Steppes has rushed for almost 1,600 yards this year. The Lumberjack D has given up 21 points the past three weeks.
STAR CITY (4) at Southside Batesville: This is the first meeting between these teams. Southside Batesville's 27-22 loss last week at Bald Knob kept the Southerners from an outright conference title and No. 1 playoff seed. SS Batesville gained 403 yards in the game, but struggled to keep drives alive by converting just one of nine third downs. Star City lost two conference games by a TD or less, including last week at Crossett when the Bulldogs gave up a defensive TD in the final minute of a 20-13 setback. The Bulldogs employ an attacking three-man front similar to the scheme that Bald Knob uses.
Lonoke at PEA RIDGE (17): Lonoke's roller coaster season was highlighted by last week's 26-14 win at Riverview, when the D gave up 351 yards and held Riverview to a season-low 351 yards. The improving Jackrabbits won three of their final four games (thanks to a Mills forfeit) and the loss was in double overtime. Pea Ridge finished second in the 1-4A after going on a six-game win streak. Blackhawk senior QB Tate Busey threw three TDs and ran for another in last week's two-point conference title game setback at Shiloh Christian. Busey has passed for 1,014 yards and 14 TDs this year, and rushed for 612 yards and nine TDs.