Class 5A Week 11 Rankings, Notes & Picks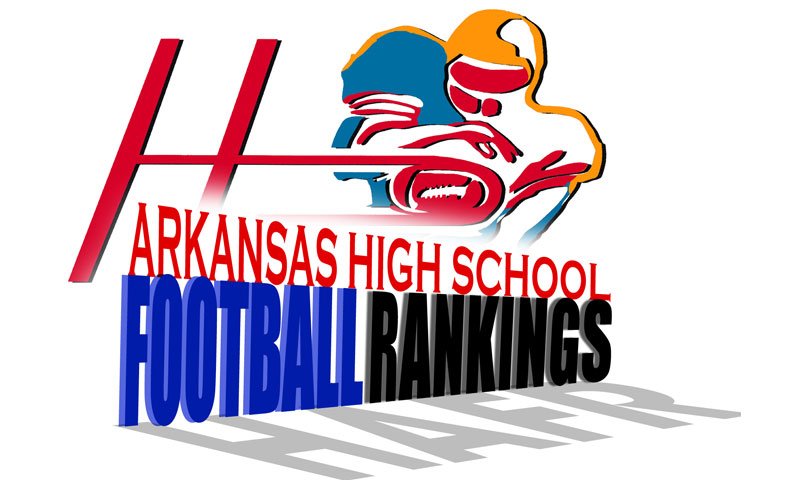 Hootens.com Rankings
Class 5A, Week 11, 2019
Copyright Hooten Publishing, Inc. 

1. LR Christian (10-0)
2. Harrison (10-0)
3. Pulaski Academy (8-2)
4. Valley View (10-0)
5. HS Lakeside (8-2)
6. Maumelle (8-2)
7. Vilonia (7-3)
8. Forrest City (8-2)
9. Magnolia (7-3)
10. Morrilton (6-4)
11. Texarkana (6-3)
12. White Hall (6-4)
13. Camden Fairview (6-4)
14. Wynne (6-4)
15. Alma (4-6)
16. Batesville (5-5)
17. Hot Springs (5-5)
18. LR Parkview (4-6)
19. Nettleton (6-4)
20. Watson Chapel (5-5)
21. LR McClellan (4-6)
22. Greenbrier (5-5)
23. Farmington (6-4)
24. Blytheville (3-7)
25. Clarksville (4-6)
26. Greene County Tech (2-8)
27. Beebe (2-8)
28. Hope (1-9)
29. Paragould (0-10)
30. Huntsville (1-9)
31. De Queen (0-10)
32. LR Fair (0-10)

HOOTENS.COM GAME OF THE WEEK
No. 10 Morrilton at No. 4 Valley View
Undefeated Valley View capped its first 10-0 regular-season with last week's 23-14 triumph over Batesville. The Blazers, besieged with injuries late in the season, gives up nine points weekly. They led Batesville 21-14 in the third quarter last week, but the final three defensive stands ended with a fumble recovery, punt and safety. "Our entire defense is playing as well as a unit can," Coach Sean Cockrell says. Senior safety Carter Winters paces the defense with 119 tackles, cornerback Travis Graf has five interceptions. Senior end River Dean has 42 tackles, including 18 tackles for loss, and nine sacks.
Junior quarterback Zac Stracener was hurt in the third quarter last week, limiting the offense, which has been without standout receiver Connor Watson (broke hand Week 8 at Greene County Tech). Versatile junior Aedan Huntsman took over for Watson at slot receiver the past two weeks, grabbing nine passes for 108 yards and one TD. Watson (26 catches, 610 yards and seven TDs) returned last week on defense with a heavily taped hand, making three tackles and breaking up three passes. 
Morrilton counters with one of the state's top college prospects, senior QB Jacolby Criswell, who completes 67 percent of his passes this year for 2, 436 yards and 24 TDs with only three interceptions. The dual threat has also rushed for 750 yards and 11 TDs. "It's pick your poison with deciding how to defend him," Valley View coach Sean Cockrell says. "He can pick you apart, but if you pressure him he'll take off running." Senior Xaviar Clemons had to become a two-way starter Week 4, and he's rushed for 647 yards and nine TDs this year, and averages 14 yards per reception. Junior linebackers Cade Halbrook (59 tackles, two fumble recoveries) and Caimen Fitzpatrick (52 tackles, three sacks) pace a defense "that gets after it up front and is good enough to man you up in the secondary," Cockrell says.

LAST WEEK
Hootens.com correctly predicted 15 of 16 games (94 percent) last week. Hootens.com has picked 163 of 198 games (82 percent) this season.

WEEK 11 PREDICTIONS (favored team in ALL CAPS)
TOP OF THE PLAYOFF BRACKET
Batesville at HARRISON (24): Undefeated Harrison outscores opponents 38-11 weekly. The ground-heavy Goblins rush for 276 yards a game. Senior Gabe Huskey, who committed on Sunday to Ouachita Baptist, has rushed for 1,386 yards 27 TDs, while senior QB Ben Johnson has rushed for 496 yards and five TDs. Senior linebacker Brooks Both paces the D with 104 tackles and 2.5 sacks. Batesville returns to the playoffs after not making it last year for the third time in 20 years. The Pioneers trailed Valley View last week 21-14 in the third quarter, but their final three possessions ended with a fumble, punt and a safety. The Pioneers churned out just 171 yards. 
Magnolia at PULASKI ACADEMY (30): PA's first-team D has given up 12 points over the past eight quarters (the reserves gave 14 second last week to White Hall). Senior Clay James has 26 tackles and seven interceptions this year, while junior linebacker Futa Shinkawa has 87 tackles, including 10 TFL. The Bruins scored 40 points in less than four minutes last week against White Hall. Senior QB Braden Bratcher has passed for 3,706 yards and 36 TDs this year. Magnolia's seven wins this year are its most since going 7-4 in 2009. Running the Flexbone under first-year coach Mark King, the Panthers run for 254 yards weekly. They'll use that scheme this week trying to keep PA's offense on the sideline. Senior QB Braelyn Beasley has rushed for more than 700 yards this year, while Amir Cooper has more than 400 yards. Magnolia's D has registered 88 tackles for loss this year and forced 20 turnovers.
Morrilton at VALLEY VIEW (1): Hootens.com Game of the Week.
MAUMELLE (8) at Texarkana: Maumelle's only two losses this year were to teams with a combined record of 18-2. The Hornets are 4-1 on the road this season, with wins over playoff teams Pea Ridge, Vilonia and White Hall. Seniors receivers Zyon Slade (48 catches, 1,001 yards and 14 TDs) and Demetress Williams (58 catches, 1,271 yards and 14 TDs) both have eclipsed every school receiving record. "They bring dynamic things into our play calling," Coach Kirk Horton says. Maumelle's D has given up two TDs or less in half its games. Texarkana earned the No. 2 playoff seed with last week's mercy-rule win at De Queen. The Razorbacks led 35-0 in the first quarter. Junior running back Torie Blair ran four times for 62 yards and two TDs and returned a punt for another TD at De Queen, while junior QB Braylon Bishop had four carries for 86 yards and two TDs.

BOTTOM OF THE PLAYOFF BRACKET
White Hall at HS LAKESIDE (3): Opposing coaches praise White Hall's defense, even after surrendering 68 points last week at Pulaski Academy. Senior running back Donte Buckner paces the offense with more than 1,500 yards and 20 TDs. HS Lakeside's 27-14 win last week at Hot Springs gives the Rams the league title (third in five years) and No. 1 seed. The Rams forced five turnovers (three interceptions) against Hot Springs and the D has forced 23 turnovers this fall. Junior QB Will Ross has passed for 1,609 yards and 24 TDs this year, while junior Logan White has 41 catches for 586 yards and six TDs. Talented sophomore Chase Cross has 30 catches for 586 yards (20 ypc) and 10 TDs.
Alma at FORREST CITY (2): These programs are on opposites ends on the postseason spectrum. Alma is in the playoffs for the fifth straight year and 21st time in the past 23 seasons. The Airedales have won 51 playoff games in the modern era. Alma started the season 0-5, but qualified for the playoffs with wins in four of the final five weeks, including last week's 35-0 victory over Huntsville. Receiver Grayson Bailey (6-2, 160) ran for a pair of TDs and caught a 45-yard TD pass in the first half. Alma coach Doug Loughridge will take over as the district's athletic director Dec. 1. Forrest City returns to the playoffs for the first time in three years and 10th time in 23 years. The Mustangs have only two playoff victories in the modern playoff era (began in 1969). Forrest City's conference runner-up finish is its best since winning the conference title in 2009. FC senior running back Kadarius Akins has more than 1,800 yards and 21 TDs this fall.
Camden Fairview at LR CHRISTIAN (25): Top-ranked LR Christian outscores opponents 50-19 weekly. The Warriors led 59-0 at halftime, despite having the ball just four minutes in the first half. Senior running back Kendell Givens had five carries for 147 yards and a pair of TDs, while senior QB Akeem Gilmore completed five of six passes for 140 yards and two TDs. Camden Fairview junior cornerback Javien Clemmer has two fumble returns for TDs in the past two games, including the game winner in last week's 13-12 victory at LR McClellan. The Cardinals have given up 52 points in the past six games.
Wynne at VILONIA (6): The Eagles return to the playoffs for the first time since 2015 and only the second time in nine years. Their three losses this year were to teams with a combined record of 28-2. They didn't attempt a pass in last week's 28-10 win over rival Greenbrier, but could pass more this week if sophomore QB Austin Meyers can play (ankle injury). Meyers has passed for 1,149 yards and nine TDs this year. Senior Draven Smith is Vilonia's workhorse (194 carries, 1,920 yards and 27 TDs). Senior end Jayden Wimberly has 64 tackles this year, including six sacks. Wynne goes on the road as the No. 3 seed after losing its final two regular-season games (33-16 at Forrest City and 64-57 to Nettleton). Senior Kavion Alston returned the opening kickoff 86 yards for a TD against Nettleton, ran for a TD and caught a TD pass, while senior QB Holden Parker ran in four TDs and threw another. Wynne hasn't lost a first-round playoff game since 2008 (won eight straight), and Vilonia hasn't won a playoff game since 2007 (beat Blytheville 35-18 and Helena 21-14).