Class 6A Week 11 Rankings, Notes & Picks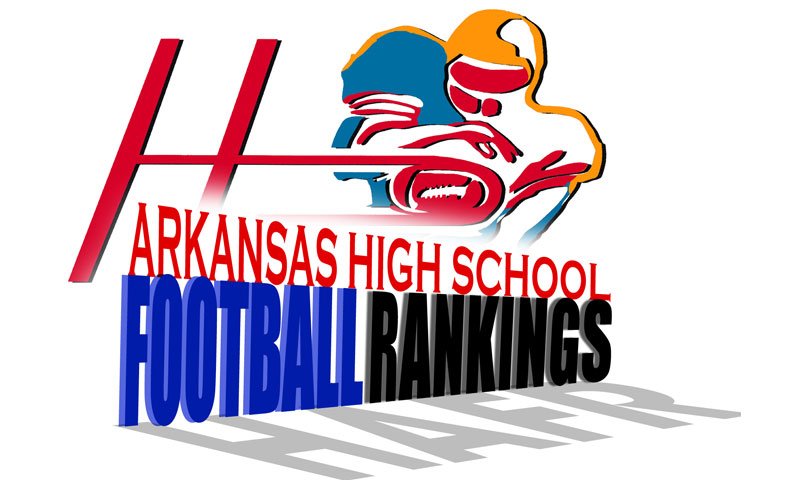 Hootens.com Rankings
Class 6A, Week 11, 2019
Copyright Hooten Publishing, Inc.

1. Benton (7-3)
2. Greenwood (9-1)
3. Searcy (9-1)
4. West Memphis (6-4)
5. Marion (6-4)
6. Jonesboro (7-3)
7. Lake Hamilton (8-2)
8. Sheridan (5-5)
9. El Dorado (4-6)
10. Sylvan Hills (4-6)
11. Siloam Springs (4-6)
12. Pine Bluff (3-7)
13. Russellville (2-8)
14. Jacksonville (2-8)
15. Mountain Home (0-10)
16. LR Hall (2-8)

HOOTENS.COM GAME OF THE WEEK
No. 9 El Dorado at No. 6 Jonesboro
Winner advances to quarterfinals next week at Benton. El Dorado eliminated Jonesboro in the 2011 and 2013 Class 6A state semifinals. El Dorado (38-25 playoff record) enters the playoffs on a three-game winning streak, where it's outscored opponents 125-22. El Dorado receivers Devunte Kidd and Steven Tollette make big plays for junior QB Eli Shepherd. Senior end Quentin Frazier has more than 130 tackles this season. 
Jonesboro (17-26-1 playoff record) led Marion 19-7 in the fourth quarter last Thursday, but surrendered 20 unanswered points in the final frame of a 34-25 loss. Jonesboro needed only a win to secure the No. 1 seed from the 6A East, but tumbled to the No. 4 seed because of head-to-head losses to West Memphis and Marion.

LAST WEEK
Hootens.com last week correctly picked seven out of eight games (88 percent) of games involving Class 6A teams. For the season, Hootens.com has correctly picked 84 out of 101 games (83 percent) of games involving Class 6A teams.

WEEK 11 PREDICTIONS (favored teams in CAPS followed by point spread)
TOP OF BRACKET
SEARCY has a first-round bye. Searcy hosts the winner of the Pine Bluff-Sheridan game in the quarterfinals.
Pine Bluff at SHERIDAN (13): Winner plays quarterfinal game at Searcy. A battle of former conference rivals separated by just 26 miles. Pine Bluff (54-25 playoff record) qualified for the playoffs with last Thursday night's 35-14 victory at Jacksonville. The Zebras forced two turnovers at Jacksonville, including an 81-yard fumble return for a TD by Pine Bluff junior defensive lineman Ronald Russell. Sheridan returns to the playoffs for the first time since 2015 (4-14 postseason record). The Yellowjackets enter the playoffs on a three-game losing streak after the top three teams from the 6A West outscored them 122-38. Sheridan junior Peyton Edwards has recorded almost 1,000 tandem yards with 16 TDs this year, blocked seven extra points and intercepted two passes.
GREENWOOD has a first-round bye and hosts the winner of the Siloam Springs-Marion game. 
Siloam Springs at MARION (10): Winner travels to play Greenwood in the quarterfinals. This is the first meeting of schools. Siloam Springs (5-16 playoff record) earned the No. 6 seed in last week's 31-29 win at Russellville. Jackson Norberg rushed for 232 yards and three TDs for Siloam Springs. Marion (5-20 playoff record) enters the playoffs on a four-game winning streak after last Thursday's 34-25 win over Jonesboro. Marion junior QB Daedrick Cail completes 60 percent of his passes for more than 2,220 yards and 29 TDs with 10 interceptions in 2019. Marion senior receiver Slade Webb averages more than 23 yards per reception this season, despite missing most of this season with a collarbone injury.

BOTTOM OF BRACKET
BENTON has a first-round bye and hosts the winner of the El Dorado-Jonesboro game. 
El Dorado at JONESBORO (7): See Hootens.com Game of the Week.
WEST MEMPHIS has a first-round bye and hosts the winner of the Pine Bluff-Sheridan game.
Sylvan Hills at LAKE HAMILTON (6): Winner plays at West Memphis in the quarterfinals. No. 6-seeded Sylvan Hills advanced to the semifinals a year ago as the No. 6 seed. Sylvan Hills (12-27 playoff record) committed two turnovers and allowed Searcy to score on its first four possessions in last week's 38-21 road loss. Sylvan Hills sophomore QB Corey Washington logged 236 yards and two TDs at Searcy. Lake Hamilton (27-21 playoff record) enters the playoffs on a two-game losing skid after last Friday's 42-14 loss to Greenwood. Lake Hamilton sophomore running back Owen Miller ran for 156 yards and two scores against Greenwood.