Class 7A Week 11 Rankings, Notes & Picks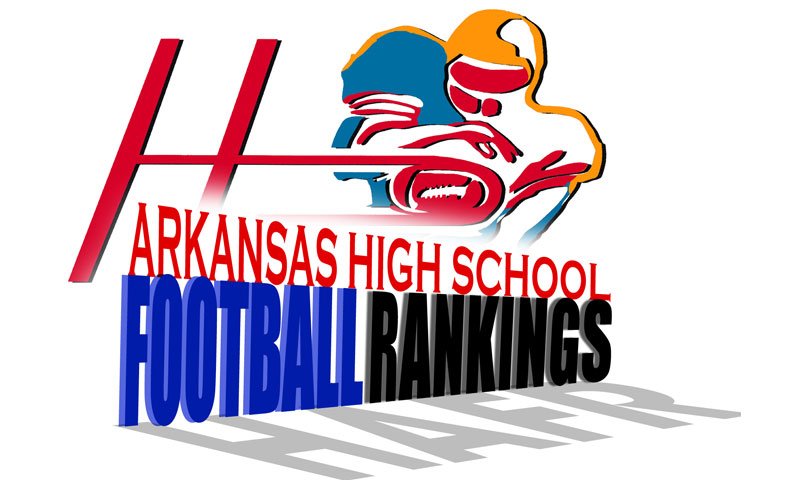 Hootens.com Rankings
Class 7A, Week 11, 2019
Copyright Hooten Publishing, Inc.

1. Bryant (10-0)
2. Bentonville (10-0)
3. North LR (7-3)
4. Conway (7-3)
5. LR Catholic (6-4)
6. Bentonville West (6-4)
7. Har-Ber (7-3)
8. Cabot (6-4)
9. LR Central (6-4)
10. Fayetteville (5-5)
11. Van Buren (6-4)
12. FS Northside (3-7)
13. Rogers (2-8)
14. Springdale (3-7)
15. FS Southside (2-8)
16. Heritage (0-10)

HOOTENS.COM GAME OF THE WEEK
No. 8 Cabot at No. 10 Fayetteville.
Fayetteville's five wins during the regular season are its fewest since 2009. The Purple Dogs lost non-conference games to powerhouses Owasso (51-19) and Bryant (42-13) before finishing fourth in the West with three conference loses by an average of 27 points. They gave up 454 yards, including 278 rushing, in last week's 27-6 loss at home to No. 3 seed Har-Ber. Fayetteville outscored opponents 32.7-25 weekly during the regular season. Speedy sophomore Isaiah Satenga compliments Fayetteville's record-setting receiver Connor Flannigan, making it impossible for defenses to focus on stopping just one.
"Fayetteville is very talented," Cabot coach Scott Reed says. "They're defensive front is good. They've got a D-1 linebacker (Quade Moser committed to Central Florida), a 6-6 quarterback (senior Hank Gibbs) and skill kids that can go get it."
Cabot lost three of its final five games, including a last-second heartbreaker last Friday to No. 3 ranked North LR 37-36. But the Panthers seem to be peaking, pushing top-ranked Bryant for three quarters Week 8 and leading North LR until the final 17 seconds last Friday. Cabot totals 350 yards and 36 points per Friday, passing for 68 percent of it offense. Hard-working junior QB Tyler Gee gets better weekly with the tutelage of Reed (a former Razorback QB). Gee has passed for 2,329 yards with 24 TDs and 8 INTs this season. Cabot passed for 256 of its 309 yards last week against North LR.

LAST WEEK
hootens.com correctly predicted 6 of 8 winners in Class 7A games. For the season, hootens.com has correctly predicted 74 of 91 winners (81 percent) in Class 7A.

WEEK 11 PLAYOFF PREDICTIONS (favored team in CAPS followed by point spread)
BENTONVILLE has a bye, will play host to and be favored next Friday against the winner of Van Buren at LR Catholic.
Van Buren at LR CATHOLIC (3): Van Buren secured a winning record for only the second time (7-4 in 2010) since 1999 with last week's 31-12 win at Springdale. Van Buren junior QB Gary Phillips has accounted for 2,801 yards this season, totaling 304 yards (153 passing, 151 rushing) last Friday. LR Catholic (6-4) finished the regular season with back-to-back losses by a TD or less. The Rockets led in the fourth quarter of both games but have been outscored 27-0 in the final quarter the past two weeks. Last Friday Little Rock Central scored on a 67-yard run and tackled Catholic's punter at the 1-yard line to setup its other TD for a 17-14 win. LR Catholic senior QB Jordan Edington (6-2, 235) has accounted for 1,894 yards (1,584 passing) with 23 TDs and 5 turnovers. Nathan Johnson leads Rocket receivers with 33 catches for 567 yards (17.1 yards per catch) and six TDs. Junior kicker Paul Owens has hit 30 of 31 PATs and 4 of 5 field goal attempts for LR Catholic. Comparing scores: Van Buren lost Week 2 at healthy FS Northside 44-6. LR Catholic won Week 6 at injured FS Northside 24-21.
North LR has a bye, plays host next Friday to the winner of LR Central at Har-Ber.
LR Central at HAR-BER (9): LR Central's six wins are its most since 2013. Central totaled just 153 yards with 94 yards rushing, including a 67-yard TD run, in last week's 17-14 win at LR Catholic. Central tackled Little Rock Catholic's punter at the 1-yard line to setup the Tigers other TD. Har-Ber lost to the unconventional Class 5A power Pulaski Academy (84-68) and to the 7A West's top seeds (Bentonville 35-21 and Bentonville West 24-20) during the regular season. A week ago, the Wildcats won their third straight and fifth in six games with a 27-6 victory at Fayetteville. Har-Ber senior QB Blaise Wittschen has passed for 2,606 yards with 32 TDs and 8 interceptions. Comparing scores: LR Central beat Rogers 42-25 and Rogers Heritage 62-0. Har-Ber beat Rogers 70-29 and Heritage 49-14.

BOTTOM BRACKET
Bryant has a bye, plays host to and will be favored next Friday against the winner of Cabot at Fayetteville. Bryant mercy-ruled both teams during the regular season.
CABOT (7) at Fayetteville: Game of the Week.
Bentonville West has a bye, plays host next Friday to the winner of Rogers at Conway.
Rogers at CONWAY (21): Conway, winners of nine games each of the past two seasons, get its eighth victory of 2019 against Rogers (2-8). The Wampus Cats only losses were at No. 2 Bentonville (17-10), at No. 3 North LR (17-7) and last week to top-ranked Bryant (42-7). Conway gave up 396 yards passing last week and 370 yards passing Week 8 vs. Cabot. Conway's diminutive sophomore Manny Smith (5-5, 150) gains 9.7 yards per carry and senior QB Nick McCuin completes 51 percent of his passes for 151 yards weekly with 10 TDs and 11 INTs this season. Conway has won 14 of its past 17 games at home. Rogers backs into the postseason with wins over No. 13 Springdale and No. 16 Heritage. Rogers coach Mike Loyd lets his son, senior QB Hunter Loyd (6-4, 202), pass often. Expect that again this week against a suspect Conway secondary. Rogers passed for 81 percent of its offense (640 of its 792 yards) the past two weeks and totaled eight turnovers.