HOGS-TIGERS: So much at stake, so much uncertainty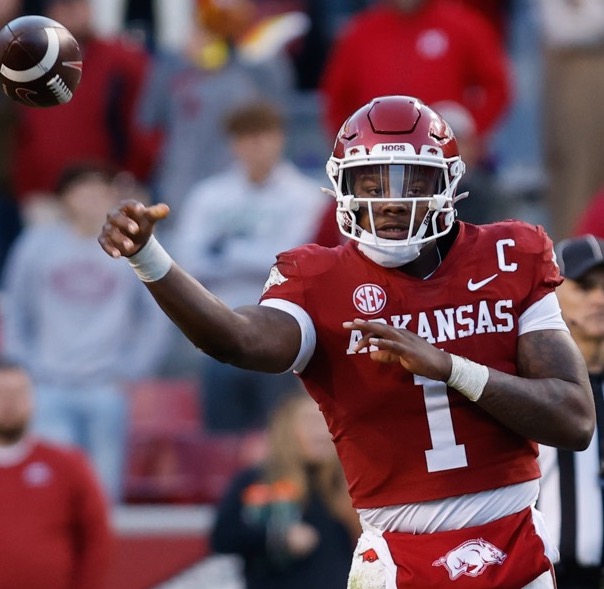 FAYETTEVILLE — There are numerous variables at play for the Arkansas Razorbacks and LSU Tigers leading up to Saturday's 11 a.m. kickoff at Reynolds Razorback Stadium.
Everything from the weather conditions (temperatures in high 30s at kickoff). the uncertain status of Arkansas QB KJ Jefferson (Tommy Land photo) to LSU's mental state coming off last week's 32-31 win over Alabama could prove to be factored in the matchup. 

First-year LSU Coach Brian Kelly sounded confident his Tigers will not be caught off guard.

"Your thoughts affect your actions and your physiological response," Kelly said earlier this week. "We've been working on how we think since Day 1. It becomes a trap game if you're not thinking the right way, and we'll get our guys thinking the right way and preparing them the right way."

LSU, No. 7 in this week's College Football Playoff rankings, has recovered from a season-opening 24-23 OT loss to Florida State and a 40-13 home loss to No. 4 Tennessee four weeks ago to win 3 in a row — 45-35 over Florida, 45-20 over Mississippi and last week's OT win over Alabama.

The Tigers will win the SEC West if they defeat Arkansas Saturday and Texas A&M (3-6, 1-5) on Nov. 26.

They would meet Georgia (9-0) in the SEC Championship Game on Dec. 3 in Atlanta with a chance to qualify for the CFP final four.

To get to this point, LSU won in OT last week when Kelly went for a 2-point conversion in the first extra period at Tiger Stadium.

It was a no-brainer for Kelly.

"Before the game if you asked me, 'Hey, I'm going to give you one play, and if you're successful, you beat Alabama', I'd taken that 100 times out of 100," Kelly said.

Kelly said he gave the Tigers 24 hours to enjoy the Alabama win before turning their attention to reclaiming the Golden Boot Trophy.

Arkansas (5-4, 2-3) beat LSU 16-13 in overtime in Baton Rouge during a turbulent 2021 season when Ed Orgeron was told he would not return in 2022 midway through the season.

"Obviously, they lost the trophy last year in overtime," said Kelly, who will be coaching in the rivalry game for the first time. "The Golden Boot is one that the guys know about and it's important to them. They want to get that trophy back."

Jefferson's status could prove to be a pivotal factor in the game's outcome after a tentative performance in Arkansas' stunning 21-19 loss to Liberty last week.

It was revealed after the game by Arkansas Coach Sam Pittman that Jefferson did not practice leading up to the Liberty game because of a bruised clavicle 

Pittman said early in the week that he expected a full week of practice from Jefferson, but Pittman said on Wednesday during the SEC weekly teleconference that Jefferson threw "some" on Monday,  but not "much at all" during Tuesday's practice.

Pittman said he knows how much Jefferson wants to play against the Tigers, but is staying very cautious with his star quarterback's health.

"He wants to practice because he understands that he needs to practice to play well," Pittman said.

The most recent comments on Jefferson came during Pittman's radio show on Wednesday night.

"We'll see what happens there, but KJ's still a little sore," Pittman said. "We'll continue ... and see where he's at, but think the team believes in Malik (Hornsby) and certainly (Cade) Fortin."

Pittman said he believes there will be two questions that need to be answered when it comes to Jefferson's availability for the game.

"One of them is 'Is he going to play at all?" and the other is 'Will he start the game?' " Pittman said . "The good thing is that he [Jefferson] wants to play."

Pittman said the team will turn to Hornsby if Jefferson is unable to go. Hornsby (6-2, 186; Missouri City, Texas) filled that role in a 40-17 loss to Mississippi State. IHornsby went 8 of 17 for 234 with 1 touchdown and 2 interceptions in that game. Hornsby was also the Hogs' leading rusher — 8 carries for 114 yards. 

"We're very confident with him [Hornsby] running all of it," Pittman said. "I do think he has a lot of similar skill sets as KJ [Jefferson] and then some different. So certainly, if he's the quarterback on Saturday, we would have a few different plays for his skillset than possibly what KJ's is."

HASELWOOD'S IMPACT

Wide receiver Jadon Haselwood, a transfer from Oklahoma, has become one of Jefferson's top receiving targets, leading the Razorbacks in total receptions (44) and is second in both total receiving yards (553) and touchdown receptions (3).
Pittman said he has been impressed with what Haselwood (6-3, 211; Atlanta) has brought to the Razorbacks both on and off the field.

"I think if you ask Ketron Jackson [Jr.] and [Matt] Landers and some of those guys, I think he's influenced them," Pittman said. "As an entire team, he brings that toughness and competitiveness. He's brought a lot to us in intangibles and I'm really happy that he's on the team."
Tight end Trey Knox said Haselwood's presence has been positive.

"He's added a different perspective because he's been at a school that won a lot of games and has been able to bring that winning culture here," Knox said. "He knows how to win, what it takes to win, and gives great effort every day no matter how he feels."