Class 2A Week 12 Rankings, Notes & Picks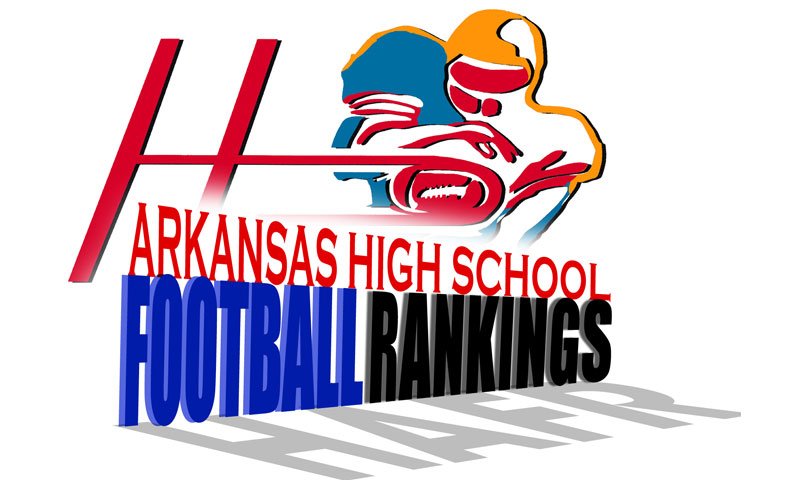 hootens.com Rankings
Class 2A, Week 12, 2018
Copyright Hooten Publishing, Inc.
1. Foreman (9-1)
2. Hazen (10-0)
3. Junction City (8-2)
4. Conway Christian (9-2)
5. Gurdon (9-2)
6. Mount Ida (9-2)
7. Hampton (7-2)
8. Des Arc (8-3)
9. Fordyce (6-5)
10. Salem (9-1)
11. Mineral Springs (9-2)
12. Earle (8-3)
13. Mountain Pine (8-3)
14. Hector (7-3)
15. Mountainburg (8-2)
16. E. Poinsett County (6-5)
17. England (4-7)
18. Magnet Cove (5-6)
19. Quitman (6-5)
20. Poyen (6-4)
21. Magazine (6-4)
22. Hackett (4-5)
23. McCrory (5-5)
24. Rector (5-5)
25. Lavaca (4-6)
26. Bearden (3-7)
27. Bigelow (4-6)
28. Carlisle (4-6-1)
29. Parkers Chapel (2-8)
30. Clarendon (3-7)
31. Dierks (3-8)
32. Murfreesboro (3-7)
33. Marianna (2-7)
34. Brinkley (2-8)
35. Strong (1-9)
36. Midland (2-7)
37. Marked Tree (1-8)
38. J.C. Westside (2-8)
39. W. Yell County (2-7)
40. Cross County (3-8)
41. Lafayette County (1-9)
42. Spring Hill (1-8)
43. Cutter M. Star (1-9)
44. Marvell (0-10)

HOOTENS.COM GAME OF THE WEEK
No. 5 Gurdon at No. 2 Hazen
Strength of schedule nod goes to 7-2A second seed Gurdon, which beat No. 6 Mount Ida 14-6 and lost to No. 1 Foreman 26-10 in the past three weeks. Led by senior linebacker and leading tackler Cam Lollis (90 stops) and interior linemen Remi Williams (6-4, 285) and Markell Pollins, Gurdon held Mount Ida to 11 first downs and less than 200 yards. It held all Foreman rushers not named Kyren Batey to 43 yards. Gurdon sophomore speedster Jameson Threadgill has rushed for a team-high 909 yards and 13 touchdowns. Hazen counters with senior linebacker and top tackler Kade Perry and junior lineman Blayne Toll. Hazen held No. 8 Des Arc to 3.4 yards per carry Week 6. Hazen junior running backs Ay'Jon Green (1,092 yards, 20 TDs) and Tarrell Penn (1,069, 17 TDs) topped the 1,000-yard barrier last week by rushing for 191 and 163 yards, respectively, in a 47-8 rout of Quitman. Common opponent: Hazen whipped Clarendon 60-6 Week 7. Gurdon defeated Clarendon 42-6 last week.

LAST WEEK
Hootens.com correctly picked 13 of 14 games (93 percent) last week. Hootens.com has picked 216 of 270 (80 percent) for the season.

WEEK 12 PLAYOFF PREDICTIONS (favored team in CAPS followed by point spread)
TOP HALF OF BRACKET
Magazine at FOREMAN (28): A week ago, 4-2A member Magazine notched its first playoff win since 2011 by whipping Carlisle 26-6. Junior RB Caleb Hyatt ran for 147 of Magazine's 311 total yards, and the Rattlers forced seven fumbles, recovered three fumbles and intercepted two passes. Top-ranked and defending state champion Foreman enjoyed a first-round bye and should be mostly healthy by Friday night.
Earle at SALEM (6): This is a rematch of a 2017 quarterfinal game Earle won 50-31 but had to forfeit (ineligible player). As former 3-2A members, Earle pulled away from Salem in the second half of regular-season victories in 2016 and 2017. Earle playmaking QB Tavarius Thomas (ankle) has not played the past two weeks in wins over Carlisle and England, and junior Jaylon Coopwood (6-0, 265) played limited snaps on offense in those victories. Coopwood anchors the defensive front. Salem junior LB Tommy Perkins leads the Greyhounds in tackles, and junior DE Gabe Miller has recorded 10.5 sacks. Senior RB Jordan Turner has carried 200 times for 2,630 yards and 37 TDs. At linebacker, Turner returned a fumble 50 yards for a TD last week in a 62-7 win over Dierks.
Mountainburg at JUNCTION CITY (33): Dragons vs. Dragons. No. 3 Junction City hammered 4-2A member Hector 48-7 Week 9, and a week later Hector took the 4-2A top seed from Mountainburg 26-22. Junction City senior Dhante Gibson has rushed for a team-high 1,065 yards (7.4 YPC) and 14 TDs. Sophomore Tanner Barnett (64 stops) and junior Kyle Kidwell (53 stops) lead JC in tackles. Mountainburg senior Austin Taylor has rushed for a team-high 1,129 yards and 16 TDs, while senior James Vanourny (102 tackles) leads 17 defenders with double-digit tackles.
DES ARC (2) at Mountain Pine: No. 8 Des Arc outscored Magnet Cove 35-31 a week ago by rushing 71 times for 320 yards. Junior Jackson Morton carried 35 times for 130 yards and two TDs. DA gave up 244 rushing and 105 passing yards to MC, which dropped four passing, including two would-be TDs. Mountain Pine took down Magnet Cove 33-24 Week 7 with junior QB/S Collin Smith making timely plays on both sides of the ball, converting key third downs and a fourth-and-3 to seal the win. Smith has accounted for more than 2,000 yards this fall, and leading receiver Josh Walpole averages 19.4 yards per reception. MP senior Elijah Browning has rushed for 1,100 yards.

BOTTOM OF BRACKET
MOUNT IDA (12) at Hector: Strength of schedule nod goes to 7-2A three seed Mount Ida, which lost to No. 1 Foreman (34-13) and No. 5 Gurdon (14-6) in the past five weeks. MI senior QB Cade Jackson (980 rushing yards) and HB Jonathan Lagrange (1,056 yards) combined for 298 yards and four TDs last week in a 22-point win over Bearden. Lagrange leads MI with 75 tackles at linebacker with eight TFL. Hector counters with senior QB Cody Day, who has passed for 1,271 yards and 14 TDs with just three INTs and rushed for another 857 yards and 11 TDs in his first year to play varsity QB.
Fordyce at CONWAY CHRISTIAN (8): No. 4 Conway Christian faces the most defensive team speed it has seen this year in No. 9 Fordyce. Fordyce faces the most versatile quarterback it has seen this year in CC senior QB Jacob Wood. The Fordyce defense features sophomore LB Josh Harrington (58 stops) and senior LBs Wanya Morris (75 tackles) and Ja'Rod Allen (75 tackles). Wood has completed 111 of 192 passes (58 percent) for 1,608 yards and 28 TDs with five INTs. The CC senior QB has rushed for another 832 yards and 18 TDs. Senior RB Wyatt Lawrence has rushed for 1,097 yards (8.2 YPC) and 10 TDs. Wood passes to a trio of 6-foot-3-inch receivers in Nick Scherrey (14 yards per reception, 12 TDs), Brandon Shaw (14.5 YPR, seven TDs) and Jesse Dather (16.9 YPR, five TDs).
Gurdon at HAZEN (1): See Game of the Week.
HAMPTON (10) at Mineral Springs: This is a rematch of a 2017 first-round game that visiting Mineral Springs won 18-14 in a mild upset. MS has already pulled a major upset this fall, taking down No. 1 Foreman 14-13 Week 8. It blew out one-win Lafayette County and Spring Hill to cap the regular season before escaping 3-2A second seed E. Poinsett County last week with a 20-14 victory. Hampton has stacked three dominating performances, defeating No. 9 Fordyce 21-7, Class 3A No. 10 Harding Academy 37-28 and Cross County 50-2. Hampton's first-team offense ran just 10 plays and had scored 50 points by early in the second quarter against Cross County. Senior QB Gage Welch leads Hampton in rushing, while senior RB/LB D.D. Stephens has been the most consistent performer on both sides of the ball.