Class 3A Week 12 Rankings, Notes & Picks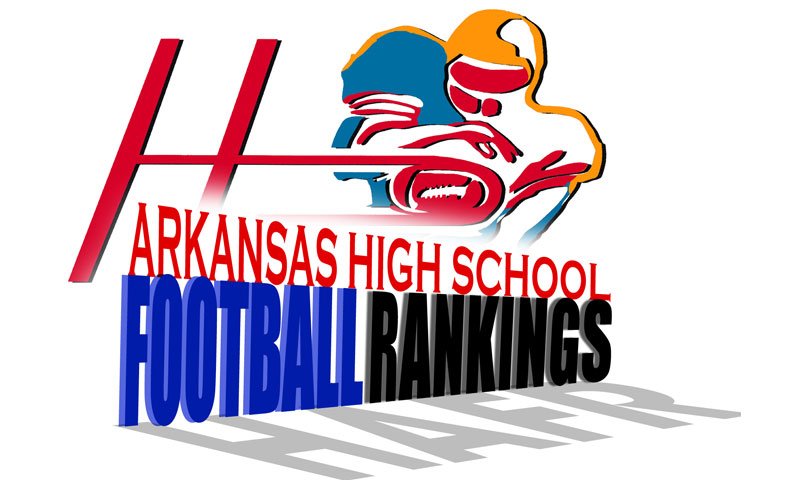 Hootens.com Rankings
Class 3A, Week 12, 2018
Copyright Hooten Publishing, Inc.
1. Booneville (11-0)
2. Smackover (9-1)
3. Osceola (10-1)
4. Clinton (11-0)
5. Prescott (10-1)
6. Glen Rose (9-1)
7. Newport (9-2)
8. Rison (11-0)
9. Mayflower (10-1)
10. Harding Academy (8-3)
11. Lamar (9-2)
12. Danville (8-3)
13. C. Harmony Grove (8-3)
14. Walnut Ridge (9-2)
15. McGehee (8-3)
16. Mansfield (8-3)
17. Charleston (6-5)
18. Melbourne (7-4)
19. Atkins (7-4)
20. Piggott (6-5)
21. Centerpoint (6-5)
22. Barton (4-6)
23. Greenland (6-5)
24. Hoxie (5-6)
25. Baptist Prep (4-6-1)
26. Harrisburg (4-6)
27. Cedarville (4-6)
28. Yellville-Summit (4-7)
29. Jessieville (4-6)
30. Lake Village (6-5)
31. Palestine-Wheatley (4-5)
32. Fouke (4-7)
33. Dollarway (3-8)
34. Mountain View (2-8)
35. Perryville (2-8)
36. Manila (3-7)
37. Drew Central (1-8)
38. West Fork (1-9)
39. Bismarck (2-8)
40. Horatio (3-7)
41. Genoa Central (1-9)
42. Marshall (1-9)
43. Corning (0-10)
44. Paris (0-10)
45. Two Rivers (0-10)
46. Cedar Ridge (1-4)
47. Rose Bud (0-3)

HOOTENS.COM GAME OF THE WEEK
No. 9 Mayflower at No. 8 Rison
Combined 21-1 teams meet for the first time ever. Winner hosts quarterfinal game. Mayflower is the highest scoring team in Class 3A, averaging 47 points per game. Rison owns the stingiest scoring defense in the state, surrendering just 6.3 PPG. 
Mayflower ran for 432 yards and six touchdowns in last week's 60-22 win over Dollarway. Senior Keon Simmons ran for 218 yards and four scores, while classmate and twin brother, Deon Simmons, zipped for 189 yards and two TDs. Keon Simmons caught both passes from senior QB Dalton Muse for 36 yards and a score. "They scare you because they can do so many things," Rison coach Clay Totty says. "They can throw it to guys, run it traditionally or give to one a jet sweep. You have to cover all of the field." Senior Drake Wilkerson paces Mayflower's defense with 70 tackles, while defensive stalwart Dylan Burnett has recorded a team-high six sacks with 55 tackles, three forced fumbles and two fumble recoveries. Keon Simmons leads Mayflower with four interceptions.
Rison's defense is anchored by six three-year starters, including lineman D.J. Watson, who explodes into double teams and takes on bigger linemen, while Landric Lea is a sure tackler at linebacker. University of Arkansas commit Malik Chavis ran 17 times for 153 yards and two TDs in last week's 50-19 win over Hoxie. Chavis is one of the top defensive backs in the state. "Their experience helps because they don't have to stop and think about fits or assignments," Totty says. Senior RoShawn Martin ran for 44 yards, including a 33-yard TD run, while promising sophomore Jamarien Frye earned seven second-half carries for 92 yards, including scoring jaunts of 63 and 2 yards.

LAST WEEK
Hootens.com correctly predicted 13 of 14 winners (93 percent) of games involving Class 3A schools. Hootens.com has correctly picked 249 of 290 winners (87 percent) of games involving Class 3A schools for the season.

WEEK 12 PREDICTIONS (favored team in CAPS followed by point spread)
TOP HALF OF BRACKET
Danville at SMACKOVER (14): Winner advances to playoff quarterfinals. Game will be played at Memorial Stadium in El Dorado. Danville would host Mansfield if both should win, or travel to Osceola. Smackover hosts next week if it were to win. Danville outgained Yellville-Summit 447-384 in last week's 54-12 win. The Little Johns forced nine Panther turnovers, intercepting seven passes. Danville's Luke Callahan intercepted three Yellville passes, returning one 45 yards for a TD. The Little Johns led 35-12 at halftime. Danville's three losses this year were to Lamar, Mayflower and Glen Rose (combined record: 28-4). Smackover earned a bye last week after winning the outright 5-3A title and the Buckaroos have not lost on the field since last year's second-round playoff loss at Mayflower (forfeited 2018 Week Zero 45-24 win over Class 2A Foreman). Smackover scores 42.5 PPG behind senior QB Roshard Boone, senior running back Greg Turner, junior Dettravon Crockett and senior lineman Max Gathright. The Buckaroos defense surrenders just 10.1 PPG behind playmaking linebacker Javon Modica. Danville enters with confidence after winning five straight, but Smackover owns a team speed advantage.
Mansfield at OSCEOLA (17): Mansfield makes a roughly 640-mile round-trip voyage to Mississippi County. Mansfield travels to Danville or Smackover should it win. Osceola hosts Danville if each win, but travels to Smackover if they both win. Mansfield won its first playoff game since 2010 in last week's 27-20 decision over Melbourne. Mansfield junior QB Ethan Stovall racked up 355 yards offense and three TDs, including the game-winning 44-yard scoring sprint with less than a minute left. Mansfield allowed Melbourne junior QB Gabe Lawrence to complete 24 of 36 passes for 269 yards last week, a bad sign against Osceola and its dynamic sophomore QB, Kam Turner (more than 1,500 total yards and 25 TDs). The Seminole defense allows just 17 PPG, paced by playmakers Jariq Scales (team-high 86 tackles, 13 for loss), Jamarion Veasley (team-high four sacks with 72 stops) and Keyshawn Scales (66 tackles).
Mayflower at RISON (10): See Hootens.com Game of the Week.
HARDING ACADEMY (1) at Lamar: Winner travels to the victor of the Mayflower-Rison contest. Harding downed Lamar in playoff games in 2011 (44-6) and 2016 (35-16). Lamar senior Zach West intercepted an Atkins pass to clinch a 28-24 victory a week ago. Junior Jacob Parmenter ran for 110 yards and a TD and senior fullback Jonathan Mayes rambled for 77 yards and two scores. Harding Academy scored the final 14 points of last week's 27-13 win over Greenland. Senior QB Davis Morgan passed for 159 yards and two TDs while junior Stone Sheffield ran for 111 yards and a score. Senior Jimmy Citty racked up four tackles and intercepted a pass while freshman safety Braden Oliver logged a team-best 12 tackles. If Harding can contain Lamar's punishing running game (rushes for 229 yards per game), it can advance to the quarterfinals for the first time since 2015. 

BOTTOM HALF OF BRACKET
C. Harmony Grove at GLEN ROSE (11): Harmony Grove hosts Walnut Ridge or travels to Booneville should it win. Glen Rose hosts the quarterfinals if it wins. Glen Rose beat Harmony Grove the past two years by a combined 15 points. Harmony Grove advanced to the Class 2A semifinals the past two seasons (the only two semifinal appearances in school history). Harmony Grove battered Barton 62-36 last week when junior standout Xaylon Falls scored three TDs. Shawn Lucas and Dylan Garrett also scored. The Hornets pulled away with 34 unanswered second-half points. Glen Rose earned a bye by winning the 4-3A. The Beavers surrender just 10.3 PPG behind standouts Dalen Baldwin (team-high 54 tackles, 10 for loss), Caleb Barr (43 stops) and Corbin Hughes (20 tackles). Junior Gavin Chaney has two sacks and sophomore Noah Wright has intercepted six passes. Glen Rose has forced 22 turnovers this year. Harmony Grove has one of the better collection of skill players in the state but Glen Rose stifled high-flying opponents Mayflower (33 points below season average) and Atkins (12 points below average) this year at Beaver Stadium.
Walnut Ridge at BOONEVILLE (24): Winner plays quarterfinal game next week at Harmony Grove-Glen Rose victor. Walnut Ridge scored 14 unanswered points in the fourth quarter last week to win its first playoff game since 2012 with a 37-22 conquest over Lake Village. The Bobcats ran for 385 yards (7.9 YPC) and four TDs, highlighted by senior Cade Burris' 181 yards and sophomore Cole Manning's 147 yards. Burris also logged a team-high 12 tackles. Walnut Ridge's losses this year are to Newport and Osceola, which are a combined 19-3 in 2018. Booneville scores 43.2 PPG and allows just 11 PPG, the only Class 3A school to rank in the Top 5 in each stat. The Bearcats recorded their third shutout of the year in last week's 49-point win over Baptist Prep. Booneville intercepted four first-half passes, and scored TDs following them, to lead 35-0 at the break.
PRESCOTT (2) at Clinton: Winner hosts McGehee vs. Newport winner in quarterfinals. Prescott averages 44 PPG and allows just 7.5 this season. Prescott led Mountain View 28-0 at halftime last week behind senior QB Ryan Johnson's three TD passes. The Curley Wolves activated the mercy rule early in the third quarter when Derriun Thompson ran 17 yards for a score. Clinton, which rolled up a season-high 523 yards, blanked Charleston by 49 points last week, limiting the Tigers to 158 yards, recording four QB sacks and forcing two turnovers. It was the first time Charleston had been shut out since 2012 and in the playoffs since 2010. Senior Caleb Bowman logged two sacks and classmate Sky Davidson intercepted two passes. Prescott has more team speed than Clinton, and the Curley Wolves' offensive line should be enough here.
McGehee at NEWPORT (7): This is a rematch of last year's second-round game, won by McGehee 20-6. Newport led McGehee 6-0 until late in the third quarter of that game. McGehee's three losses this year are to Class 5A Magnolia, Class 4A Dumas and Rison (combined record 27-5). The Owls have won six straight games by a combined 146 points, including a 24-14 win last week over Piggott. Newport recorded its second shutout of 2018 in last week's 35-point win over Centerpoint. Senior QB Cash Forrester completed 28 of 38 passes for 360 yards and a TD last week, while sophomore running back Tharon Davis ran for 92 yards and two scores. Junior Monquell Cox added 83 yards and a TD. If Newport's veteran offensive line (three seniors) allows Forrester to distribute the ball to its playmakers then the Greyhounds advance.